Item number: 60001985
MIC-920B V5 Microphone Set
You save 53%
Unfortunately, no articles are currently available
Top features
Five-piece set: USB condenser microphone, studio headphone, pop filter, microphone shield and microphone arm
Ideal for setting up a home studio
Quick and easy installation, plug and play components
Shipping costs: from £ 0.00
The item is ready to ship and will be shipped immediately after receipt of payment.
MIC-920B USB Microphone Set V5 Headphones Microphone Microphone Arm Pop Filter Shield
Text für Setartikel..
The quick and simple way to a home recording studio. The auna MIC-920B USB microphone V5 headphone set offers both the auna MIC-920B condenser microphone, and a pop filter with a matching microphone arm and comfortable studio headphones.
The auna MIC-920B condenser microphone has been has been designed for digital use. You can connect it to a PC or laptop via a USB cable and is ready-to-use thanks to plug & play. Specialised for speech and song with a sample rate of 16 bit/48 kHz, the microphone enables recordings in perfect sound quality for audio mastering in song production, podcasts or speeches for your own radio stream.
The microphone suspension included is always there to hold up the auna MIC-920B. The nylon cover reduces resonant sound vibration and static noises on the housing. Using the 5/8" threads and a 3/8" adaptor, the suspension can be easily attached to any standard microphone stand. An especially long operational life is guaranteed by the robust metal chassis and the stable basket even if its constantly in transport. Finally, the 16 mm electret microphone capsule provided extra protection.
A 16 cm Malone POP-1 pop filter provides audible quality to your speech recordings by filtering out unwanted noise. The auna MP32 MKII microphone shield, which is also included, improves the quality even more thanks to its 5 cm acoustic foam, which reduces room reverb, interfering noise and reflection.
The foldable, easy-to-use Malone ST-1.2 microphone stand helps you to set-up your microphone easily and quickly. You can then fold it up quickly and fit it in any bag and set it up again with minimal effort. All you need is a table corner or a shelf to attach the stand to using the quick-release clamping screw.
The auna HR-580 studio headphones with large over-ear earpads block out exterior noise perfectly and nestle on your head comfortable thanks to their soft padding. The size-adjustable, self-adjusting earpieces with a broad leather band stay securely on your head. Thanks to the extra-long 2.5 m connector cable, you can have freedom of movement in the studio, giving you access to TV devices, computers or stereo systems. A high dynamic range with natural high tones and powerful bass turn the music into an experience. Their low impedance of just 32 Ω also lets them externally control devices that only have low output capacity such as MP3 players and mobile recorders.
It has never been so easy to join the modern showbiz world! Work like the professionals do with the auna MIC-920B USB microphone V5 headphone set.
Set consists of
MP32 MKII Microphone Shield Mic Screen Absorber Diffuser Incl. Adapter Silver
Item number: 10028565
Included quantity: 1
Top features:
Professional microphone shield for practical mounting behind the microphone
Minimises reflections, noise and room reverberation - ideal for dry voice, vocal and instrument miking
Flexible lightweight construction with metal guide rail and grippy thumbscrews for adjusting depth and height
Incl. thread adapters for easy installation on conventional stands and microphone holders
Properties:
Low weight
Fast assembly
Suitable for live applications
Bolted metal profiles
Riveted logo
Material: metal, acoustically optimised high-density foam
Dimensions:
45 x 30 x 26 cm (WxHxD)
Foam thickness: 5 cm
Weight: 1.6 kg
MIC-920B USB Condenser Microphone Studio USB Large Diaphragm Microphone Black
Item number: 10031504
Included quantity: 1
Top features:
Studio USB large diaphragm microphone with built-in 22 mm electret microphone capsule
Pronounced cardioid characteristics
Includes microphone spider with 16 mm (5/8") thread for tripod mounting and 3/8" to 5/8" adapter
Plug & play via USB for direct connection to Windows or Mac computers
Built-in 3.5mm jack headphone output for direct monitoring of the recording
Properties:
Connection: USB Type B connector
Supported operating systems: Windows XP, Vista, 7 & 8 or Mac OSX 10.3.9 (Panther) or better
Frequency range: 30 Hz - 18 kHz
Sample rate: 16 bit / 48 kHz
Sensitivity: -32 dB
Sound pressure: 140 dB
S / N Ratio: 68 dB
Phantom power: via USB
Sturdy matte black metal housing
Includes leather case for safe transport
Dimensions:
Microphone: about 18.5 x 5.5 cm (H x Ø)
Microphone spider: about 10 x 15.5 x 8 cm (WxHxD)
Cable length: about 3 metres
Weight microphone: about 370 g
Weight microphone spider: about 175 g
POP-1 Microphone Pop Shield Wind Screen Pop Guard
Item number: 10011536
Included quantity: 1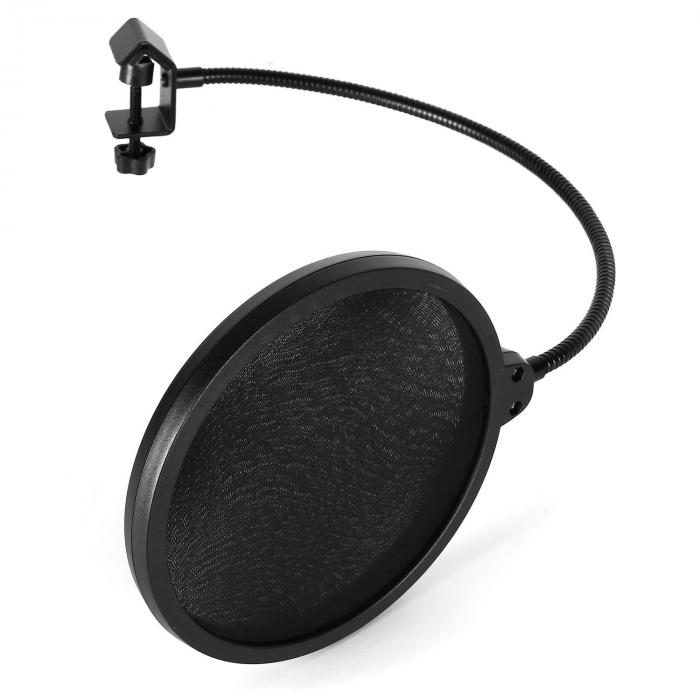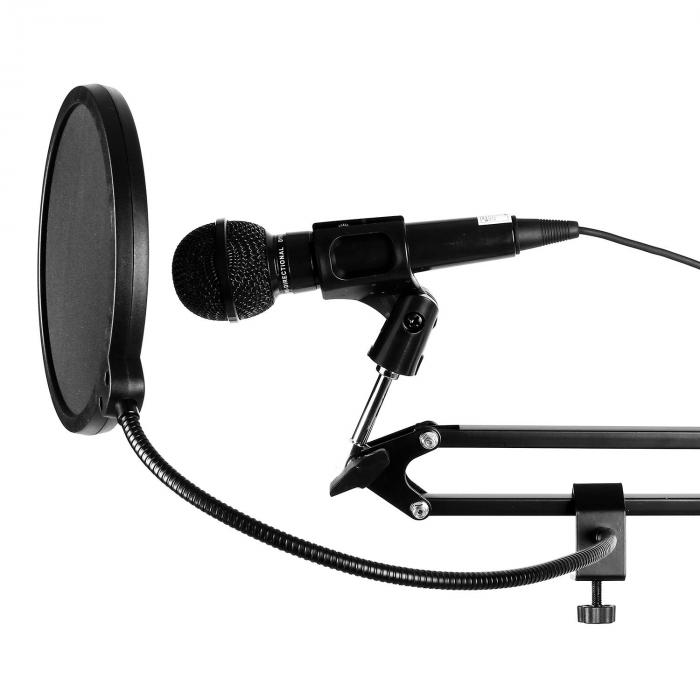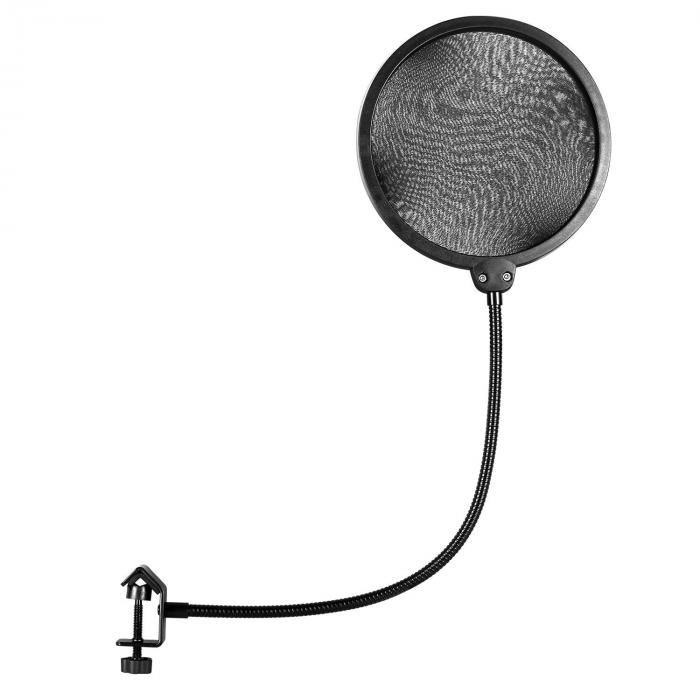 Top features:
Black microphone pop shield with 16cm diameter
Optimal positioning thanks to the 35cm flexible gooseneck
Wide-meshed nylon cover with 2 layers
Suppresses noise arising from the articulation of the B and P sounds
Properties:
Easy attachment to the stand
High quality acoustic filter
Ideal protection for hardware and audio signal
Material: plastic, nylon, metal
Colour: Black
Dimensions:
Diameter: 16cm
Length of gooseneck: 35cm
Weight: about 205g
MIC-920B V5 Microphone Set
Five-piece set: USB condenser microphone, studio headphone, pop filter, microphone shield and microphone arm
Ideal for setting up a home studio
Quick and easy installation, plug and play components
All purchases made between the 25th of October and the 31st of December 2019 can be returned till the 31st of January 2020.