Item number: 60002740
F1600 Faze Machine incl. fog fluid
Unfortunately, no articles are currently available
Top features
Enormously powerful: fog machine with 1600 watts heating power
Lots of fog: 350 m³ smoke volume per minute
Included: 5 litres of fog fluid
Shipping costs: from £ 0.00
The item is ready to ship and will be shipped immediately after receipt of payment.
F1600 Faze Machine incl. fog fluid 1600W 350m³ DMX Master/Slave
Text für Setartikel..
F1600 faze machine in flightcase | fog machine | 1600 W | 350 m³/min. | automatic programmes | DMX | Master/Slave | output and fan strength freely adjustable | flight case with carrying handle | incl. 5 litres of fog fluid | tank capacity: 3.25 litres
Recommended area of application
Bars
Concerts
Disco & Clubs
Large stages
The beamZ F1600 faze machine combines high fog output with sophisticated performance and convenient control.
At its core, the fazer uses a 1600-watt heating element, which has a short heat-up time of just three minutes and ensures continuous fog production. The F1600 faze machine thus creates a volume of up to 350 m³ of fog per minute. Unlike fog machines, the haze fog machine generates a very fine haze and no dense fog clouds - ideal in combination with light shows.
Thanks to the integrated LCD control panel, all settings on the faze machine can be made quickly and conveniently, and it also has a practical timer function. In addition, a 2-channel DMX control enables the output strength and the speed of the fan to be regulated. The discharge interval and discharge volume can also be adjusted to achieve the desired effect. The discharge direction can be varied thanks to an adjustable flap in front of the discharge.
With its high performance and the robust flight case with carrying handle, the haze fog machine is perfectly suited for professional use, and it impresses with its mobility, especially on tours and on the road. Thanks to the included fog fluid, the faze machine is ready for immediate use. The fluid is water-based, leaves no residue and is toxicologically safe.
Perfect fog even on large tour stages: the F1600 faze machine from beamZ.
Set consists of
F1600 Faze Machine in Flight Case 1600W 350m³ DMX Master / Slave
Item number: 10032619
Included quantity: 1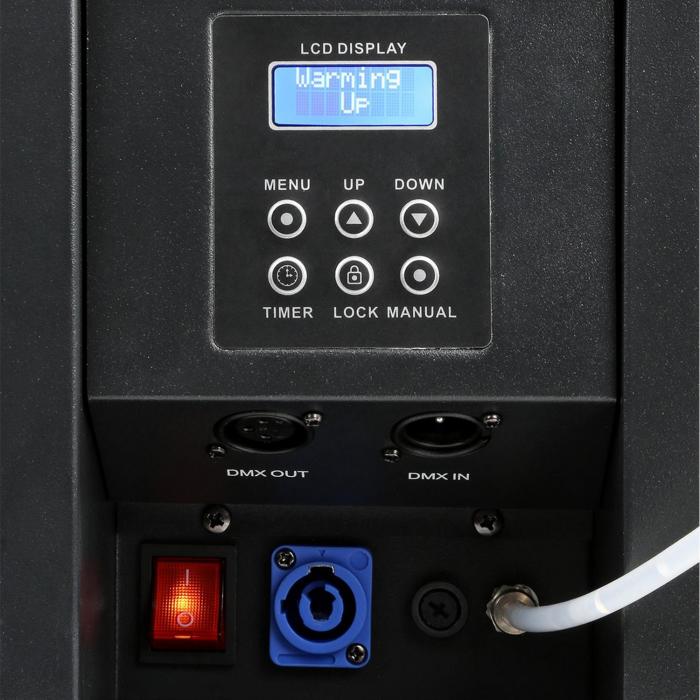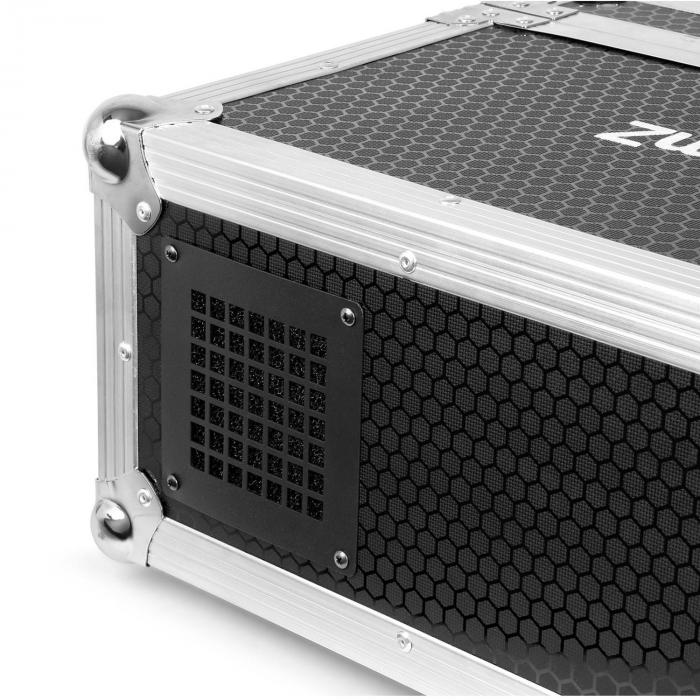 Top features:
Enormously powerful: fog machine with 1600 watts of heating power
A lot of fog: 350 m³ smoke volume per minute
Quickly ready: only 3 minutes warm-up time for the first use
Different modes: automatic programs, DMX and master / slave
Individual adaptation: output and fan power freely adjustable
Perfect for traveling: sturdy flight case with carrying handle
Properties:
Power: 1600 watts
Smoke volume per minute: 350 m³
Heating time: 3 minutes
Tank capacity: 3.25 litres
Modes: automatic programs, DMX, master / slave
Output and fan power freely adjustable
Timer function
2 DMX channels
DMX connector: 3-pin XLR
Power supply: AC 220-240 V ~ 50/60 Hz
Dimensions:
Dimensions: approx. 60 x 25 x 37 cm (WxHxD)
Weight: approx. 15.8 kg
Fog Fluid 5L ECO Fog Oil Green
Item number: 10028257
Included quantity: 1
Top features:
High-quality and environmentally-friendly water-based fog fluid
For medium density fog
Toxicologically harmless: does not contain any harmful ingredients
Leaves no residue
Ready for use
Properties:
Suitable for all beamZ fog machines
ECO: biodegradable and environmentally friendly
Odourless
Protects the fogger from contamination
Canister with 5 litres
Colour of fluid: green
F1600 Faze Machine incl. fog fluid
Enormously powerful: fog machine with 1600 watts heating power
Lots of fog: 350 m³ smoke volume per minute
Included: 5 litres of fog fluid