H2000 Fazer fog machine incl. fog fluid
Unfortunately, no articles are currently available
Top features
Full power: powerful fog machine with 1700 watts heating power
Combinable: 2-channel DMX mode and stand-alone mode
Included: 5 litres of fog fluid
Shipping costs: from £ 0.00
The item is ready to ship and will be shipped immediately after receipt of payment.
H2000 Fazer fog machine incl. fog fluid 1700W DMX LED Display
Text für Setartikel..
H2000 Fazer fog machine | 1700 watt | 2-channel DMX mode | stand-alone | heat-up time: 3 minutes | LCD control panel | LED display | incl. 5 litres of fog fluid
Recommended area of application
Bars
Disco & Clubs
Mid-size stages
The beamZ H2000 fog machine combines high fog output with sophisticated performance and convenient control.
At its core, the Fazer uses a 1700-watt heating element that keeps the heat-up time at 3 minutes and ensures continuous fog production. Unlike fog machines, the beamZ H2000 generates a very fine haze and no dense fog clouds - ideal in combination with light shows. Thanks to the LCD control panel integrated on the back, all settings can be made quickly and easily. A 2-channel DMX control makes it possible to regulate the output strength as well as the speed of the fan. The discharge interval and discharge volume can also be adjusted to achieve the desired effects. Thanks to the included fog fluid, the Fazer is ready for immediate use. The fluid is water-based, leaves no residue and is toxicologically safe.
The beamZ H2000 Fazer is not only suitable for medium-sized party cellars and home festivities, but is also interesting for mobile DJs and medium-sized events.
Set consists of
H2000 Fazer Fog Machine 1700W DMX Stand-alone black
Item number: 10031168
Included quantity: 1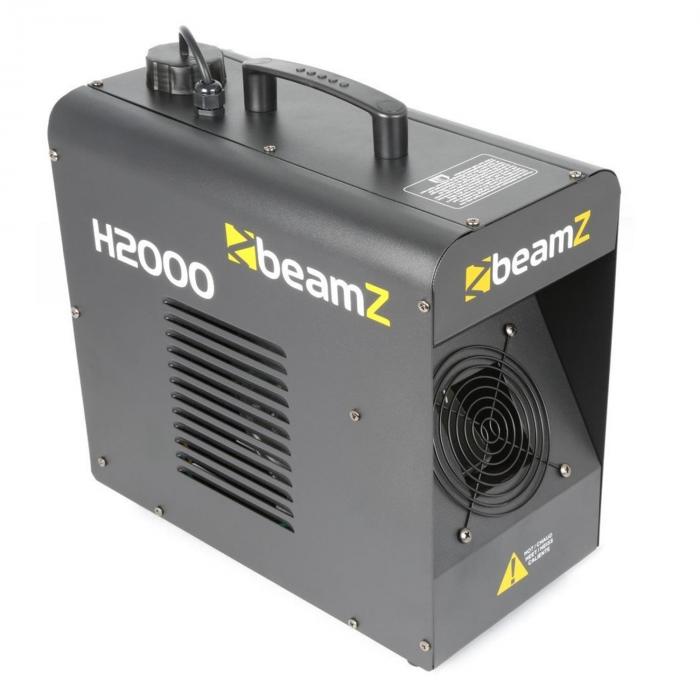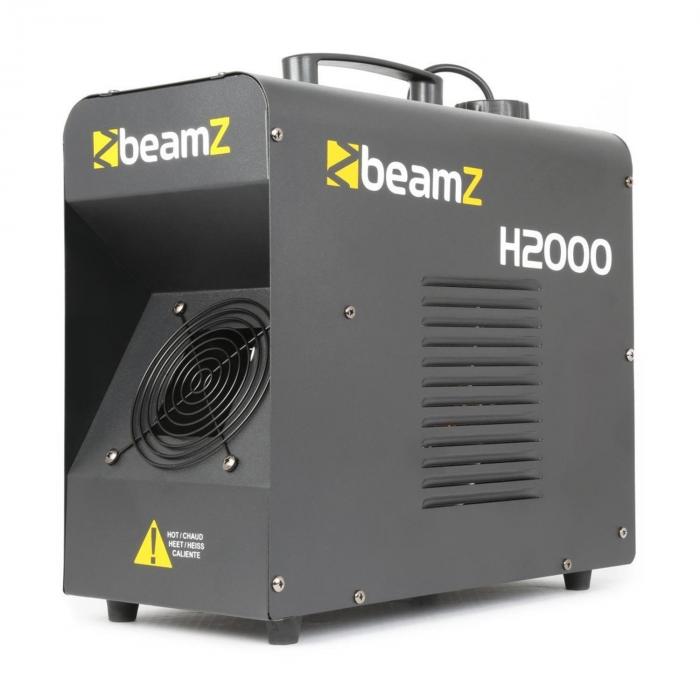 Top features:
Powerful fog machine with 1700 watts of power
2-channel DMX mode and stand-alone mode
Adjustable ejection and ventilation speed in stand-alone mode
Works with normal mist oil (also available for purchase)
Continuous mist production after 3 minutes warming-up time
Properties:
Connections: 1 x XLR-DMX input, 1x XLR-DMX output
Power light on the back
DMX channels: 2
Warm-up time: 3 minutes
Illuminated LED display
Slip-resistant feet
Fuse: T10A
Power supply: AC 220-240 V ~ 50/60 Hz
Dimensions:
Dimensions: approx. 18 x 32 x 35 cm (WxHxD)
Weight: approx. 4.6 kg
Fog Fluid 5L ECO Fog Oil Green
Item number: 10028257
Included quantity: 1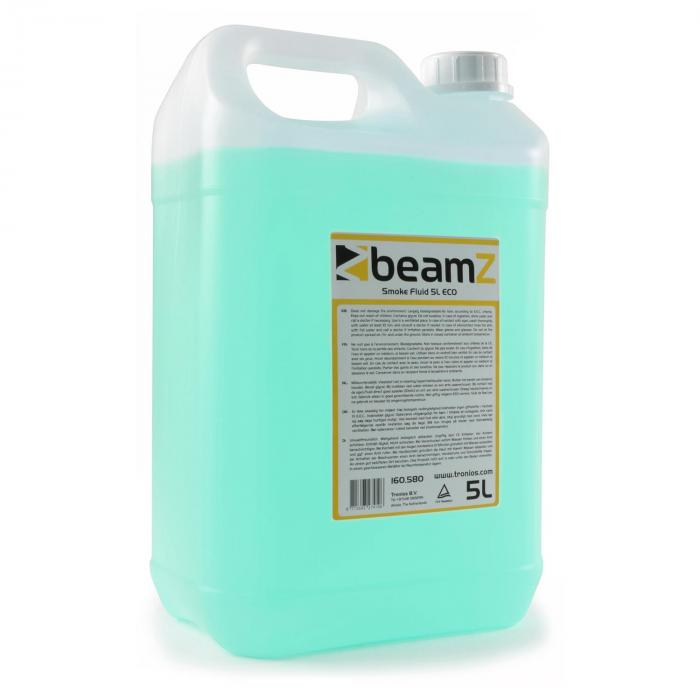 Top features:
High-quality and environmentally-friendly water-based fog fluid
For medium density fog
Toxicologically harmless: does not contain any harmful ingredients
Leaves no residue
Ready for use
Properties:
Suitable for all beamZ fog machines
ECO: biodegradable and environmentally friendly
Odourless
Protects the fogger from contamination
Canister with 5 litres
Colour of fluid: green
H2000 Fazer fog machine incl. fog fluid
Full power: powerful fog machine with 1700 watts heating power
Combinable: 2-channel DMX mode and stand-alone mode
Included: 5 litres of fog fluid