Item number: 60000693
Premus Tower "Röhre" HiFi System
You save 41%
Unfortunately, no articles are currently available
Top features
Tube HiFi amplifier with 600W
MP3-compatible USB input
Brushed stainless steel front with see-through panel
Shipping costs: from £ 0.00
The item is ready to ship and will be shipped immediately after receipt of payment.
Golden Tower Tube Amplifier Hifi CD Player Radio MP3 600W
Text für Setartikel..
The complete Auna HiFi set is a perfectly matchedcombination of Auna devices. The Auna Tube 65 HiFi tube amplifier offers notonly a wide range of connection options for your HiFi system, but also a frontintegrated AUX input for portable audio devices such as MP3 and CD players. Inaddition to this, the system also features a front MP3-capable USB slot. The tubeamplifier offers a consistently dynamic and differentiated sound with harmonicbass, mid and treble response.
The second part of this set is an MP3-compatible CD playerwith USB input for playing MP3s directly from an external hard drive or USBstick. The Auna AV2-CD509 offers excellent quality playback of CD-R and CD-RWmedia as well as MP3-CDs. In addition, the system features an integrated,high-quality radio receiver with 40 station presets as well as coaxial/opticaloutputs and an RCA line output, making the Auna AV2-CD509 CD player ideal forany HiFi set up. Its wide range of connection options allows you to expand thesound system with additional devices. The system can also be easily controlledwith the remote control supplied and built-in control panel.
The set strives to achieve a consistent elegance with itssubtle controls and brushed stainless steel front. At the heart of the AunaHiFi series is excellent quality and efficient product design.
All individual components in this HiFi set can be boughtseparately and combined with other devices in our shop. We can also puttogether a HiFi system tailored to your own individual needs.
Set consists of
Tube 65 HiFi Stereo Tube Amplifier MP3 USB Receiver 600W
Item number: 10007059
Included quantity: 1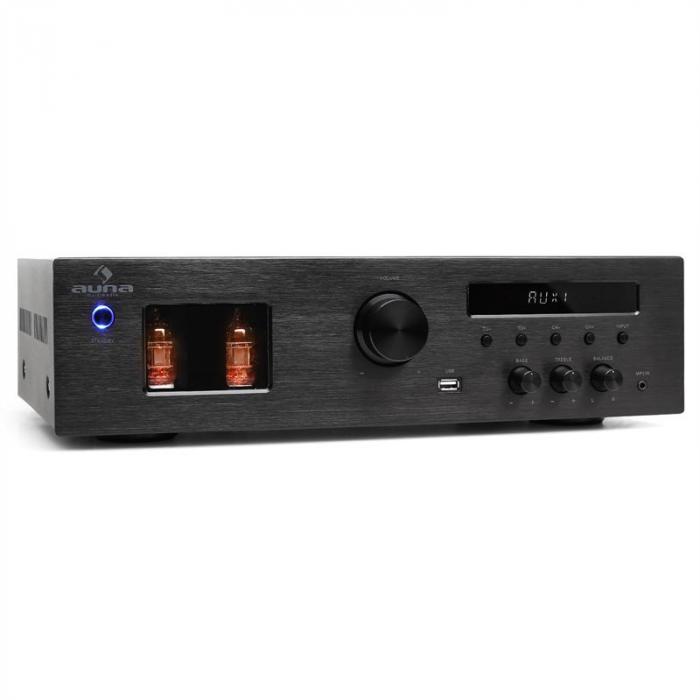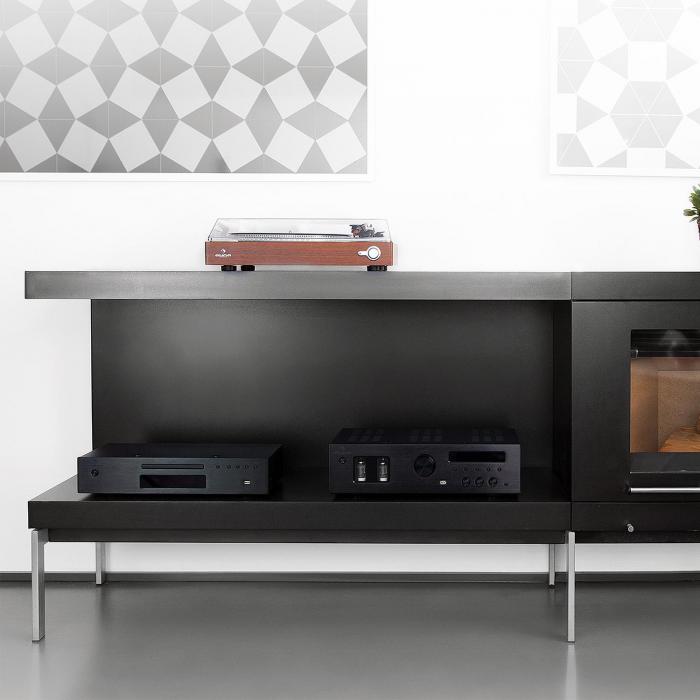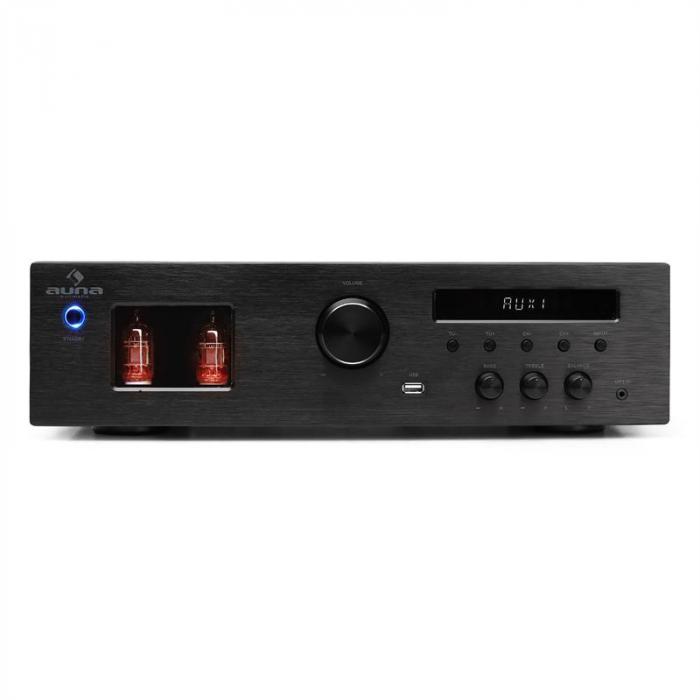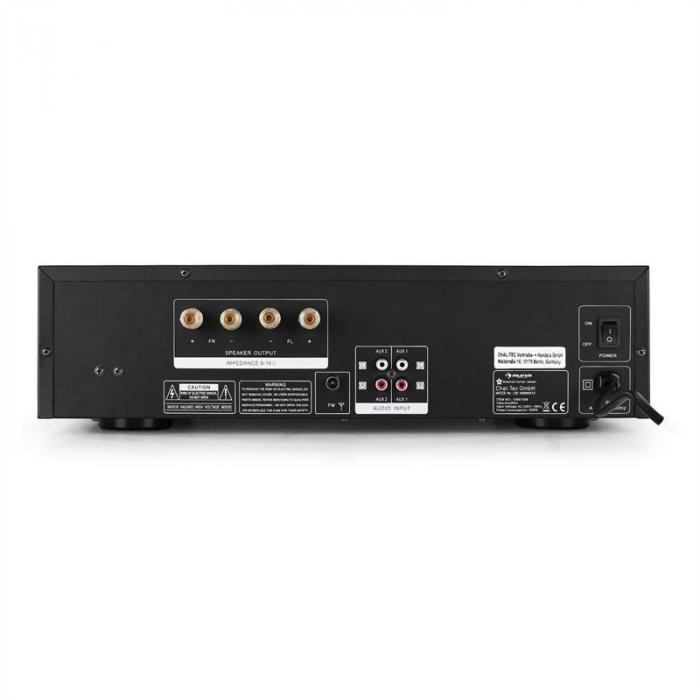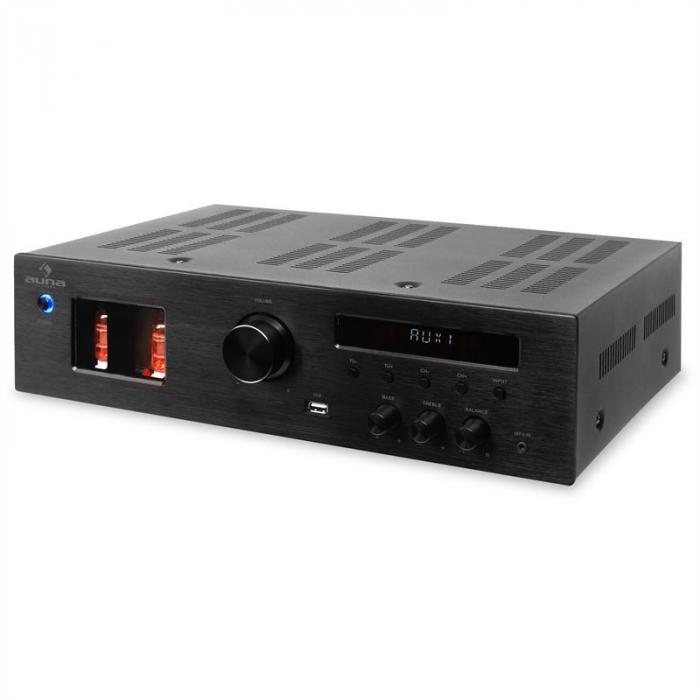 Selected reviews from the German press
Top features:
Tube-Hi-Fi receiver with 2 x 60W RMS - equivalent to 600W max. output
MP3 compatible USB input for direct playback of MP3 tracks from USB flash drives
FM radio tuner with RDS support and 50 station presets
Front AUX input for connecting external audio components such as MP3 and CD players
Two stereo RCA line inputs
Front made from brushed stainless steel with a viewing window to show tubes
Properties:
Connections: 1 x USB input (front), 1 x 3.5mm jack AUX input (front), 2 x RCA stereo audio inputs, 2 x sets of terminals for connecting the speakers (gold plated)
Playable formats: MP3, WMA
Reads ID3 tags (displays the artist name, song title, etc.)
USB supported file systems: FAT16, FAT32
Convenient operation via remote control and keys
Rear on/off switch
2-band EQ - adjustable bass and treble
Adjustable balance
Adjustable volume
Frequency response: 20Hz to 20kHz
Signal to noise ratio: 75dB
THD: 75dB
Power supply: 230V, 50Hz
Dimensions:
16.7 x 3.3 x 10.2 inches (W x H x D) (42.5 x 8.5 x 26cm)
Weight: approx. 9.3 pounds (4.23kg)
AV2-CD509 CD Player Radio Receiver USB MP3 Black
Item number: 10005063
Included quantity: 1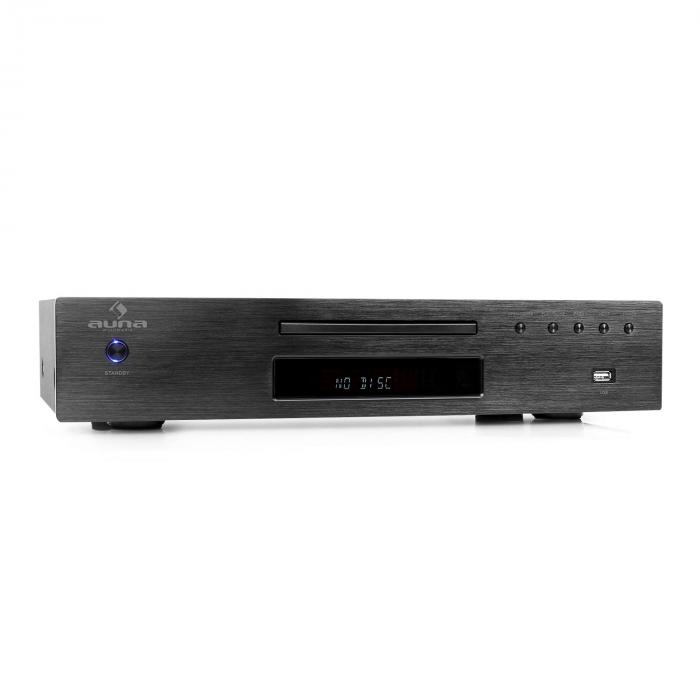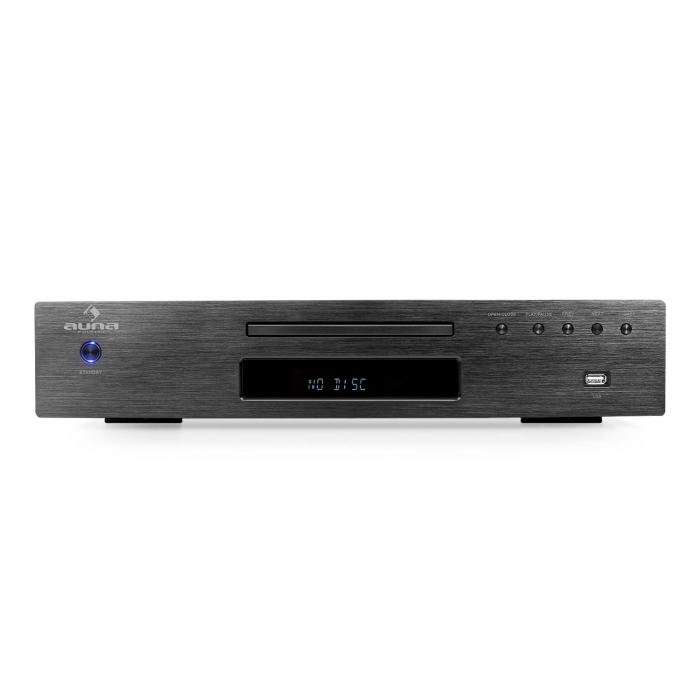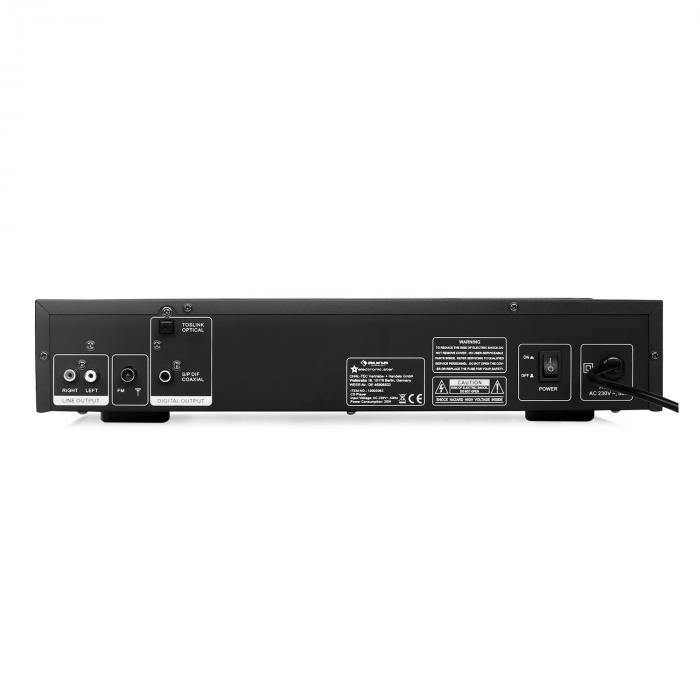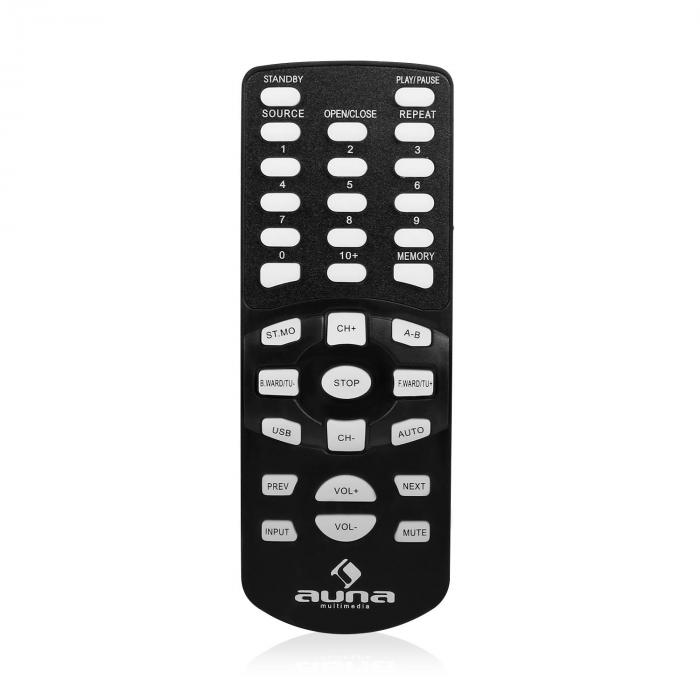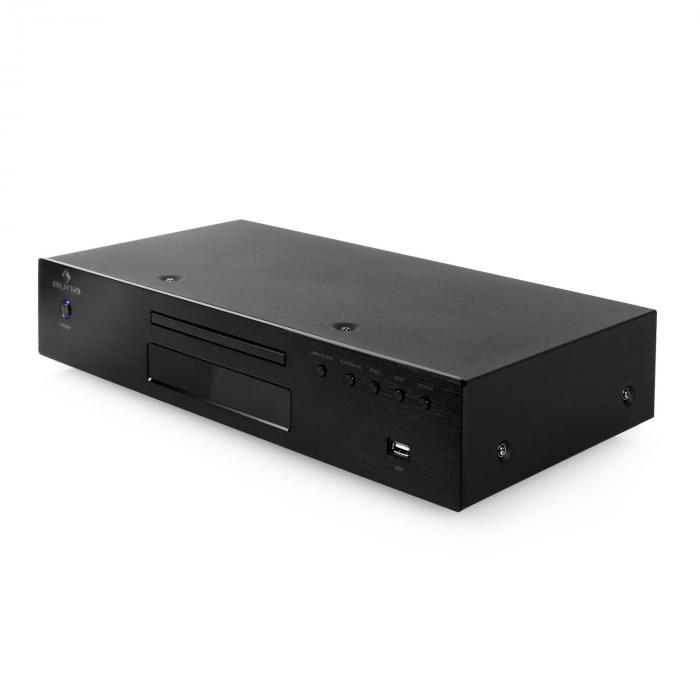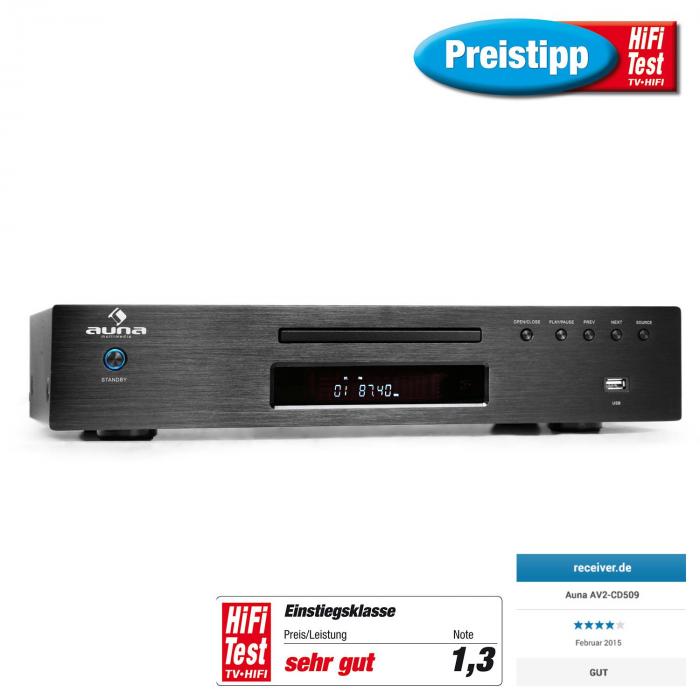 Selected reviews from the German press
Top features:
MP3 compatible HiFi CD player with integrated FM radio receiver
40 station presets
USB input for direct playback of MP3s from USB storage devices
Digital and analogue outputs (optical, coaxial, RCA line)
Easy operation via remote or built-in controls
Solid metal front in brushed stainless steel
Properties:
Connections: 1 x USB (front), 1 x Optical audio output, 1 x Coaxial audio output, 1 x FM antenna input, 1 x Stereo RCA audio output
Playable formats: CD, CD-R, CD-RW, MP3
Automatic and manual tuning
Rear on/off switch
Easy operation via remote or built-in controls
Repeat function
A-B repeat
Mute
LCD display
Power supply: 230V, 50Hz
Dimensions:
42.5 x 8.5 x 22.5cm (W x H x D)
Weight: 3kg
Gold Plated Stereo RCA Cables DJ PA HiFi - 10 meters
Item number: 10000759
Included quantity: 1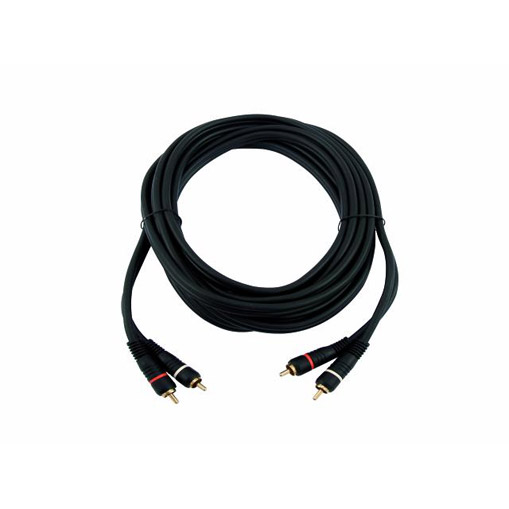 Properties:
Stereo RCA audio cable to connect various audio components with RCA connectors. Shielding protects against unwanted interference and losses in sound quality. Each cable terminates with an anti kink connector at each end to avoid cable breaks.
10 meter cable
Stereo RCA cable
Gold-plated connectors
Tags
Anti kink
Shielded
Customer opinions
Tested review
I purchased this as a second system and was attracted mainly by the valve pre amp in the Tube 65 Amplifier. The sound is generally warm but punchy and sounds great with orchestral and rock music. I actually found myself going through my CD collection and listening to music I'd not listened to in a long time as I was enjoying the experience so much. One downside is that you obviously get two remotes (one for the amp, one for the CD player) and they conflict with each other. For example when hitting 'next track' on the CD player remote it changes the input on the amp from Aux1 to Aux2!! A bit of a silly oversight. I just use the number buttons to change to the desired track so it's not a huge problem. The units appear very well made and attractive for the price and over all I'm very pleased with the sound quality. I would have given 5 stars if it wasn't for the problem with the remotes conflicting. Maybe there is a solution for this?
Tested review
The good stuff: clean well balanced sound, plenty of punch, nice appearance and easy to use. Top notch value for money for the pair. The not so good stuff: Hum on left channel which is a screening issue as it increases when touched. Instructions are very minimal. gold plated phono connectors would have been a nice inclusion. OVERALL...Can easily live with the combination but good speakers really open up the sound so it is worth spending a bit more as the rewards will be gained.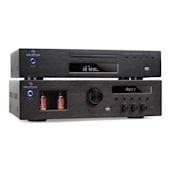 Premus Tower "Röhre" HiFi System
Tube HiFi amplifier with 600W
MP3-compatible USB input
Brushed stainless steel front with see-through panel
All purchases made between the 25th of October and the 31st of December 2019 can be returned till the 31st of January 2020.