Item number: 60002466
GrowIt Farm 3-Level Kit Smart Indoor Garden
You save 61%
Delivery time: 3 - 5 workdays
Top features
Freshness on two levels: practical 3-tier set with stacking frame, connecting cable and extra-strong power supply
Conscious & sustainable: plant breeding completely without pesticides or genetic engineering
Smart Control System: automated lighting and water recirculation system for easy operation
Shipping costs: from £ 0.00
The item is ready to ship and will be shipped immediately after receipt of payment.
You may change your order at any time.
GrowIt Farm 3-Level Kit 3x Smart Indoor Garden Connection Kit
Text für Setartikel..
Let it grow on three levels! In the Klarstein GrowIt Farm 3-level kit smart indoor garden, herbs and vegetables grow and thrive throughout the year - very easily, completely pesticide-free and guaranteed to be sustainable, and directly on two levels!
Discover home gardening with the Klarstein GrowIt Farm smart indoor garden. No matter whether you want to grow fresh herbs for seasoning or crunchy vegetables for the kitchen, you can always garden at will, in our smart Hydro-Farm you will almost always succeed - completely independently of location or soil. To support your success as a hydroponic gardener, this 36-piece complete set provides planters, seedling sponges, plant baskets and much more to make plant breeding a breeze.
As a hydroponic culture, up to 28 cuttings are grown by the system completely without soil: their roots grow directly in the 8-litre water tank, so that they can absorb the 2-component nutrient solution consisting of macro and micro elements such as phosphorus, potassium and iron. Never worry about watering too much or too little, the plants simply take care of themselves. A 48-watt full-spectrum LED growth lighting system provides your plants with the necessary light dose. Here, too, the GrowIt supports you to the best of its ability: its DaylightSimulation System automatically controls the light and circulation pump via OneButton Control. The latter enriches the water with fresh oxygen and ensures a uniform supply of nutrients to the roots. All you have to do is refill the nutrient solution every now and then - and watch your plants grow. After just 25 to 40 days you can start to gather your first harvest. And that's something to be proud of, because the direct supply of dissolved nutrients and the optimal light cycle of the hydroponic system mean that the plants not only grow faster, but also more abundantly!
Even more freshness from the indoor garden: in our practical set, you will receive three GrowIt Farm Smart Indoor Gardens complete with the necessary connection equipment. This consists of a sturdy stacking frame, a connecting cable and an extra-strong power supply for direct power supply of both herb gardens without much cable clutter.
Fresh, sustainable and guaranteed free of pesticides: the Klarstein GrowIt Farm 3-story kit smart indoor garden provides the kitchen with crunchy vegetables and flavourful herbs on three levels all year round.
Set consists of
GrowIt Farm Smart Indoor Garden 28 Plants 48W LED 8 Litres
Item number: 10033115
Included quantity: 3
Top features:
Conscious & sustainable: plant growing completely without pesticides or genetic engineering
Smart Control System: automated lighting and water circulation system for easy operation
Without soil: more abundant, optimal plant growth through direct cultivation in nutrient solution
Complete light spectrum: special LEDs with DaylightSimulation System for perfect plant growth
Home gardening: efficient rearing to harvest maturity of up to 28 seedlings in 25 to 40 days
Varied: very easycultivation of herbs and vegetables for the kitchen
Elegant design: stylish modern housing blends perfectly into almost any living environment
Easy care: large 8-litre water tank for growth without constant watering
Complete system: 36-piece set with plant sponge, plant baskets, measuring cup and much more
Properties:
Growth illumination: 48 watts on 196 LEDs - complete spectrum of light for the perfect care of the plants
Automatic lighting control: 14 hours of lighting alternating with 10 hours of non-lighting
Automatic pump control: constant circulation of nutrient solution
Water tank capacity: 8 litres
Practical pouring hole for refilling nutrient solution
Visual alarm if the nutrient solution level is too low
Optimum growth at 20 to 28 ° C
Stackable: up to 3 elements one above the other
We recommend the use of our nutrient solutions developed especially for Klarstein
Replacement plant baskets and sponges available under article numbers 10033223 & 10033225
Power supply: DC24V / 2 A via power supply 220-240 V ~ | 50/60 Hz
Dimensions:
Dimensions: approx. 72 x 37 x 44 cm (WxHxD)
Dimensions water tank: approx. 46 x 7 x 43.5 cm (WxHxD)
Dimensions plant basket: approx. 3.3 x 3.5 cm (ØxH)
Power cable: approx. 2.20 m in length
Weight: approx. 8 kg
GrowIt Farm Smart Indoor Garden Replacement Power Supply 24V / 6.25A
Item number: 10033220
Included quantity: 1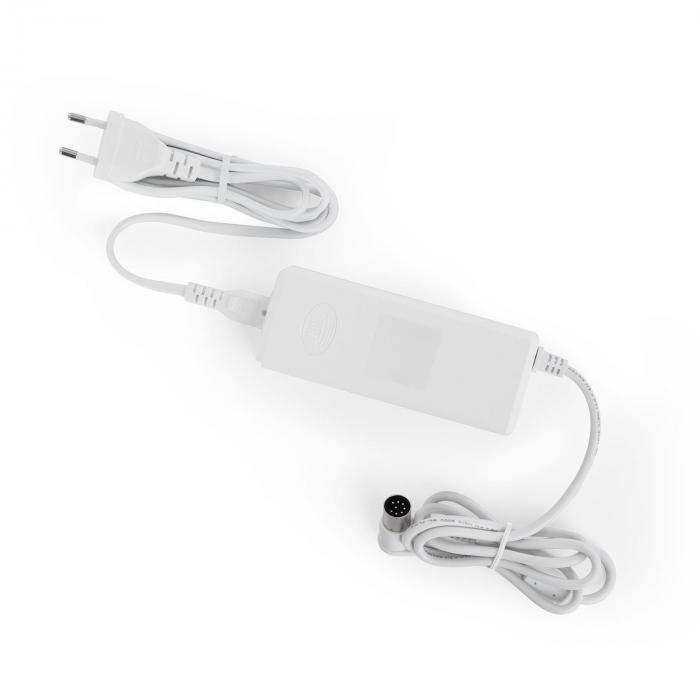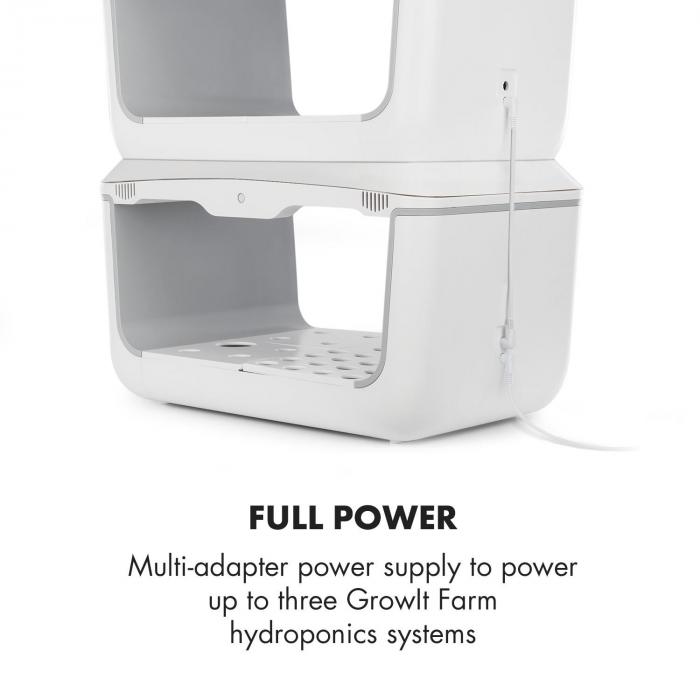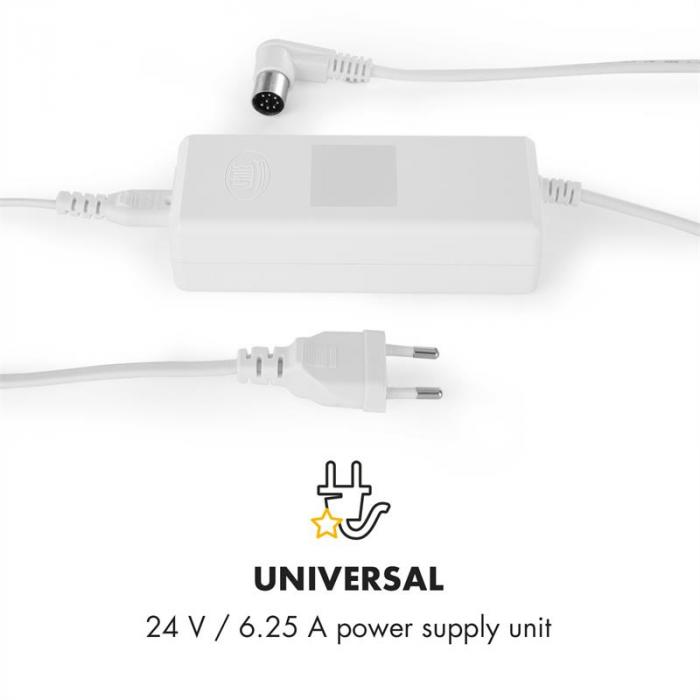 Top features:
Full power: multi-adapter power supply for shared power supply of up to three GrowIt Farm hydroponic systems
Universal: 24 V / 6.25 A power supply for power supply
Properties:
Multi-adapter power supply for the Smart Indoor Garden 'GrowIt Farm' with article number 10033115
Material: plastic
Dimensions:
Dimensions: approx. 7 x 4 x 17 cm (WxHxD)
Total cable length: 2.1 m
Weight (total): approx. 680 g
GrowIt Connection Kit for GrowIt Farm Smart Indoor Garden
Item number: 10033221
Included quantity: 2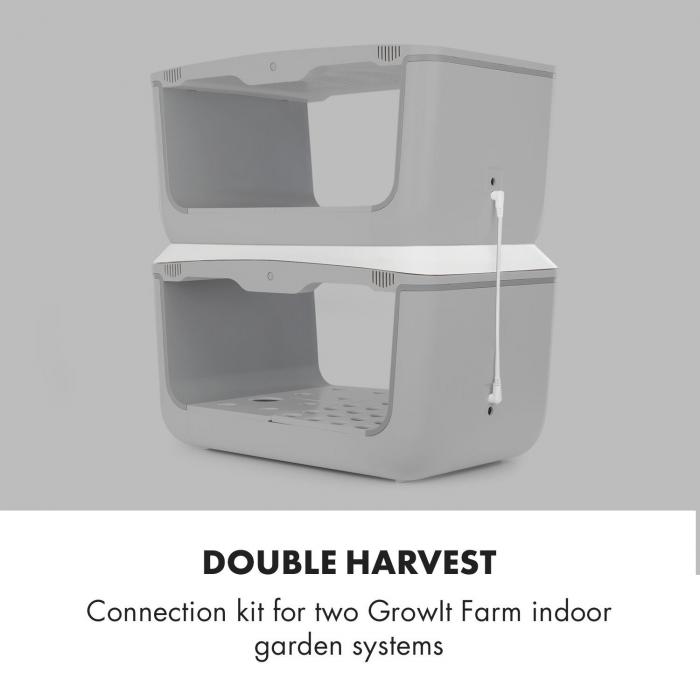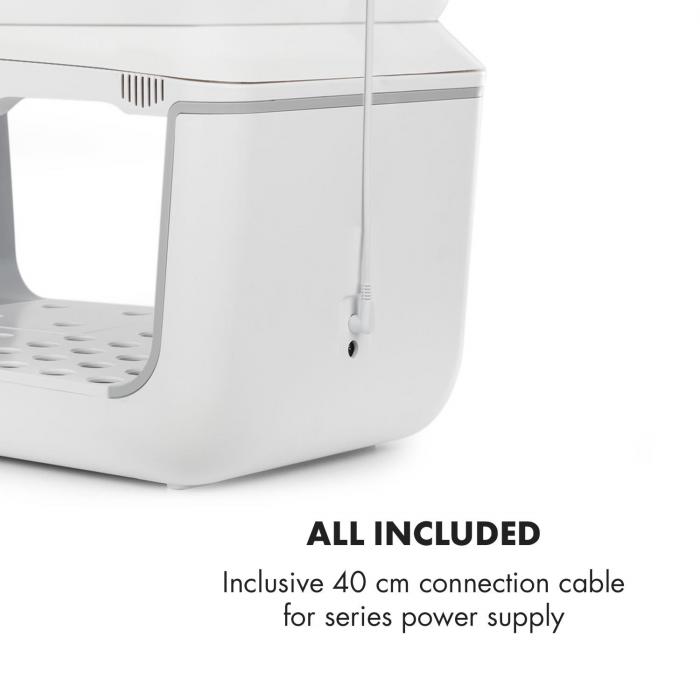 Top features:
Double harvest: connection kit for two GrowIt Farm Indoor Garden systems
Terrace garden: uncomplicated and safe stacking of two Smart Indoor Garden systems
Connected in series: includes 40 cm connection cable for series power supply
Properties:
Connection frame for two 'GrowIt Farm' Smart Indoor Garden Systems with article number 10033115
Material: plastic
Maximum stack height: 3 systems
For the connection of two GrowIt Farm Systems one GrowIt Connection Kit is needed
Dimensions:
Dimensions: approx. 71.7 x 4 x 43.7 cm (WxHxD)
Total cable length: 40 cm
Weight (total): approx. 700 g
GrowIt Farm 3-Level Kit Smart Indoor Garden
Freshness on two levels: practical 3-tier set with stacking frame, connecting cable and extra-strong power supply
Conscious & sustainable: plant breeding completely without pesticides or genetic engineering
Smart Control System: automated lighting and water recirculation system for easy operation
All purchases made between the 25th of October and the 31st of December 2019 can be returned till the 31st of January 2020.