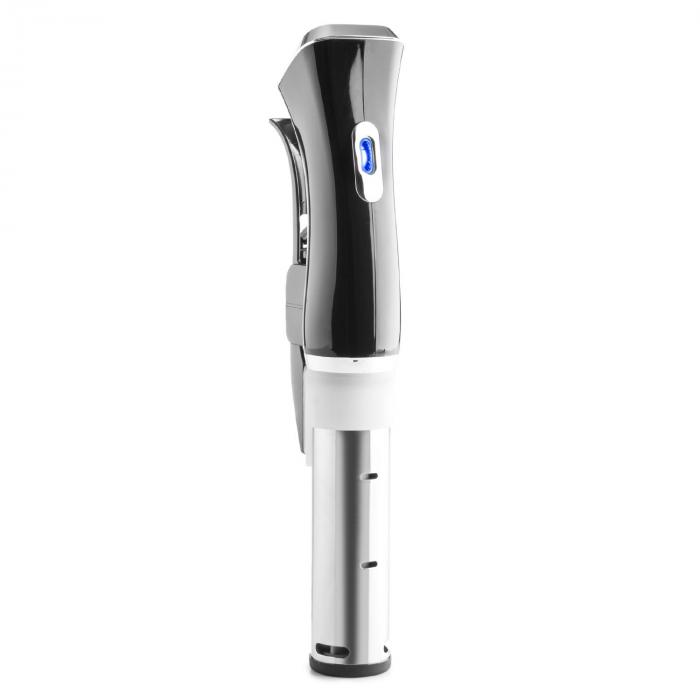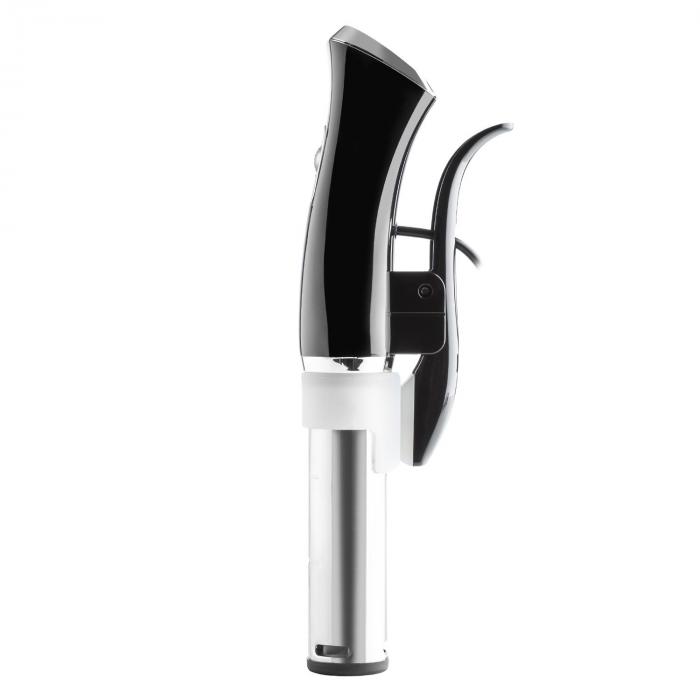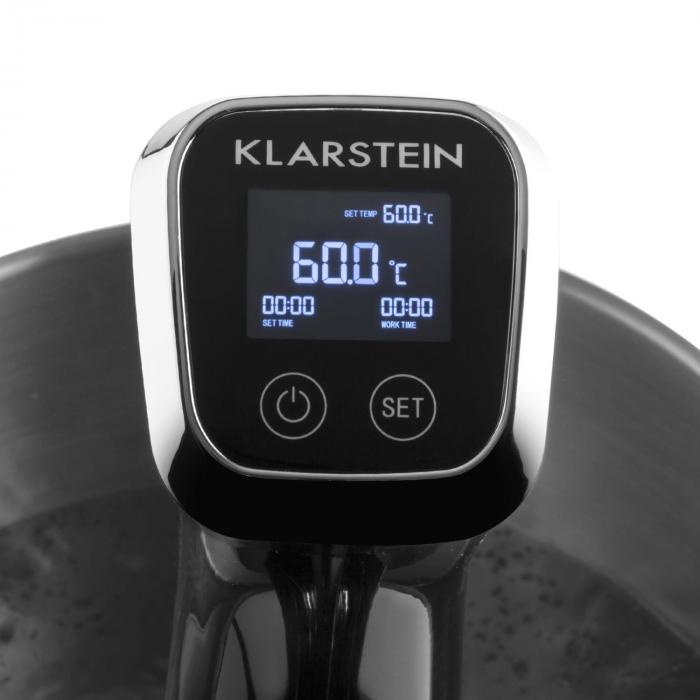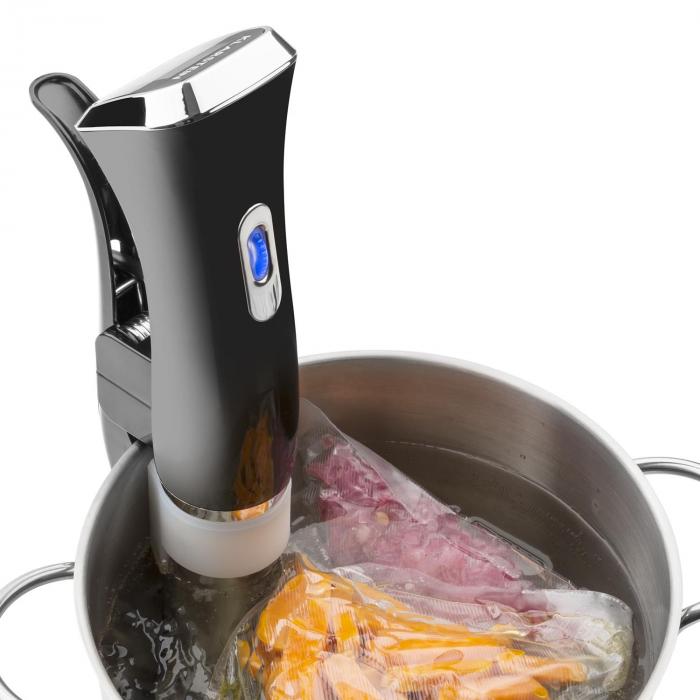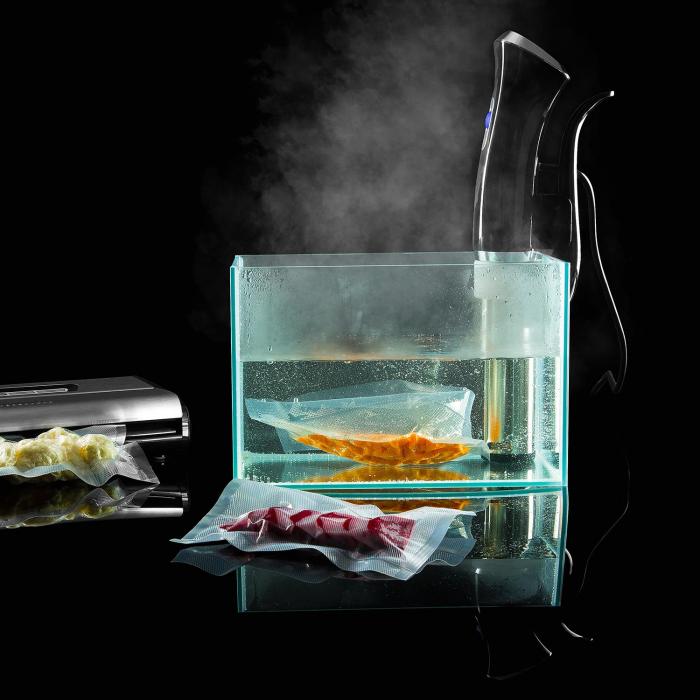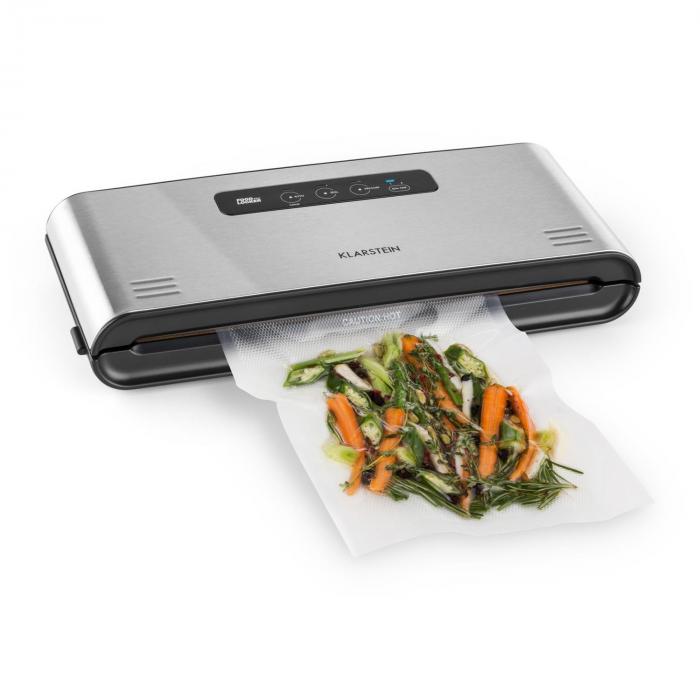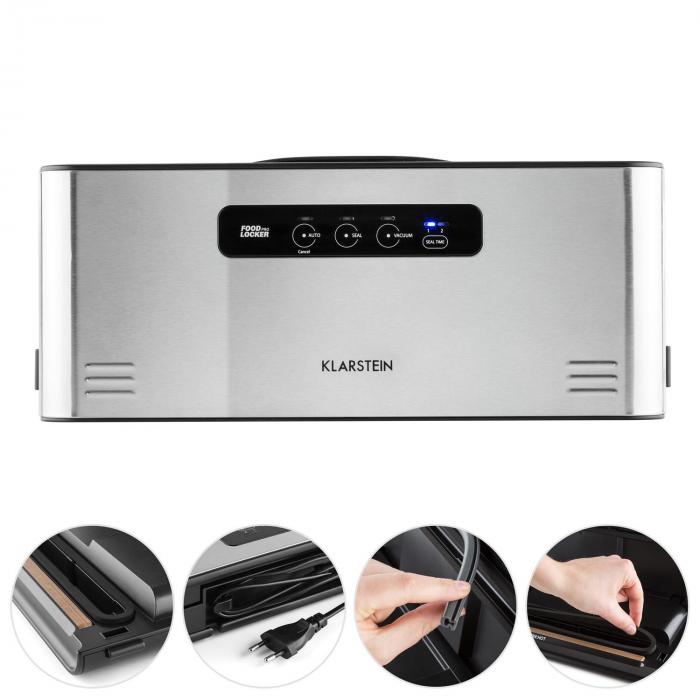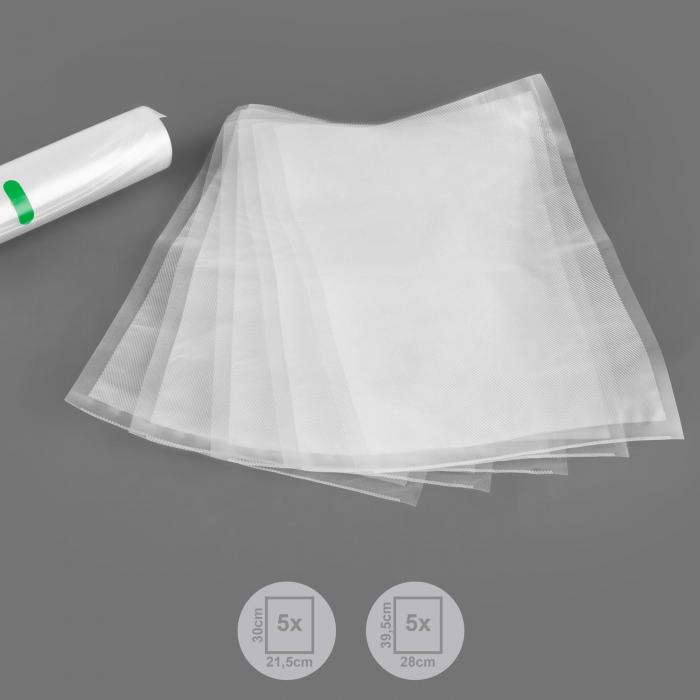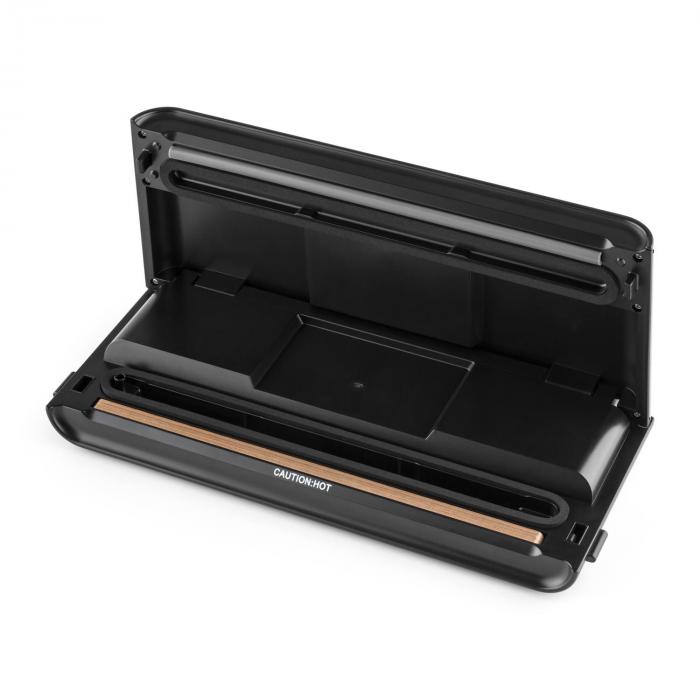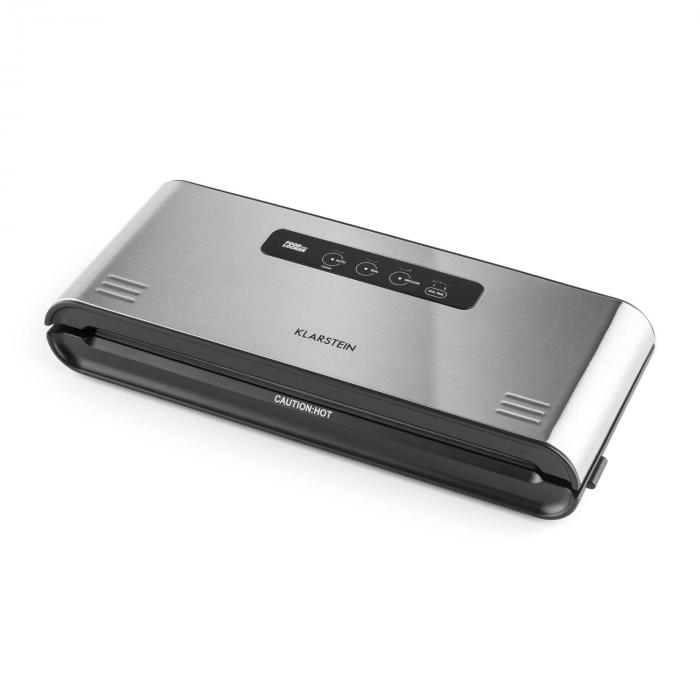 Item number: 60001815
Quickstick Sous Vide Food Locker Pro
You save 19%
Delivery time: 3 - 5 workdays
Top features
1300 watts Quickstick Sous-Vide cooker and 120 watts Food locker Pro vacuum sealer
Constant water temperatures between 50-95 °C
Vacuum sealer with -0.8 bar suction force and 12 l/min suction speed
Shipping costs: from £ 0.00
The item is ready to ship and will be shipped immediately after receipt of payment.
You may change your order at any time.
Quickstick Sous Vide Food Locker Pro | Sous Vide Cooker | Vacuum Sealer
Text für Setartikel..
With 1300 watts of power, the Klarstein Quickstick Sous Vide cooker warms up to 20 liters with the preciseness of 0.2 ° C. The built-in circulation pump ensures that the water temperature is constantly maintained at the value entered, in the range of 50-95°C, without forming areas of different temperatures. The perfect cooking result is guaranteed. The Quickstick is controlled very easily by an LCD touch-screen, at which the cooking temperature can be adjusted at any time during the cooking process. A sturdy clamp keeps the stick firmly on the edge of the water bath, while its stainless steel manufacture ensures easy cleaning.
For a quick introduction into cooking with the Sous Vide method, the Klarstein Quickstick Sous Vide Set comes directly with the matching Klarstein Foodlocker Pro vacuum sealer. Flat, compact and powerful: The Foodlocker Slim is modest in its space consumption and operates with a powerful 120 watts. With a suction force of up to -0.8 bar and a suction speed of 12 l/min, it suctions and automatically seals vacuum bags at the push of a button. Sensitive foods such as fruits, liquids and spices can be closed by the Pulse button, without being crushed.
Quickly and easily to the aroma experience: Discover the Sous Vide process with the Klarstein Quickstick Sous Vide Foodlocker Pro Set: Garstick, vacuum sealer and vacuum bags - it does not get any more straightforward!
Set consists of
Quickstick Sous-vide Cooker Thermostat Circulation Pump 20 L Stainless Steel
Item number: 10030584
Included quantity: 1
Selected reviews from the German press
Top features:
Constant temperature throughout the pot via a built-in circulation pump
Temperature adjustable from 50-95 °C
For all heat-resistant vessels with a capacity of up to 20 liters from a height of 18 cm
Dry-running protection: automatic shutdown at low water levels
Exact temperature adjustment (+/- 0.2 C)
Properties:
On/off switch on the display
Timer function (0:00 to 59:59)
Blue LCD touch display
Stainless steel
Simple operation and cleaning
Space-saving storage
Power: 1300 watts
Power Supply: 220-240 V; 50 Hz
Dimensions:
Dimensions: approx. 36.7 x 13.5 x 8.8 cm (WxHxD)
Weight: approx. 1.1 kg
Foodlocker Pro Vacuum Sealer 30 cm 120W -0.8 bar 12 l / min Stainless Steel
Item number: 10029742
Included quantity: 1
Selected reviews from the German press
Top features:
High-quality vacuum sealer for vacuum sealing of plastic bags
Film sealer: seals plastic sheets up to 30 cm width
Preserves flavours and freshness of food up to 8 times longer
Even suitable for cooking with vacuum (sous vide): delicate and aromatic foods
Space-saving and safe freezing: no wasted room from air bubbles, minimal freezer burn risk
Automatic and manual vacuuming, separate sealing function
Easy-to-understand control panel with touch-function lights
Properties:
Maximum vacuum: about -0.8 bar
Exhaust speed: about 12 l / min
3 mm-wide seal
Power: 120 W
Includes 5 small (30 x 21.5 cm) and 5 large (39.5 x 28 cm) vacuum bags
Two selectable sealing times: longer sealing time for liquids and moist foods
Film sealer: simple, 3mm seal with up to 30 cm width
Stop key for interrupting the vacuuming
Brushed stainless steel surface
Cable intake on rear panel
Power supply: 220-240V, 50Hz
Dimensions:
Dimensions device: about 37 x 6 x 15 cm (WxHxD)
Weight: about 1.5 kg
Cable length: about 1.30 m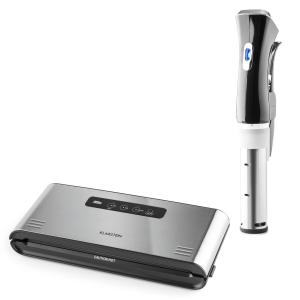 Quickstick Sous Vide Food Locker Pro
1300 watts Quickstick Sous-Vide cooker and 120 watts Food locker Pro vacuum sealer
Constant water temperatures between 50-95 °C
Vacuum sealer with -0.8 bar suction force and 12 l/min suction speed
All purchases made between the 26th of October and the 31st of December can be returned till the 31st of January 2019.