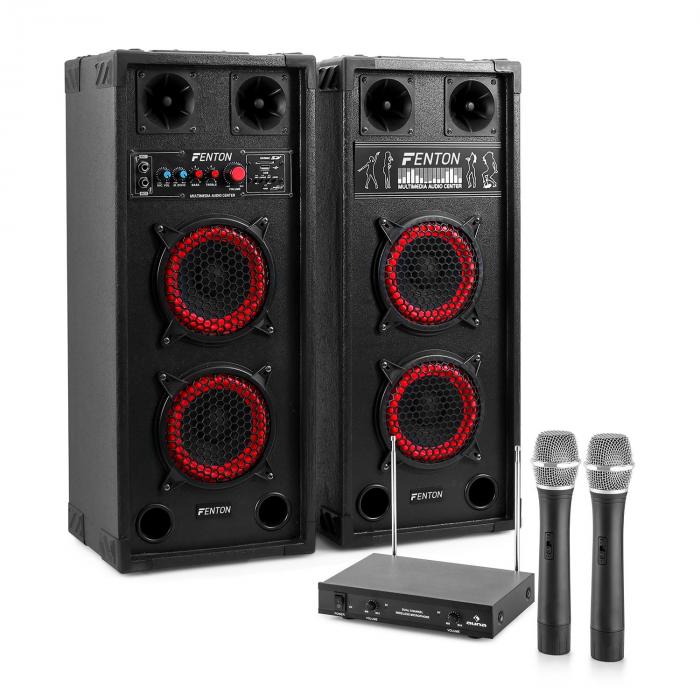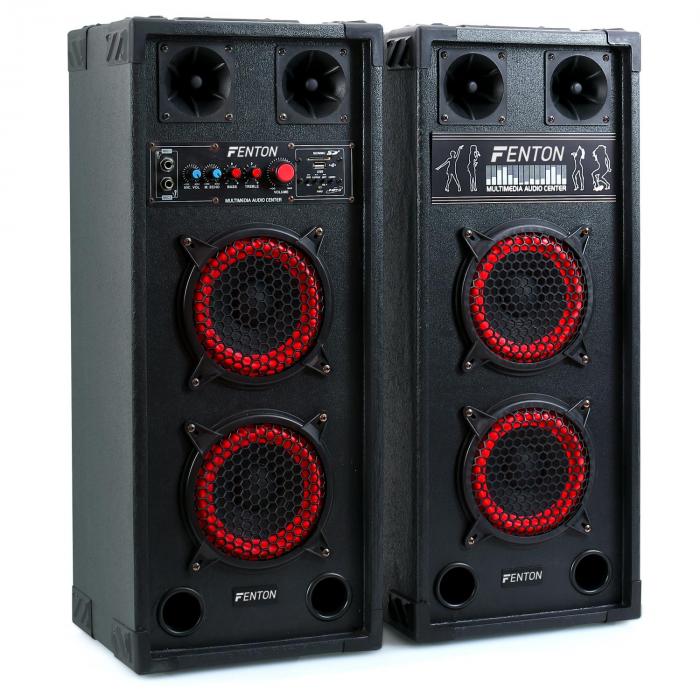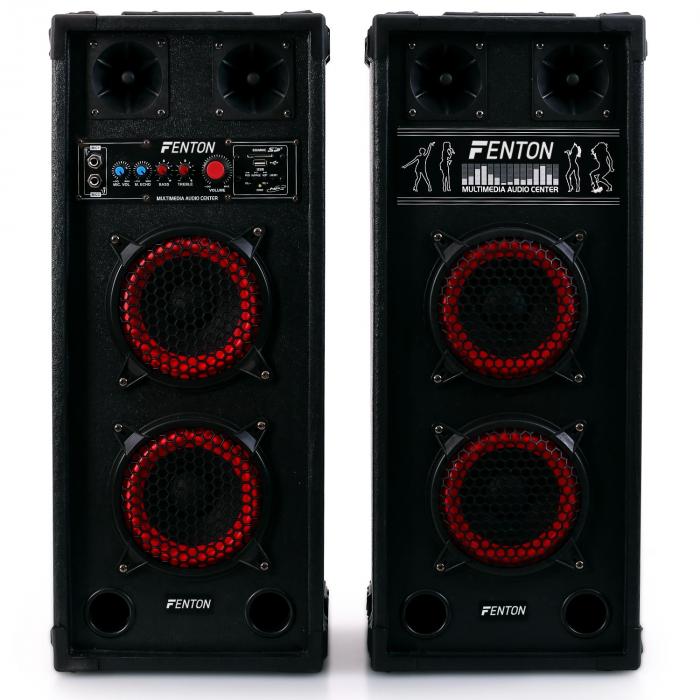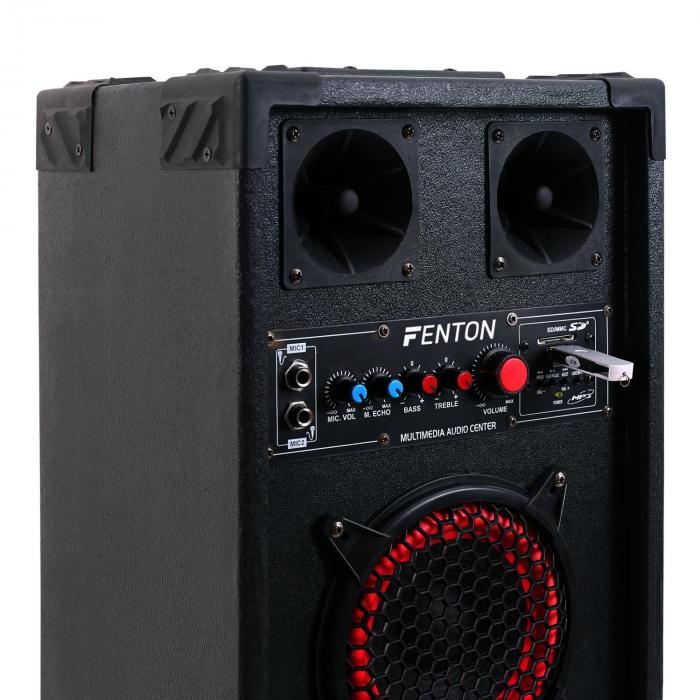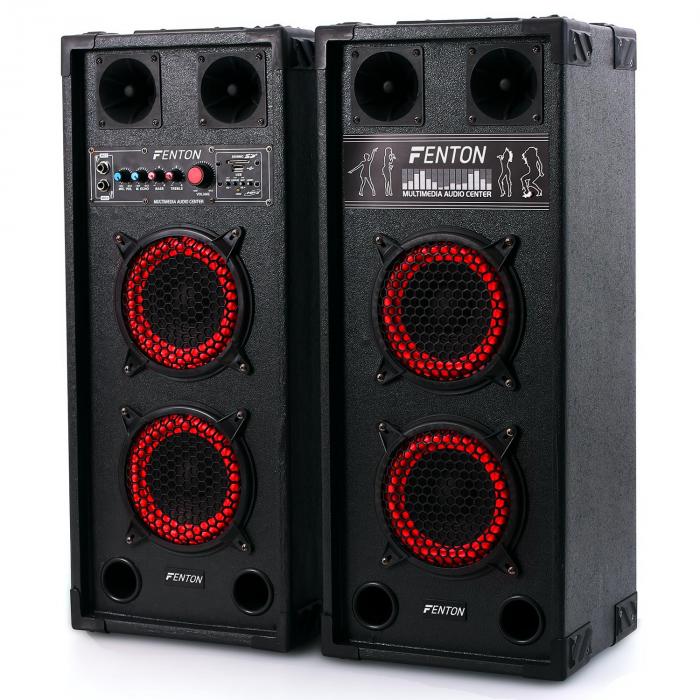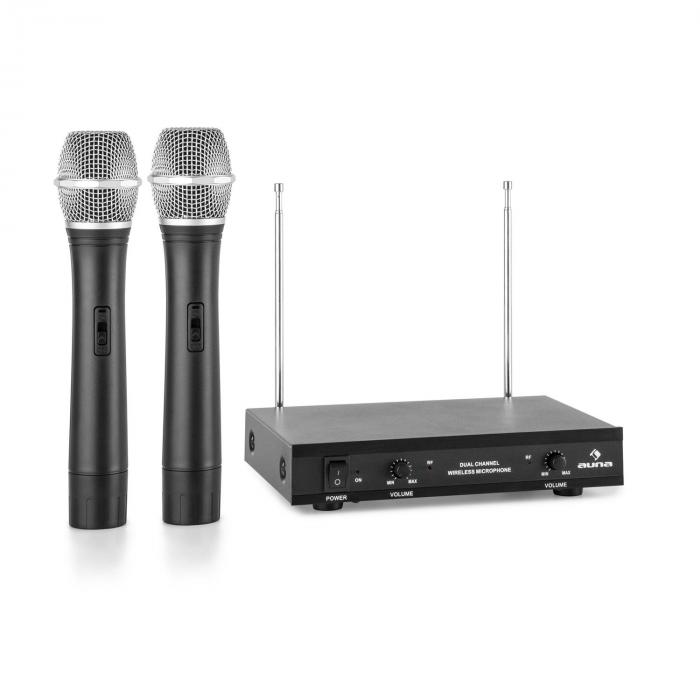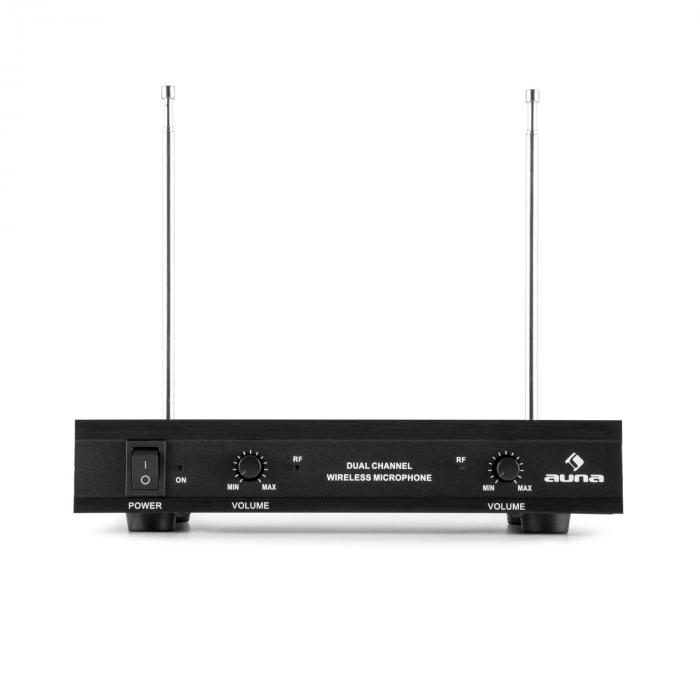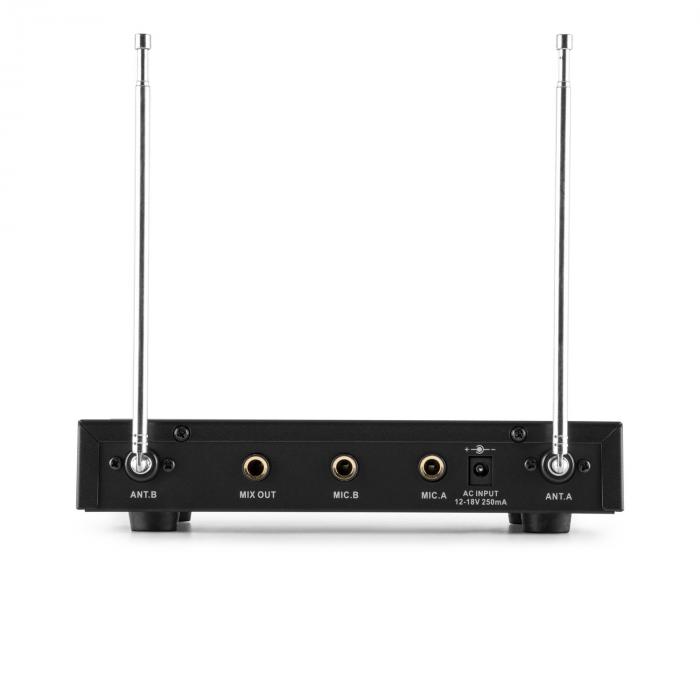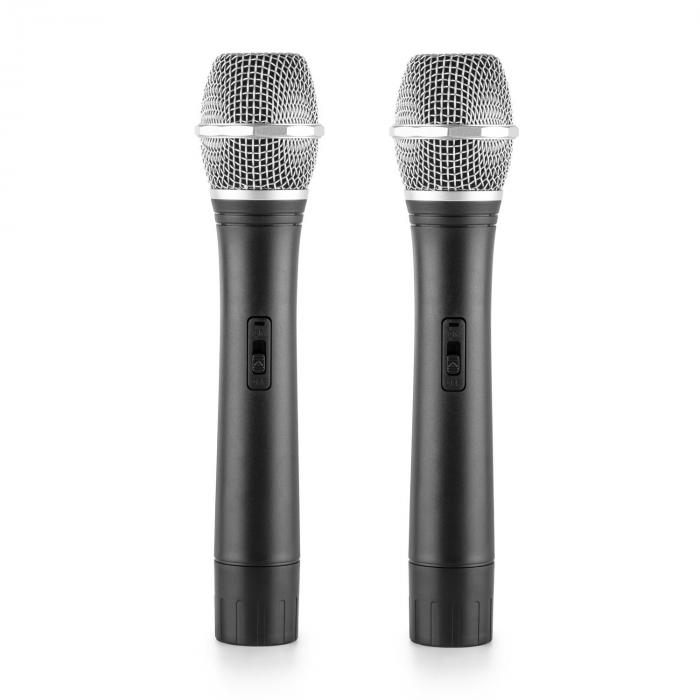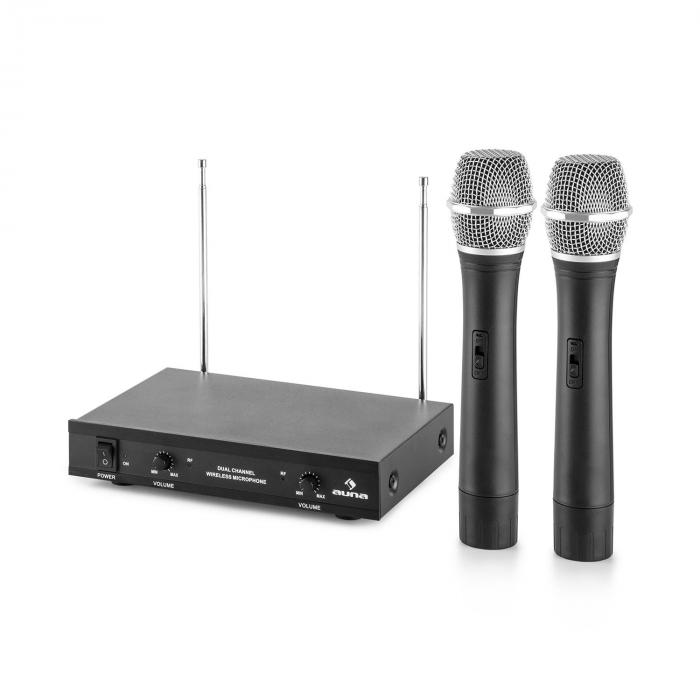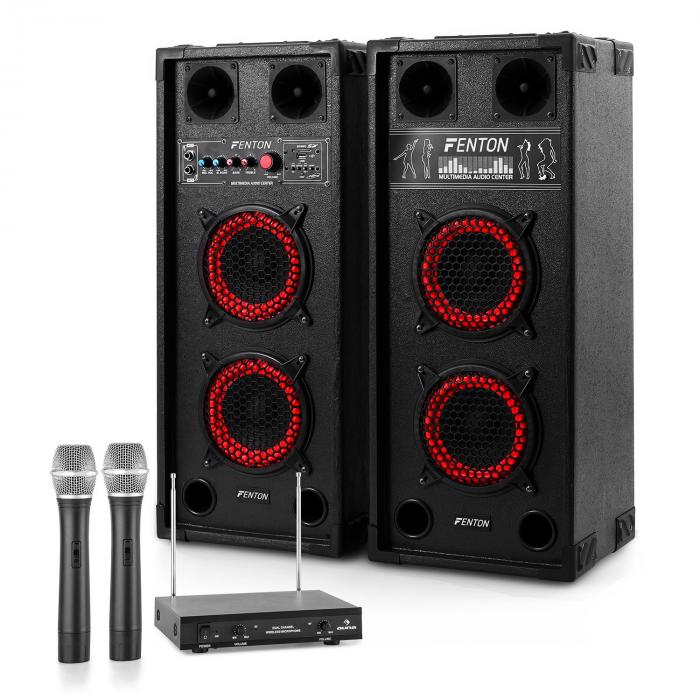 Item number: 60000632
STAR-Wedding Karaoke System
You save 60%
Unfortunately, no articles are currently available
Top features
Karaoke set with 600W power
1 x active speaker, 1 x passive box, 2 x wireless microphones, 1 x radio receiver
MP3 playback from USB & SD
Shipping costs: from £ 0.00
The item is ready to ship and will be shipped immediately after receipt of payment.
Karaoke System "STAR-Wedding" PA Speakers 800W | 2-channel VHF Wireless Microphone Set
Text für Setartikel..
The "STAR-Wedding" karaoke set boasts some true entertainer qualities and provides a platform to discover and promote your own talents. The Fenton SPB-26 PA speaker set easily proves its quality in medium-large spaces. The robust housing is suited to transport and use in outdoor areas. With 800 W max. output and powerful 15 cm (6.5") subwoofers, the Fenton SPB-26 master/slave speaker system shows who's the musical boss. The bass reflex design also cleverly increases the sound levels and gives the bass the deep rumbling you desire.
MP3 files can be played directly from the SD/USB inputs at the front side of the Fenton SPB-26 speaker set. Two microphone inputs mean the speaker set is predestined for use in speeches and song such as at markets or karaoke battles. Via the input jack the PA speaker set can connect to other audio devices. The relatively light but robust MDF chassis of the Fenton SPB-26 sound system is easy to transport thanks to the handle on the top and can fit into small spaces, even small car boots.
The auna VHF-2-H wireless system transforms the PA system into a complete karaoke machine or makes it possible to invite up to two entertainers to the stage at presentations. With the dynamic handheld microphones, extensive areas with a radius of up to 100 metres are covered.
Set consists of
Skytec SPB-26 PA Active Passive Dual 6.5" PA Speakers 600W
Item number: 10006524
Included quantity: 1
Top features:
Master/slave speaker system with activeand passive speakers and 600W max. power
Bass reflex speakers with 2 powerful 6.5" woofers and piezo horn per speaker
USB and SD inputs for the direct playbackof MP3 tracks from SD cards, USB drives, etc.
Two microphone inputs for vocal andspeech-centric applications
Durable MDF housing with top-mountedhandles
Properties:
Connections (active speaker): 2 x 6.3mmjack microphone inputs (front), 1 x USB input (front), 1 x SD input (front), 1x stereo RCA line input, 1 x RCA audio output for connecting passive speaker
Connections (passive speaker): 1 x RCAaudio input (permanently fixed cable)
Separately adjustable microphone, USB/SD,and master volume
2-band EQ (bass and treble adjustable)
Stand-alone MP3 control section
Adjustable microphone echo effect
Grille and bumpers made ​​of sturdyplastic
Impedance: 4 ohms
Sensitivity: 122dB
Frequency range: 55Hz - 20kHz
Power supply: 230V, 50Hz
Dimensions:
26 x 68 x 20cm (WxHxD)
Weight: approx. 8kg per speaker
VHF-2-H 2-Channel VHF Wireless Microphone Set 2 x Hand Microphone 50m
Item number: 10030868
Included quantity: 1
Top features:
2-channel VHF wireless microphone set with two dynamic hand microphones
Up to 50 metres range and long operating times thanks to energy-efficient construction
Jack output to cable-connected signal forwarding to amplifier, mixer and loudspeaker
Compact receiver with metal housing and aluminium front plate
Properties:
Connections: 1 x 6.3mm jack microphone. A output, 1 x 6.3mm jack microphone. B output, 1 x 6.3mm jack mix output
Transmission frequencies: 186.20 + 199.60 MHz (VHF)
Volume control
Telescopic antenna
Stand feet
Power LED
RF LED
On / off switch on the front panel
Power supply wireless microphone: 1 x 9 V battery (not included)
Power supply receiver: AC 12 - 18V, 250 mA
Dimensions:
Receiver: 21 x 4.5 x 16 cm (WxHxD)
Weight microphone (each): 149 g
Weight: about 592 g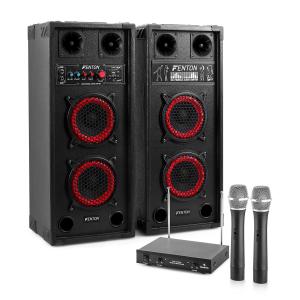 STAR-Wedding Karaoke System
Karaoke set with 600W power
1 x active speaker, 1 x passive box, 2 x wireless microphones, 1 x radio receiver
MP3 playback from USB & SD
All purchases made between the 25th of October and the 31st of December 2019 can be returned till the 31st of January 2020.