Item number: 60002397
GrowIt Connection Set 3 Pieces
You save 35%
Delivery time: 5 - 7 workdays
You save 49,99£ (35,71%) compared to the single unit price.
Top features
Double harvest: 3-piece connection complete set of connection frame, connection cable and power supply
Terrace garden: uncomplicated and safe stacking of two Smart Indoor Garden systems
Connected in series: includes 40 cm connection cable for series power supply
Shipping costs: from £ 0.00
The item is ready to ship and will be shipped immediately after receipt of payment.
You may change your order at any time.
GrowIt Connection Set 3 Parts Connection Frame / Cable & Power Supply White
Text für Setartikel..
The double harvest: with the Klarstein GrowIt Connection Set connection kit you can bring together what belongs together. The connection kit makes it easy to stack two GrowIt Farm Indoor Garden systems on top of each other. This way, your home garden can reach twice the size in an instant. For a power supply without cable clutter, a 40 cm long connection cable is directly included with delivery. Using this, the second Smart Indoor Garden System can be supplied in series with power. The required power supply with 24 V and 6.25 A for the simultaneous supply of up to three GrowIt Farm systems is included in the set.
Please note: to stack up a third GrowIt Farm Smart Indoor Garden you will need one additional connection frame and cable. These can be purchased under the article number 10033221.
Set consists of
GrowIt Farm Smart Indoor Garden Replacement Power Supply 24V / 6.25A
Item number: 10033220
Included quantity: 1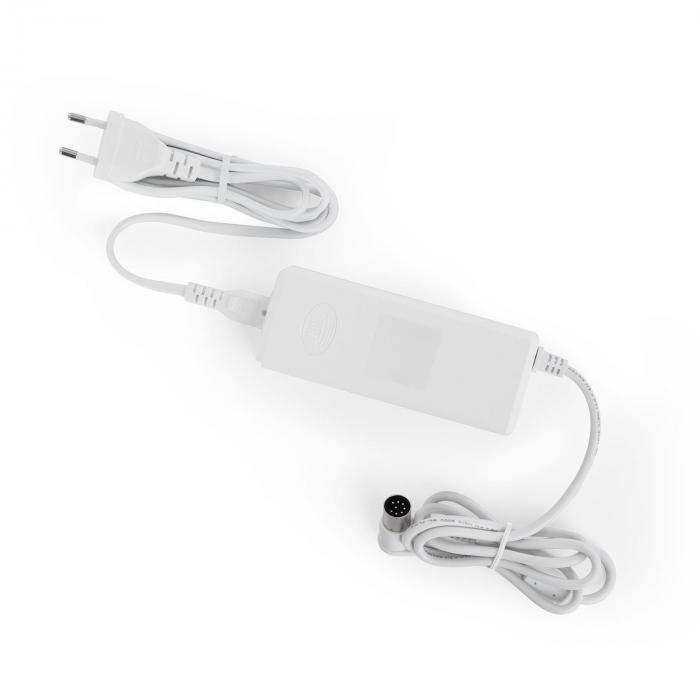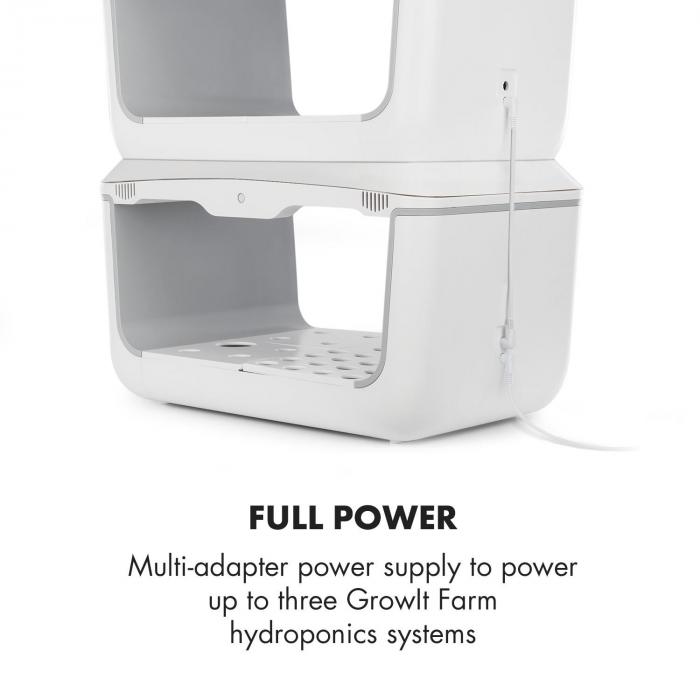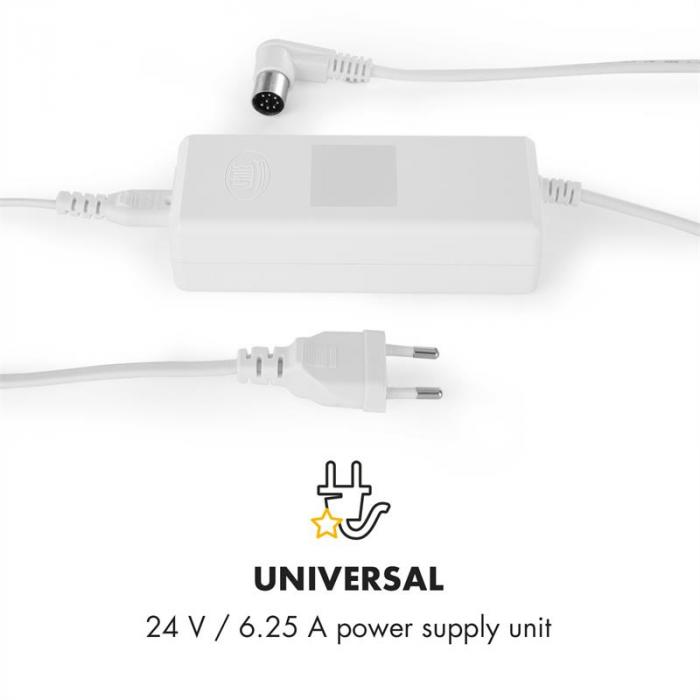 Top features:
Full power: multi-adapter power supply for shared power supply of up to three GrowIt Farm hydroponic systems
Universal: 24 V / 6.25 A power supply for power supply
Properties:
Multi-adapter power supply for the Smart Indoor Garden 'GrowIt Farm' with article number 10033115
Material: plastic
Dimensions:
Dimensions: approx. 7 x 4 x 17 cm (WxHxD)
Total cable length: 2.1 m
Weight (total): approx. 680 g
GrowIt Connection Kit for GrowIt Farm Smart Indoor Garden
Item number: 10033221
Included quantity: 1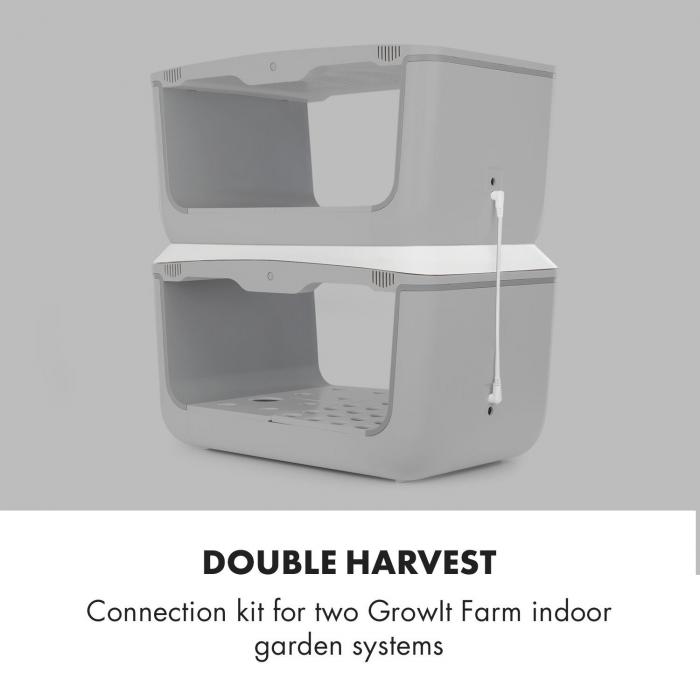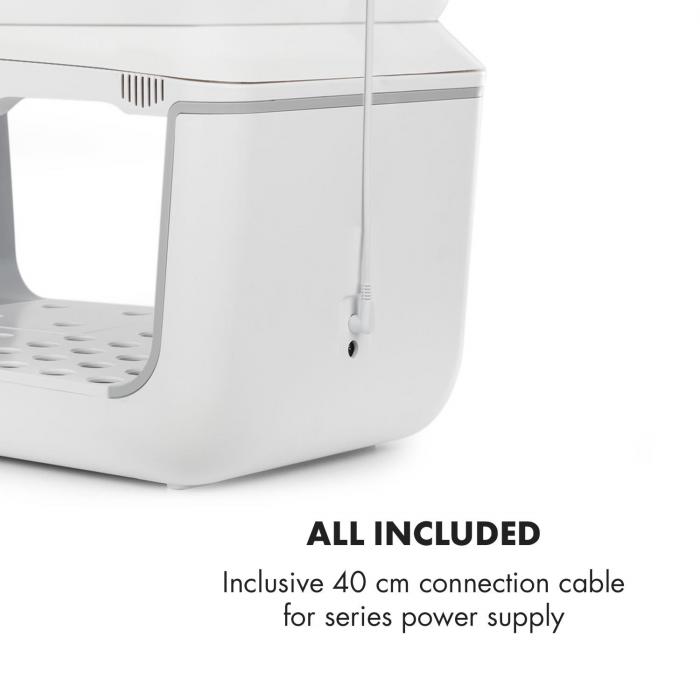 Top features:
Double harvest: connection kit for two GrowIt Farm Indoor Garden systems
Terrace garden: uncomplicated and safe stacking of two Smart Indoor Garden systems
Connected in series: includes 40 cm connection cable for series power supply
Properties:
Connection frame for two 'GrowIt Farm' Smart Indoor Garden Systems with article number 10033115
Material: plastic
Maximum stack height: 3 systems
For the connection of two GrowIt Farm Systems one GrowIt Connection Kit is needed
Dimensions:
Dimensions: approx. 71.7 x 4 x 43.7 cm (WxHxD)
Total cable length: 40 cm
Weight (total): approx. 700 g
GrowIt Connection Set 3 Pieces
Double harvest: 3-piece connection complete set of connection frame, connection cable and power supply
Terrace garden: uncomplicated and safe stacking of two Smart Indoor Garden systems
Connected in series: includes 40 cm connection cable for series power supply