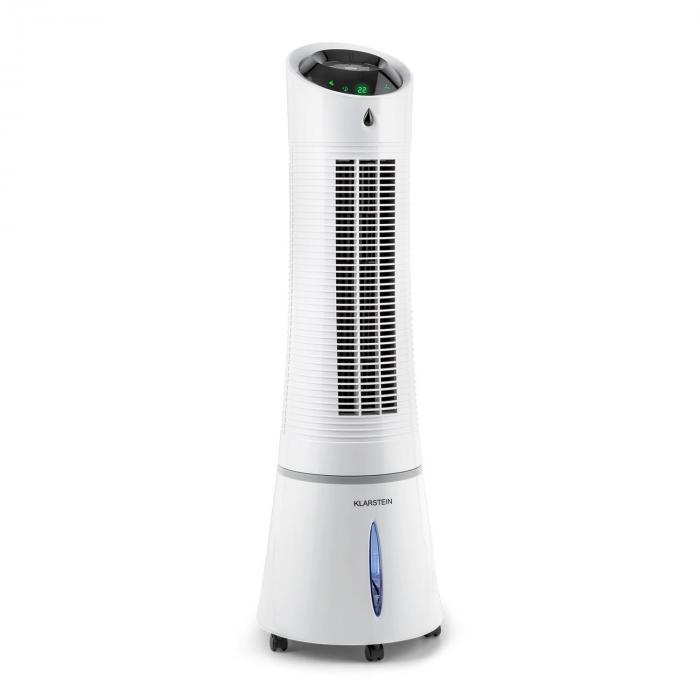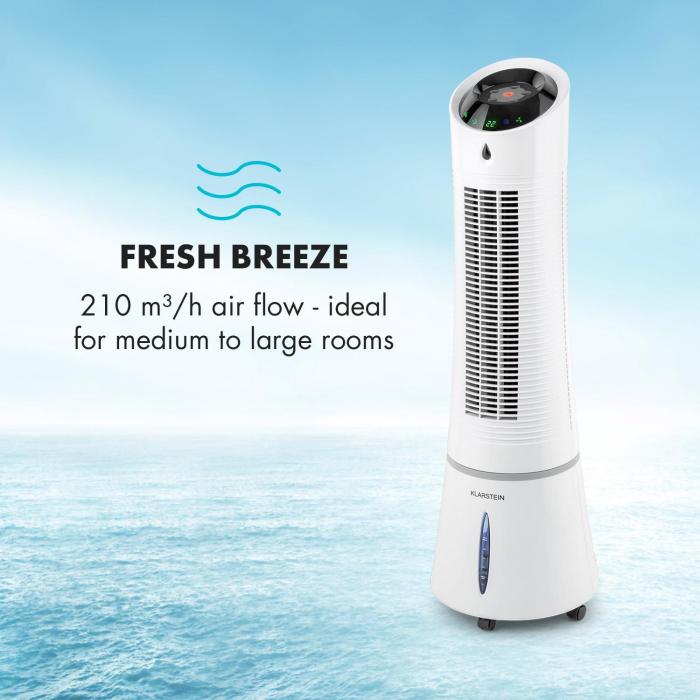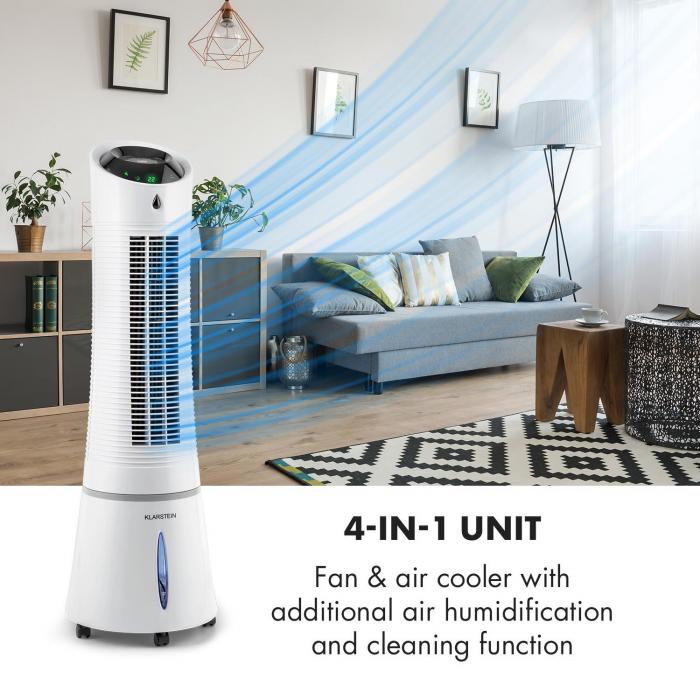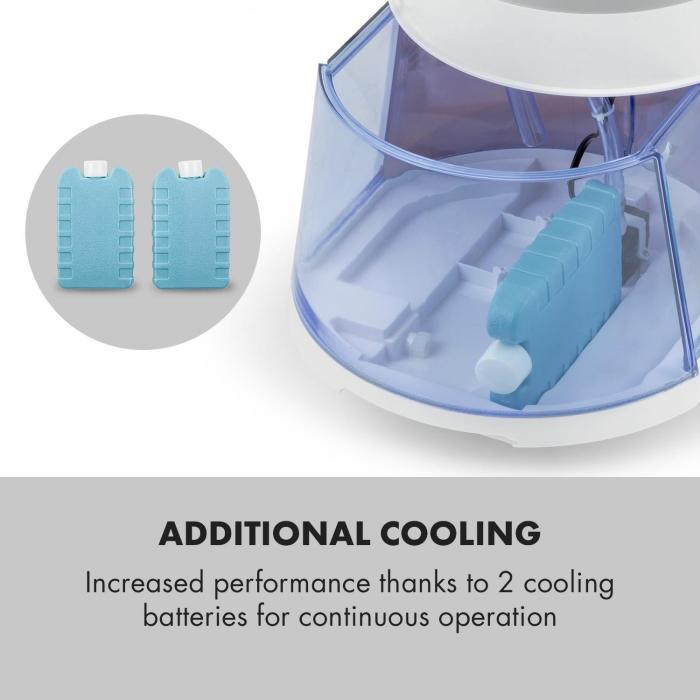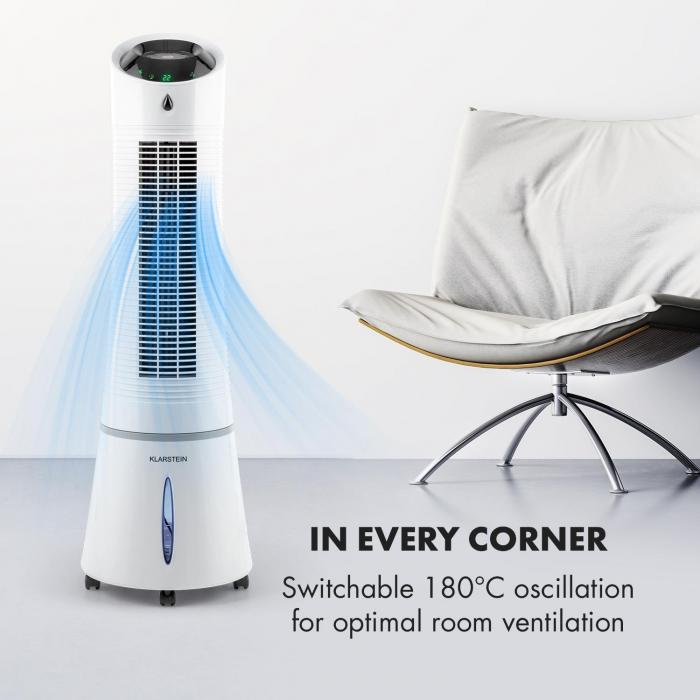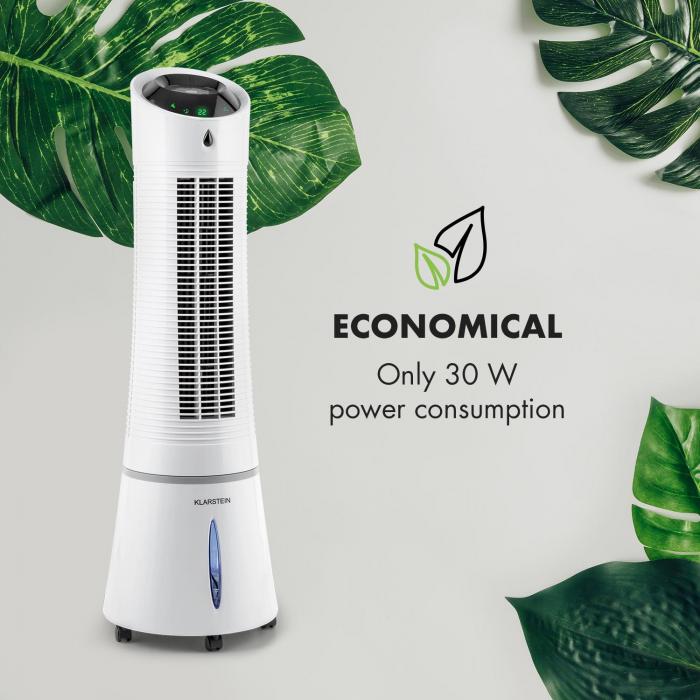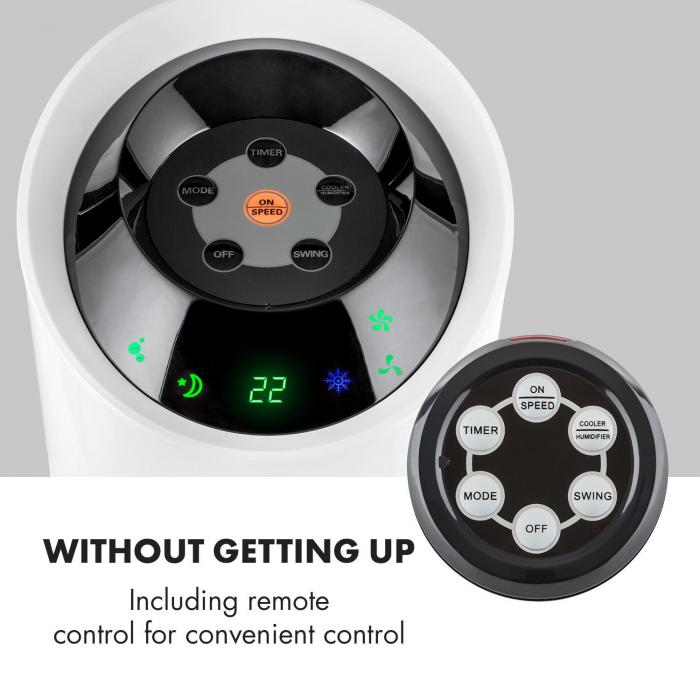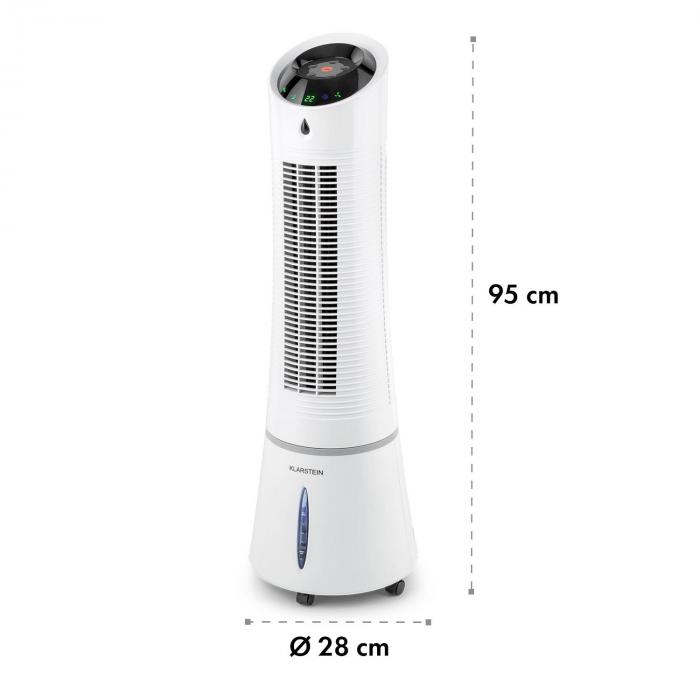 Manual
Item number: 10028303
Skyscraper Ice 4-in-1 Air Conditioner
You save 51%
Currently only available as B-Stock!
Top features
4-in-1 device: fan / air cooler with additional humidification and purification functions
Economical in use, only 30W power consumption
210m³ / h air flow
Also available as B stock
Shipping costs: from £ 0.00
The item is ready to ship and will be shipped immediately after receipt of payment.
You may change your order at any time.
Skyscraper Ice 4-in-1 Air Cooler Fan Remote Control
The 4-in-1 Skyscraper Ice air cooler from Klarstein dominates over its competitors both visually and technically, efficiently bringing fresh air into your rooms. The refreshingly unconventional housing is modeled on a gleaming white skyscraper, whose shape and colour support your desire for cool, fresh air and a gentle breeze. The functions of three devices are hidden in the space-saving tower, which cleverly combines fan, air cooler and humidifier in one device. Measuring at only 28cm at its thickest point, the pedestal fan fits easily into small nooks and crannies. The modern exterior makes it ideal for use in an office or living room, but its appearance is still optically neutral enough to make it fit easily into even classic environments.
The fan blows fresh air in three speeds to provide cooling in warm areas. A switchable oscillation moves the upper two-thirds of the Klarstein Skyscraper in a 180-degree angle from left to right and then back again, rotating. This movement also makes optimal use of the the air mass of space. To meet all of your needs, the fan can be set to a night and natural mode in addition to its normal operation. In the night mode, the fan moves down to the next lower speed and then finally switches off in 30-minute intervals. The natural mode creates a natural ebb and flow of air speed, modeled after the wind.
To improve its refreshing effect, the air cooling unit also has a switchable air cooler and humidifier. Via a 6-litre water tank, the intake air is cooled by evaporation and then moisturised. Two included cooling packs can further lower the water temperature and thus significantly increase the cooling efficiency. Both packs last for four hours each, before they need to be chilled again in the freezer. In addition to the air cooling, the Skyscraper features an ionisation / air cleaning function. The intake air is first filtered to remove dust and dirt particles, and then ionised to eliminate annoying odours such as cigarette smoke and germs.
The Klarstein device is controlled either via six self-explanatory buttons on top of the housing or conveniently via the small, round remote control. A light display indicates the selected settings in easily understandable pictograms. With both the control panel and the remote control, the timer can be programmed and be set at half-hourly intervals with an automatic shut-off after a maximum of 7.5 hours.
Available colours: white.
Please note that the device is not a conventional air conditioner but an air cooler. The cooling effect is provided by evaporation of water / ice from the water tank of the device.
User manual PDF
Product details
Top features:
4-in-1 device: fan / air cooler with additional humidification and purification functions
Economical in use, only 30W power consumption
500m³ / h air flow - ideal for medium to large rooms
Switchable oscillation at 180 ° for optimum ventilation
4 fixed floor casters for easy moving
Includes remote control for convenient control
Properties:
3 speed levels: low, medium, high
3 operation modes: normal, night and natural
Night mode: slows the speed until turning off
Natural mode: ebb and flow fan speed
Timer: auto shutdown in 0.5 hour clock, adjustable up to 7.5 hours
Water tank capacity: 6 litres
Air ionisation for removing odours and germs
Easy-to-clean filter to remove dust and dirt particles
Water level indicator
Includes two cooling packs to increase effectiveness
Easy-to-understand control panel and display on top of the device
Modern, space-saving tower design
Switch on top of the device
Power supply: 220-240V / 50Hz
Power 30W
Scope of delivery:
1 x device
2 x cooling packs
1 x remote control (incl. button cell)
1 x English user manual (other languages: German, Italian)
Dimensions:
Dimensions device: 28 x 95 cm (ØxH)
Cable length: 1.75m
Dimensions cooling pack: 9 x 15 x 2 cm (WxHxD)
Weight unit: 6 kg
Weight cooling pack: about 275 g
Customer opinions
Tested review
Last summer was really hot, so in order to keep our house cool in an effective way, we added an air cooler. A simple fan simply wafts just around the room. The device contains 4 important functions, but it is not a classic air conditioner. It comes fully assembled, so you only have to put the cold packs in the freezer and you're done! Then they are placed in the container and filled with water. This is then cooled and released into the atmosphere. So the air is not only cooled, but also kept humid at the same time. Furthermore, it purifies the air. I think that's amazing. Thanks to the remote control, I can comfortably operate the cooler from the couch. There are rollers at the base, so it can be rolled back and forth around the house with ease. It looks a bit like a robot, but I personally think that it's nicer than an oversized fan. The air really is cooler and the humidity level is very pleasant. The settings and the intensity can be set and programmed. I'm very satisfied.
Tested review
So, this is not an air conditioner in the true sense, but a fan with cold packs. We have already bought it, otherwise they would have sold out again in the summer or be completely overpriced. I initially thought the price was really steep, but once I was at home in the bedroom, I was eventually able to determine that the device had cooled down the room by 5 degrees within one hour! The space is about 20 square metres.
Tested review
I have only used it for a few days, but the device seems to be really good. It doesn't take up much space, it looks really nice, and it works quietly but effectively. I use it mainly as a fan to cool a pretty big room, and it does so perfectly. I don't think the quality is different from well-known brands, so I prefer Klarstein over expensive logos. Through cold packs, the unit cools the air better than a normal fan, but doesn't reach the cooling effect of a real air conditioner. The operating noise is pleasantly quiet and it's very easy to use; moreover, the device is a real eye-catcher. Also, you can also use the device as a humidifier on cool days, where the heater is still in operation and the air is very dry.
Tested review
Due to the hot summer last year, I have now bought this air cooler for the nursery. I think this air cooler is perfect. An air conditioner with an exhaust hose was out of the question for me, which is why this air cooler is ideal. Where a normal fan only swirls the warm air around and doesn't really cool it, this unit ensures air cooling. Just put the cold packs in the water tank and fill with water, and cool air will circulate immediately. What I like even more is the fact that the air is also purified. The air cooler strength is easy to control. A remote control is included, so I don't always need to get to the device. The air cooler can also be moved with ease, thanks to the rollers. I am excited and I highly recommend this.
Tested review
As we're slowly approaching summer, I have decided to buy an air conditioner. Full of anticipation, I received my package and wanted to unpack it immediately. I was very satisfied right from the beginning. The air conditioner makes a great impression and just looks amazing. Filling it is very simple, and the other functionalities are straight-forward/self-explanatory. Once you switch it on, you can easily control the fan speed with the same button, and you can activate cooling and humidification using another button. With the "Swing" button, the purified air is perfectly distributed around the room. If this is too complex, you can simply select a mode in which the fan speed control is fully automated using the "Mode" button. A timer can also be set if the air conditioner should run for a specific duration. To achieve effective cooling, you only have to insert the enclosed cold packs, which then last for about 4 hours.
Show more customer reviews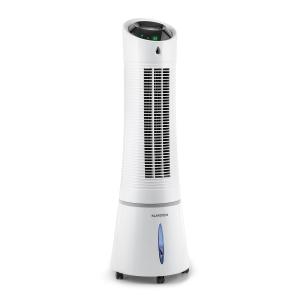 Skyscraper Ice 4-in-1 Air Conditioner
4-in-1 device: fan / air cooler with additional humidification and purification functions
Economical in use, only 30W power consumption
210m³ / h air flow
All purchases made between the 25th of October and the 31st of December 2019 can be returned till the 31st of January 2020.