Item number: 60001114
Rock Fortress PA System
Unfortunately, no articles are currently available
Top features
Stable PA system ideal for outdoor use
USB port, Bluetooth and AUX input for connecting external playback devices
Built-in FM radio with station search function
Shipping costs: from £ 0.00
The item is ready to ship and will be shipped immediately after receipt of payment.
Rock Fortress PA System + UHF 250 Wireless Microphone Set PA-Box Microphone Headset
Mobile, connection-ready PA system and microphone set for providing sound for both smaller and larger events. Perfect for karaoke nights or music-accompanied presentations. The set includes a Malone Rock Fortress PA System with USB, Bluetooth, FM radio and AUX with 50W power in orange, as well as a Malone UHF-250 Duo 2-channel UHF wireless microphone set.
Product details
Top features:
Stable PA system ideal for outdoor use
USB port, Bluetooth and AUX input for connecting external playback devices
Built-in FM radio with station search function
Separate knobs for master and microphone volume
Battery operation
Top Features Malone UHF-250 Duo 2-Channel UHF Wireless Microphone Set

2-channel UHF wireless microphone set optimised for speech and singing
Headset and hand microphone

Black pocket radio transmitter with belt clip and LCD display for connecting microphones or instruments

Long battery operating times thanks to energy-efficient construction
Properties:
Properties Malone Rock Fortress PA System USB Bluetooth FM Radio AUX 50W Max. Orange
Connections: 1 x microphone input (6.3mm mono jack), 1 x USB port, 1 x AUX input (3.5mm jack), 1 x power supply
Housing made of MDF and aluminium frame
Wire antenna
Two sturdy handles
Non-slip feet
Red LED digital display
Displayable charge level
Rubberised knobs, controls and handles
Max. power: 50W
Power supply: 220-240V, 50-60Hz (power cord included) or via the included Li-Ion Battery

Properties Malone UHF-250 Duo 2-Channel UHF Wireless Microphone Set
Receiver ports: 2 x XLR mic output, 1 x 6.3mm jack AUX output
Connections bodypack transmitter: 1 x 3.5mm mono jack microphone instrument input
Frequency Band: 823-832MHz
Volume Control
Frequency band buttons
Mute
Mode switch
Power LED
Status LEDs
Blue backlit LCD display
Stand feet
Rod antennas at the receiver
Flexible antenna bodypack transmitter
On / off switch on pocket transmitter and microphone
On / off switch on the front panel
Power hand microphone: 2 AA battery (included)
Power transmitter: 2 x AA battery (included)
Power receiver: AC 230V, 50Hz, DC 13-15V, 500mA (AC adapter included)
Dimensions:
Dimensions Malone Rock Fortress PA System USB Bluetooth FM Radio AUX 50W Max. Orange
40 x 54 x 31.5 cm (WxHxD)

Weight: 9.7 kg
Dimensions Malone UHF-250 Duo 2-Channel UHF Wireless Microphone Set
Receiver: 17.5 x 4.5 x 12cm (WxHxD)

Pocket Transmitter: 6.5 x 10 x 2.5 cm (WxHxD)

Receiver weight: about 280g

Weight bodypack transmitter: about 80g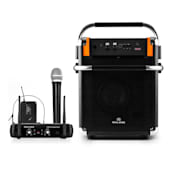 Rock Fortress PA System
Stable PA system ideal for outdoor use
USB port, Bluetooth and AUX input for connecting external playback devices
Built-in FM radio with station search function