Item number: 60002267
TL8LED PA Speaker + SPL1000BT PA Amplifier Set
You save 29%
Unfortunately, no articles are currently available
Top features
Better sound: 3-way passive speaker with 400 W output power
Powerful sound: 8 inches/20 cm low-mid range driver and 2 piezo tweeters
Disco atmosphere: switchable, sound-controlled LED lighting in RGB
Shipping costs: from £ 0.00
The item is ready to ship and will be shipped immediately after receipt of payment.
TL8LED PA Speaker + SPL1000BT PA Amplifier Set
Text für Setartikel..
Recommended area of application
Bars
Catering
Dance school
Restaurants
Rehearsal space
Small stages
Expandable
CD player
DJ controller
DJ headphones
DJ mixer
Laptop
Microphone
MP3 player
Speaker stands
Use indoor with up to 100 people.
This set brings music to your ears! Whether for the home audio system, as equipment for mobile DJs, or to set up studios, the Fenton TL8LED passive speaker and the Skytec SPL1000BT Hi-Fi PA amplifier set provides a good sound program.
The Fenton TL8LED 3-way speaker impresses with its 8" (20 cm) low-mid tone woofer at 400 W output power and delivers clean highs with its two piezo tweeters, while the UFO light on the woofer provides a special atmosphere via its sound-controlled RGB LEDs. The lightweight, yet robust housing with its carbon look and metal protective corners makes the speaker ideal for transportation. It also has metal grilles protecting the speaker from shocks. There is a 35mm flange for tripod mounting.
The Skytec SPL-1000BT is a successful mix of HiFi and PA amplifiers. The connection selection comes from the HiFi range. With 3 RCA lines and a front jack AUX input, all components of the home entertainment systme - from the computer via the MP3 player to the TV - can be connected to the amplifier. The built-in Bluetooth feature enables wireless music streaming in conjunction with Bluetooth-enabled devices, such as Bluetooth-enabled laptops, smartphones and tablets. With the PA amplifier, the SPL-1000BT gives an impressive performance and has a 48 cm rack-mountable design.
The set also includes a 10-meter speaker cable.
The professional event organizer: With the Fenton TL8LED PA passive speaker and the Skytec SPL1000BT amplifier, the party will be a hit.
Set consists of
SPL 1000BT PA Amplifier Bluetooth AUX EQ 1000W
Item number: 10010867
Included quantity: 1
Top features:
Versatile HiFi PA amplifier with 2 x 500W max. output andblue LED lighting
Bluetooth interface for audio streaming from smartphones,tablets and computers
AUX input for connecting to external audio devices such asMP3 players, CD players and computers
3-band equalizer for optimal sound adjustment
Suitable for 19" (48cm) rack installation – 2U
Properties:
Connections: 1 x 3.5mm jack AUX input, 3 x Stereo RCA lineinputs, 1 x Speaker terminal set
Frequency response: 20Hz – 20kHz
SNR: >98dB
THD: <0.5%
Speaker impedance: 4 Ohm
Volume control
Input control
Power LED
Peak LED
Signal LED
Handle
On/off switch
Power supply: 230/240V, 50/60Hz
Dimensions:
48 x 9 x 26cm (W x H x D)
Suitable for 19" (48cm) rack installation – 2U
Weight: 4.3kg
TL8LED 3-way Passive Speaker RGB LED 8" Woofer 400 W 2x Tweeter
Item number: 10032426
Included quantity: 2
Top features:
Better sound: 3-way passive speaker with 400 W output power
Powerful sound: 8-inch/20-cm low-mid-range tweeters and 2 piezo tweeters
Disco atmosphere: switchable, sound-controlled LED lighting in RGB
Professional: robust housing in a lightweight construction with a tripod flange for easy transport
Properties:
Connections: 1 x 6.35 mm jack-in; 1 x NL2 speaker plug; speaker terminals
Passive speaker: power supply via amplifier
Output power: 400W
Impedance: 8 ohms
Frequency range: 45 Hz - 20 kHz
SPL max.: 117 dB
35 mm flange for tripod mounting
Housing in a carbon look
Metal protective corners and grille
Recessed carrying handles on the side
LED lighting can be switched on/off
Dimensions:
Dimensions: approx. 27.0 x 44.0 x 24.5 cm (WxHxD)
Weight: approx. 5.6 kg
Speaker Cable 2 x 1.5mm² 10m Transparent / + Kz
Item number: 10002629
Included quantity: 1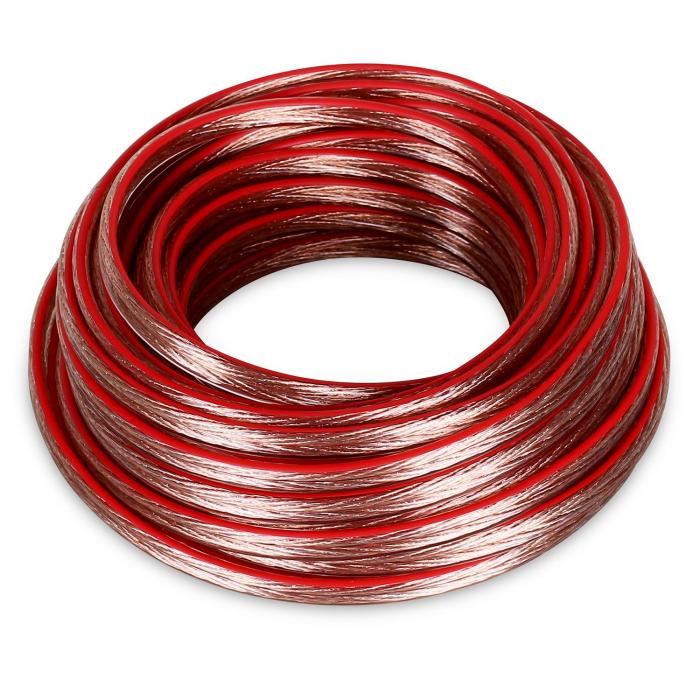 Properties:
Highly flexible cable in required length. Fine assembly with 2 wire cable, one wire coloured.
1.5mm² core
TL8LED PA Speaker + SPL1000BT PA Amplifier Set
Better sound: 3-way passive speaker with 400 W output power
Powerful sound: 8 inches/20 cm low-mid range driver and 2 piezo tweeters
Disco atmosphere: switchable, sound-controlled LED lighting in RGB