Malone 2.0 SUB "Disco" PA System
You save 5%
Unfortunately, no articles are currently available
Shipping costs: from £ 0.00
The item is ready to ship and will be shipped immediately after receipt of payment.
DJ PA Set Malone 2.0 SUB "Disco" with Subwoofers & Amplifier
Text für Setartikel..
Powerful PA system with two passive PA subwoofers, each with 1000W RMS power, and a bridgeable PA amplifier with 2000W max. power. Package includes two 5m PA cables. Suitable for small to medium sized parties and events.
Top Features Malone DX2000 PA amplifier:
PA amplifier with 2000 watts maximum power (2 x 1000W at 4 Ohms, 2 x 600W at 8 ohms, 2000W Bridge-power at 8 ohms)
Suitable for 48cm (19") rack mounting - 2 rack units
Bridgeable - 2/1- channel operation
Properties Malone DX2000 PA amplifier Amplifier:
Inputs: 2 x 6.3 mm jack, 2 x RCA
Outputs: 2 x NL4, 2 x 6.3mm jack, 2 x screw
Two large, ergonomic knobs for easy adjustment to the desired level
Ground/lift switch
Durable metal housing
Adjustable volume for each channel
LED indication for clipping and backup
Frequency range: 10Hz to 20kHz
Damping factor:> 250
S / N Ratio:> 90dB
Slew Rate: 30V/uSec
Input sensitivity: 0.77 V
Input impedance: 20k ohms
Total harmonic distortion: <0.1%
Power button
Power supply: 220V/50Hz
Dimensions Malone DX2000 PA Amplifier:
48.2 x 8.8 x 31.4 cm (WxHxD)
Weight: approximately 10.5 kg
2x passive PA subwoofers, 38cm (15") PA speaker Malone 1000W RMS
Passive PA Subwoofer with 38cm subwoofer, 1000W RMS power and PA and jack connectors. Suitable for tripod mounting. Ideal for use as concert speakers.
Top features passive PA speaker Malone PW-15P-M:
Passive PA subwoofer with 38cm (15") subwoofer for 1000W RMS - equivalent to 2000W max load capacity.
Suitable for stand assembly - 35mm flange
Suitable for monitor construction
Side-mounted handles
Bass reflex design
Properties of Malone PW-15P-M passive PA speaker:
Connections: 1 x Speakon input, 1 x speakon output, 2 x 6.3mm jack input, 1 x gold-plated stereo screw terminal input
Sensitivity: 97dB
Frequency response: 30Hz to 18kHz
optional subwoofer
Impedance: 8 ohms
Dimensions Malone PW-15P-M passive PA speaker:
47.5 x 65.5 x 35.5 cm
Weight: approximately 16.7 kg
2x PA Cable 5m
Set consists of
DX2000 PA Amplifier 2000W Bridgeable
Item number: 10021668
Included quantity: 1
Top features:
PA amplifier with 2000 watts maximum power (2 x 1000W at 4Ohms, 2 x 600W at 8 ohms, 2000W Bridge-power at 8 ohms)
Suitable on 48cm (19") rack installation - 2 rack units
Bridgeable - 2/1- channel operation
Properties:
Inputs: 2 x 6.3mm jack, 2 x RCA
Outputs: 2 x NL4, 2 x 6.3mm jack, 2 x screw terminal
Two large, ergonomic knobs for easy adjustment to thedesired level
Ground/lift switch
Resilient metal housing
Channel by channel adjustable volume
LED indication for clipping and backup
Frequency range: 10Hz to 20kHz
Damping factor:> 250
S/N Ratio:> 90dB
Slew Rate: 30V/uSec
Input sensitivity: 0.77 V
Input impedance: 20k ohms
Total harmonic distortion: <0.1%
Supply voltage:
Power button
Power supply: 220V/50Hz
Dimensions:
48.2 x 8.8 x 31.4 cm (WxHxD)
Weight: about 9 kg
Item number: 10003838
Included quantity: 2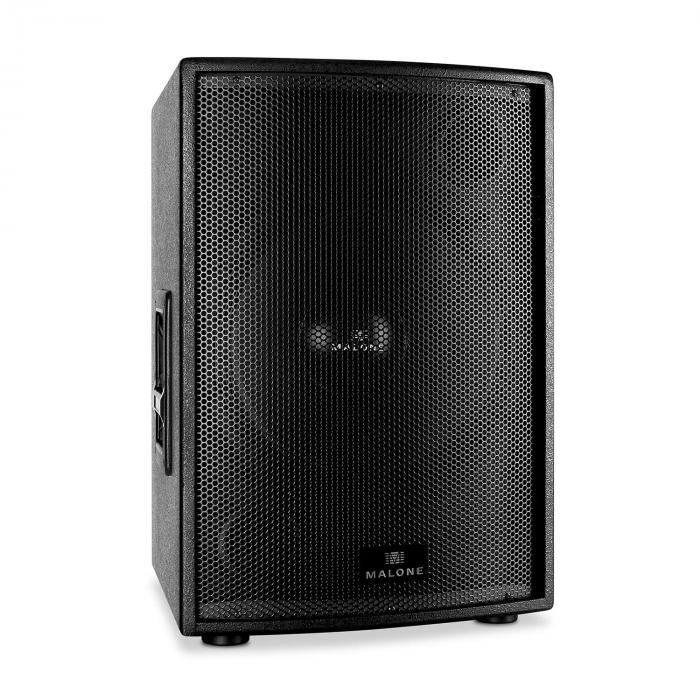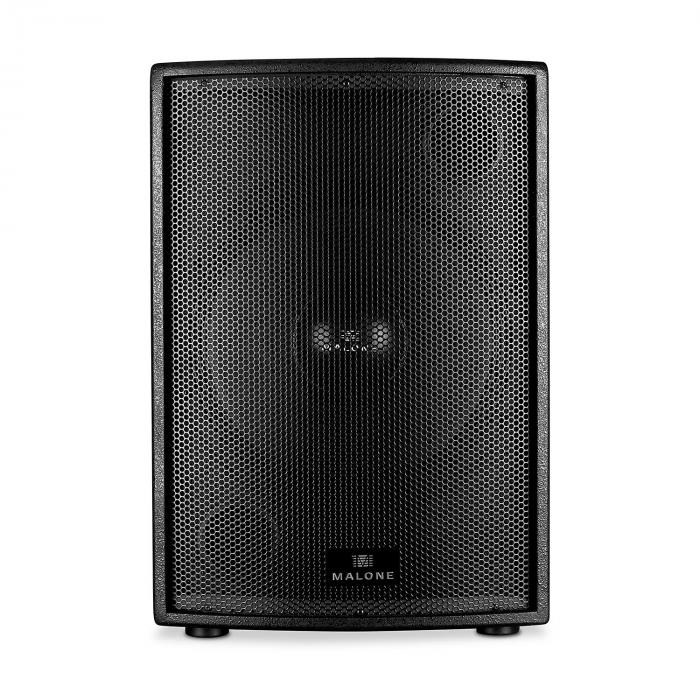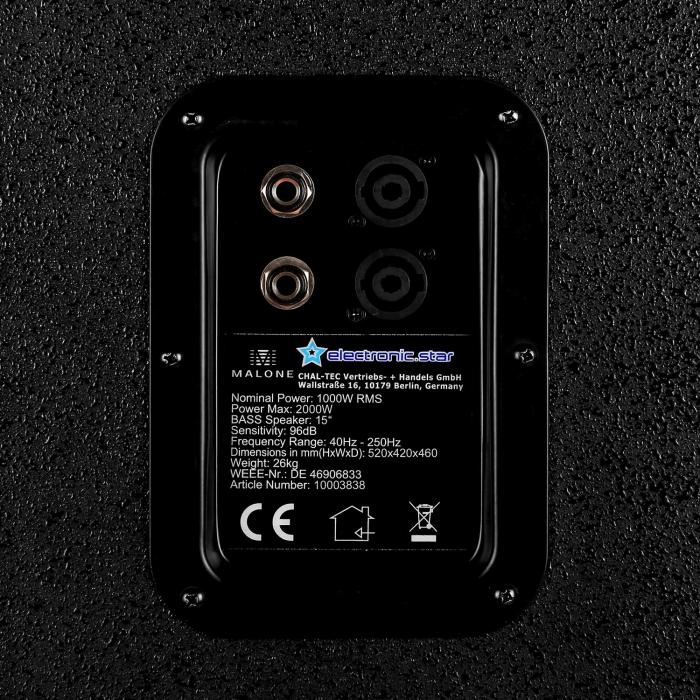 Malone 2.0 SUB "Disco" PA System