SMWA15 PA Active Subwoofer
You save 41%
Delivery time: 3 - 5 workdays
Top features
Active 15" subwoofer with 150W RMS Power - 600W MAX Power
Bass-reflex design
Built-in, active low-pass filter
Shipping costs: from £ 0.00
The item is ready to ship and will be shipped immediately after receipt of payment.
You may change your order at any time.
15" 38cm Active PA Subwoofer 600W Bass Speaker
If you're looking to expand your PA system and need extra levels of bass then Skytec 's 15 " active subwoofer is the answer. Adding subs to your system can vastly improve the sound quality and generate levels of bass you can feel as well as hear.
Thanks to the integrated stand mounts it's easy to add tops to run mid and high frequencies giving you a 2 way PA system. Matching speaker poles and compatible active or passive tops can be found in our shop.
User manual PDF
Product details
Top features:
Active 15" (38cm) subwoofer with 150W RMS Power - 600W MAX Power
115 dB Max. SPL Sensitivity
Bass-reflex design
Integrated mounting holes for adding tops for a 2 way PA system .
Built in ergonomic carry handles
Built-in, active low-pass filter
Properties:
Connections: 1 x XLR input, 1 x XLR output
Phase Reversal: 0 / 180 °
Adjustable Crossover: 40 to 150Hz
Variable input level
Metal protective grill
Frequency response: 45Hz to 250Hz
Signal to noise ratio> 80dB
Power supply: 220 - 240V, 50Hz
Scope of delivery:
1 x Subwoofer
1 x power cord
Dimensions:
48 x 57 x 39cm
Weight: approx 22kg
Customer opinions
Tested review
I run a Karaoke/Disco. Having never used subwoofers before it was all new to me. Buying a pair of these was the best thing I ever did. What a transformation to the overall sound output. On top I run the Mackie 350SRM's. These babys had there first outing last Saturday...WOW!!! I had lots of comments saying how good my system sounded. These things really kick out the bass. Absolute value for money. I recommend to any mobile DJ or karaoke. The other great thing is that they are not too heavy (about 19kg) My Missus can even load and unload them.....That's what wives are for......isn't it!!
Tested review
i have read previous reviews on other sites saying the skytec range are not upto scratch however i have used a wharfdale titan active 12"" £300 each the skytec still sounds better and with a frequency range built in on the back you can adjust it to your own needs, i currently have 2 behringer speakers b1520 pro's and 2 imtimidation's mkII with a prosound 1600w amp , i was going to purchase 2 of these subs however 1 is more than enough with this setup.<br>Thank You Hifi-Tower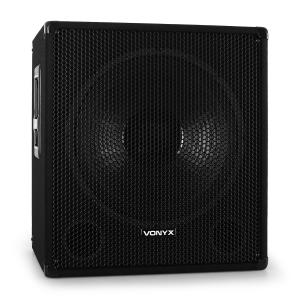 SMWA15 PA Active Subwoofer
Active 15" subwoofer with 150W RMS Power - 600W MAX Power
Bass-reflex design
Built-in, active low-pass filter
All purchases made between the 26th of October and the 31st of December can be returned till the 31st of January 2019.
Save with our sets: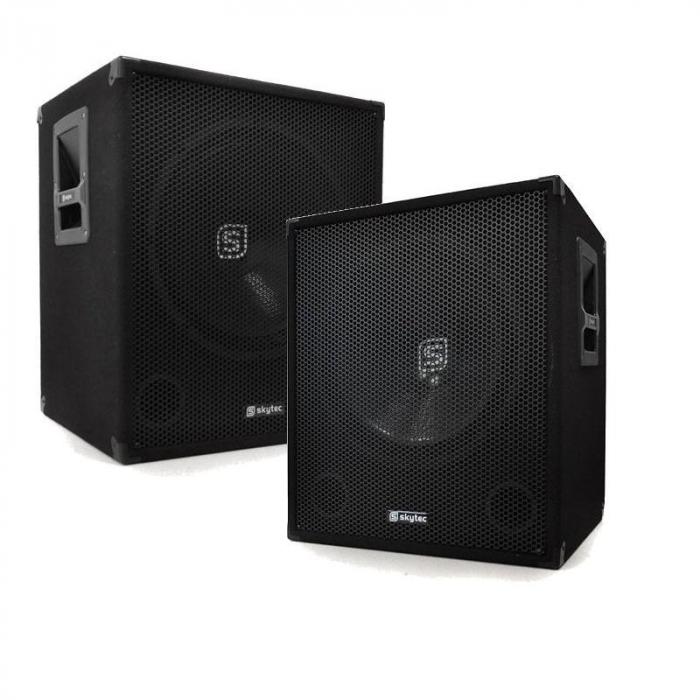 £ 259.98
£ 249.99

incl. VAT
You may change your order at any time.