Item number: 60000284
Rack Star Series Mercury Beat DJ PA System
You save 31%
Unfortunately, no articles are currently available
Shipping costs: from £ 0.00
The item is ready to ship and will be shipped immediately after receipt of payment.
DJ PA 'Mercury Beat' Rack System Amplifier Speakers Mixer 1200
Text für Setartikel..
The 'Mercury Beat' DJ PA system with a PA amplifier, a 4-channel mixer and a pair of matching speakers. The set includes a 19" mounting rack and a complete set of cables.
1200W output for use at professional events with up to 250 people.
The components which comprise the 'Mercury Beat' 1200W DJ PA system have been specifically selected to provide you with top-quality sound for events with up to 250 people. The system's main advantage is the mobile mounting rack which allows it to remain fully pre-wired. This feature will make the set-up, dismantling and transport of the system infinitely easier.
Thanks to its pre-mounted rack design and technical specifications, the PA system is not only designed for professional use in clubs and bars, but is also perfect for sports studios, dance schools and speech events, or anywhere else where tedious setup times need to be avoided!
The powerful PA amplifier and the two PA speakers combine perfectly to provide your event with solid audio output. The 4-channel mixer's wide-ranging connectivity options allow you to connect almost any type of audio equipment (including computers), giving the set a versatile range of uses. The system is even supplied with a full cable set.
The 'Mercury Beat' has a classic black design allowing it to be used in any environment.
We are also happy to provide you with a DJ PA system tailored to your specific needs.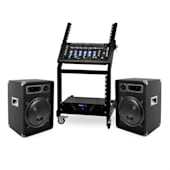 Rack Star Series Mercury Beat DJ PA System