Item number: 60001100
Rack Star Series Mercury Beat DJ PA System
You save 32%
Unfortunately, no articles are currently available
Shipping costs: from £ 0.00
The item is ready to ship and will be shipped immediately after receipt of payment.
DJ PA Sound System Rack Star Series Mercury Beat Set 250 people
Text für Setartikel..
DJ "Mercury Beat" PA Set with a PA amplifier, a 4-channel mixer and a pair of matching speakers. Comes with 48cm mobile rack and full cable set.
1200W power for PA events of up to 250 people and the ability for professional applications.
Art-Nr.: PL-Merkur / 60001100
The "Mercury Beat" DJ PA Set is a visually matched and technically optimal PA system for professional sound production for events of up to 250 people. The main advantage of this system is the mobile rack that allows you to keep the sound system fully organized and pre-wired, so that assembly, disassembly and transport times can be greatly reduced.
This rack installation system and the technical specifications make the PA System not only useful for professional DJ and PA use in clubs and bars, but also for gyms, dance schools, dining areas and any music and speech events where time is precious.
The powerful, stable sounding PA amplifier and the two PA speakers harmonize perfectly with each other to give your event a healthy sonic backbone. The 4-channel mixer allows for the connection of all imaginable kinds of audio sources (CD player, turntable, computers, microphones, etc.) and offers you superb usability and extensive creative freedom. The set is supplied with a complete cable set, so you can get to work without purchasing additional components - except the audio source (CD player, etc.).
The optical homogeneity of the "Mercury Beat" and the restrained, black color authorize it for use within a serious context.
We are happy to make you an offer tailored to your personal needs.
Includes:
1 x Ibiza AMP-600 DJ PA power amplifier 960W MOSFET
1 x Pair of Malone PW-1222 3-way speakers
1 x resident dj Kemistry 3 B 4-channel DJ mixer
1 x auna Rack Stand 48cm (19'') 21 rack unit roles
1 x speaker cable
4 x RCA cable
2 x RCA to jack cable
In this Set:
1 x Ibiza AMP-600 DJ PA Endstufe Verstärker 960W MOSFET Rack
Powerful PA amplifier with good sound quality, high performance potential and multiple connectivity options. Suitable for 48cm-rack installation.
Top-Features:
Modern LED technology for up to 960W MAX power output @ 4 ohms (2 x 320W max. at 8 ohms)
Low rise time and consistent sonic characteristics
Multiple connectivity options
Black design with blue level meters
Suitable for 19"/ 48cm Rack - 2 rack units
Properties:
Inputs: 1 x stereo RCA, 1 x 6.3 mm jack (stereo)
Outputs: 1 x XLR (stereo =, 1 x PA-Speakon (stereo), 1 x screw terminal (stereo)
ch-ch volume levels (embedded controller)
LED meter
High performance cooling fans
Overload protection circuit Frequency response: 20 Hz to 20 kHz
Distortion:> 0.5%
Signal to noise ratio:> 98dB
Channel Separation:> 98dB
Input impedance:> 10dB
Power supply 20V, 50/60Hz
Dimensions:
48 x 9 x 28cm
Weight: approx. 5.7 kg
Suitable for 19"/ 48cm Rack - 2 rack units
1 x Pair of Malone PW-1222 3-way speakers 30cm (12") 600W
Pair of full-range Auna 7 Malone 1022 speakers with consistent sound quality, sovereign bass and various connection options. Suitable for stage and transport construction. Suitable for stand construction.
Top-Features:
3-way speaker with 30cm (12") subwoofer, midrange horn and piezo tweeter
300W RMS - equivalent to 600W max.
wear resistant with protective corners, felt coat and protective grille
ready for the road thanks to a sturdy wooden case and side recessed handles
Standard flange - suitable for stand assembly
Properties:
Connections: 1 x speakon input, 1 x speakon output, x 6.3mm jack input, 1 x 6.3mm jack output, 1 x gold-plated dual screw terminal input
Sensitivity: 96 dB
Frequency range: 30 Hz to 18 kHz
Optional Sub Bass
Impedance: 8 Ohm
Dimensions:
36 x 52 x 31cm
Weight: approx. 20.2kg
1x resident dj Kemistry 3 B 4-channel DJ mixer Bluetooth USB SD phono black
Powerful 4-channel DJ mixer with multiple connection options, long-range tone control with 10-band equalizer, built-in Bluetooth interface and an MP3-compatible USB and SD port. Powerful microphone section with XLR and jack inputs, 3-band equalizer and talkover and kill function.
The resident DJ Kemistry 3 is a gifted 4-channel DJ mixer with rack-ready design. Thanks to the wide range of connection options, a whole range of audio sources can be connected. For example: CD players, turntables and amplifiers can be connected to a wide range of inputs and outputs like XLR, jack and RCA.
A particular specialty of the Resident DJ Kemistry 3 is an accessible USB interface embedded in the top panel. This gives you access to all the MP3 tracks of your USB devices. The highlight, however, is surely the built-in Bluetooth interface which allows you to play music wirelessly from your smartphone, tablet or laptop.
With a microphone input and headphone output as well as cross and line faders and cue function, the mixer provides all of the important features that are essential for a DJ. This includes optimum sound adjustment, a 10-band equalizer per channel as well as Gain and Cue control.
The metal casing gives the mixer a robust shell and features quality components, such as non-slip aluminum knobs and a smooth crossfader. Rubber feet provide excellent grip and shake-free mixing.
Top-Features:
Black 4-channel DJ mixer with versatile connectivity options via XLR, jack and RCA
Bluetooth interface for playing music from your smartphone, tablet or computer
USB port and SD slot for music playback from USB flash drives, MP3 players and SD memory cards
10-band equalizer per channel; effects section with delay and repeat; and sound effects section with 8 samples
Microphone section with XLR jack input and 3-band EQ with talk-over function
Clear layout, offset connector panel and option for 48cm (19") rack mounting
Properties:
Connections: 1 x USB port, 1 x SD Memory Card Slot, 1 x 6.3mm jack XLR microphone input, 1 x 6.3mm jack microphone input, 6 x stereo RCA line input, 2 x stereo RCA phono/line input, 1 x RCA stereo return input, 1 x RCA Stero Send input, 1 x XLR master output, 1 x RCA stereo amp output, 1 x stereo RCA booth output, 1 x stereo RCA Rec output, 1 x 6.3mm jack headphone output, 1 x BNC 12V lamp socket
MP3 control section with LCD display
3-band equalizer
Kill function
VU Meter
Master fader
Linefader
Crossfader
Cue switch
Mono/stereo switch
Booth regulator
Gain control
Cue controller
Microphone volume control
Headphone volume control
Balance control
Blue backlit Linefader
Suitable for 48cm (19") rack installation
Rubber feet
On/off switch on the top panel
Power supply: AC 115 - 230V, 50/60Hz
Dimensions:
48 x 9.5 x 24cm (WxHxD)
Weight: 5 kg
1 x Auna Rack Stand 48cm (19'') 21 rack unit wheels tiltable mobile
Comfortable DJ PA Rack Stand 48cm (19") with wheels, tilting top and sturdy steel construction. For almost all 19" (48cm) suitable devices and for up to 12 rack units. 21U mobile storage space for your equipment.
Top-Features:
Suitable for almost all 19" (48cm) devices up to 12U
Adjustable top section (up to +45˚ or -135˚ tilting) for easily accessible controls
Extremely gig-friendly and portable thanks to four wheels
Stop brake mechanism for front wheels with foot switch
Powder-coated steel construction with high-quality design – for secure positioning
Properties:
4 rubber wheels
360˚ rotatable wheels
Adjustable top section with screw mechanism
Secured via locking pin
Bottom rack section with 9U for amplifiers, CD players etc
Top rack section with 12U for CD player controllers, effects units, mixers etc
Max. load capacity: 50kg
Dimensions:
Max. installation width: 19" (48cm)
Tilting top section installation height: 21" (54cm) or 12U with 24 fixing points
Bottom section installation height: 16" (41cm) or 9U with 18 fixing points
Bottom section installation depth: 20" (51.5cm)
55.5 x 105 x 57cm
Weight: 9.5kg
Cable Set
Cable set with 10 meter speaker cable, 4 RCA cables and 2 jack to RCA cables
1 x 10 Meter Loudspeaker cable:
4 x 1.5 Meter Jack-Cables:
2 x 1.5 Meter 3.5mm-Jack-To-RCA-Cables: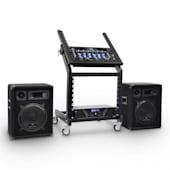 Rack Star Series Mercury Beat DJ PA System