SPL-2000EQ PA Amplifier
You save 11%
Delivery time: 3 - 5 workdays
Top features
Powerful 2 x 1000W max. power
Frontal AUX input
Stylish LED light effect
Shipping costs: from £ 0.00
The item is ready to ship and will be shipped immediately after receipt of payment.
You may change your order at any time.
SPL-2000-EQ HiFi PA Amplifier 2U DJ LED Effect
The Skytec SPL-2000-EQ is a crossoverbetween a successful hi-fi and PA amplifier.
The selection of connections of theSkytec SPL-2000-EQ comes from the hi-fi set-up. Over three RCA lines and afront AUX input jack ensure that all components of your home entertainmentsystem can connect to the amplifier - from the computer to an MP3 player allthe way to the television set.
From the PA set-up comes a 19"rack-compliant construction and a powerful sound with a built-in 3-bandequalizer.
The Skytec SPL-2000-EQ is ideal forprivate events and for use in a small commercial context.
Finally, the Skytec SPL-2000-EQ isvisually pleasing with its blue LED light effects on the front plate.
User manual PDF
Product details
Top features:
Powerful 2 x 1000W max. power
Front AUX input and three rear lineinputs for connecting various external audio components such as MP3 players,laptops or CD players
Stylish blue LED light effect
Suitable for 19" (48cm) rackinstallations (2U)
Properties:
Connections: 1 x 3.5mm mini-jack AUXinput (front), 3 x stereo RCA inputs, 2 x sets of stereo terminals forconnecting speakers
Audio source selection via front controldial
3-band EQ (bass, mid and trebleadjustable)
Adjustable volume for each channel
Handle at front
High-performance fans
Peak and signal LEDs
Signal to noise ratio: >82dB
Frequency range: 20Hz - 20kHz
SNR: >98dB
THD: <0.5%
Speaker impedance: 4 ohms minimum
Power supply: 220/240V, 50Hz
Scope of delivery:
1 x PA amplifier
1 x Power supply
1 x User manual
Dimensions:
19 x 3.5 x 10.2 inches (W x H x D) (48 x9 x 26cm)
Weight: approx. 13 pounds (5.9kg)
Suitable for 19" (48cm) rackinstallations (2U)
Customer opinions
Tested review
A robust. powerful and versatile amp`this fine best would not look out of place in the house. The SPL 500 will play all your music files via MP3 & Computer with ease and with plesant lines it`s a pleasure to look at.
Tested review
I brought this item a month ago thinking that it would be great value for money but in actual fact its a waste of money. Within 3 weeks of getting this amp i started getting lots of feedback through my studio monitors and lots of interference between the channels, it makes a crackling sound whenever i turn it on and even when i have music playing through them the interference doesn't fade out or go away. also whilst the interference is happening the led's flicker on and off, At the beginning i thought this was due to insufficient power, but this makes no difference wherever i place it in the house. There fore any inexperienced dj's or sound engineers like me should not buy this item because you get what you pay for!
Tested review
I've owned my SPL700 for 1 year now, recently it has started playing up very badly! I don't know if something has blown or it's just the bad build quality, it's started to loose it's power, I can now EASILY run some 50 watt RMS hifi speakers even on PEAK, and they don't fully excursion and this amp is meant to do 125 watts RMS @ 8ohms, a bit to optimistic I think!? Also the power up is awful, even with the volume gains on minimum and the EQ down it still manages to bang any speakers I connect outwards and make the Peak lights flash, I've never connected any speakers less than 8 o to this amp but it acts like I've connected 2 ohm speakers and fried the PCB's! When I haven't, all the components still work! To sum it up aswell, there is no protect mode, the efficiency is very poor, the heat sink inside is only about 2mm thick so it won't stay cool for long if you push this amp hard! Whatever you do AVOID this amp, and perhaps all of the SPL series, they are VERY cheaply built, bad quality and very poor specifications, this is like a very cheap hifi amp probably class T put inside a flimsy 2U casing! I would go for the PRO skytec series, with this amp your just wasting your money :(
Tested review
this amp is great for home and events use. its looks great in its white colour.sound quality is excellent
Tested review
Great value for your money, it neat and simple and good connectivity.The only problem for me, was the bright power-on LED, thats very bright with a dazzle effect on its controls, so stuck some tape over it to get rid of the dazzleing effect.
Tested review
I purchased this item for use with my QTX DJ Speakers for use when I'm DJ'ing. Now this is quite a budget product but I feel like it could be more powerful compared to other budget amplifiers.After you take it over '4 O'clock' there seems to be some distortion. However this may be because of my speakers but I have no way to determine it. Apart from that its a decent amplifier for home and bedroom use. I wouldn't recommend it for Heavy DJ use because it lacks connections, it only uses bare speaker wire. Whilst bare speaker wire works just fine the terminals may wear out and you just have to spend a little more time binding the cable to the connectors.
Tested review
versatile, powerful, and crystal clear , recommended for home HiFi and party's EQ equalizer gives you boost not suppression where needed, great back-up from Hi Fi Towers when needed.Many ThanksNick
Tested review
good quality amp good price as well
Tested review
Works great and is very powerful!
Tested review
Very nice amp,well worth the money,sounds excellent
Show more customer reviews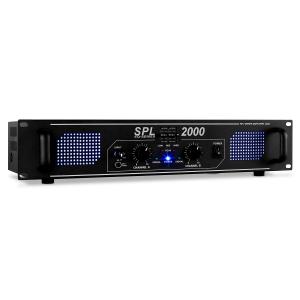 SPL-2000EQ PA Amplifier
Powerful 2 x 1000W max. power
Frontal AUX input
Stylish LED light effect
All purchases made between the 26th of October and the 31st of December can be returned till the 31st of January 2019.