Subi88P2 Electric Piano
You save 11%
Delivery time: 8 - 10 workdays
Top features
MIDI piano
88 keys
Preprogrammed rhythms & demo songs
Also available as B stock
Shipping costs: from £ 0.00
The item is ready to ship and will be shipped immediately after receipt of payment.
You may change your order at any time.
88 Key Electric MIDI Keyboard Piano with 2 Pedals
The Schubert 88 key piano is a full, electronic keyboard that offers experienced musicians a serious platform for composing, improvising and performing.
The Schubert 88 key piano features touch-sensitive keys, allowing you to give an emotional performance. 138 different instrument voices and 118 pre-installed rhythms give a huge range of sounds, while the 31 demo songs even let you turn the melodies off so that you can play along or improvise. The selections are made easily by using the 1.6" (4cm) dial. Three memory banks can be utilised to save your favourite instruments and rhythms, allowing them to be activated without having to search for the selection number.
Two pedals lie at your feet, for pianissimo use and damping. The pianissimo pedal changes the volume of the notes played, while the damping pedal shortens the duration of the tone.
The Schubert 88 key piano has an automatic accompaniment with single and finger chords. The dual function permits two instrument voices to be heard with every keystroke, or the keyboard can be split so that two instruments can play together. The Schubert 88 key e-piano also features switchable effects such as reverb and chorus, and an integrated recording function for capturing song ideas.
The line output can connect to a hi-fi or PA system in order to amplify the sound for larger performances, or to connect to an external recording device. An AUX input allows the easy integration of external audio sources such as CD or MP3 players to provide a wider range of music choices. Additionally, the Schubert 88 key piano features a MIDI output to transfer the MIDI data to sequencing software, external effects units and samplers, while the MIDI input can be used for piano sound modules, for example.
With the digital support of three different learning functions, the Schubert 88 key piano enables virtuosos, as well as their offspring, to get a first-class musical education. A headphone jack on the underside of the piano enables you to play music deep into the night without disturbing your housemates or neighbours, and allows you to concentrate without being disturbed by unwanted background noise.
Installation and mounting are made simple by the well-illustrated manual, and can be done in as little as 15 minutes, depending on your level of skill. The pre-assembled music stand is ideal for scores with a size of 22.4" by 7.7" (57 x 19.5cm) and features a non-slip barrier. In times of rest, the keyboard can be protected by the wooden sliding cover. The stylish black finish with wood grain will be a highlight in every music room.
ATTENTION: Please note that the piano is not dismantled. We recommend using two people to install the piano keyboard.
User manual PDF
Product details
Top features:
Electronic MIDI piano with 7¼ octaves
88 keys
138 instruments, 118 built-in rhythms, 31 demo songs
Large, multi-line LCD display
Two pedals - pianissimo and damper
Internal memory for recording - 2 tracks
Music stand and keyboard cover
Properties:
Connections: 1 x connection for pedals, 1 x 6.3mm jack AUX input, 1 x MIDI input, 1 x MIDI output, 1 x 6.3mm jack line output, 1 x 6.3mm jack headphone output (underneath)
Instrument, rhythm, and demo song choice via number selection or dial
Reverb on / off switch
Chorus on / off switch - polyphonic instrument reproduction
Dual function
Keyboard split
Transposition - raise or lower the pitch
Touch sensitivity adjustable in 3 steps
Adjustable tuning
3 presets for quick access to favourite instruments and rhythms
2 rhythmic transitions with intro/outro function
Three learning modes: single key mode; sequel mode; full playback mode
Auto accompaniment - single, finger and total chord
Disconnectable melodies on demo songs - free play possible
Switchable metronome
Adjustable tempo - between 30 - 280 BPM
Power button
Power supply: 230V, 50Hz with power cable
Scope of delivery:
1 x Piano
1 x Pedal
2 x Side panels
1 x Back panel
Mounting materials
1 x English user manual (other language: German)
Dimensions:
53.1 x 32.7 x 20.1 inches (W x H x D) (135 x 83 x 51cm)
Weight: approx. 110 pounds (50kg)
Important Delivery Information!
Due to the large size of this item we send it with our specialist courier spedition. As spedition deal with large shipments only they take slightly longer to reach you, usually between 7 and 10 working days from dispatch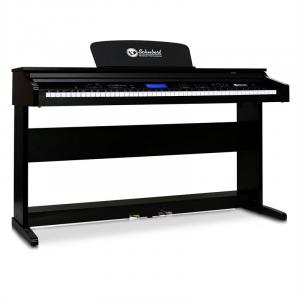 Subi88P2 Electric Piano
MIDI piano
88 keys
Preprogrammed rhythms & demo songs
All purchases made between the 26th of October and the 31st of December can be returned till the 31st of January 2019.
Save with our sets: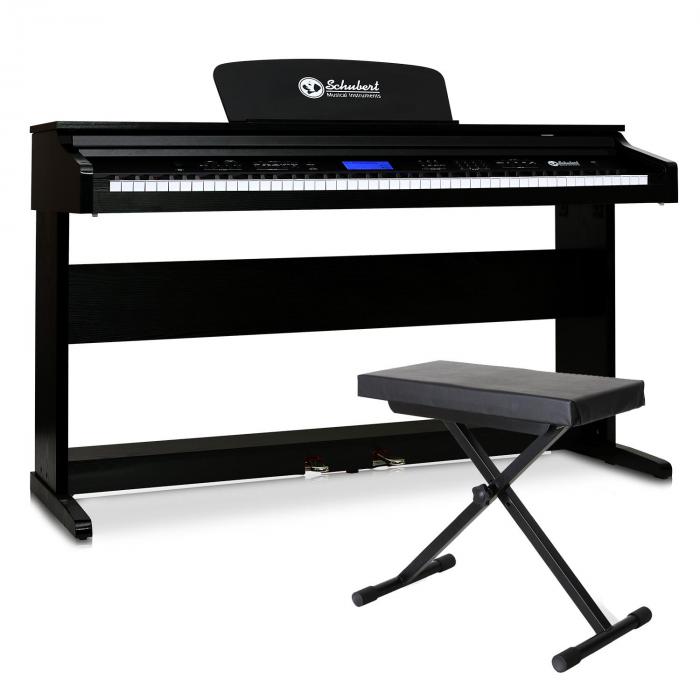 £ 595.99
£ 469.99

incl. VAT
You may change your order at any time.