Item number: 60000555
Wireless Microphone-Mixer Set
You save 29%
Unfortunately, no articles are currently available
Top features
Beginner-friendly wireless microphone mixer set consisting of a 3-channel DJ mixer and a wireless microphone set as well as all necessary cables
Mixer with well-arranged features with smooth, low-wear faders, compact dimensions, talkover function (-12 dB attenuation), strong metal chassis - suitable for rack mounting
2-channel VHF wireless microphone set with two dynamic hand microphones with range of up to 100 meters and long operational life thanks to its energy-efficient design
Shipping costs: from £ 0.00
The item is ready to ship and will be shipped immediately after receipt of payment.
You may change your order at any time.
Wireless Microphone Set with 3 Channel Mixer Black
Text für Setartikel..
Recommended area of application
Bars
Presentations
Small stages
Expandable
Amplifier
Laptop
Speaker
Microphone Stand
This wireless microphone set combines the powerful, VHF-2-H wireless, 2-channel microphone system from auna with the user-friendly, entry-level TMX-2211 3-channel DJ mixer from resident dj. This gives aspiring DJs and anyone who wants to liven up local parties the technical elements they need to connect and control CD players, turntables, amplifiers, etc.
The VHF-2-H wireless microphones from auna are also very beginner-friendly, characterised by great ease of use. Wireless microphones allow performers to shine on stage, preventing any falls resulting from tangled cables. They are ideal for presentations, karaoke events or lectures. The up to 100 metre transmission range gives huge freedom when setting up the technology.
The wireless microphone-mixer set gives you all the technical expertise you need for the production of small to medium-sized events.
Set consists of
VHF-2-H 2-Channel VHF Wireless Microphone Set 2 x Hand Microphone 50m
Item number: 10030868
Included quantity: 1
Top features:
2-channel VHF wireless microphone set with two dynamic hand microphones
Up to 50 metres range and long operating times thanks to energy-efficient construction
Jack output to cable-connected signal forwarding to amplifier, mixer and loudspeaker
Compact receiver with metal housing and aluminium front plate
Properties:
Connections: 1 x 6.3mm jack microphone. A output, 1 x 6.3mm jack microphone. B output, 1 x 6.3mm jack mix output
Transmission frequencies: 186.20 + 199.60 MHz (VHF)
Volume control
Telescopic antenna
Stand feet
Power LED
RF LED
On / off switch on the front panel
Power supply wireless microphone: 1 x 9 V battery (not included)
Power supply receiver: AC 12 - 18V, 250 mA
Dimensions:
Receiver: 21 x 4.5 x 16 cm (WxHxD)
Weight microphone (each): 149 g
Weight: about 592 g
Stereo RCA-to-6.3mm Jack Adapter Cable, 1.5 Meters
Item number: 10003526
Included quantity: 1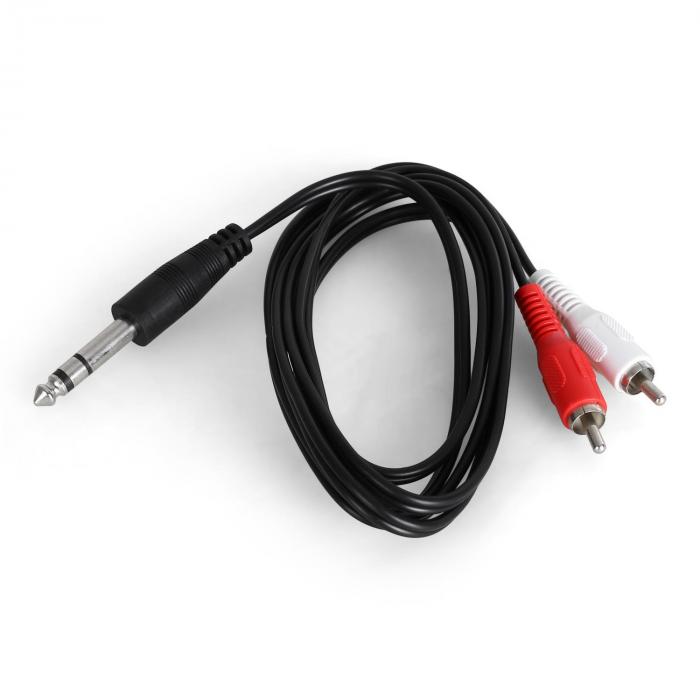 Properties:
1.5 meter cable
Stereo RCA-to-6.3mm jack adapter
kink protection
Wireless Microphone-Mixer Set
Beginner-friendly wireless microphone mixer set consisting of a 3-channel DJ mixer and a wireless microphone set as well as all necessary cables
Mixer with well-arranged features with smooth, low-wear faders, compact dimensions, talkover function (-12 dB attenuation), strong metal chassis - suitable for rack mounting
2-channel VHF wireless microphone set with two dynamic hand microphones with range of up to 100 meters and long operational life thanks to its energy-efficient design