CM600 Condenser Microphone
You save 45%
Delivery time: 4 - 6 workdays
Top features
USB Condenser Microphone
Integrated 22mm electret microphone capsule
Distinctive cardioid pattern
Also available as B stock
Shipping costs: from £ 0.00
The item is ready to ship and will be shipped immediately after receipt of payment.
You may change your order at any time.
CM600 Condenser Microphone Studio Cardioid USB Bronze
The Auna CM600 isa digitally applicable conceptualized condenser microphone. By connecting acontemporary USB cable to a PC or laptop, the microphone is immediatelyoperational.
Specializing in voice and language allows the Auna Mic, witha sample rate of 16-bit 48 kHz and a balanced cardioid pattern, to recordvocals in the best sound quality and thus creates perfect material for audiomastering in song production, podcasts or presentations for a radio stream.
Included with the Auna CM600 is the shockmount holder. TheNylon fabric reduces resonant acoustic vibrations and noise that can occur onthe body. Thanks to the 5/8'' screw the spider can be easily mounted on a standardmicrophone stand. A 3/8" to 5/8" adapter guarantees effectiveuniversal usability with other screw sizes.
A robust metal chassis clad in bronze winds around the 22mmElektret mic capsule, with outstanding durability and rugged qualities, so thatthe microphone is ready for recording sessions outside of it'snormal habitat - eg in the tour bus or hotel.
Product details
Top features:
USB Condenser Microphone
Integrated 22mm electret microphone capsule
Distinctive cardioid pattern
With microphone spider with 16mm (5/8'') screw for tripodmounting and 3/8 "to 5/8" screw adapter
Bronze metal body with golden microphone cage
Plug & play with Windows XP, Vista, 7 & 8 or Mac OSX 10.3.9 (Panther) or better
Properties:
Connection: 1 x USB Type B connector
Frequency range: 30Hz - 18KHz
Sample rate: 16 bit 48 kHz
Sensitivity: -32 dB
Signal-to-noise level: 68dB
SPL: 140dB
Green Power LED
Power supply: via USB
Scope of delivery:
1x Device
1x Microphone spider
1 x 3/8 "to 5/8" - Adapter
1x Protective bag
1x USB cable
English manual (other language: German)
Dimensions:
Microphone: 18.5 x 5.5 cm (HxØ)
Weight: about 380g
Customer opinions
An excellent new entry in the field of condenser cardioid microphones.  For me, the main benefit of a USB condenser mic is that it connects directly to a computer's sound card via an ordinary USB plug.  You don't need a pre-amp or any other specialized equipment.  The main disadvantage of these types of mics, especially cardioid which mostly pick up sound directly in front of them, is that they are generally quieter on the pickup and so require close proximity, which gives them a tendency to 'pop' especially on vocals.  The Auna is very forgiving and will stay pop-free from around a foot away to 4 inches. Compared with my Behringer C-1U, this Auna model picks up sound in a much more efficient way, i.e. you don't have to be quite so close to it to produce a very acceptable volume level.  This is confirmed by the uptake on Audacity which automatically sets at 40% whereas with the Behringer it would automatically set at around 80%.  You get a very clean sound with a warm, smooth tone from both voice and music recording, ready to be manipulated to suit your purposes.  The mellow sound you get is almost too round for my style of vocals, but it's fantastic for guitar and keyboard recording, picking up all nuances while effectively excluding background noise. I love the look and feel of the CM600.  It's fairly heavy, very attractive in this bronze colour, substantial, and with an air of quality about it.  The cradle clip holds the mic securely at whatever angle and provides shock absorption.  Through the USB connection, the mic draws phantom power from the computer it is attached to (a faint blue LED light shows through the mesh).  I have tested this mic in different ways, as my Amazon video illustrates, and I'm very impressed with the performance and results I can get.  I still have a use for my Behringer, but the Auna has become my favourite mic for guitar and keyboard live recording.  In my opinion, it is a quality microphone at a very reasonable price.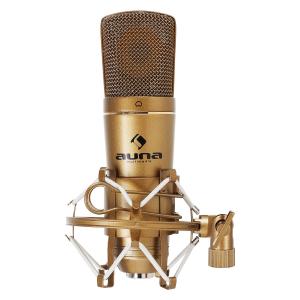 CM600 Condenser Microphone
USB Condenser Microphone
Integrated 22mm electret microphone capsule
Distinctive cardioid pattern
Save with our sets: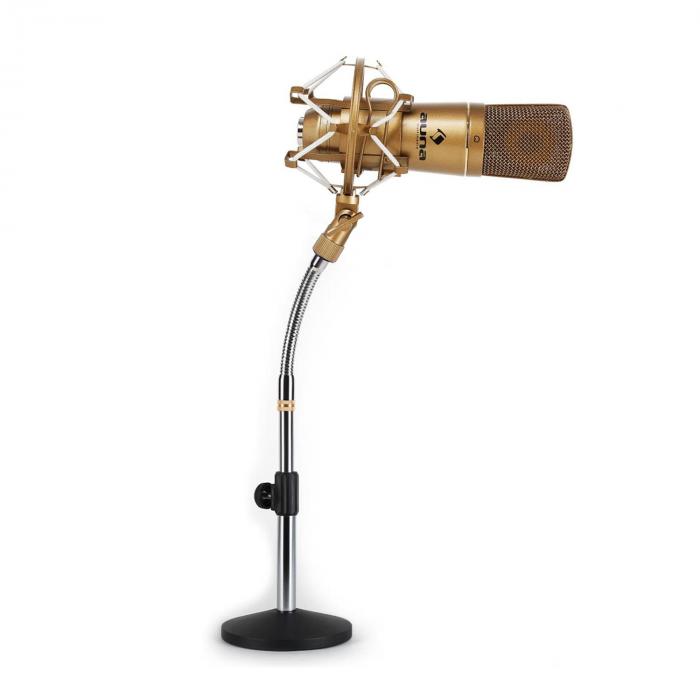 £ 84.98
£ 70.99

incl. VAT
You may change your order at any time.