Item number: 60002419
Barossa 102 Duo Wine Fridge Set
Delivery time: 14 - 20 workdays
Top features
Elegant presentation: luxurious black wine fridge suitable for any living environment
Two zones: separately adustable temperatures between 5 and 20 ° C
For lovers and collectors: 102 bottles of wine on five removable wooden shelves
You may change your order at any time.
Barossa 102 Duo Wine Fridge Set 2 Zones 102 Bottles Wine Glass Shelf
Text für Setartikel..
Always perfectly tempered: thanks to two different cooling zones, the Klarstein Barossa 102D wine cooler always offers the perfect wine at the right time.
For the full development of its flavour, wine must be cooled to the right temperature. With the Klarstein Barossa 102D wine fridge, this is made easy - in a sophisticated ambience. In its upper and lower temperature zones, it holds up to 102 bottles of wine on five removable wooden drawers. A simple control panel with LCD display sets the temperature for both cooling zones. This way, white, red or rosé wine can be cooled precisely. The panoramic front door made of safety glass with a black glossy bezel ensures elegant presentation. The switchable interior lighting elegantly stages the stored bottles. This makes it a stylish visual highlight not only in the domestic area, but also in bars and restaurants.
Always perfectly tempered: hardly anything is more important than the correct drinking temperature of the wine. So that this is not lost by decanting wine into warm wine glasses, it is advisable to cool the glasses themselves - this way nothing stands in the way of perfect wine enjoyment. For this reason, the Klarstein Barossa 102D wine glass shelf set contains a wine glass shelf made of real wood. Simply put it in the wine fridge and you can store white or red wine glasses directly on the three rails together with the wine.
For lovers and connoisseurs: the Klarstein Barossa 102D wine fridge offers stylish storage space for wine, sparkling wine and other drinks in two cooling zones.
Set consists of
Barossa 102D Wine Glass Shelf Accessories 4 Rails Real Wood
Item number: 10032922
Included quantity: 1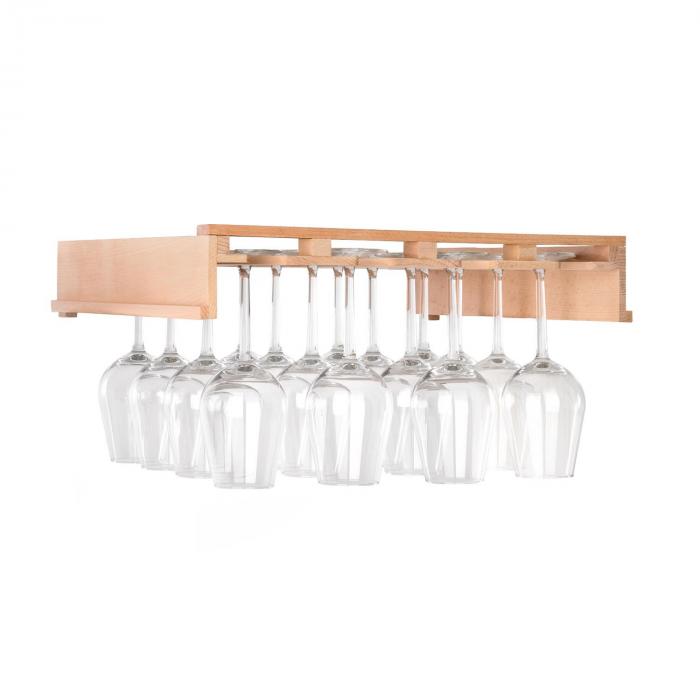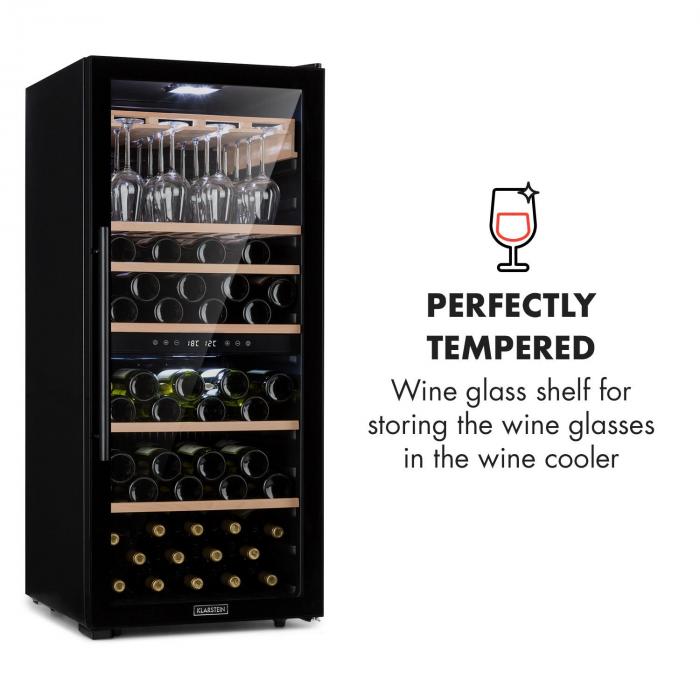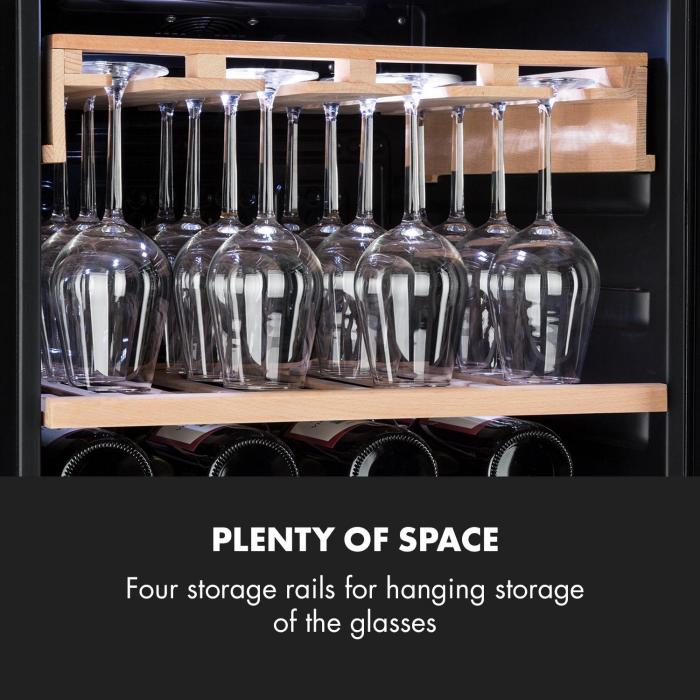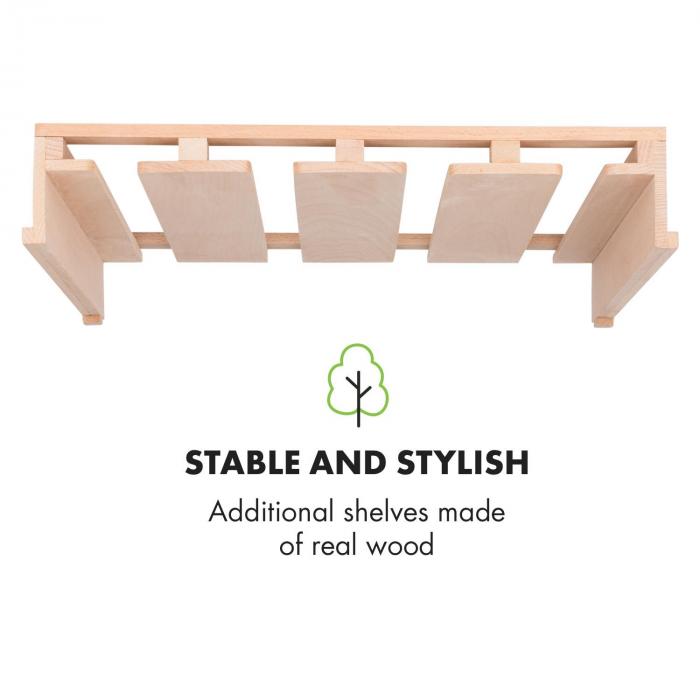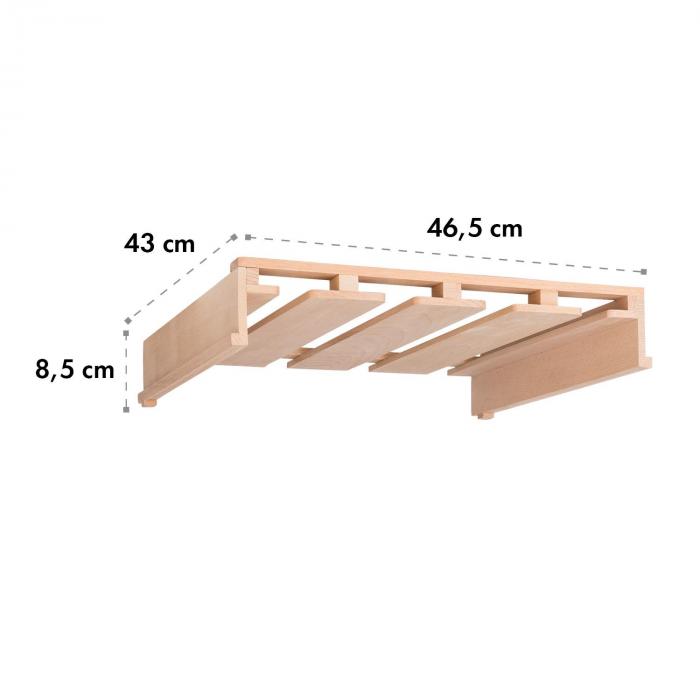 Top features:
Perfectly tempered: wine glass shelf for storing wine glasses in the wine fridge
Stable & stylish: additional shelves made of real wood
Lots of space: four storage rails for hanging the glasses
Properties:
Suitable for the Klarstein Barossa 102D wine cooler with article number 10032921
Environmentally friendly through sustainable production from wood
Dimensions:
Dimensions: approx. 46.5 x 8.5 x 43 cm (WxHxD)
Weight: approx. 1.5 kg
Barossa 102 Duo Wine Fridge Set
Elegant presentation: luxurious black wine fridge suitable for any living environment
Two zones: separately adustable temperatures between 5 and 20 ° C
For lovers and collectors: 102 bottles of wine on five removable wooden shelves