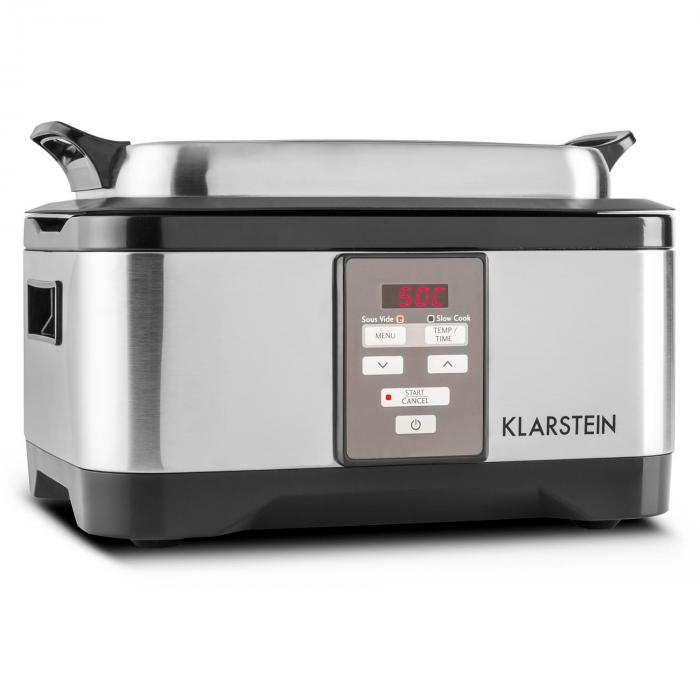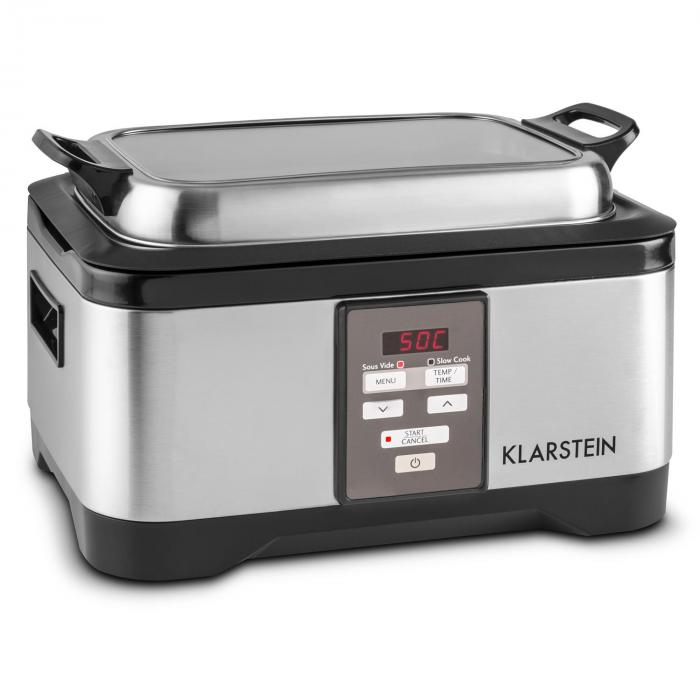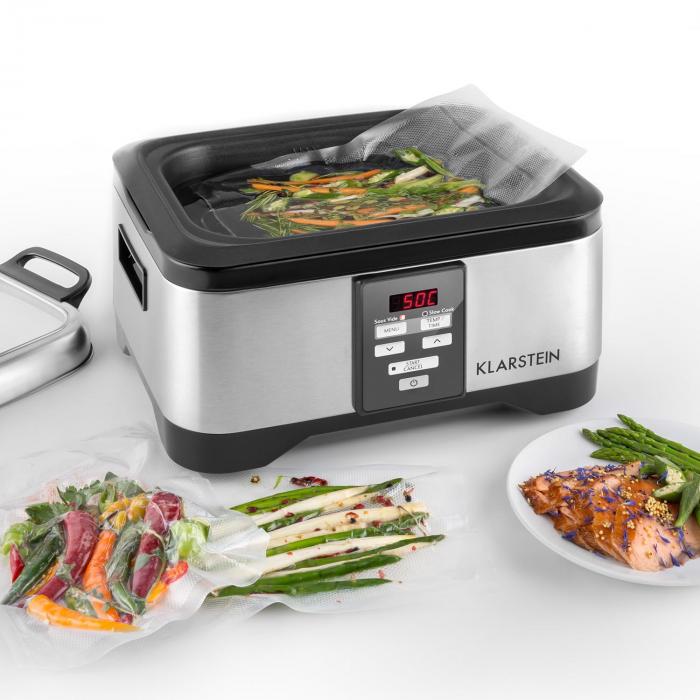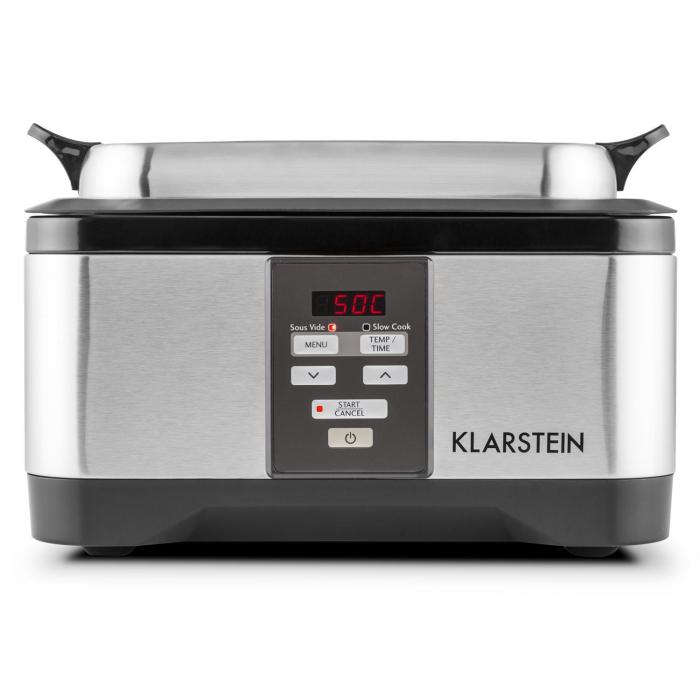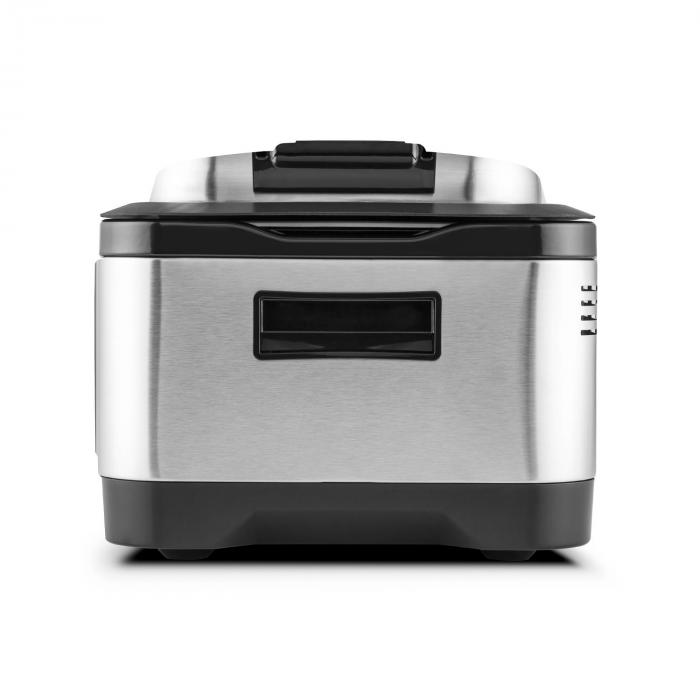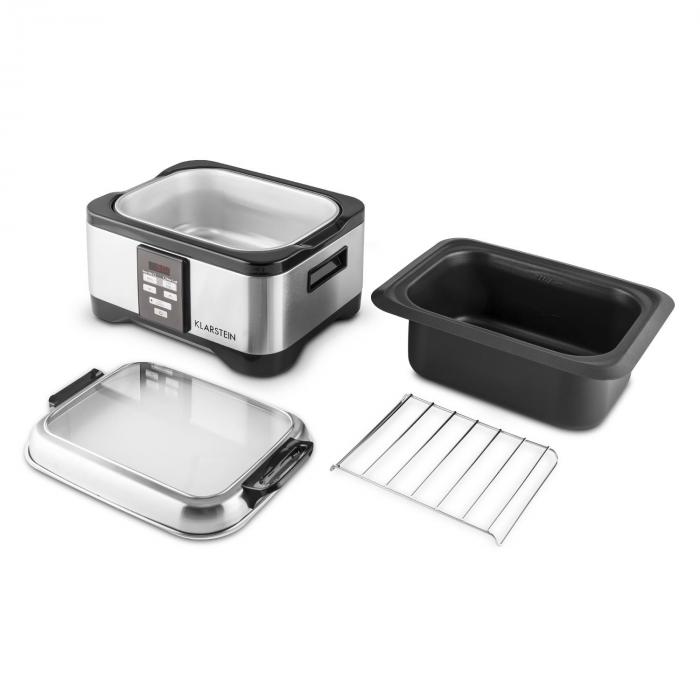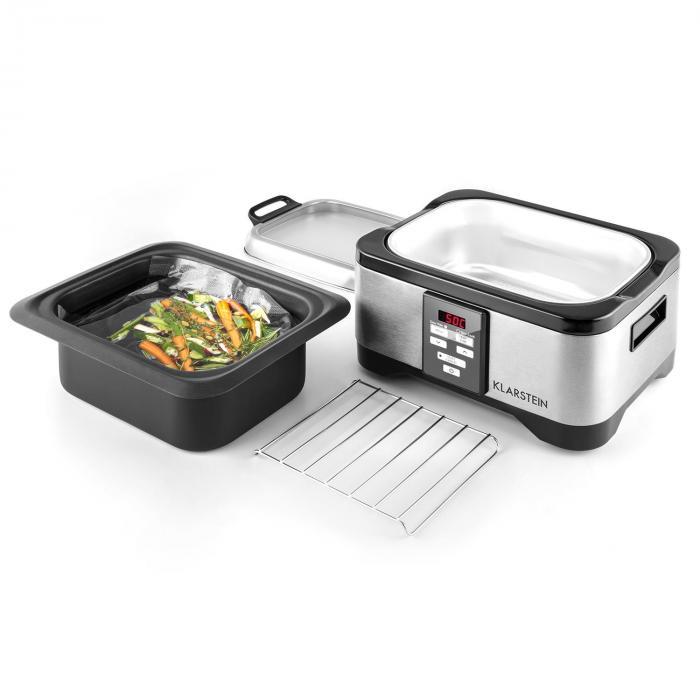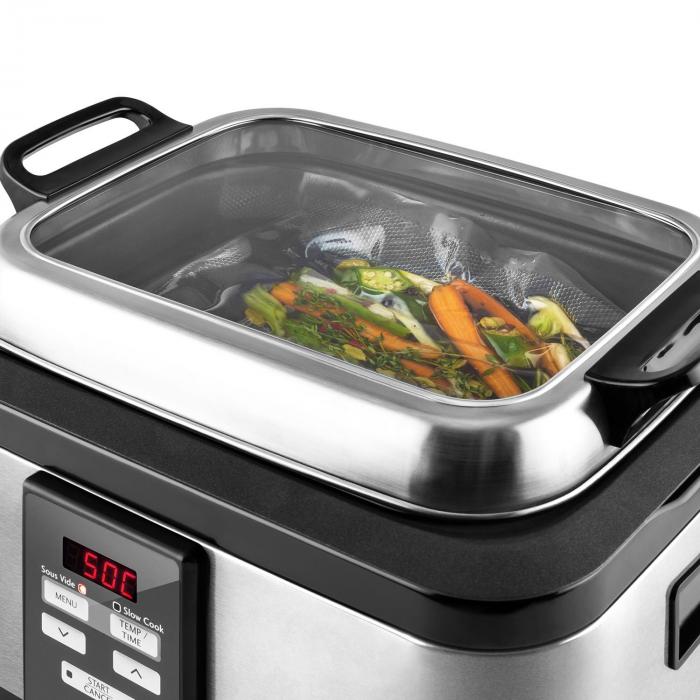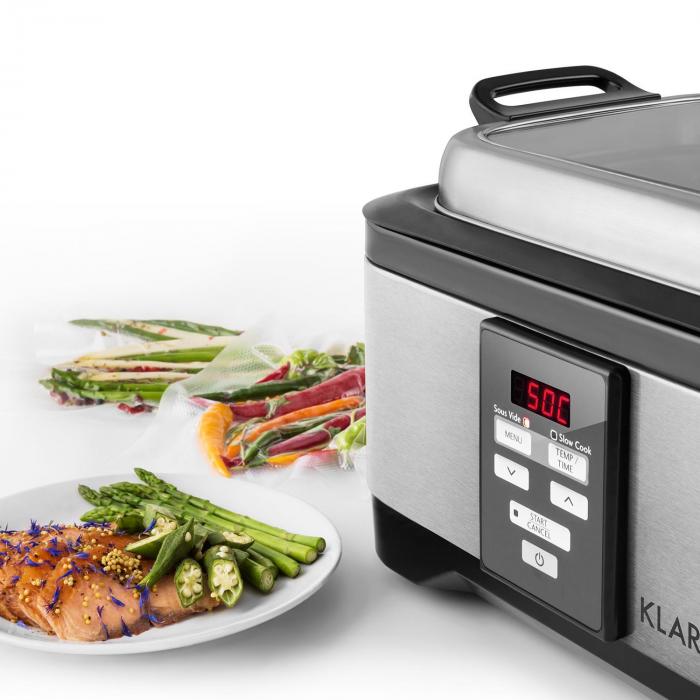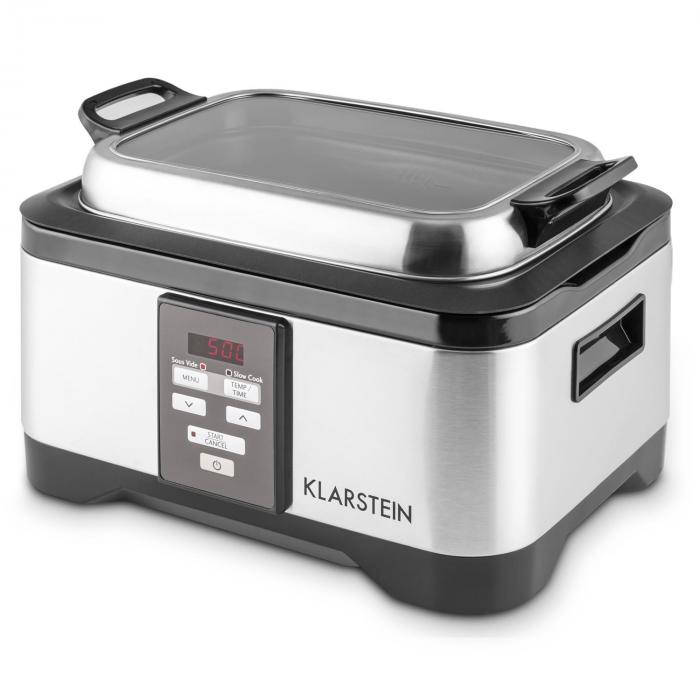 Manual
Item number: 10028297
Tastemaker Sous-Vide Cooker
You save 54%
Delivery time: 3 - 5 workdays
Top features
Sous-vide cooking like the pros
Even temperature for hours
550W power
Also available as B stock
Shipping costs: from £ 0.00
The item is ready to ship and will be shipped immediately after receipt of payment.
You may change your order at any time.
Selected reviews from the German press
Tastemaker Sous-Vide Slow Cooker 6L 550W Stainless Steel Silver
Vacuum cooking like a pro: perfectly cooked meat - tender and juicy on the inside, crispy on the outside.
Easy low-temperature cooking thanks temperature setting in 1 ° C.
Trendy slow cooking without having to monitor temperature and cooking time.
Device automatically keeps temperature constant at the set value, maximum deviation is 1 ° C.
Turn your kitchen into a professional chef's studio! The Klarstein Tastemaker Sous-Vide Cooker allows you to cook perfect steaks, al dente vegetables or highly aromatic fish dishes without burning your fingers. Sous-vide or vacuum cooking has been a preparation method used by professional chefs since the '70s, but until now domestic use was too complicated: the lack of appropriate equipment and difficulty in monitoring temperature and cooking time made it difficult for home cooks. Now, thanks to the Tastemaker, this is no longer the case. All you need to do is take the ingredient you wish to cook - meat, vegetables or fruit - seal it in a vacuum bag with spices or marinade and set the appropriate cooking time and temperature on the Tastemaker (for guidelines, see the included manual). The device keeps the temperature constant through the whole cooking space with a maximum deviation of just 1° C.
A substantial 550 watts of power bring the slow cooker's removable, non-stick coated 6-litre aluminium inner pot uniformly to temperatures of 40-90° C, ensuring precise heating of your food. The temperature may be set in 1° C increments and maintained automatically through the entire cooking area. The time may be set in 10 minute increments from 1 to 24 hours - perfect for achieving the exact desired doneness. All settings are made via a simple control panel on the front of the device. An LED display shows your selection.
But the Klarstein Tastemaker is not just for sous-vide cooking: normal low temperature cooking, heating or keeping food warm are all possible as well.
After cooking, the Klarstein device is easy to clean. Both the removable cooking insert and the lid of the Tastemaker are dishwasher safe for practical, easy cleaning. Hand washing of the non-stick coated inner pot is also a breeze.
With its compact dimensions, the sous-vide cooker fits into even the smallest kitchens, where is also makes a good visual impression with its modern, elegant silver stainless steel case and black cover with plastic window.
Available colours: red, silver / black.
User manual PDF
Product details
Top features:
Sous-vide cooking like the pros
Even temperature for hours for perfect cooking results
550W power
Uniform temperature distribution through coated aluminium inner pot
Suitable for sous-vide cooking, low temperature cooking, heating and keeping warm
Maximum temperature deviation: 1 ° C
Properties:
Temperature range: 40-90 ° C
Temperature setting in 1 ° C increments
Cooking time: 1 - 24 hours
Cooking time setting in 10-minute increments
Non-stick coated cooking 6-litre insert
Dishwasher-safe lid and inner pot
Simple control panel with LED display on the front
High-quality metal body in a regal red
On / off switch on the front panel
Power supply: 230V / 50Hz
Scope of delivery:
1 x device
1 x cooking insert
1 x lid
1 x grill
1 x English user manual (other languages: German, French, Italian, Spanish)
Dimensions:
External dimensions (device): 36 x 23 x 30cm (WxHxD)
Internal dimensions (cooking insert): 28 x 10.5 x 20 cm (WxHxD)
Weight: 3.8 kg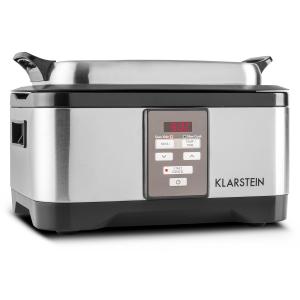 Tastemaker Sous-Vide Cooker
Sous-vide cooking like the pros
Even temperature for hours
550W power
All purchases made between the 26th of October and the 31st of December can be returned till the 31st of January 2019.
Save with our sets: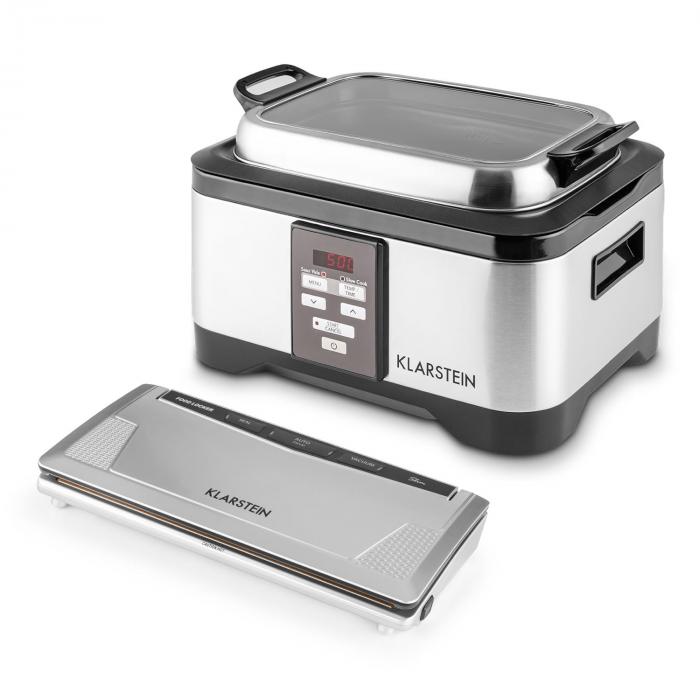 You may change your order at any time.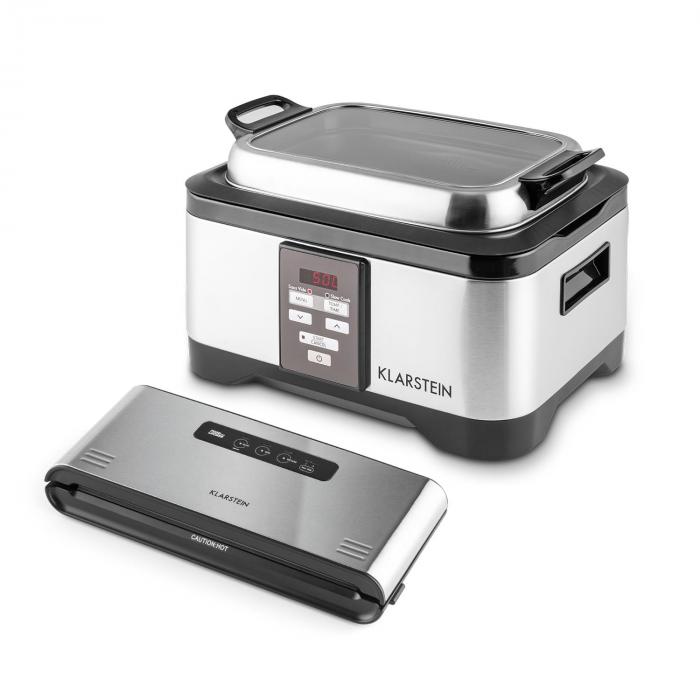 £ 146.98
£ 139.99

incl. VAT
You may change your order at any time.