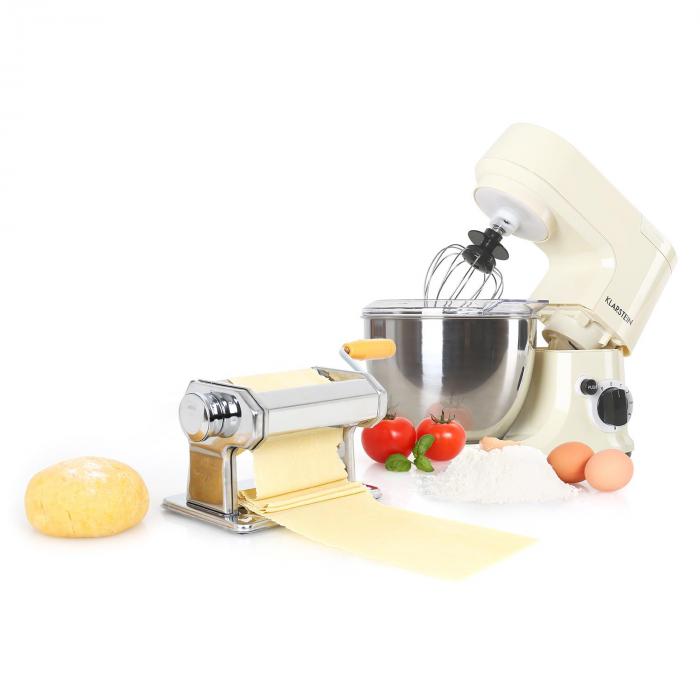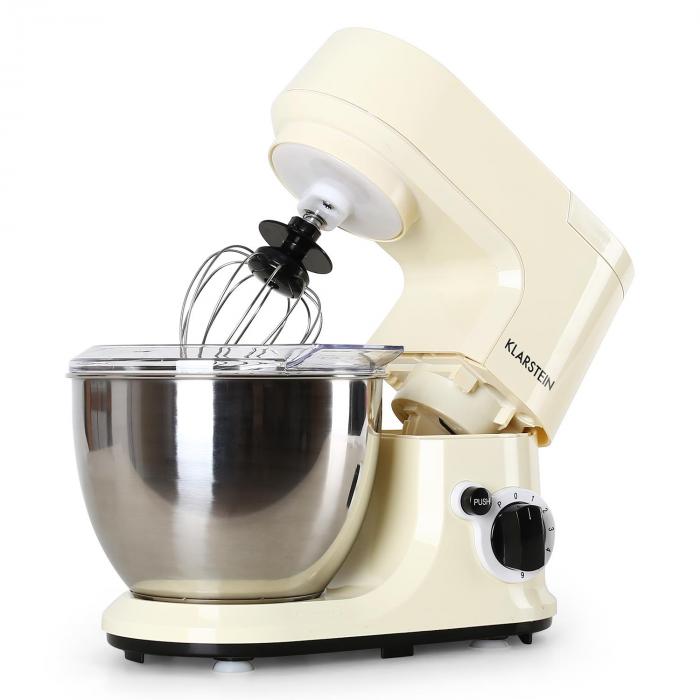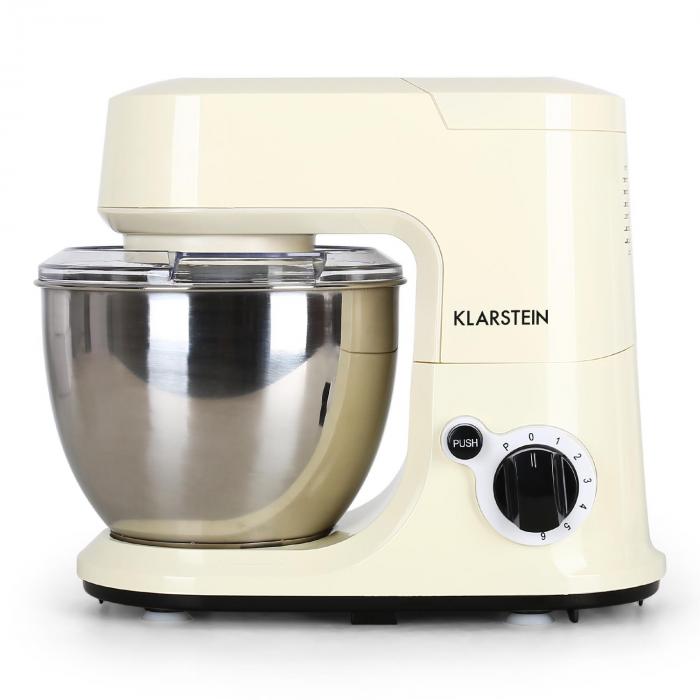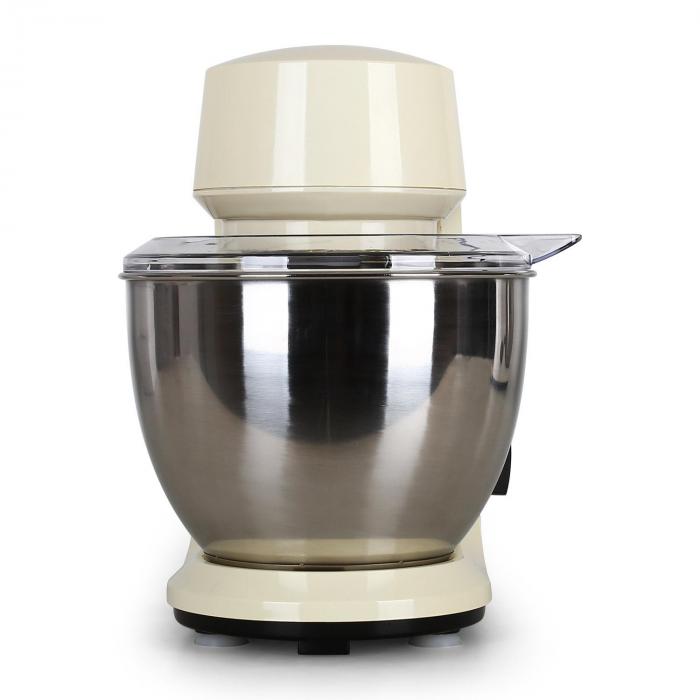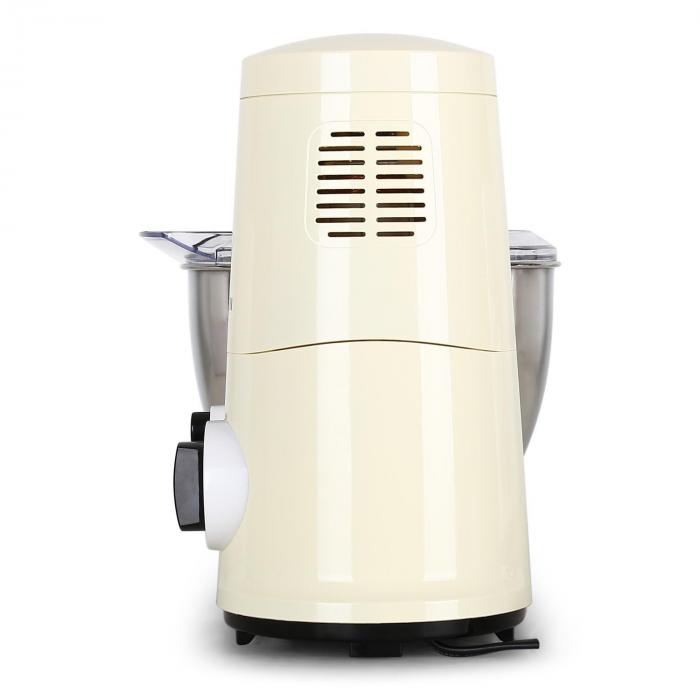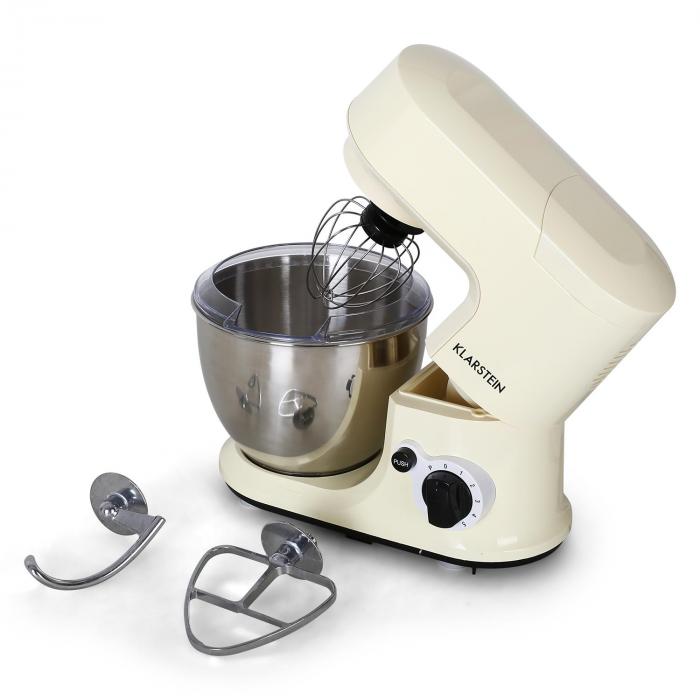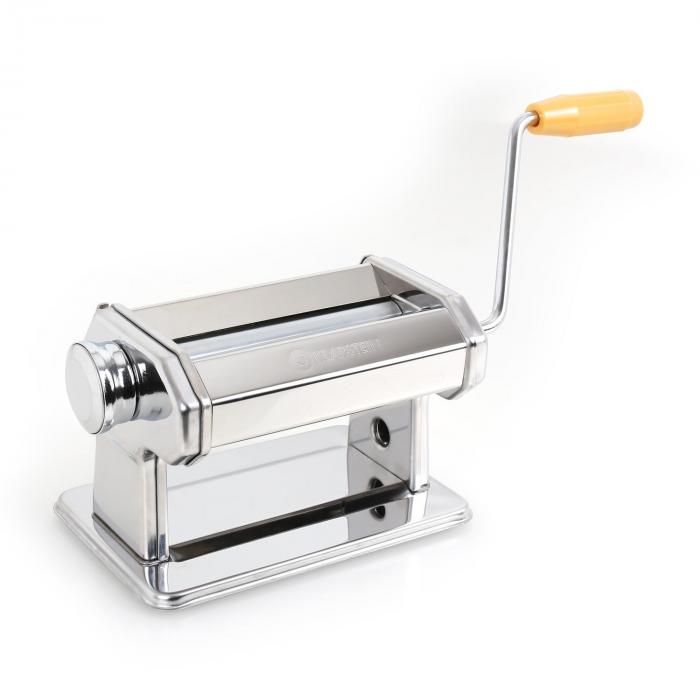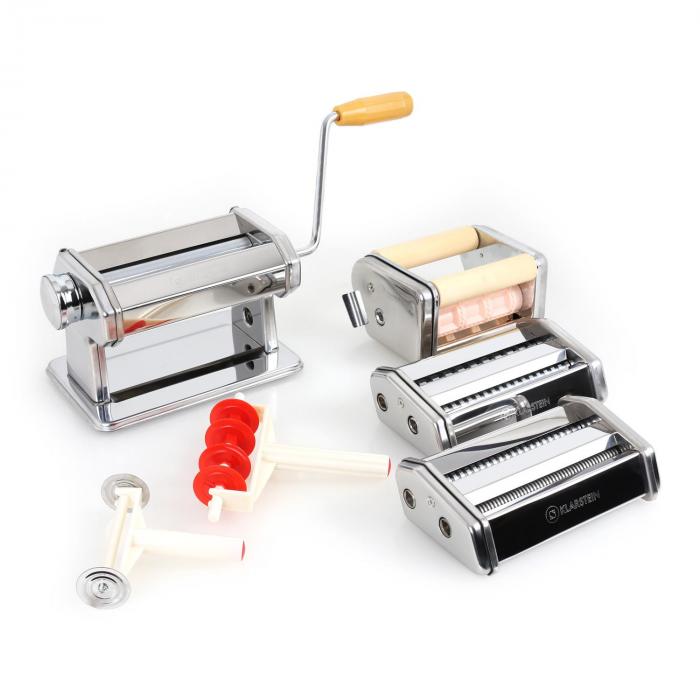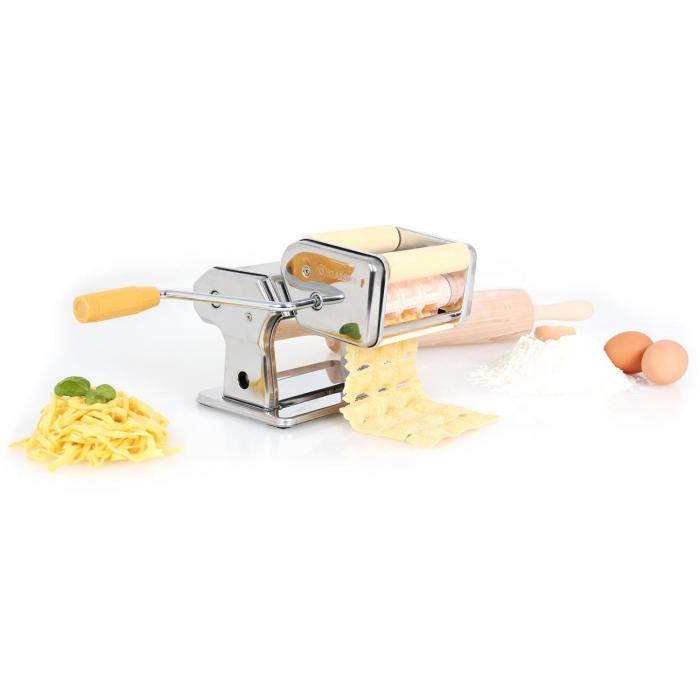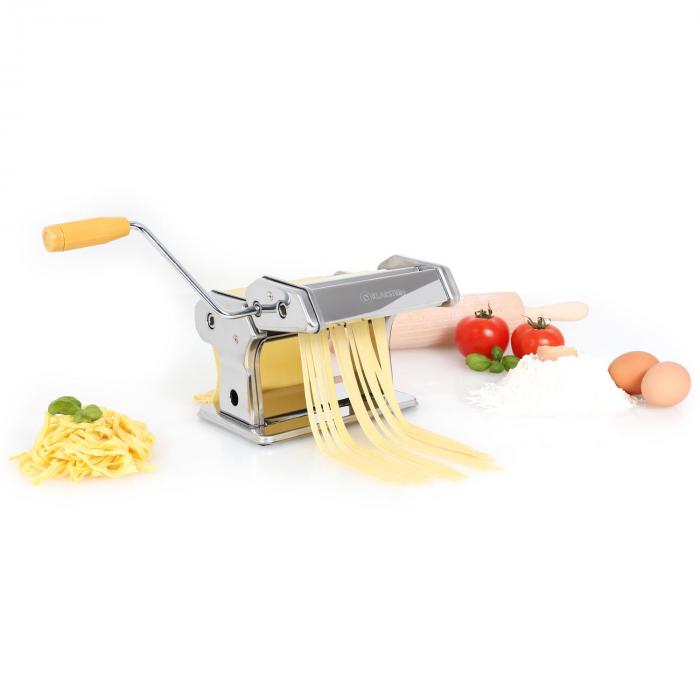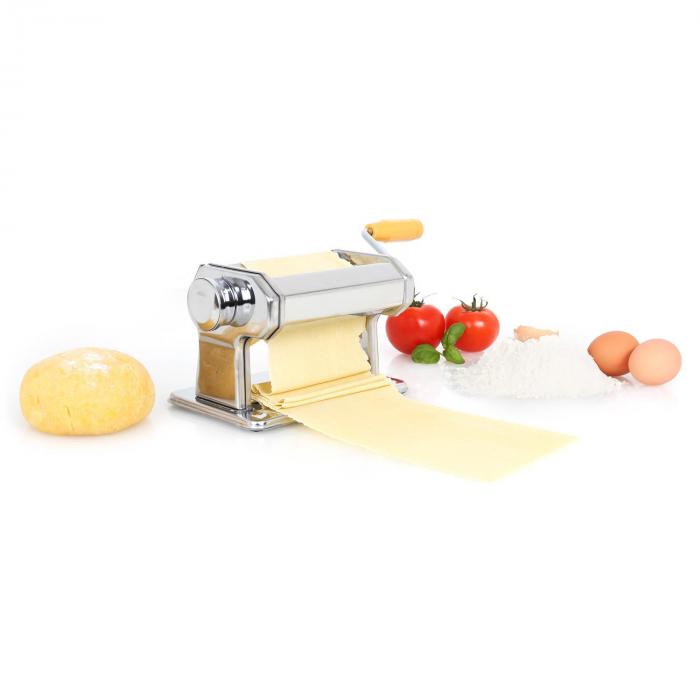 Item number: 60001807
Carina Morena Pasta Maker Set
You save 41%
Unfortunately, no articles are currently available
Top features
800 watt food processor and pasta machine with 3 attachments
6-stage adjustable working speed
Pasta machine with adjustable double blade
Shipping costs: from £ 0.00
The item is ready to ship and will be shipped immediately after receipt of payment.
Carina Morena Pasta Maker Set Food Processor 800W 4L Stainless Steel Bowl
Text für Setartikel..
The all-round pasta package: from eggs to finished pasta - all fresh and homemade thanks to the Klarstein Carina Morena pasta maker set.
Fresh pasta tastes best, and can be prepared quickly with just a little practice. To reduce the work to just a few steps, the Klarstein Carina Morena presents itself as an eager and powerful 800W food processor. The smart planetary stirring system and the 6-stage adjustable working speed ensure that all ingredients are evenly distributed in the 4-litre stirring machine. This also makes tough pasta dough or cake batter without the need for dough scraping. Thanks to the click system, the changing of the respective stirring hooks can be carried out quickly. The splash guard with pouring spout provides for a minimal cleaning effort, keeping clothes and work surfaces clean.
After a short resting period, the fresh dough can be cut directly into the desired pasta shape with the Klarstein Siena pasta machine. The robust stainless steel housing is securely mounted on the worktop thanks to suction cups and can be further secured with a table clamp - a great advantage when young chefs dare to attempt their first pasta creations. Now what will be made? Spaghetti, ravioli, agnolotti, empanadas, tortellini, linguine, capellini, fettucine, rigatoni ... thanks to the three cutting inserts and the adjustable kneading roll, you can crank out the whole pasta range.
With a damp cloth, the pasta machine and food processor may be easily wiped clean, while the mixing bowl is cleaned to a shine in the dishwasher.
The Klarstein Carina Morena pasta maker set: because homemade tastes best.
Set consists of
Carina Morena Stand Mixer 800W 1.1 HP 4 Liter Cream
Item number: 10008800
Included quantity: 1
Top features:
Powerful kitchen machine with 800W max. performance
4 litre stainless steel bowl
6-stage adjustable working speeds - 1-3 ideal for kneading, 4-6 optimal for mixing and whipping
Pulse function ideal for fold egg whites in dough
Keyless chuck for holding tools
Easy operation and easy cleanup
Cream colour
Properties:
Planetary mixing system
Die-cast stirring hook for evenly mixed dough
Die-cast dough hook for heavy doughs such as yeast or bread dough
Whisk for whipping airy masses such as beaten egg whites or cream
Removable splash guard with pour spout
Safety circuit
Release mechanism for mixing arm - can be folded for easy attachment and bowl grip
Safe stand by suction feet
Power supply: 220-240V AC, 50/60Hz
Dimensions:
7.1" x 11.8" x 13.4" (18 x 30 x 34 cm)
Weight: 3.5 kg
Classic Pasta Maker w/ 3 Machine Attachments
Item number: 10011458
Included quantity: 1
Top features:
Pasta maker with 3 attachments
Versatile pasta creation
150mm dough width
Adjustable dual blade for different types of pasta
Properties:
Suitable for spaghetti, ravioli, agnolotti, empanadas,tortellini
Adjustable roller for different thicknesses of dough
Adjustable cutter
Cutting tool for different pasta shapes
Chrome-plated stainless steel
Crank handle
Table clamp for fixing to work surfaces
Non-slip rubber pads
Includes dough cutter
Timeless design
Easy to clean
Note: Clean with soft, dry cloth
Dimensions:
Dimensions: 19.5 x 21 x 15cm (W x H x D)
Weight: 5.4kg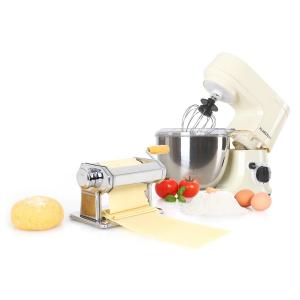 Carina Morena Pasta Maker Set
800 watt food processor and pasta machine with 3 attachments
6-stage adjustable working speed
Pasta machine with adjustable double blade
All purchases made between the 25th of October and the 31st of December 2019 can be returned till the 31st of January 2020.