Minibreak Mini Oven
You save 38%
Unfortunately, no articles are currently available
Top features
Mini oven for small kitchens
Two quartz heating elements with 800 W power
Space-saving 11 l cooking chamber
Shipping costs: from £ 0.00
The item is ready to ship and will be shipped immediately after receipt of payment.
You may change your order at any time.
Minibreak Mini Oven 11l 800W 60min Timer 250° C Black
Compact oven for the small kitchen - perfect for furnishing single apartments, dormitories, garden houses, office kitchens or mobile homes.
11 litres capacity for baking and frying various foods: e.g. frozen pizza or roast chicken.
With 800 W power for temperatures up to 250° C, easy operation with temperature and time controller.
The student dormitory is furnished and slowly becoming really comfortable. All that's missing is a compact unit in the kitchen, such as the Klarstein Minibreak mini oven, that can conjure delicious dishes. Wouldn't it be great to finally bake a casserole just like mum's?
No problem with the Klarstein Minibreak mini oven. The appliance is preheated within a few minutes and prepares many different dishes: whether casseroles, frozen pizza, baked sandwiches or jacket potatoes - the mini oven ensures all kinds of culinary treats with its 800 watts of power, even in small kitchens. The device has two controllers: one for the time and one for the temperature. When the cooking time has elapsed, an acoustic noise sounds as an indication. Now the feast can begin.
With its 11 l cooking space, the Minibreak oven only occupies very little space. If you do not want to permanently place the appliance on the kitchen worktop, you can also place the mini oven in a cabinet. The five-kilo lightweight construction is easy to transport. This makes the mini oven from Klarstein suitable as a camping oven. Fragrant muffins and delicious casseroles make your camping trips perfect!
The little one for big treats: Klarstein Minibreak mini oven.
Available colours: black, white (article 10030765)
User manual PDF
Product details
Top features:
Mini oven for small kitchens, e.g. dormitories, single apartments, office kitchens, garden houses or mobile homes
Two quartz heating elements with 800 W power
Easy operation with only two controllers: temperature and cooking time
Space-saving 11 l cooking chamber - suitable for frozen pizza
Enamelled baking tray and chromium-plated grill included
Properties:
Gives an acoustic signal after the end of the cooking time
Oven with double glass door and stainless steel handle
Three insertion heights for sheet metal or grate
Interior galvanized
Temperatures up to 250 ° C
Timer up to 60 minutes
Includes handle for easy removal of baking tray or grill
Power supply: 220-240 V ~ / 50-60 Hz
Scope of delivery:
1 x oven
1 x baking tray
1 x grill
Operating instructions in English (other languages: German, French, Spanish, Italian)
Dimensions:
Measurements: about 36 x 20 x 32 cm (WxHxD)
Weight: about 5 kg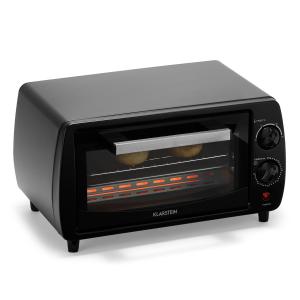 Minibreak Mini Oven
Mini oven for small kitchens
Two quartz heating elements with 800 W power
Space-saving 11 l cooking chamber
All purchases made between the 25th of October and the 31st of December 2019 can be returned till the 31st of January 2020.