Item number: 60001446
Carina Argentea Mixing machine
You save 15%
Unfortunately, no articles are currently available
Top features
Powerful food processor with 800W max. power
Stainless 4-litre stainless steel bowl
6-stage adjustable operating speed - 1-3 optimal for kneading, 4-6 optimal for mixing and whipping
Shipping costs: from £ 0.00
The item is ready to ship and will be shipped immediately after receipt of payment.
Carina Argentea Set 800W Food Processor Plus 1.5L Blender Pitcher
Text für Setartikel..
The Klarstein Carina argentea is an avid food processor designed to aid large and small stirring and kneading jobs in the kitchen.
The efficient 800W max. performance can be set to 6 different levels. Thus light to heavy batters; cream and even egg whites; biscuit, bread or yeast dough can be mixed. In addition, the pulse function allows you to gently fold beaten egg whites over your ingredients. The attachable splash guard features a pouring spout to ensure that every ounce of the bowl contents reaches its intended destination.
The keyless chuck allows you to easily and simply switch between stirring hook, dough hook and whisk. The large 4-litre stainless steel mixing bowl is the focal point of the device, in which the planetary mixing system does its work.
After work is done, the processor can be put aside with minimal cleaning effort to a modest-sized resting place.
The design and the sky blue colour of the Klarstein Carina Argentea make this food processor not only functional, but also visually pleasing in the kitchen.
Set consists of
Carina Argentea Stand Mixer 800W 1.1 HP 4 Liter Silver
Item number: 10021699
Included quantity: 1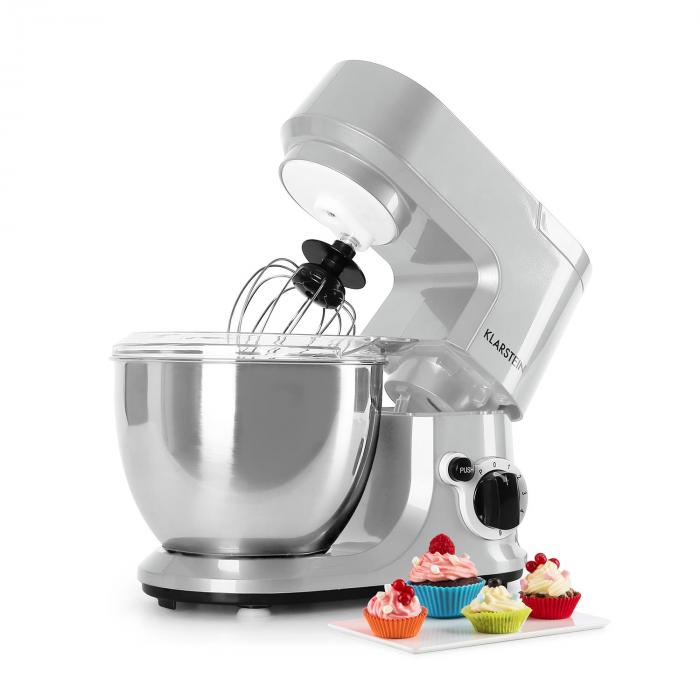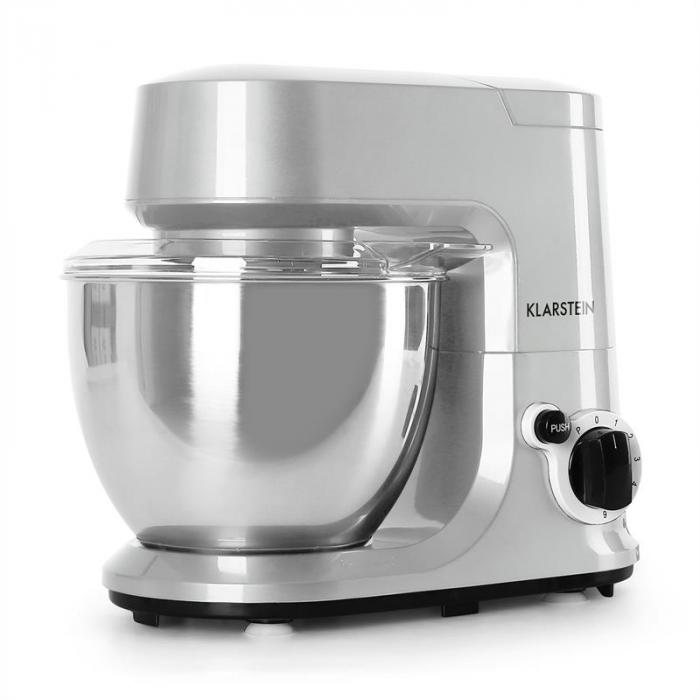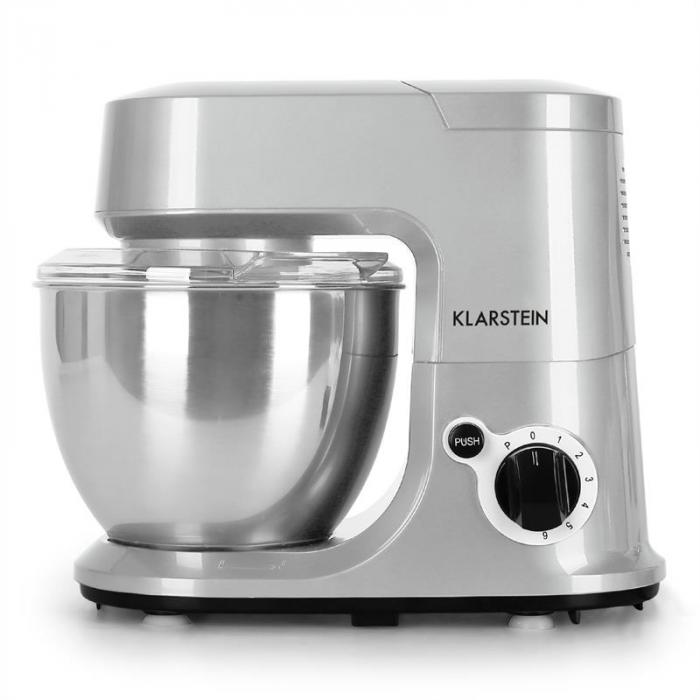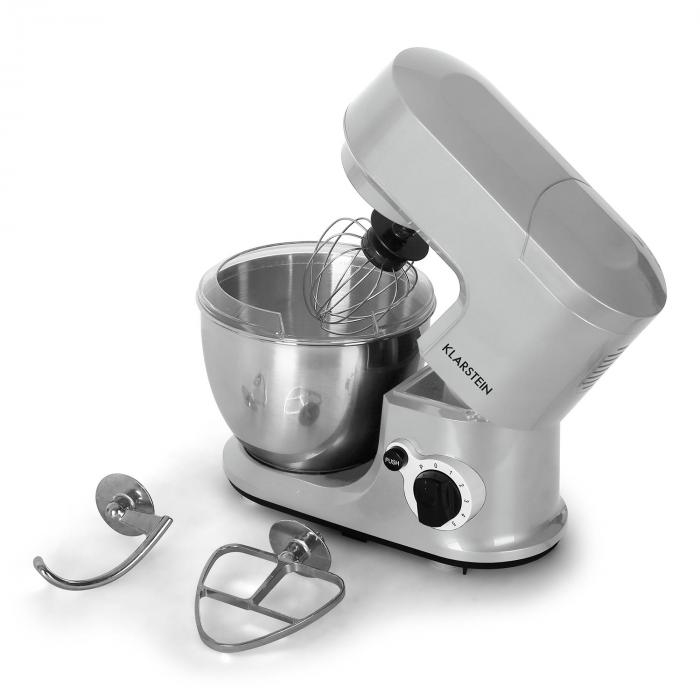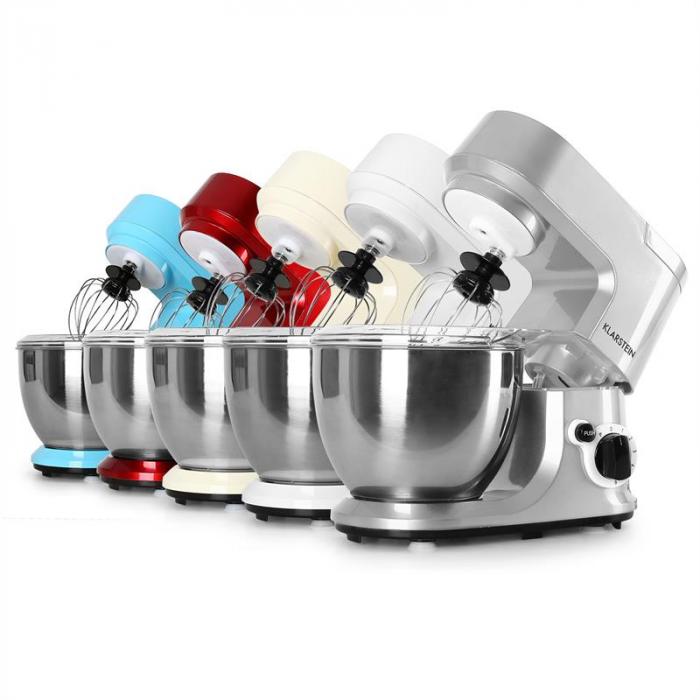 Top features:
Powerful kitchen processor with 800W max. performance
Stainless steel 4 liter bowl
6-level adjustable working speed - ideal for kneading 1-3, 4-6 optimal for mixing and whipping
Pulse function - Ideal for folding egg whites with batter
Keyless chuck for tool holder
Particularly easy to use and easy to clean
Silver colour scheme
Properties:
Planetary Mixing System
Die-cast stirring hook - for uniform mixing of sizeable quantities of dough
Die-cast dough hook - for heavy doughs such as bread dough or yeast
Whisk - for striking airy compositions, such as beaten egg whites or cream
Removable splash guard with pour spout
Safety circuit
Release mechanism for stirring arm- can be folded for easy attachment- and bowl handle
Safe and steady with suction feet
Power Supply: AC 220-240V AC, 50/60Hz
Dimensions:
18 x 30 x 34 cm (WxHxD)
Weight: 3.5 kg
Carina Blender Jar Attachment 800W 1.5L
Item number: 10008803
Included quantity: 1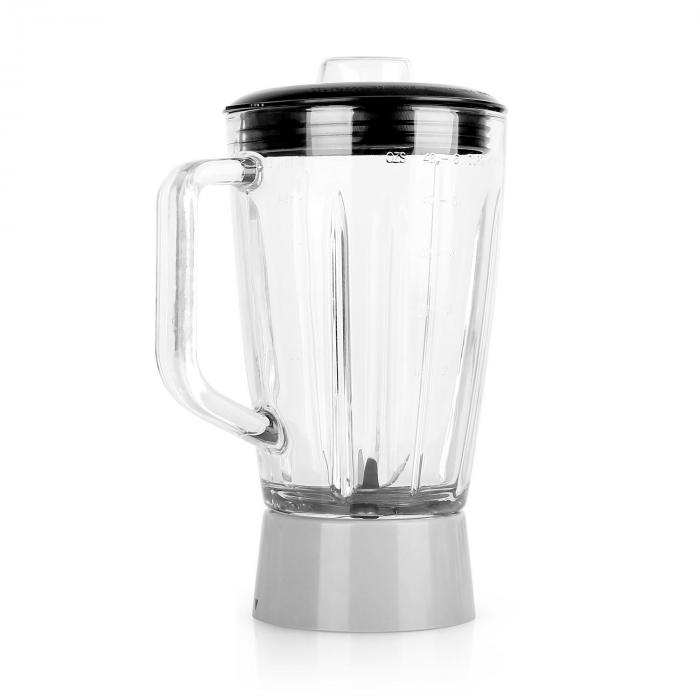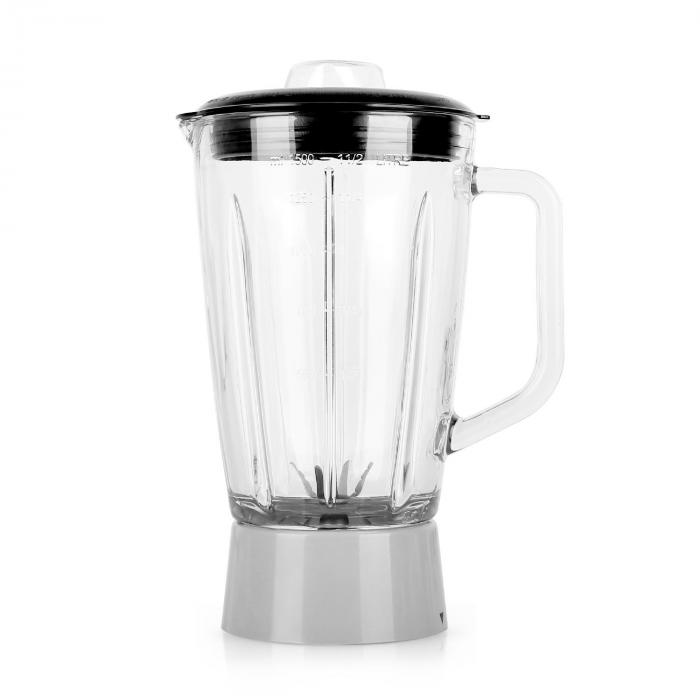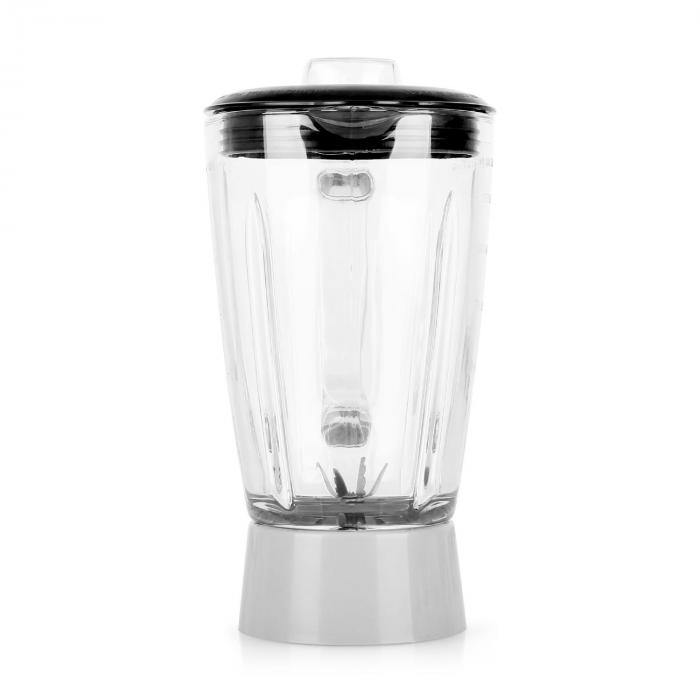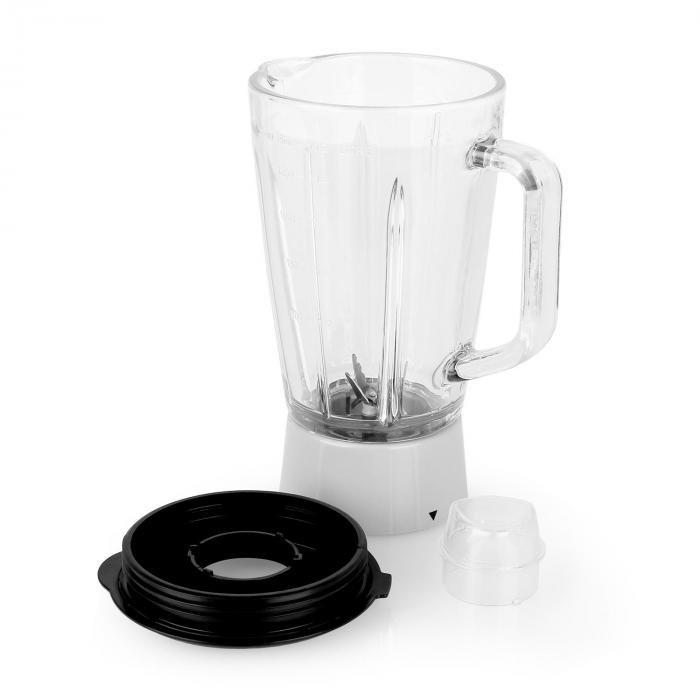 Top features:
Blender attachment for Klarstein Carina Food Processors
Maximum capacity: 1.5 L
Cover with rubber seal
3 blades
Properties:
Blender attachment for Klarstein Carina Food Processors (part numbers: 10008799, 10008800, 10008801, 10008802)
Maximum capacity: 1.5 L
Cover with rubber seal
3 blades
Power supply: food processor
Dimensions:
7.1" x 10.6" x 5.9" (18 x 26.8 x 15 cm)
Weight: about 1.75kg
Carina Argentea Mixing machine
Powerful food processor with 800W max. power
Stainless 4-litre stainless steel bowl
6-stage adjustable operating speed - 1-3 optimal for kneading, 4-6 optimal for mixing and whipping