Item number: 60002330
Curve Plus Food Processor Set
You save 33%
Unfortunately, no articles are currently available
Top features
Space-saving and ergonomic: fits into any kitchen ambience
With LED display: precise operation with 5 speed levels and pulse function
Best stirring results: thanks to planetary stirring system
Shipping costs: from £ 0.00
The item is ready to ship and will be shipped immediately after receipt of payment.
You may change your order at any time.
Curve Plus Food Processor Set | 5l | 4-in-1 Meat Grinder | Silver
Text für Setartikel..
Anyone who values quality, ease of use and beautiful design when choosing a food processor will not want to miss out on the Klarstein Curve food processor!
With its ergonomic design, the food processor not only fits visually into any kitchen ambience, it can also be used on smaller work surfaces due to its compact dimensions. With its 5 litres of capacity, the large mixing bowl handles even larger quantities of food and prepares it perfectly. An LED display with push buttons on the top of the device is available for precise operation. With 5 speed settings and a pulse function, the Curve food processor is perfectly suited to meet the requirements of modern kitchens. Of course, the machine works with the planetary stirring system, in which the interchangeable stirring elements rotate not only around themselves, but also permanently around the edge of the bowl. As a result, the mixing mass is always forced to the centre and optimally mixed.
Included in delivery are a dough hook, beater and whisk made of high quality aluminium and stainless steel. Thus, you always have the right attachment: dough hook for dough, beater for medium-density foods such as salad and whisk for cream or butter. In addition to the accessories, the housing of the Curve food processor is completely made of aluminium and impresses with its excellent workmanship.
The full range of functions: in this complete set, the Klarstein Curve food processor is delivered directly with the accompanying 4-in-1 meat grinder attachment. This allows you to make fresh mince in three strengths, sausage from the kitchen and stuffed kebbe dumplings. Alternatively, you can use the dough attachment to press biscuit dough into four different shapes. A filling tray facilitates the work.
Massive quality and best stirring results in a small footprint: the Curve food processor from Klarstein.
Set consists of
Curve Food Processor LED Display 5 Speed Silver
Item number: 10032112
Included quantity: 1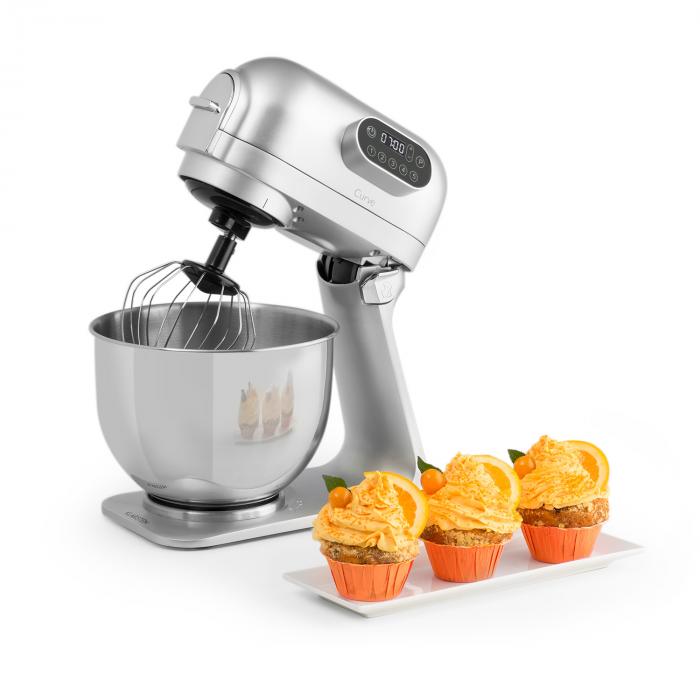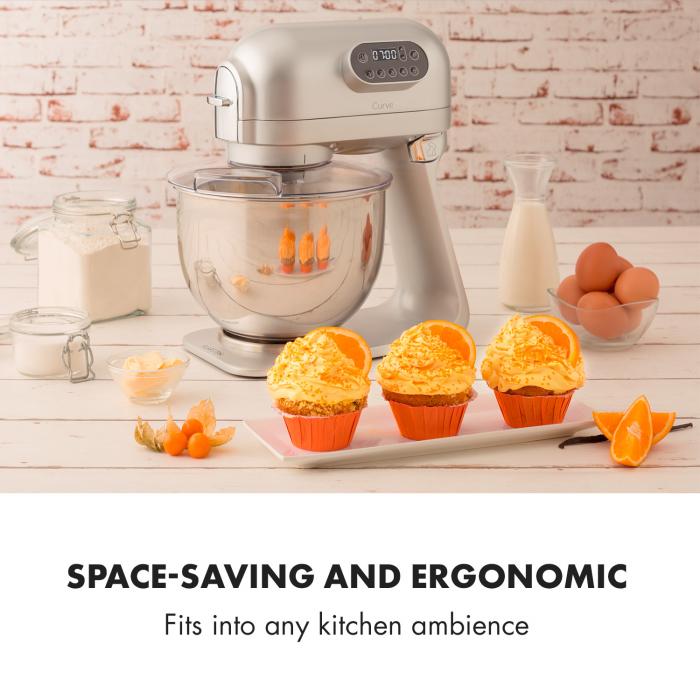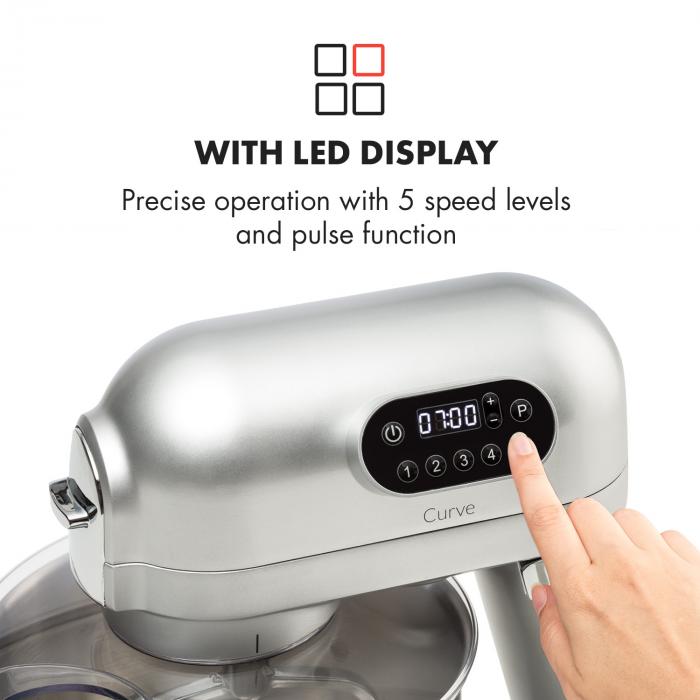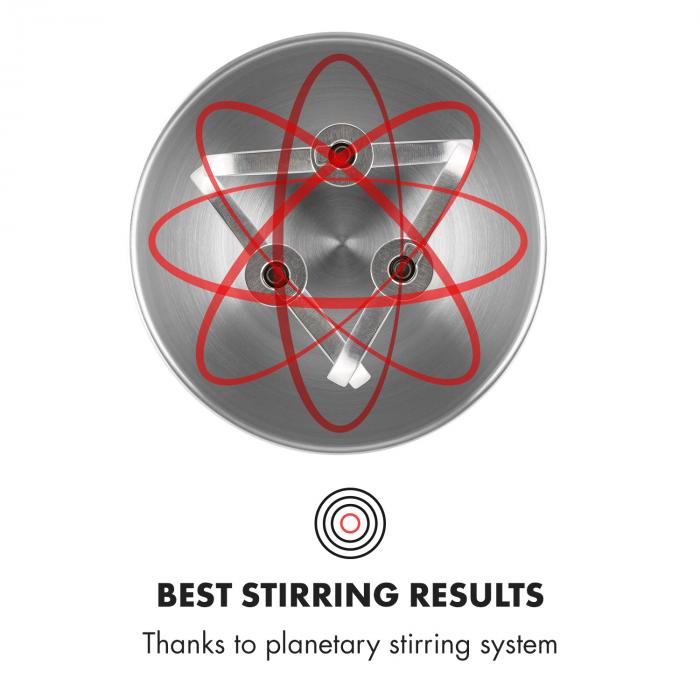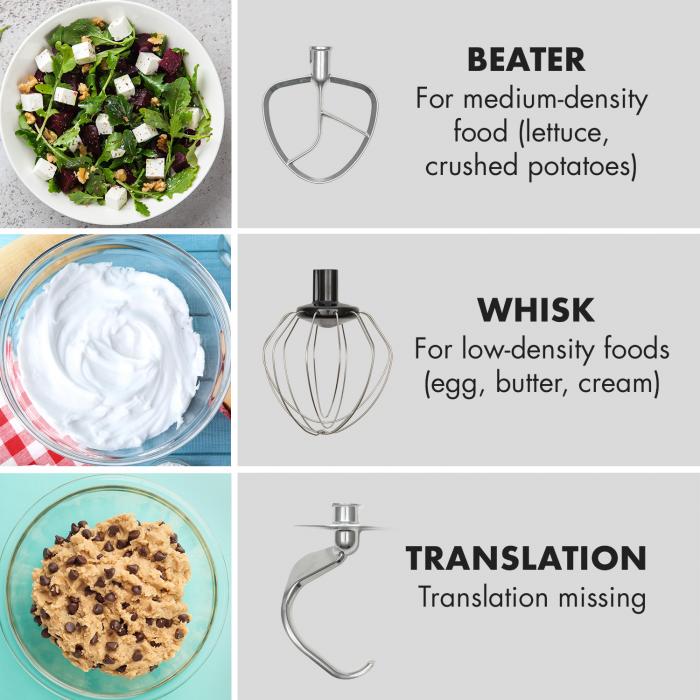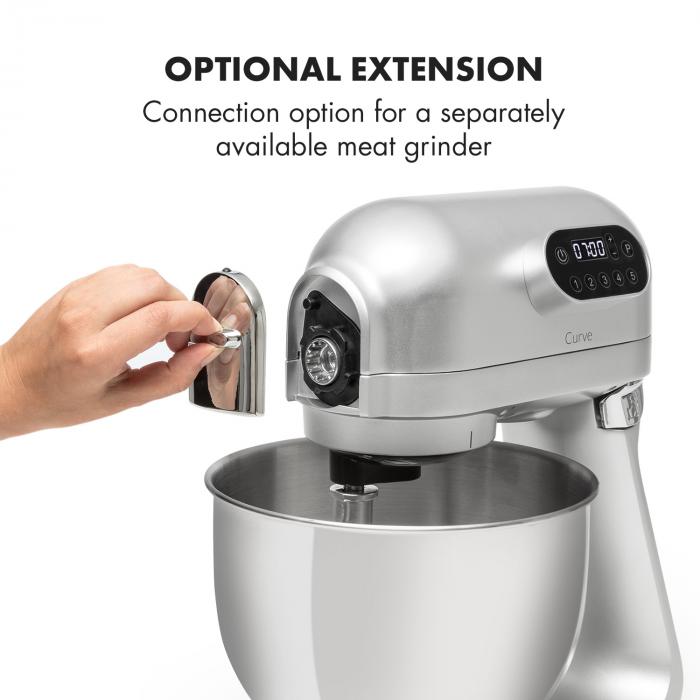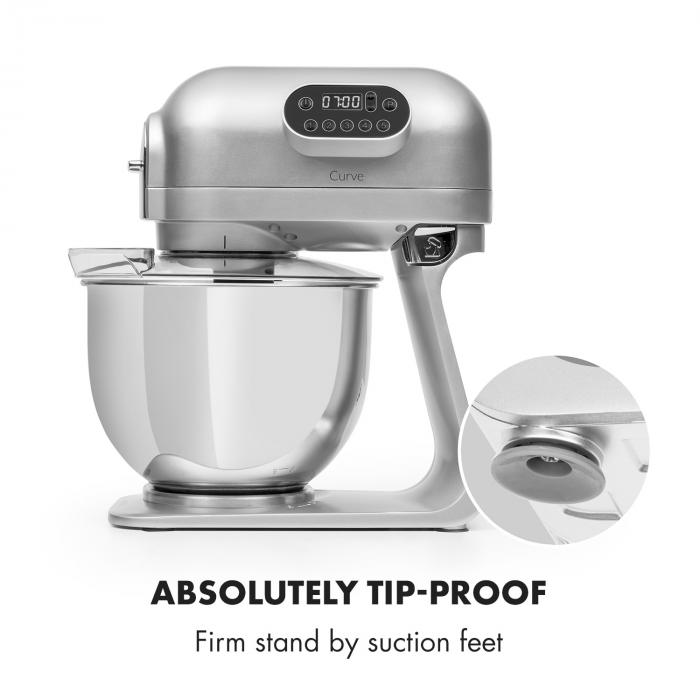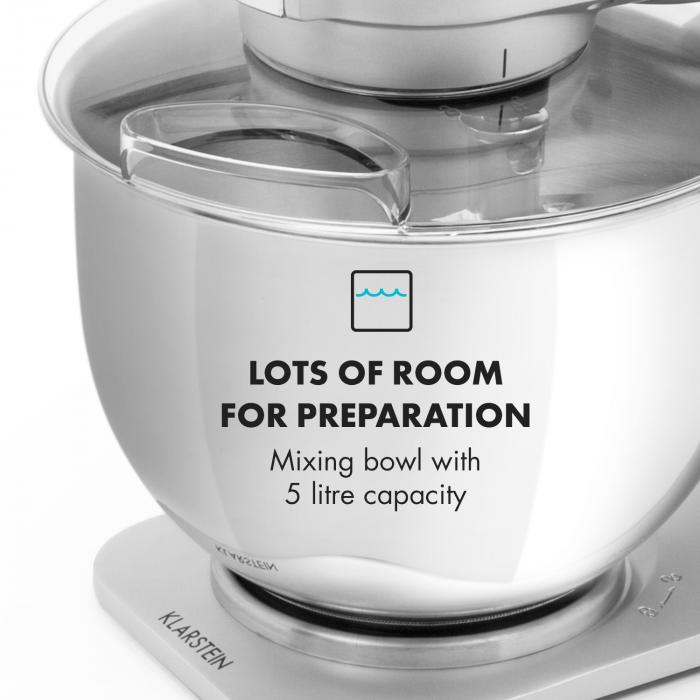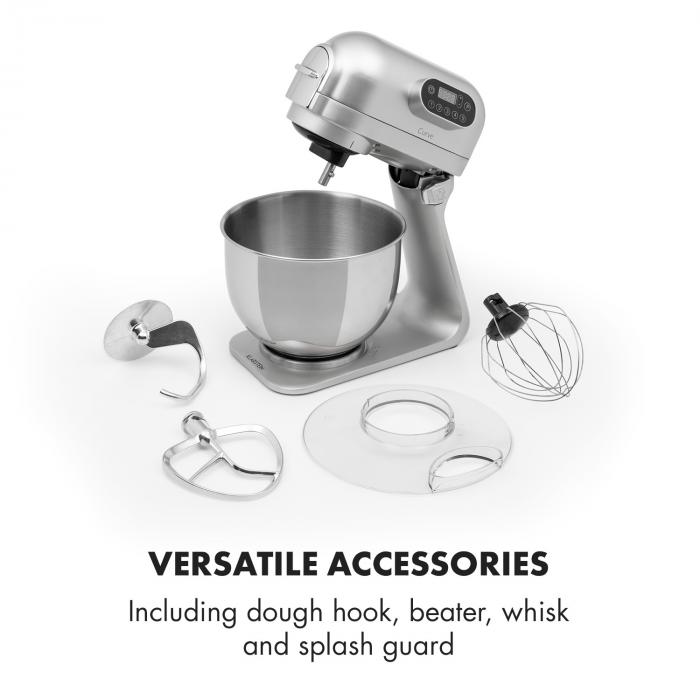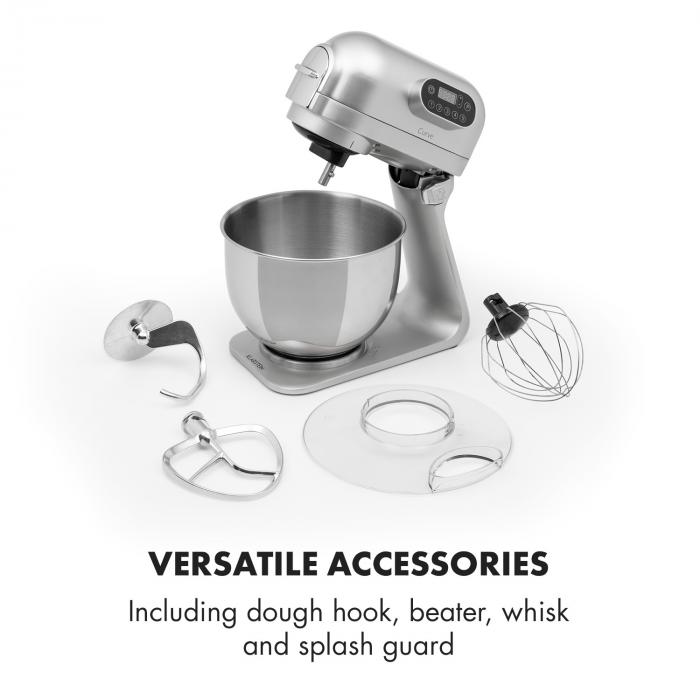 Selected reviews from the German press
Top features:
Space-saving and ergonomic: fits into any kitchen environment
With LED display: precise operation with 5 speed levels and pulse function
Best stirring results: thanks to planetary stirring system
Always the right attachment: includes dough hook, beater and whisk
Stable and durable: full metal housing made of aluminium
High quality: accessories made of aluminium and stainless steel
Lots of room for preparation: mixing bowl with 5 litres of capacity
Properties:
Dough hook: for high-density food (dough)
Beater: for medium-density food (lettuce, crushed potatoes)
Whisk: for low-density foods (egg, butter, cream)
Includes bowl cover
Optional: usable with meat grinder (article 10032537)
Power supply: 220-240 V ~ / 50-60 Hz
Dimensions:
Dimensions: approx. 30 x 36 x 23 cm (WxHxD)
Dimensions power cord: 110 cm
Weight: approx. 6.6 kg
Curve Meat Grinder Attachment | Accessory Set | Mince, Sausage, Kebbe, Dough
Item number: 10032537
Included quantity: 1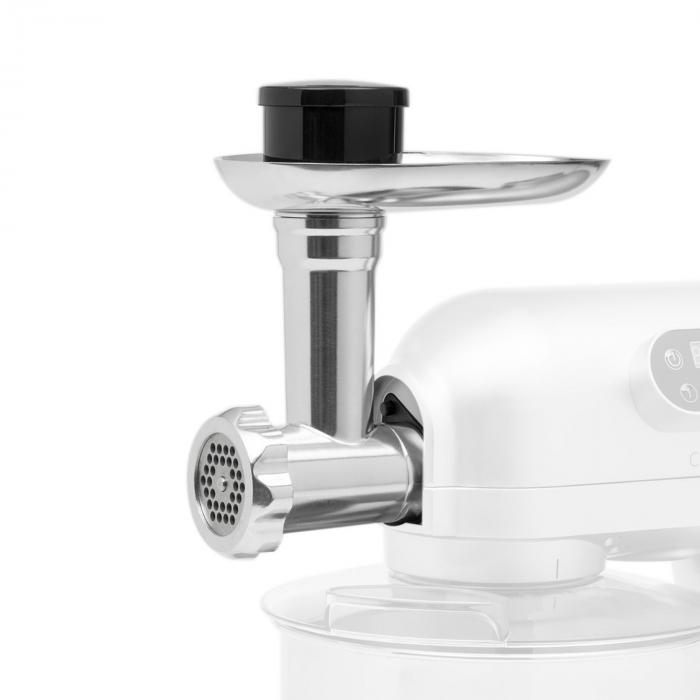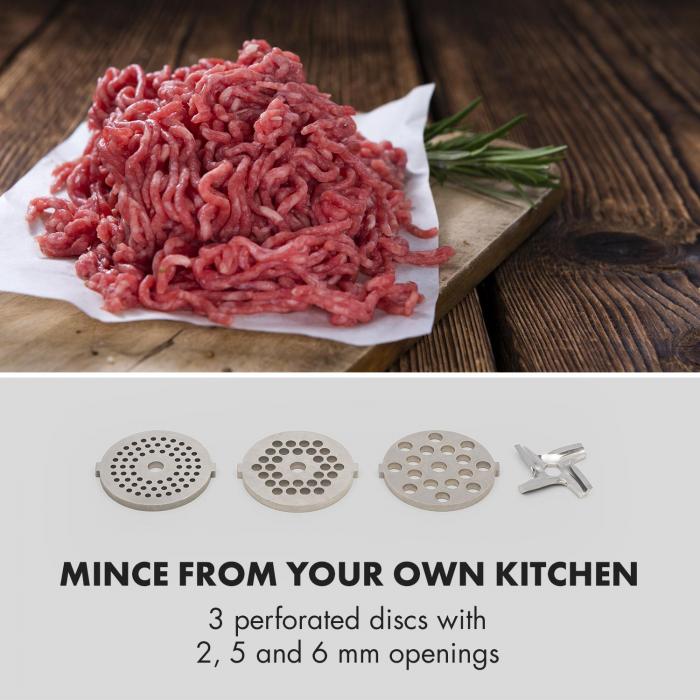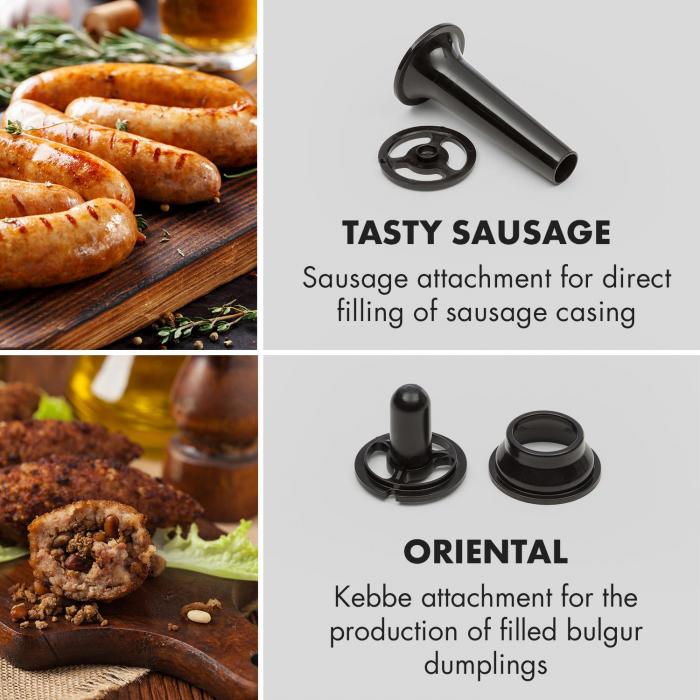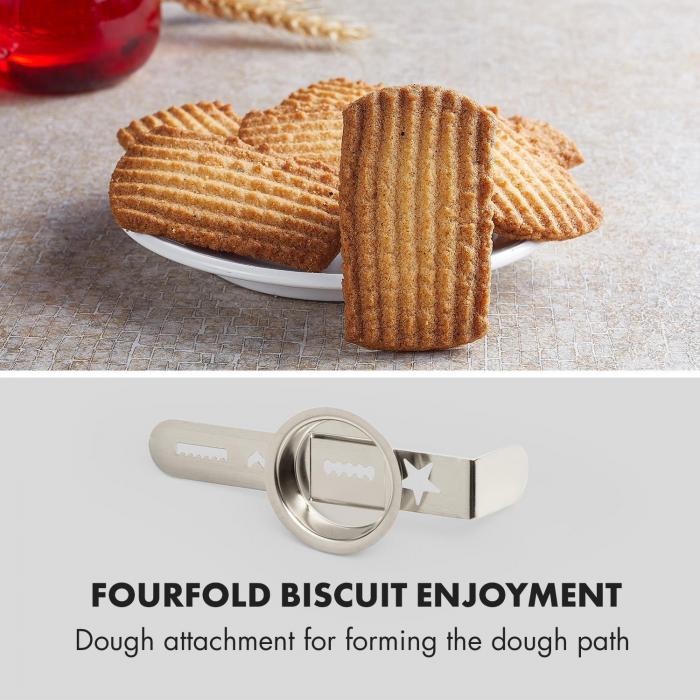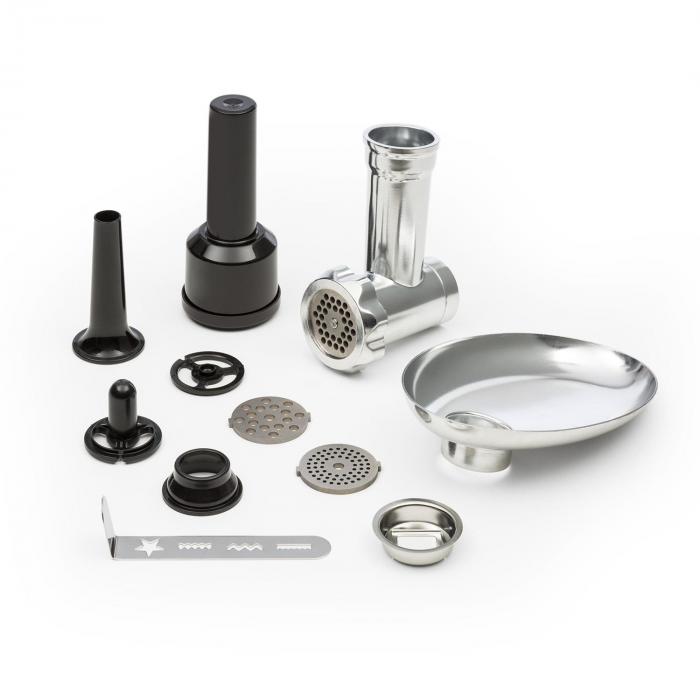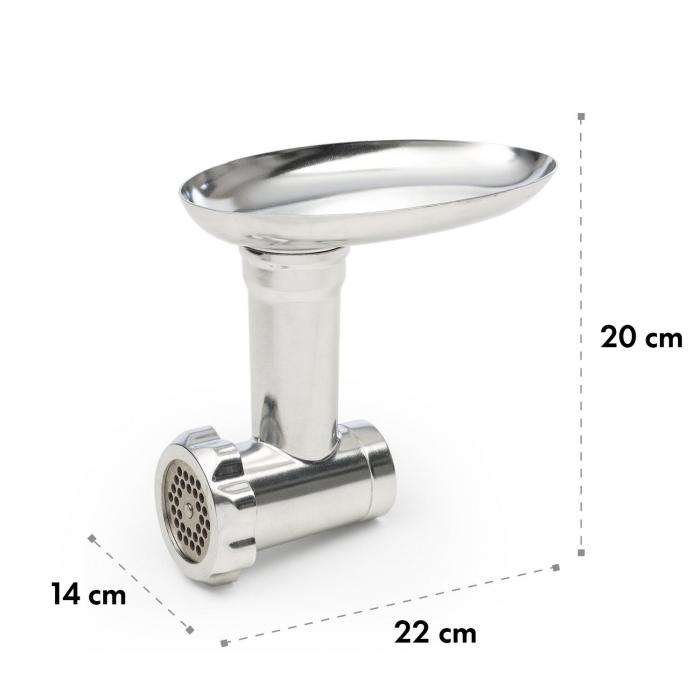 Top features:
Functional extension: meat grinder extension for Klarstein Curve food processor
Mince from your own kitchen: 3 perforated discs with 2, 5 and 6 mm openings for fine to coarse mince
Easy to fill: stainless steel bowl and pusher to store meat and ingredients
Tasty sausage: sausage attachment for direct filling of sausage casing
Oriental: kebbe attachment for making stuffed bulgur dumplings
Four-fold biscuit enjoyment: dough attachment for forming biscuit dough
Properties:
Easy extension by patented coupling
Inexpensive and space saving
Plastic stoppers for safe filling
Tamper as a practical storage container for sausage pipe and kebbe attachment
Meat grinder, filling bowl and dough attachment made of stainless steel
Perforated discs and steel blades
Sausage tube and kebbe attachment made of BPA-free plastic
Suitable for Curve food processors: 10032111 & 10032112
Please note: the meat grinder set is not suitable for cleaning in the dishwasher
Dimensions:
Dimensions meat grinder (without bowl): approx. 7.5 x 17 x 11 cm (WxHxD)
Dimensions of the filling bowl: approx. 14 x 4.5 x 22 cm (WxHxD)
Length of the sausage pipe: approx. 11 cm
Outlet opening sausage pipe: approx. 1.8 cm (Ø)
Weight meat grinder (without bowl): approx. 470 g
Weight bowl: approx. 115 g
Total weight of set: approx. 700 g
Curve Plus Food Processor Set
Space-saving and ergonomic: fits into any kitchen ambience
With LED display: precise operation with 5 speed levels and pulse function
Best stirring results: thanks to planetary stirring system