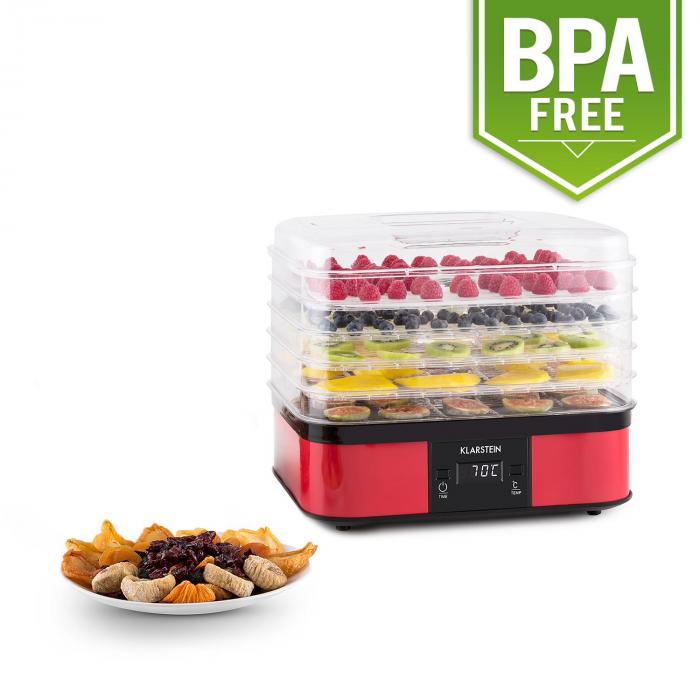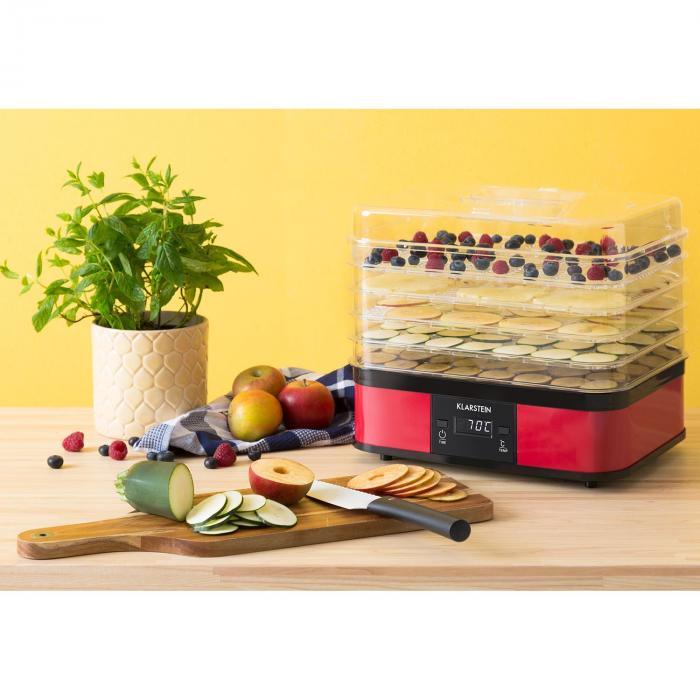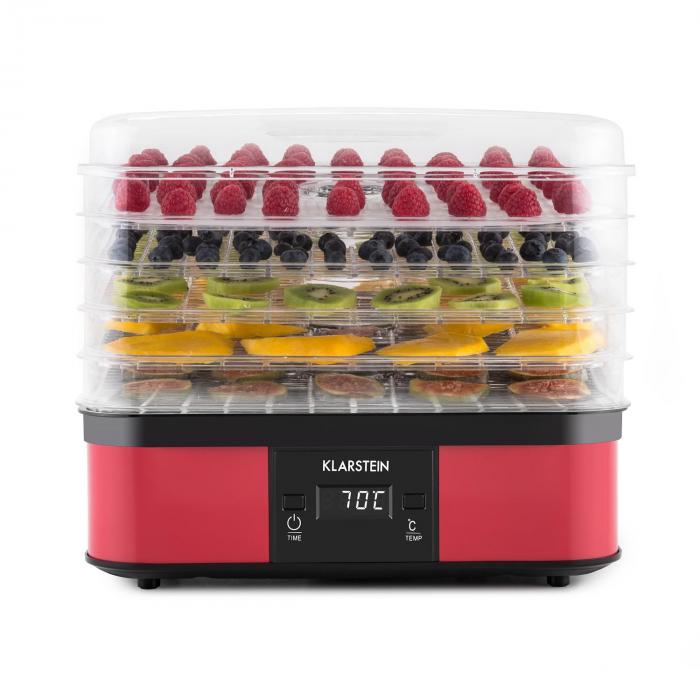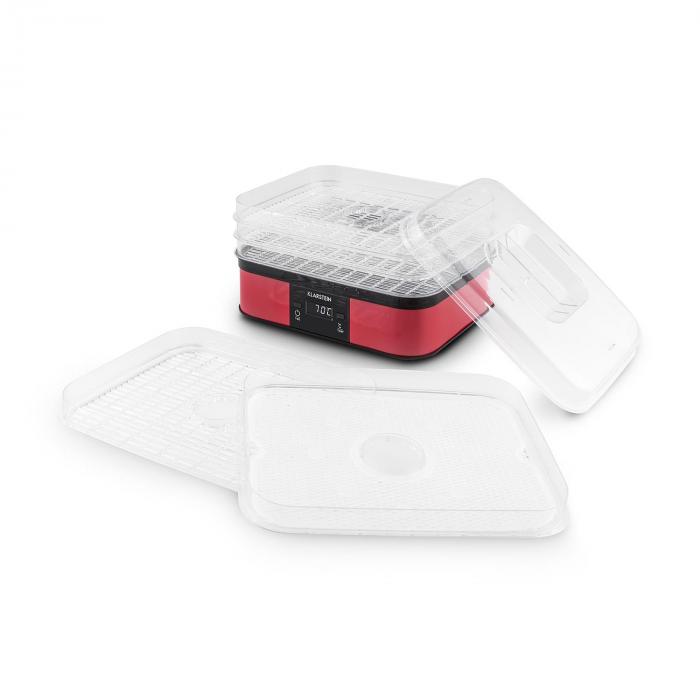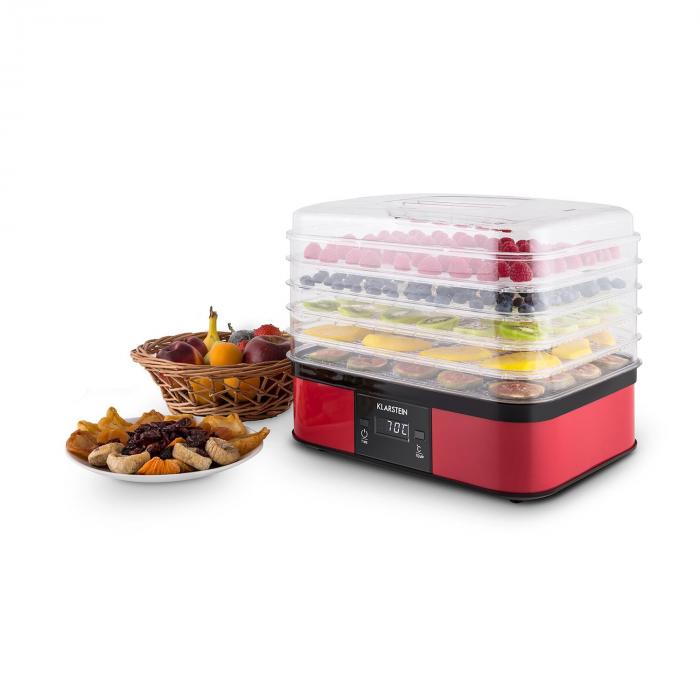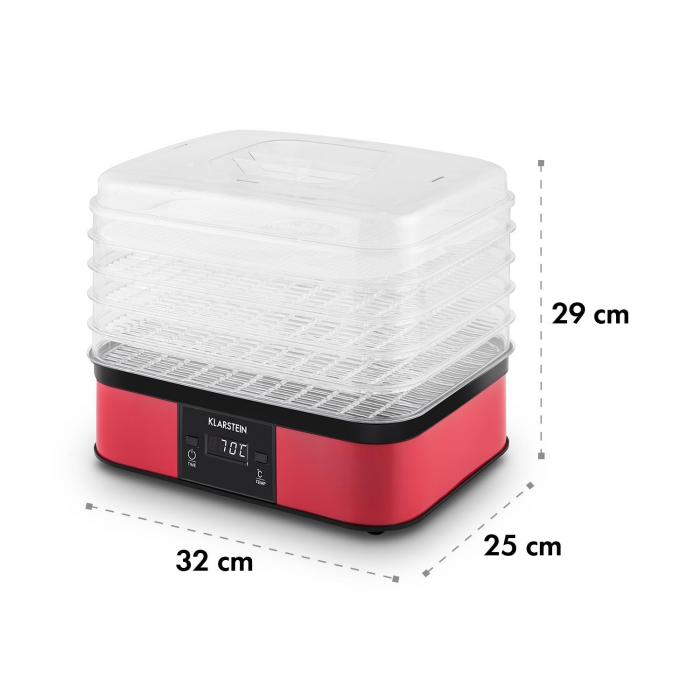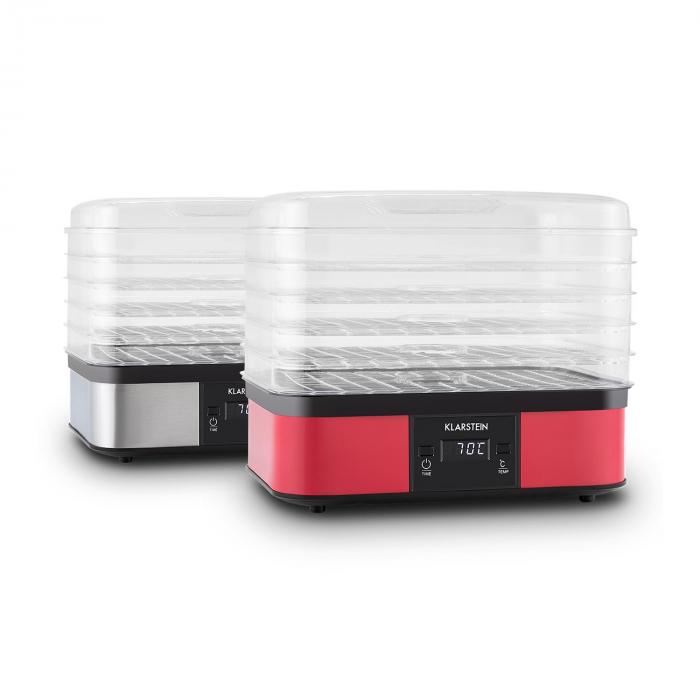 Manual
Item number: 10028630
Valle di Frutta Food Dehydrator
You save 61%
Delivery time: 3 - 5 workdays
Top features
250W power
Five large trays (32 x 25 cm)
Adjustable temperature and programmable timer
Shipping costs: from £ 0.00
The item is ready to ship and will be shipped immediately after receipt of payment.
You may change your order at any time.
Valle di Frutta 5-Tiered Stainless Steel Food Dehydrator 250W Red
Dehydrator with 250W power and five shelves for drying a wide variety of food, such as fruit, vegetables, mushrooms, herbs and meat.
With even heat distribution, user-friendly operation and low noise levels.
Featuring adjustable temperature settings and programmable timer for timed drying.
This powerful dehydrator from Klarstein dries fruit, vegetables, meats and other food in record speed, creating delicious, non-perishable snacks and ingredients. Whether you're in the mood for some dried fruit snacks such as apple or banana chips, or healthy vegetables like dried tomatoes, the Klarstein Valle di Frutta can make something for everyone's taste.
With its energy-efficient heating capacity of 250W and even heat distribution, the Valle di Frutta food dehydrator removes all water from food. The drying process extends the food's shelf life naturally, without losing vitamins, dietary fibres and other important nutrients along the way. Much like the Paleo diet, the goal is appropriate nutrition with lots of vegetables, high-quality meat and fruit. Those following the Paleo diet eat exactly what humans have evolved over hundreds of thousands of years to eat and thus are thinner, able-bodied and healthier than average.
Compared to other dehydrators, the powerful motor noticeably shortens the drying time without a loss in quality. The dehydrator features an adjustable temperature range from 40 to 70°C for flexible preparation of different foods and the adjustable timer makes simplifies use and ends the drying process automatically at a set time.
Fruits, vegetables, mushrooms and herbs can be gently dried on a total of five tiers. Even large fish and whole pieces of meat can be dried effortlessly in the Klarstein Valle di Frutta dehydrator, allowing you to easily make your snacks like beef jerky. An additional fine-mesh layer is especially practical for drying smaller fruits, such as berries, or finely ground herbs. The large trays enable you to dry food like bigger pieces of meat without having to cut them beforehand. After use and cleaning, the trays can be stacked on top of each other to save space and stowed away in a cabinet.
User manual PDF
Product details
Top features:
Food dehydrator with 250W power for quickly and healthily preparing natural snacks and ingredients
Five large trays (32 x 25 cm) ideal for drying a wide range of fruits, vegetables, mushrooms, herbs and meat
Adjustable temperature and programmable timer for timed drying
Excellent, even heat distribution
Comes with additional fine-mesh layer for drying food such as small fruits and finely ground herbs
Properties:
Temperature range: 40 - 70°C
Time: 0 - 36 hours
Stainless steel frame
LCD display
Low operating noise
User-friendly operation with 2 buttons
Can be partially disassembled and easily cleaned
Non-skid base
Power supply: AC 220 - 240V ~ 50/60 Hz
Scope of delivery:
1 x food dehydrator
5 x shelves
1 x fine-mesh layer
1 x lid
User manual (English, German, French, Spanish, Italian)
Dimensions:
Dehydrator: 33 x 28.5 x 26 cm (WxHxD)
Shelves: each 32.5 x 3.5 x 25.5 cm (WxHxD)
Cable length: 0.8 m
Weight: about 2.4 kg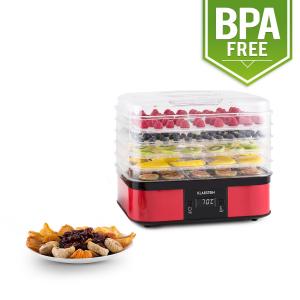 Valle di Frutta Food Dehydrator
250W power
Five large trays (32 x 25 cm)
Adjustable temperature and programmable timer
All purchases made between the 26th of October and the 31st of December can be returned till the 31st of January 2019.
Save with our sets: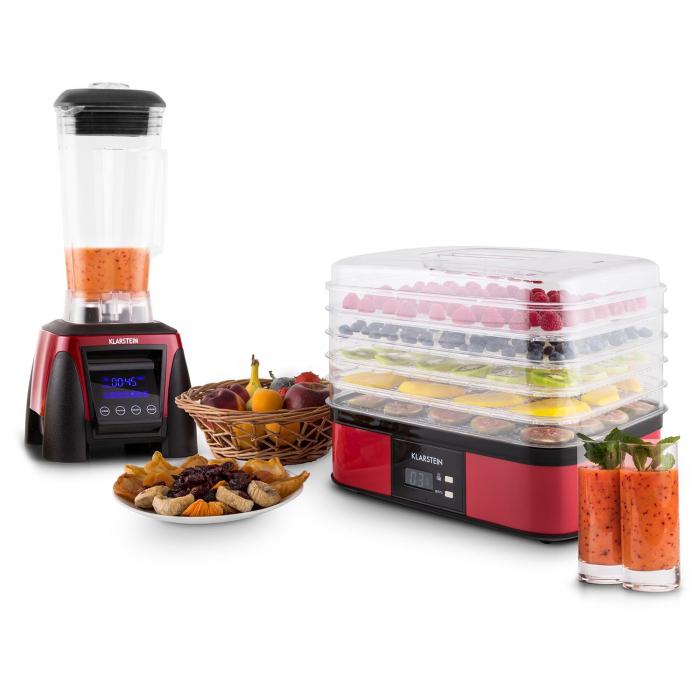 You may change your order at any time.