Fruit Jerky Pro 6 Automatic Dehydrator
You save 14%
Delivery time: 3 - 5 workdays
Top features
Up to 630 W of power continuously adjustable up to 68 ° C
6 large drying levels, total drying surface: 0.65 m²
Stable stainless steel housing with front panel
Also available as B stock
Shipping costs: from £ 0.00
The item is ready to ship and will be shipped immediately after receipt of payment.
You may change your order at any time.
Fruit Jerky Pro 6 Automatic Food Dehydrator Dryer 630W 6 Floors Stainless Steel
Powerful dehydrator machine with 630 W heating element for dried fruit, vegetables or meat, for refreshing pastries or for making treats for pets.
Large drying area of 0.65 m² on 6 fine mesh floors (7x7 mm mesh size) in a stable insertion construction with front panel and housing completely out of stainless steel.
Adjustable temperature and drying time for perfect drying results, heat distribution via super-quiet rear fan.
Healthy, tasty and full of energy: drying fruit, meat or fish yields not only tasty snacks. The end results are light and compact to carry, and pack a lot of energy and nutrients in a very small space: the ideal snack on-the-go for outdoor activities. Dried fruit is also easy to digest and quickly supplies the body with new energy, while beef jerky can satiate even the biggest appetites with only a few pieces. Naturally dried foods are also very durable and can always find a use in the home kitchen. With the Fruit Jerky Pro 6 food dehydrator, Klarstein makes manufacturing your own dried foods at home easy, and gives you full control over the taste, texture and ingredients within.
With up to 630 W of power, the Fruit Jerky Pro 6 removes water from teh food to make it last longer. In this way, vitamins, minerals and other essential ingredients for a healthy diet are preserved. The temperature of the Klarstein food dehydrator is continuously adjustable up to 68 ° C via knob. This always ensures the right heat for optimum drying, whether for fruit, vegetables, meat or fish. To facilitate the work, the user manual contains extensive tips for preparing, refining and drying of various treats.
Over 6 floors with 1080 cm², respectively, the Fruit Jerky Pro 6 dehydrator features a total of 0.65 m² of drying surface. This provides ample space for drying large amounts of food, which comes in handy when berries, apples or cherries need to be quickly processed in large quantity or when a large number of snacks need to be prepared all at once. All drying levels are made of chromed wire mesh with a fine mesh size of 7 x 7 mm. Its housing is made of brushed stainless steel and provided with a front panel. This keeps the heat inside, where it is circulated through a rear low-noise fan evenly between drying floors.
In addition to the production of dried snacks and ingredients, the Klarstein dehydrator machine may also be used to refresh food. Stale bread or rolls can be made crispy fresh again after just a short treatment, and chips from the previous day can get back their bite. It also provides the necessary conditions for dough to rise. The Fruit Jerky Pro 6 doesn't stop with providing tasty snacks for the human palate: even dogs and cats love the healthy and inexpensive treats made from dried strips of meat. For easy cleaning, the drying levels may be easily removed and cleaned separately.
User manual PDF
Product details
Top features:
Powerful dehydrator machine for drying food (fruit, vegetables, fish and meat)
Natural preservation to maintain vitamins and minerals
Up to 630 W of power continuously adjustable up to 68 ° C for optimum heat in recirculation mode
6 large drying floors made of chromed wire mesh; total drying area of 0.65 m²
Stable stainless steel housing with front plate for better heat circulation and to protect the drying levels
Properties:
On / off switch on top side of housing
Operating light in on / off switch
Rear fan with a quiet operating noise for uniform, horizontal heat distribution
Also suitable for refreshing baked goods, proving dough or preparing treats for pets
6 mesh dring floors: 7x7 mm
Stainless steel front panel for closing the drying chamber for even higher drying capacity
Temperature range: infinitely adjustable up to 68 ° C
Drying floors individually removable for easy cleaning
Handbook with extensive tips
Housing material: stainless steel plate
Power supply: 220-240V ~ / 50-60Hz
Scope of delivery:
1 x dryer
1 x front panel
8 x drying floor (7 x 7 mm mesh size)
1 x English user manual (other languages: German, Italian, French)
Dimensions:
Dimensions device: 32 x 22 x 48 cm (WxHxD)
Surface drying floor: about 29.5 x 36.5 cm (W x L)
Distance between drying floors: about 2.5 cm
Weight: about 7 kg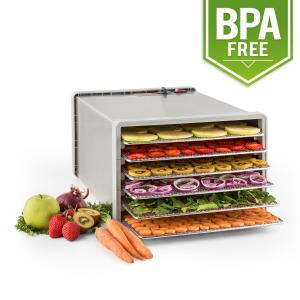 Fruit Jerky Pro 6 Automatic Dehydrator
Up to 630 W of power continuously adjustable up to 68 ° C
6 large drying levels, total drying surface: 0.65 m²
Stable stainless steel housing with front panel
All purchases made between the 26th of October and the 31st of December can be returned till the 31st of January 2019.