Item number: 60001810
VitAir Hot-Air Fryer & Rotary Spit Rotator Set
Delivery time: 5 - 7 workdays
Top features
Hot-air fryer including rotary spitr otator for reduced-fat frying, baking, grilling and roasting
1400 Watt halogen infrared heating element for even heat distribution
Manual time and temperature setting as well as 12 automatic programs
Shipping costs: from £ 0.00
The item is ready to ship and will be shipped immediately after receipt of payment.
You may change your order at any time.
VitAir Green Bundle Set 1400W Hot-Air Fryer 9L Rotary Spit Rotator
Text für Setartikel..
Futuristic hot-air fryer with 1400W power, halogen infrared heating element, timer function and 12 automatic programs.
Ideal for healthy, oil-free and fat-reduced frying, baking, grilling and roasting.
Includes rotary spit rotator with 10 stainless steel skewers for fish, meat or vegetable skewers.
The Klarstein VitAir hot-air fryer revolutionises traditional kitchen rituals and makes conventional fryers, grills and ovens obsolete.
Crispy dishes without added fat at 60% time savings. Up to 1400 W of adjustable power bring the 9-litre cooking chamber of the Klarstein VitAir hot-air fryer to 50 to 230 ° C. In addition to manual temperature and time settings, 12 automatic programs are available. With the timer function, the time-controlled start of the halogen oven is possible, making it possible to have freshly baked bread rolls in the morning or a finished dinner ready to eat when you come home after a long day at work.
The extensive range of accessories makes it possible to prepare a wide variety of dishes and enjoy a diverse menu. Turkey sesame chia skewers, carrot shrimp skewers or fruity tortellini skewers? There is no limit to your creativity, and the additional tools are included in the Klarstein VitAir Green Bundle Set. The rotary spit rotator holds 10 stainless steel skewers and is installed in the hot-air fryer with just one click.
In its futuristic dome design, the Klarstein VitAir Green Bundle Set with hot-air fryer takes off on its mission for healthy change on the plate.
Set consists of
VitAir Hot Air Fryer Grill Bake 1400W 9L Green
Item number: 10012292
Included quantity: 1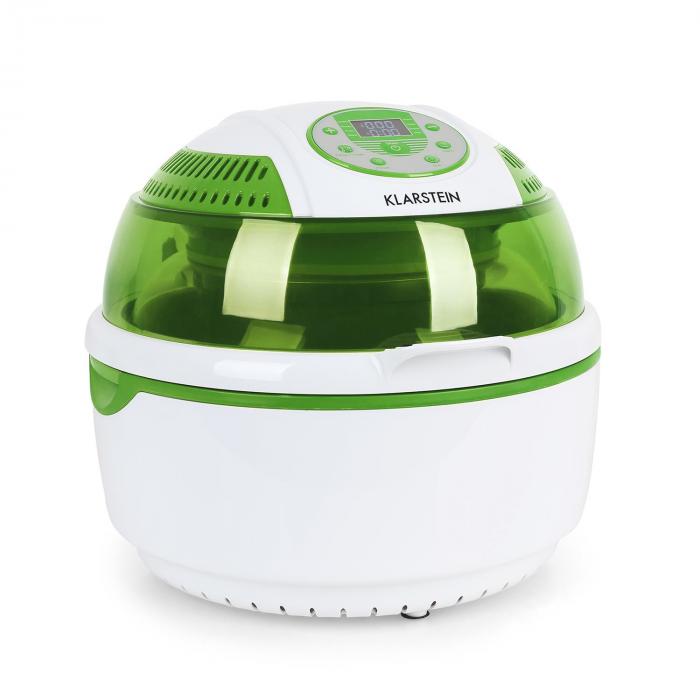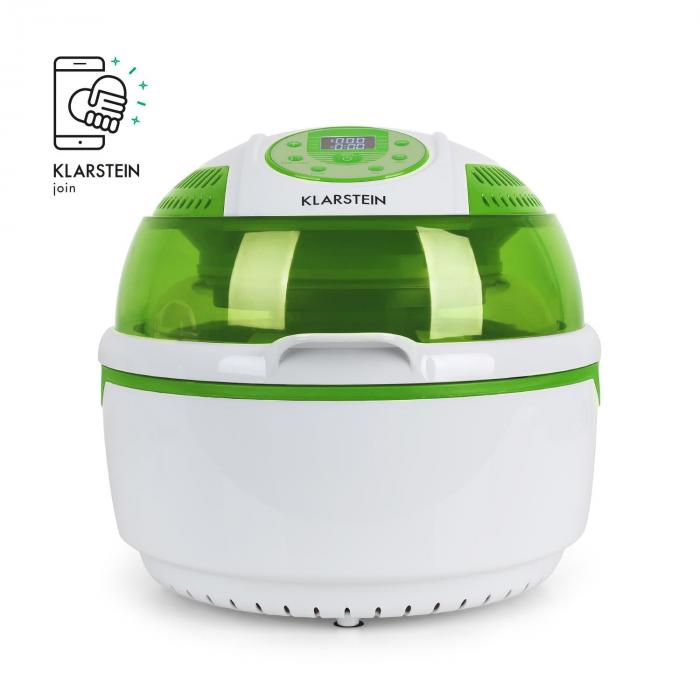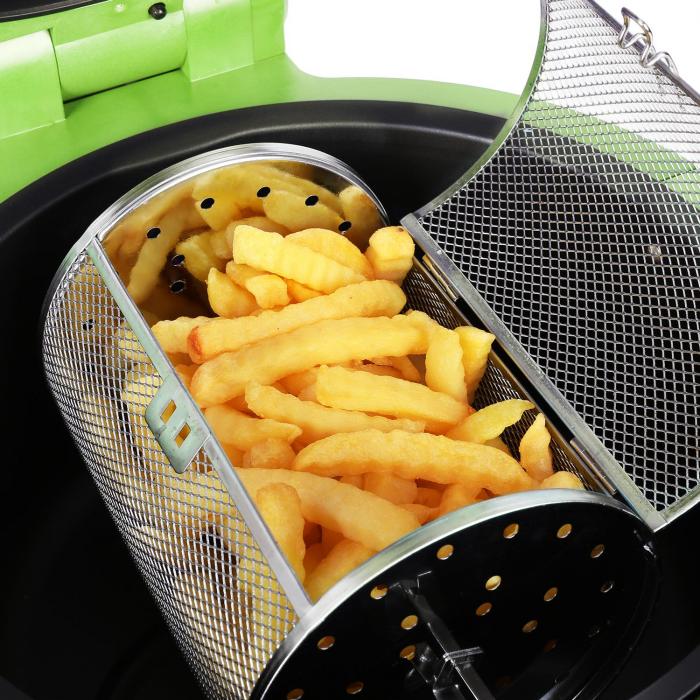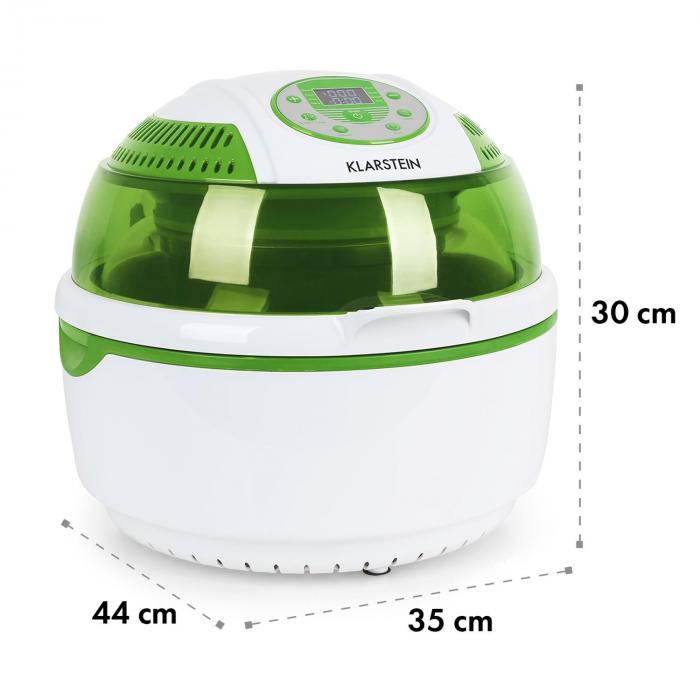 Selected reviews from the German press
Top features:
Airfryer for oil-less and low-fat frying, baking, grilling and roasting
1400W halogen infrared heating element provides even heat distribution
No defrosting, no preheating required
9 litre cooking space
Manual and automatic programs
Stylish, dome-like plastic with a large 310-degree viewing window
Easy to clean - non-stick coating on the pan
Includes large accessories pack - round metal plate, grill, chicken skewers and 3D grill cage
Properties:
Optional accessories: steamer (10012342), steak cage (10012343), rotisserie spit (10012344)
Timer setting: max. 1 hour / adjustable minute by minute
Temperature setting: 50 - 230 ° C
Selectable rotation for 3D cage grill and rotisserie spit
Universal program
Spit program with rotation
Cage handle program
Baking program
Pizza program
Steak program
Shashlik program
Timer function with timed start
Removable metal inlay with non-stick coating
Digital buttons for setting temperature and time
Safety cover
Automatic shutdown at end of program or when cover is opened
Acoustic signals
Ventilation fan
High-resolution LCD display
Power supply: 220-230V, 50/60Hz
Dimensions:
13.8" x 11.8"/22" x 17.3" (35 x 30/56 x 44 cm)
Inner tub diameter: 10.5" (27.5 cm)
Weight: 6.1 kg
VitAir rotisserie rotator for 10012291 + 10012292
Item number: 10012344
Included quantity: 1
Top features:
Suitable for all Klarstein VitAir and VitAir Turbo Airfryer.
Skewers for meat, fish and vegetable
Includes 10 skewers
Made of stainless steel
Properties:
Suitable for Klarstein VitAir air fryer (10012291, 10012292)

Suitable for Klarstein VitAir Turbo air fryer ( 10028288, 10028289, 10028290)
Skewers for meat, fish and vegetable
Includes 10 skewers
Made of stainless steel
Easy to use and clean
Dimensions:
Skewer Length: 22cm
Rotator diameter: 14 cm
VitAir Hot-Air Fryer & Rotary Spit Rotator Set
Hot-air fryer including rotary spitr otator for reduced-fat frying, baking, grilling and roasting
1400 Watt halogen infrared heating element for even heat distribution
Manual time and temperature setting as well as 12 automatic programs