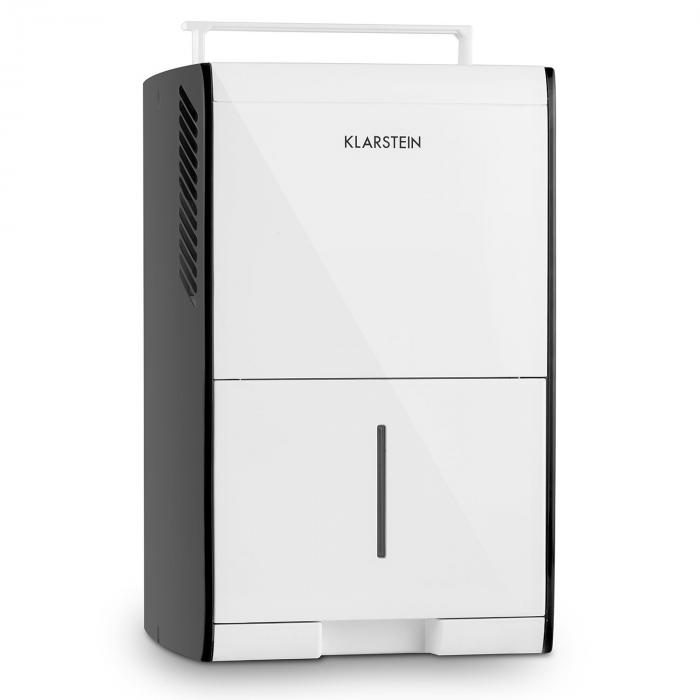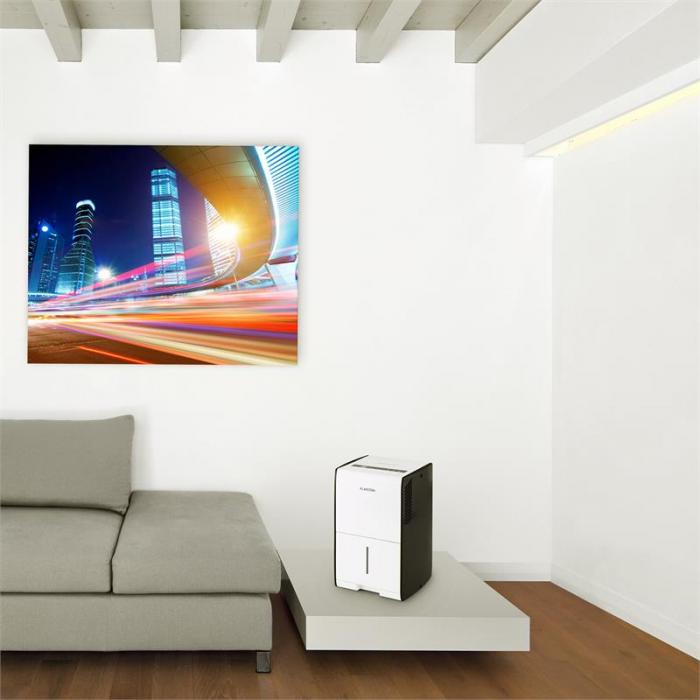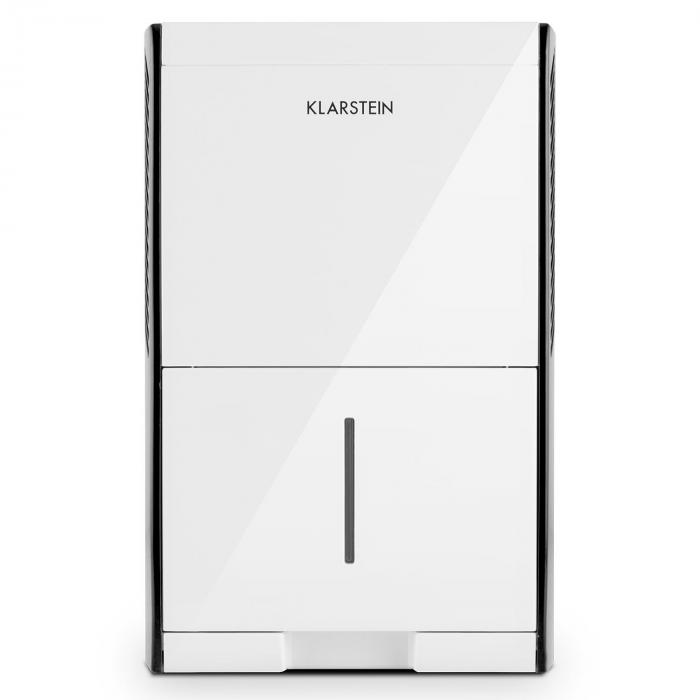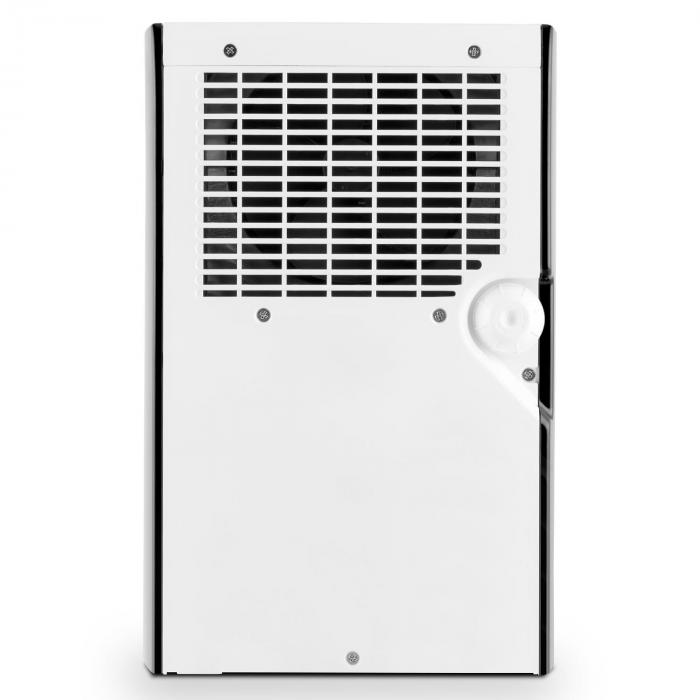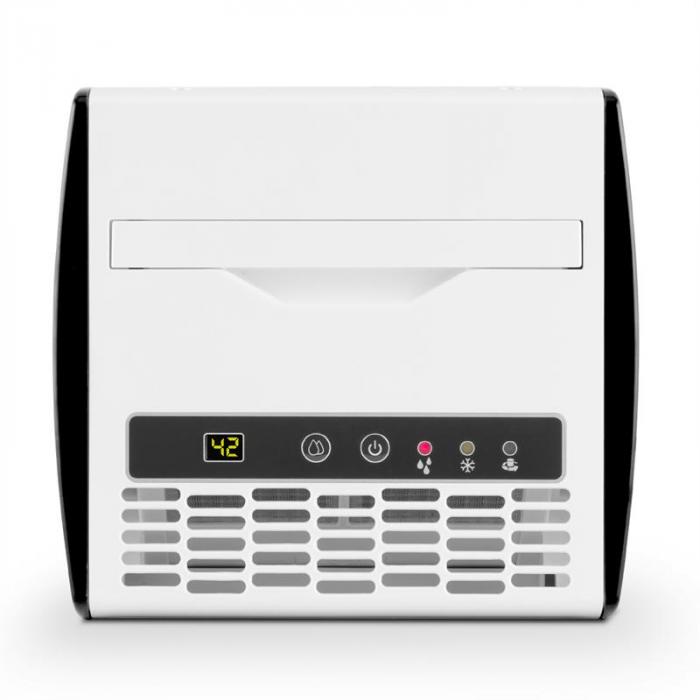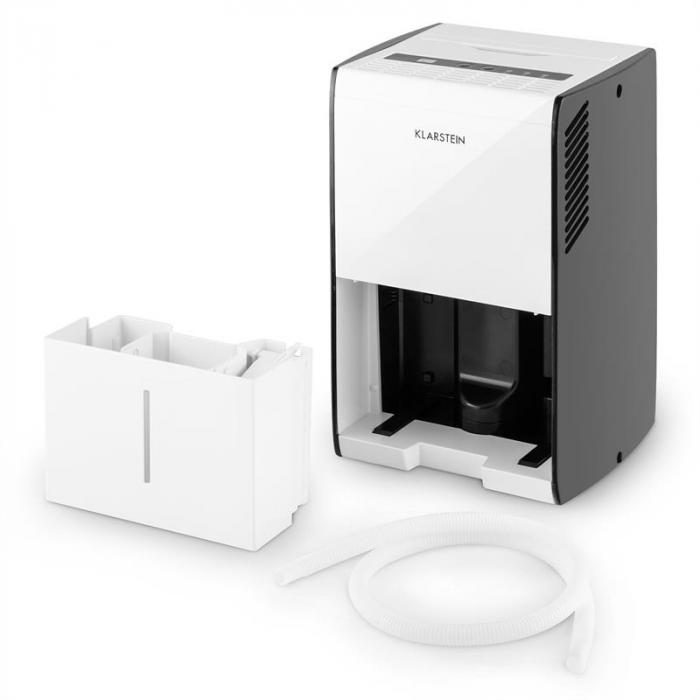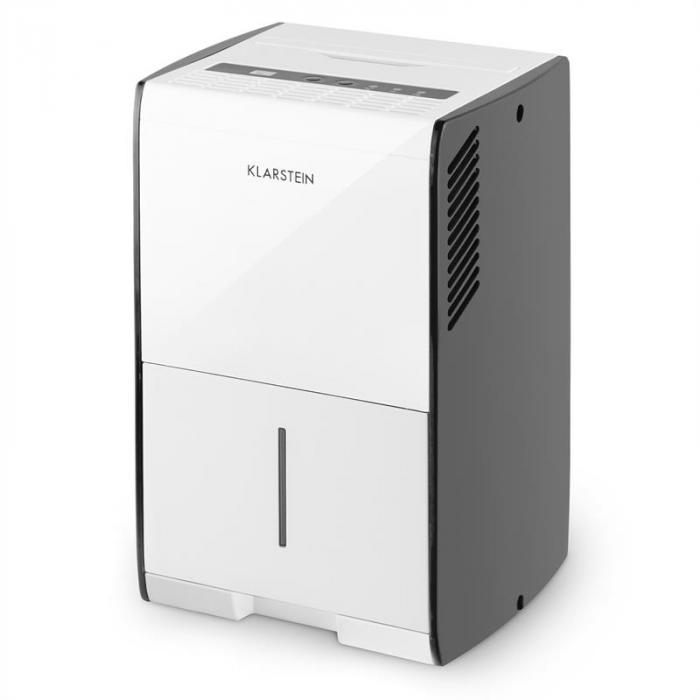 Manual
Item number: 10028493
Drybest 10 Dehumidifier
You save 40%
Delivery time: 3 - 5 workdays
Top features
205 W compressor dehumidifier
Dehumidification capacity: 10 L in 24 hours
Integrated air filter
Shipping costs: from £ 0.00
The item is ready to ship and will be shipped immediately after receipt of payment.
You may change your order at any time.
Drybest 10 Compressor Dehumidifier Air Filter 10 L / 24 Hr White-Grey
Powerful 205 W compressor dehumidifier for reducing humidity in rooms; can extract up to 10 L of water from the air in 24 hours.
Features an integrated air filter which removes dust and dirt particles from the room.
Automatic defrost when operating at low temperatures; includes a carrying handle for easy transport.
The Klarstein Drybest 10 Dehumidifier is a powerful drying expert when it comes to humid or wet rooms. Its compression motor extracts up to 10 litres of water from the air a day, and can effectively dry spaces up to 50 m² in new buildings or water damaged areas. For this reason, the Drybest 10 has three different target moistures available: 60, 50 and 40% relative humidity. As long as the relative humidity in the room is above the set value, the dehumidifier does its job. As soon as it reaches the desired humidity level the dehumidifier shuts off, but it turns back on immediately if the humidity level rises again. With economical 205 W power consumption, it also saves you money on energy. Therefore, the dehumidifier is suitable for extended use in bathrooms, kitchens or laundry drying rooms, which it keeps at a steady humidity level. The Drybest 10 can also be used in bedrooms or offices without creating disturbances, as it has a maximum operating noise of 32 dB.
Klarstein's Drybest collects the extracted water in its 1.9 L water tank. You can monitor the tank's water level at any time via the front-side water gauge. The dehumidifier automatically shuts off when the tank is full, preventing accidents even when you're not in the room. In this case, an LED indicates that the tank needs to be emptied. The Drybest 10 has an automatic defrost mode at low room temperatures. It removes frozen water deposits on the compressor, thus ensuring the dehumidifier functions optimally.
The Drybest 10 isn't only a dehumidifier: it also has an integrated filter which filters dust and dirt particles from the air, leading to a marked improvement in air quality.
Operation is easy via two buttons on the top of the dehumidifier. One button sets the desired humidity level and the other turns the device on or off. Three LEDs show the operating mode (dehumidification, defrost) or indicate that the water tank is full. So that you can easily move the dehumidifier around, it has an extendable carrying handle on the top. Klarstein's Drybest 10 fits in any environment unobtrusively with its white and grey design.
Available colours: white/grey, white/green (item no.: 10028494)
User manual PDF
Product details
Top features:
Economical 205 W compressor dehumidifier
Dehumidification capacity: 10 L in 24 hours
Three levels: 60, 50 and 40% relative humidity
Integrated air filter to remove dust and dirt particles
Automatic defrost when operating below 12 °C
Properties:
Temperature operating range: 5 - 32 °C (optimal 16 - 32 °C)
Humidity operating range: 40 - 100% relative humidity
Operating range: 18 - 20 m²
Air volume: 50 m³/h
Max. power consumption: 0.205 kW
Water tank (switch off value): 1.9 L
Noise level: < 32 dB(A)
Operating principle: refrigeration drying
Compressor: rotary compressor
Suitable for use in rooms in new buildings or rooms with water damage
Suitable for installation of a permanent water flow
Control panel with a function key, 3 operation LEDs and digital display
Carrying handle for easy transport
Power button on control panel
Power supply: 220-240 V / 50 Hz
Scope of delivery:
1 x dehumidifier
1 x water drain hose
User manual (English, German, French, Spanish, Italian)
Dimensions:
Dehumidifier: 25 x 40 x 22 cm (WxHxD)
Water drain hose length: 100 cm
Drain hose inner diameter: 1.5 cm
Weight: approx. 9.1 kg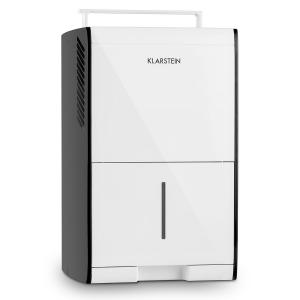 Drybest 10 Dehumidifier
205 W compressor dehumidifier
Dehumidification capacity: 10 L in 24 hours
Integrated air filter
All purchases made between the 25th of October and the 31st of December 2019 can be returned till the 31st of January 2020.