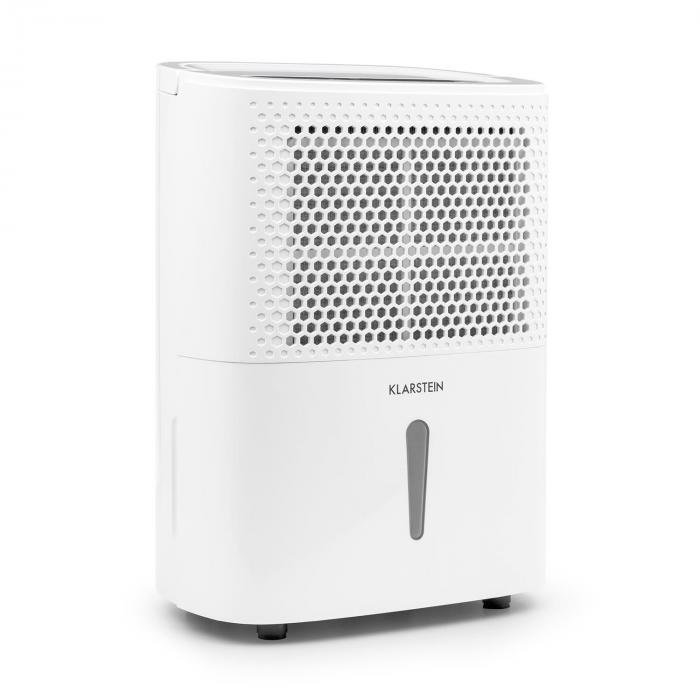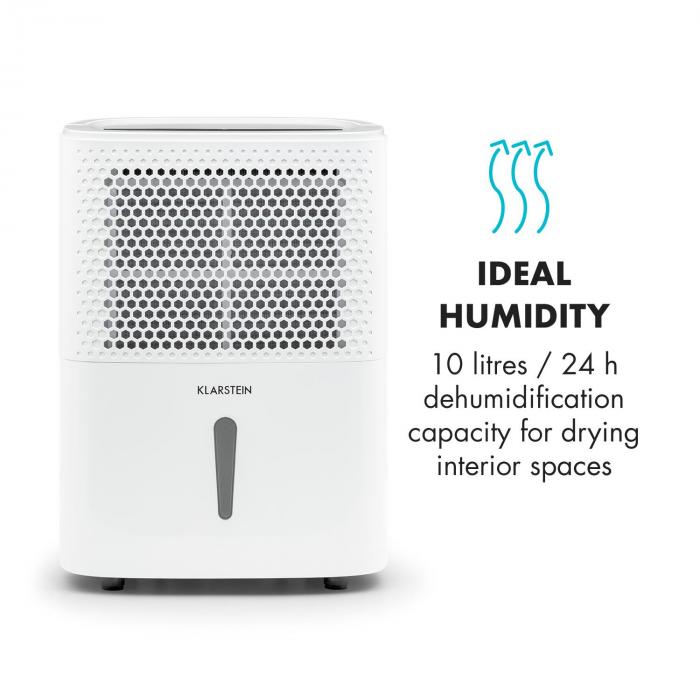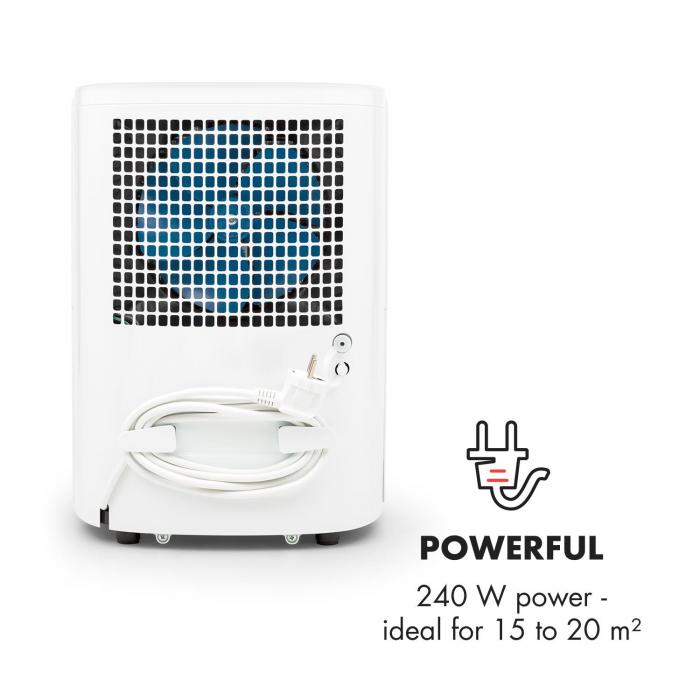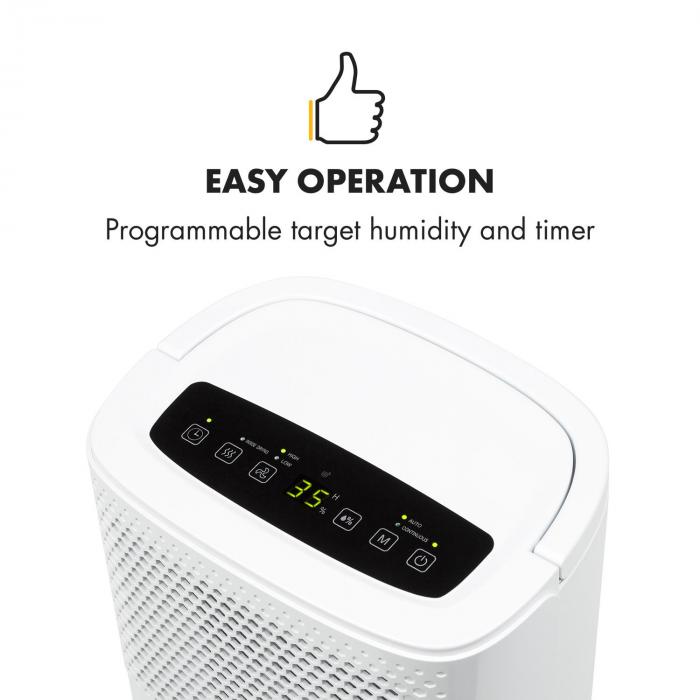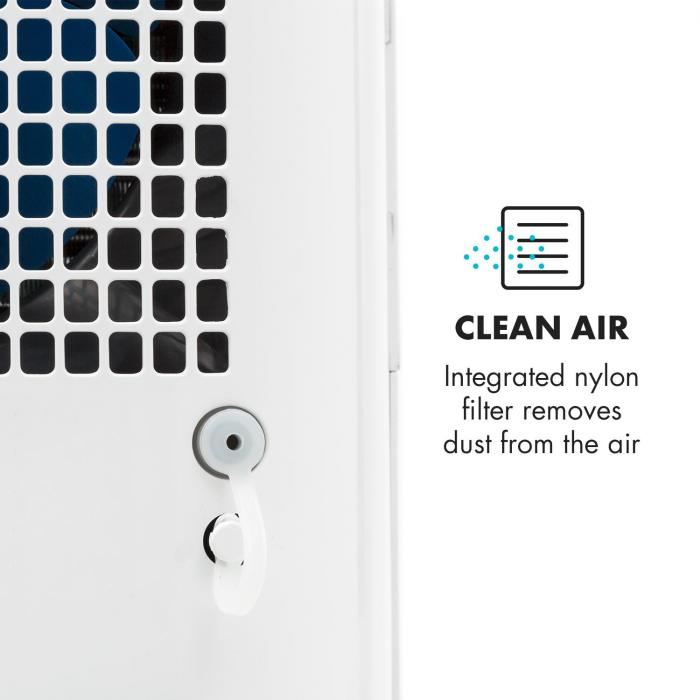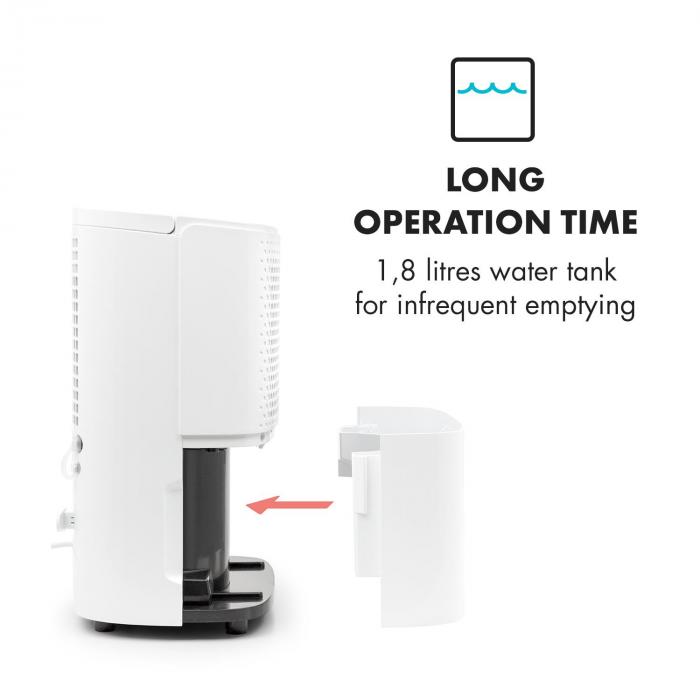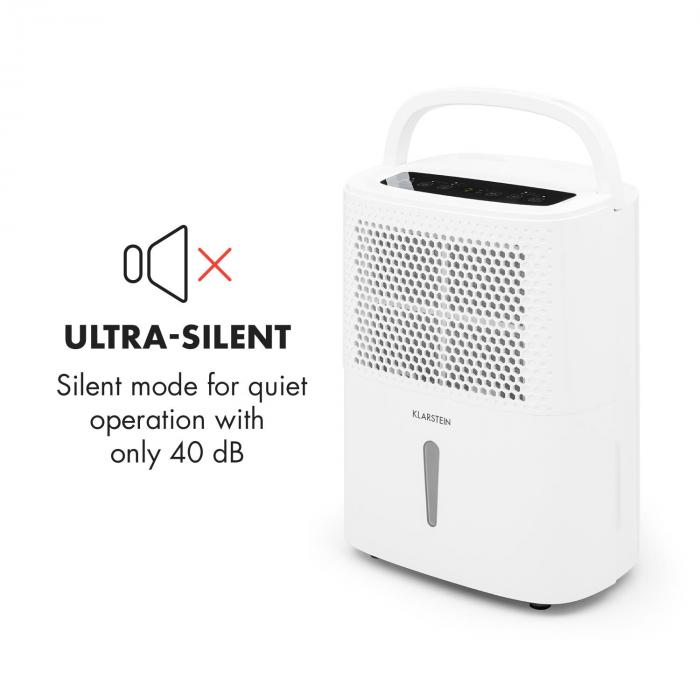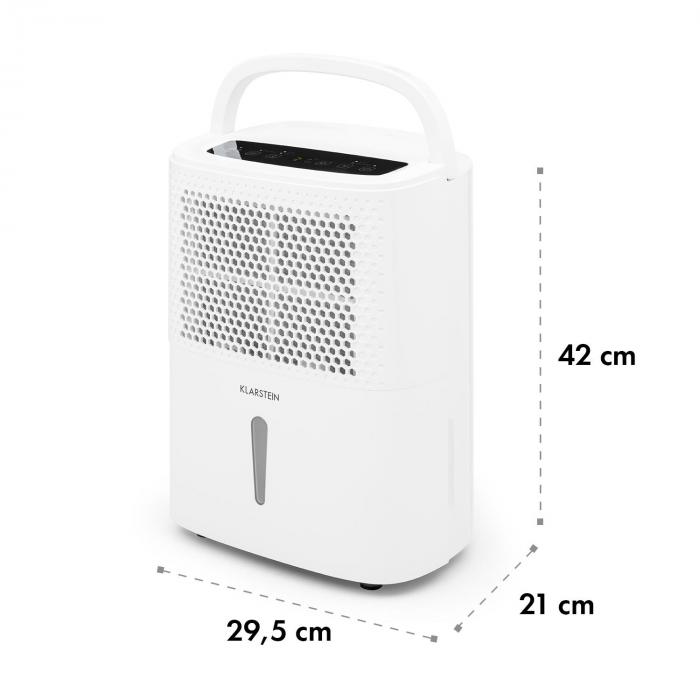 Manual
Item number: 10032040
DryFy 10 Dehumidifier
You save 42%
Delivery time: 3 - 5 workdays
Top features
1.8-litre water tank does not need frequent emptying
Programmable air humidity and timer
Silent mode for quiet operation
Shipping costs: from £ 0.00
The item is ready to ship and will be shipped immediately after receipt of payment.
You may change your order at any time.
Selected reviews from the German press
DryFy 10 Dehumidifier Compression 10l / 24h 240W Timer White
Powerful dehumidifier with 240 W power for drying wet rooms or to regulate humidity.
Dehumidification capacity of 10 litres per day with an air circulation of 100 m³ per hour - ideal for rooms from 15 to 20 m².
Easy operation thanks to adjustable target air humidity, programmable timer and large water tank with 1.8 litres of volume.
The simple way to ideal air humidity: the Klarstein DryFy 10 dehumidifier easily dries damp rooms after construction, renovation and water damage or regulates the humidity in kitchen, bath or bedroom.
With the right air humidity, feel much more comfortable: the Klarstein DryFy 10 dehumidifier eliminates moisture from the air in just a few simple steps and gives you the freedom to breathe freely in the kitchen, bathroom or bedroom, and makes for quick drying time after building or renovating. With a powerful 240 W output and an air circulation of 100 m³ per hour, it extracts up to 10 litres of moisture per day - making the Klarstein DryFy 10 dehumidifier ideal for rooms from 15 to 20 m². Thanks to the built-in nylon filter, it simultaneously removes dust from the air and thus improves the overall climate. A large 1.8-litre tank collects the accumulated water and can easily be emptied. The device is very user-friendly and practical: the DryFy 10 is programmed for its task using only a few buttons on the top-side display. This way, the target air humidity can be adjusted and a timer may be set, and you may also choose between power and silent mode.
It has never been this easy to get the perfect humidity. The Klarstein DryFy 10 dehumidifier provides the best air.
Available variants: 10 litres dehumidifying capacity, 16 litres dehumidifying capacity (item 10032041), 20 litres dehumidifying capacity (item 10032042), 30 litres dehumidifying capacity (item 10032043)
User manual PDF
Product details
Top features:
Ideal humidity: 10 litres / 24 h dehumidifying performance for drying interior spaces after construction and renovation work or to regulate the humidity in the kitchen, bathroom and bedroom
Powerful: 240 W power for 100 m³ / h air circulation - ideal for 15 to 20 m²
Long operation time: 1.8-litre water tank does not need to be emptied often
Continuous operation: includes 0.6 m long drain hose for continuous water drain without emptying
Easy operation: programmable air humidity and timer
Whisper quiet: silent mode for quiet operation with only 40 dB
Properties:
On / off switch on the display on the top side
Auto dehumidification: the unit starts to operate when the humidity is 5% above the set value
Drying mode: the device operates permanently regardless of the set air humidity
Adjustable target air humidity in 5% steps from 30 to 80 percent
Hourly adjustable timer up to 24 h (switch-on timer in standby mode / switch-off timer during operation)
Power mode for fast drying
Elegant case with honeycomb pattern in white
Ambient temperatures: 4 - 32 ° C
Max. dehumidifying performance at 30 ° C and 80% rel. humidity
Beep and autostop when water tank is full
Displays the current humidity
Internal drying: prevents mold formation in the unit
Carrying handle for easy positioning
Removable water tank
Coolant: R134a
Cable rewind at the back of the unit
Power supply: 220-240 V ~ | 50/60 Hz
Scope of delivery:
1 x device
1 x drain hose
English user manual (other languages: German)
Dimensions:
Dimensions: about 29.5 x 42 x 21 cm (WxHxD)
Length of power cable: about 170 cm
Weight: about 9.2 kg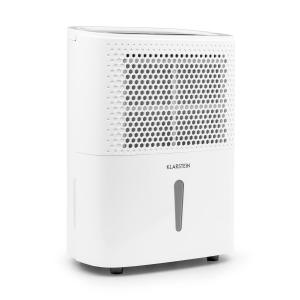 DryFy 10 Dehumidifier
1.8-litre water tank does not need frequent emptying
Programmable air humidity and timer
Silent mode for quiet operation
All purchases made between the 25th of October and the 31st of December 2019 can be returned till the 31st of January 2020.