Item number: 60001117
ET01-C011 Swivel Arm Desk Mount
You save 33%
Unfortunately, no articles are currently available
Top features
VESA: 75x75mm, 100x100mm
Max. capacity: 8kg
Buyer's guide under the tab "Specifications"
Shipping costs: from £ 0.00
The item is ready to ship and will be shipped immediately after receipt of payment.
ET01-C011 Desk Mount Table Mount Swivel Arm Monitor Inc. 2m DVI Cable
Text für Setartikel..
The tabletop mount allows for flexible positioning of LCD and LED televisions, displays or computer monitors on tabletops or other planar surfaces such as window sills.
Via the screw, the table mount attaches to surfaces with a thickness of 1-9cm, which includes even massive office desks or workbenches. Rubber pads protect furniture and surfaces against any physical damage during installation of the bracket.
The particular strength of the Auna desk mount is its extraordinary flexibility. Four swivel joints, the ability to perform 360° turns, the possibility of height adjustment and a tilt range of 30° allow you to fit the device orientation effectively to all working conditions, situations and lighting conditions. Especially on busy jobs, the swivel arm desk mount also helps to save space as well as better organise your work surface to accommodate multiple forms of uses (for example, craft activity / monitoring activity on the monitor).
The swivel arm desk mount is compatible with two of the most common VESA hole spacing (75 x 75mm, 100 x 100mm) so that different devices may be mounted and so that the purchase of a new monitor or TV will not result in additional costs for the purchase of a new wall mount. The maximum load coincides with 8kg - with continually falling device weights - high enough so as not to impose unnecessary restrictions on new technical installations.
The TV table holder comes with complete, high-quality installation material and an illustrated manual.
Set consists of
ET01-C011 LCD LED TV Monitor Screen Desk Mounting Swivel Arm
Item number: 10005417
Included quantity: 1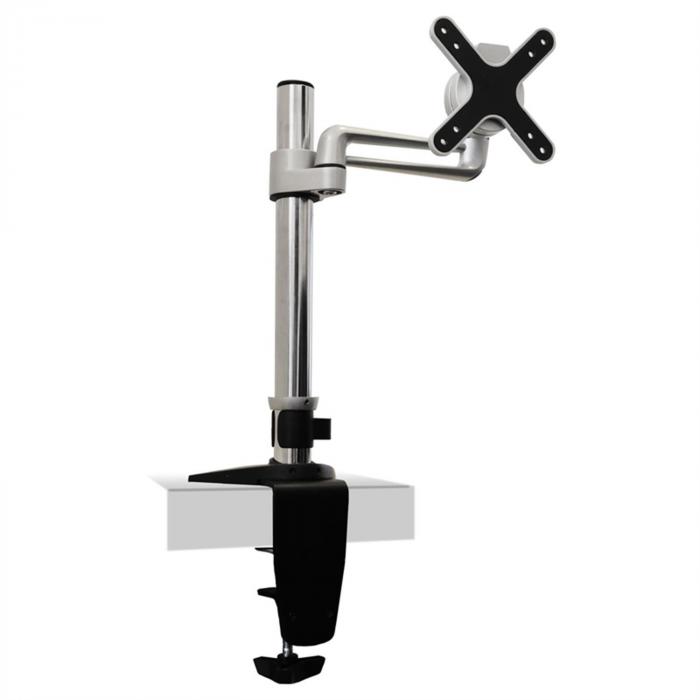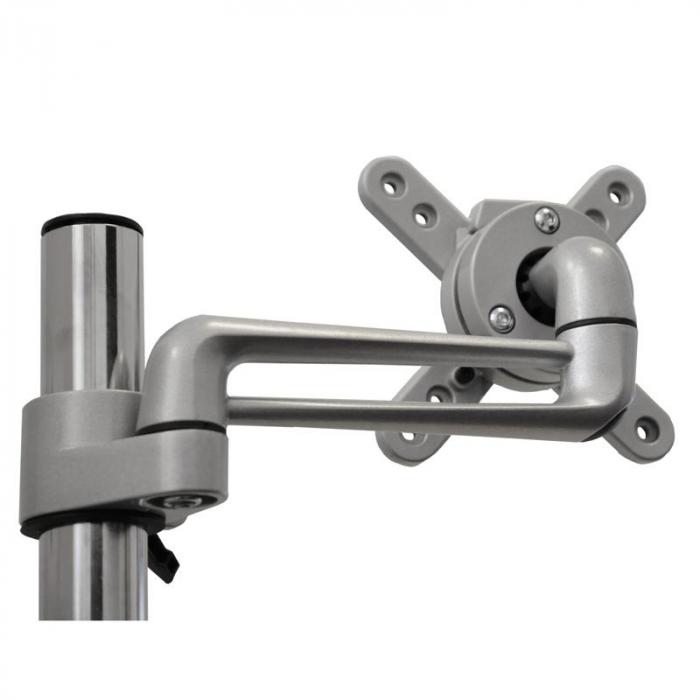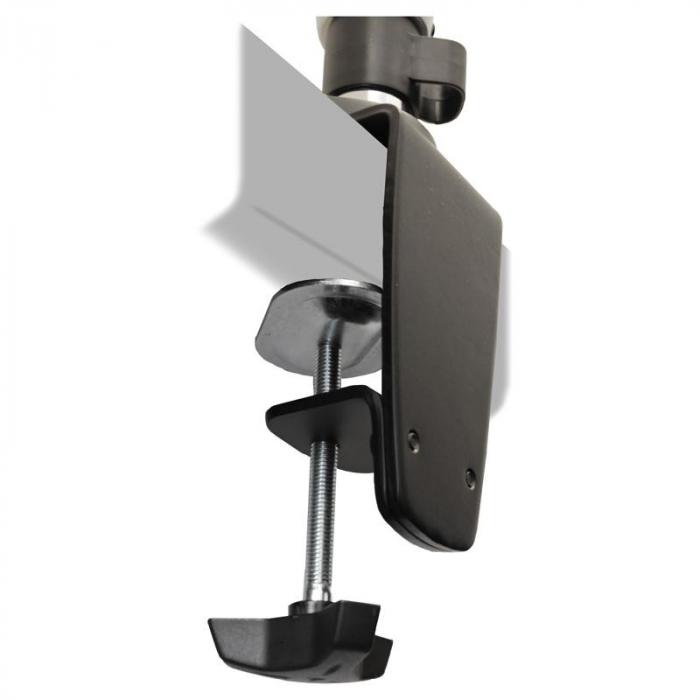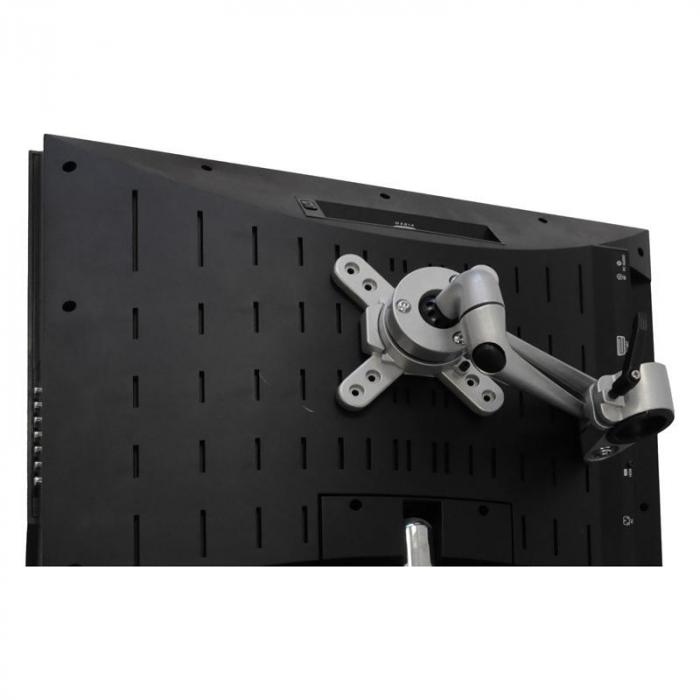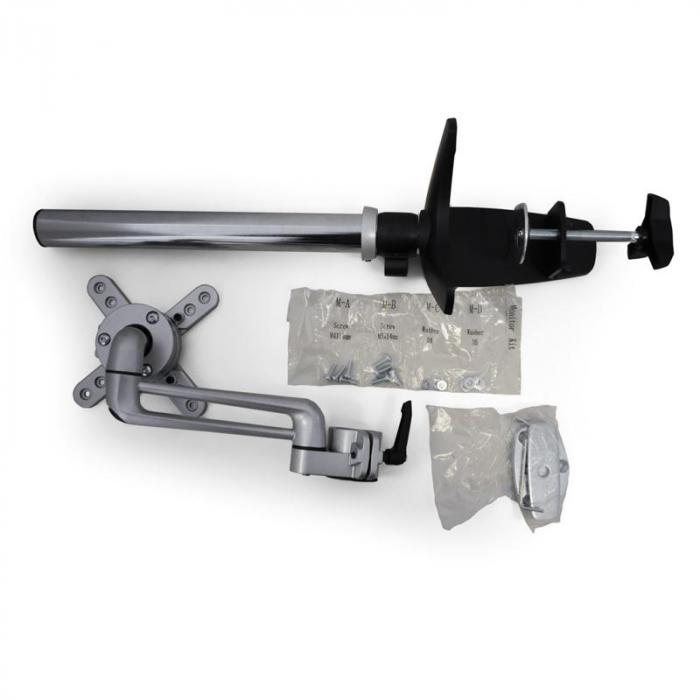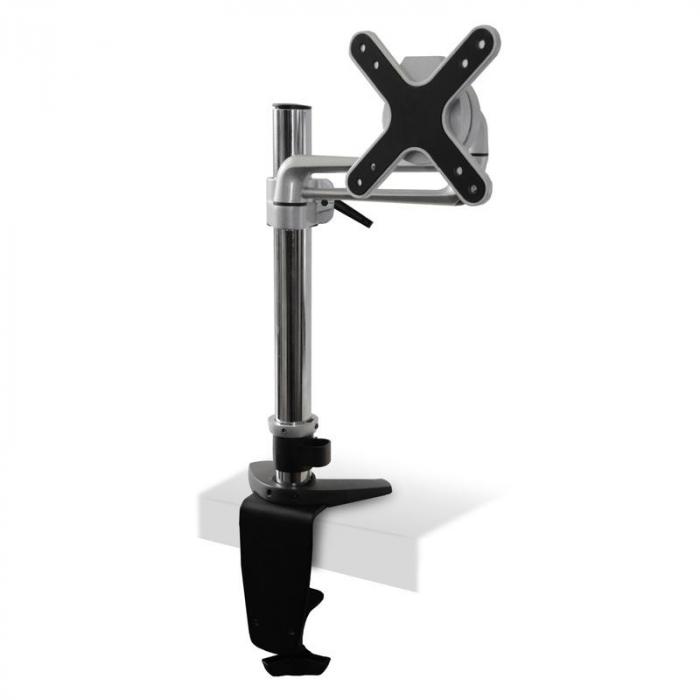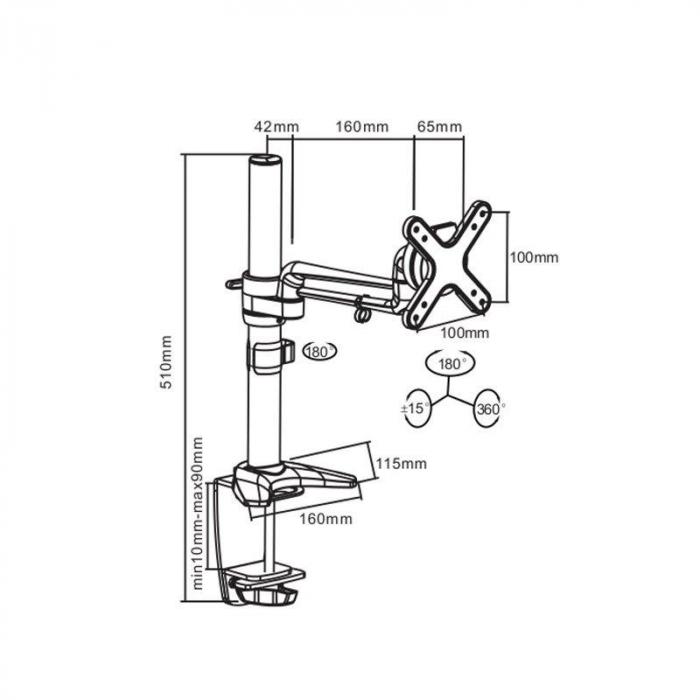 Top features:
Pivoting, tilting and rotating mounting arm with 4 swivel joints, for computer monitors, LCD and LED televisions
Suitable for VESA hole spacing: 75x75mm, 100x100mm
Max. capacity: 8kg
Height adjustable within a range of 30cm
Adapts to width of table: 1 to 9cm
Integrated cable management system
Ideally suited to screen sizes of 13" to 23" (33 to 58cm)
Properties:
Suitable for VESA hole spacing: 75x75mm, 100x100mm
Rotation: 360°
Swivel range: 360°
Tilt range: +/- 15°
Quick release for swivelling element
Rubber pads on top of screw to protect table surface
Knob grip for the screw
Easy installation
Material: Solid steel (cold rolled)
Colour: Black/silver gray
Dimensions:
Hole spacing: 75x75mm, 100x100mm
Weight: approx. 7 pounds (3.2kg)
DVI-Cable 2m
Item number: 10011510
Included quantity: 1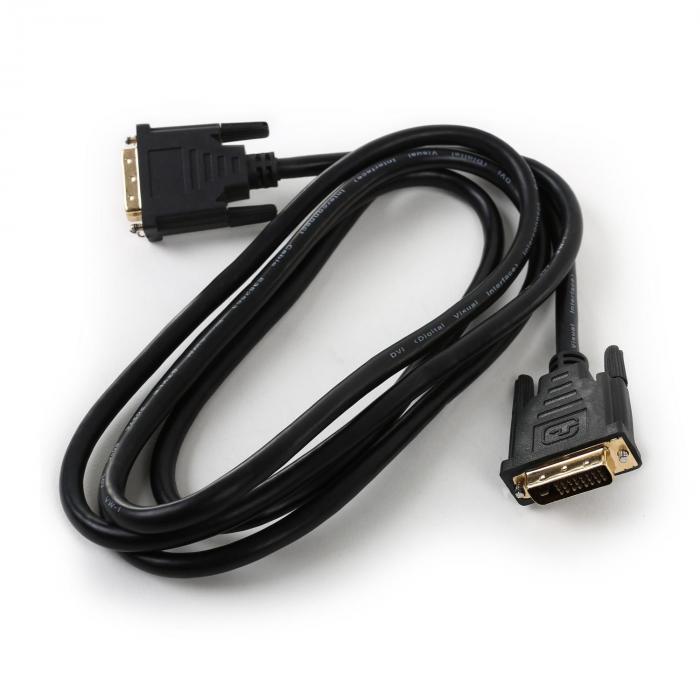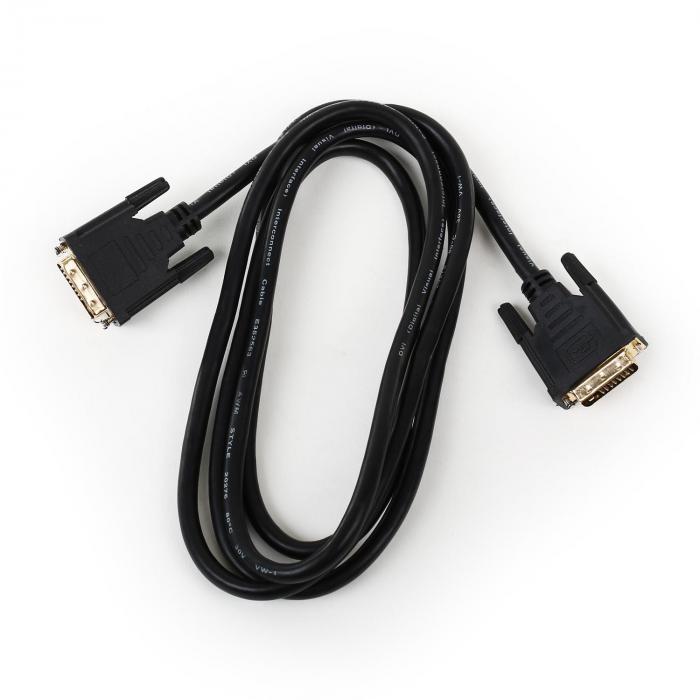 Properties:
Connectors: DVI Male to DVI Male
Type: 2 x DVI-D (dual link)
Cable length: 2 meters
Use: For example, to connect computers or laptops to monitors or projectors.
Color: black
ET01-C011 Swivel Arm Desk Mount
VESA: 75x75mm, 100x100mm
Max. capacity: 8kg
Buyer's guide under the tab "Specifications"
All purchases made between the 25th of October and the 31st of December 2019 can be returned till the 31st of January 2020.