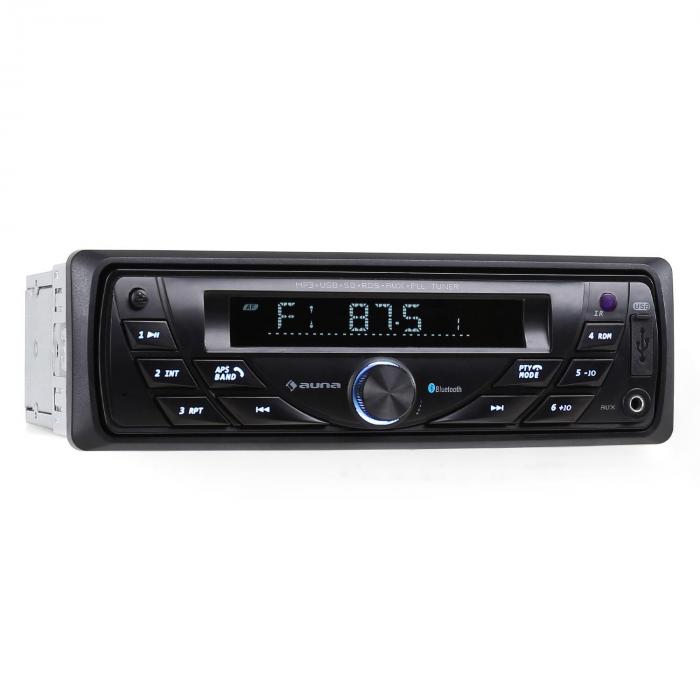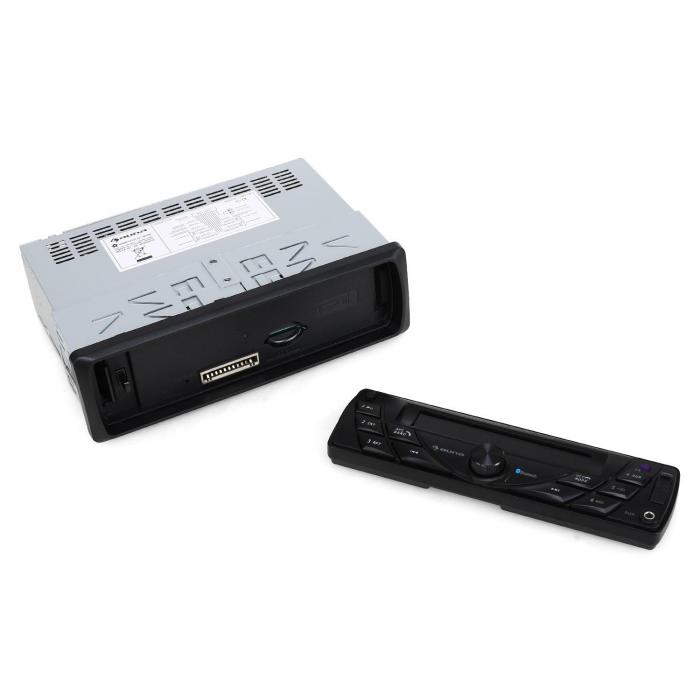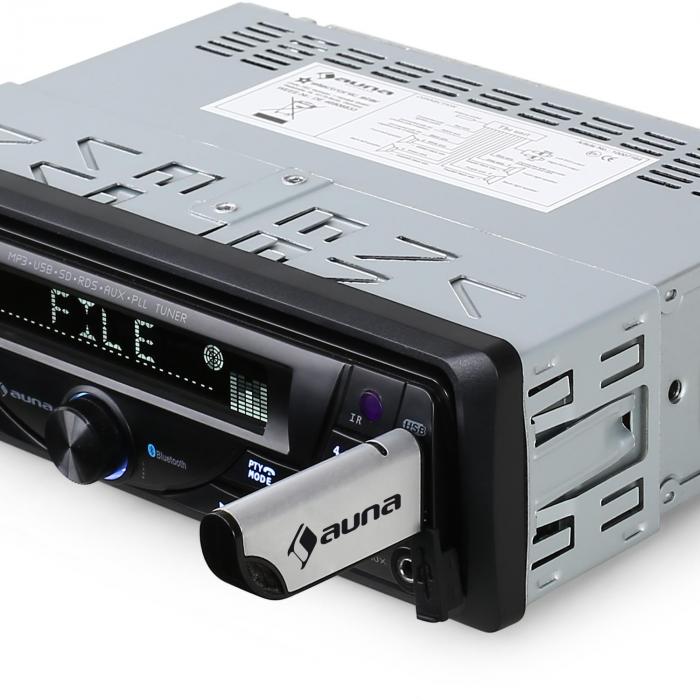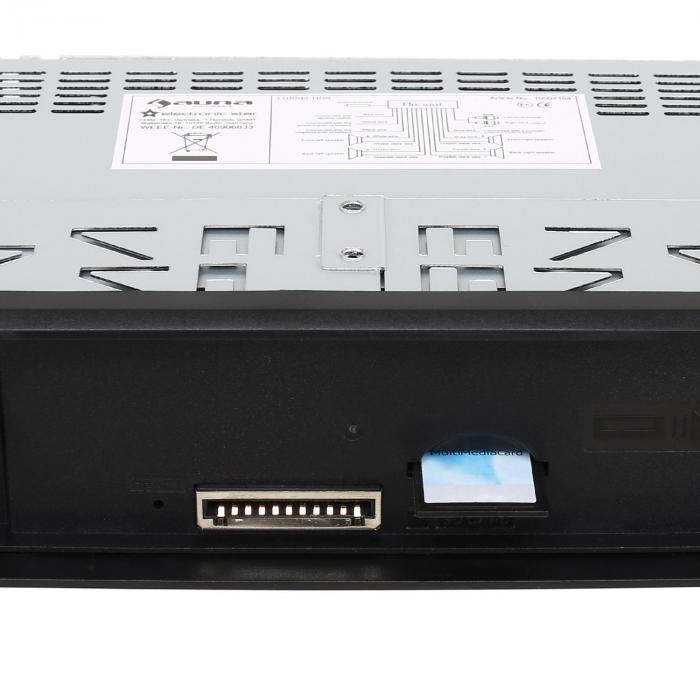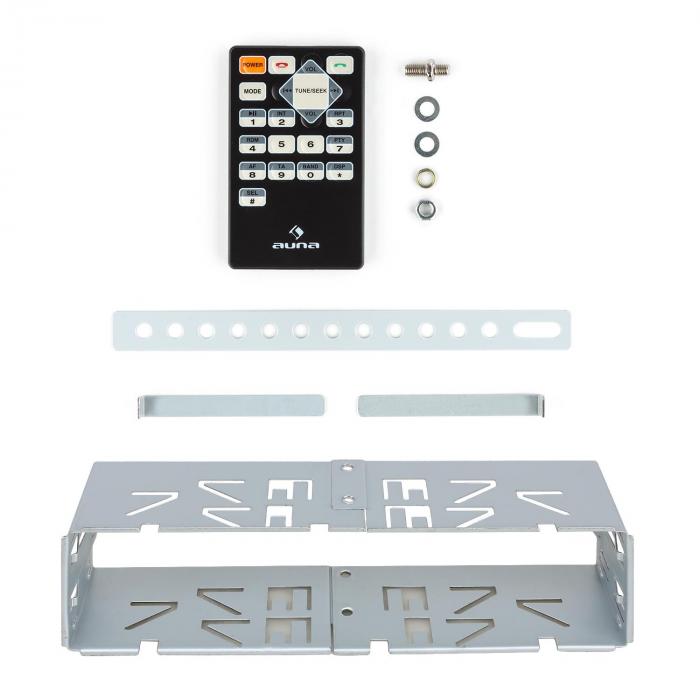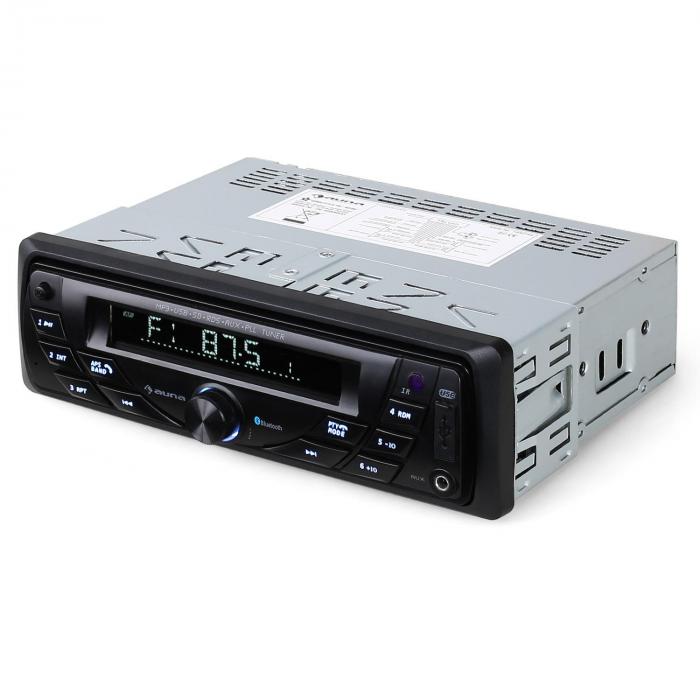 Manual
Item number: 10007164
MD-140-BT Car Radio
You save 24%
Delivery time: 4 - 6 workdays
Top features
AM / FM PLL tuner
Removable control panel
Bluetooth, USB, SD / MMC, AUX
Also available as B stock
Shipping costs: from £ 0.00
The item is ready to ship and will be shipped immediately after receipt of payment.
You may change your order at any time.
MD-140BT Car Stereo Radio MP3 USB SD AUX Bluetooth
The AunaMD-140-BT is a multifunctional car radio that has remained down to earthdespite its design by allowing access to a wide variety of portable audiocomponents.
This modern media device offers easily accessible interfaces.USB and SD slots tap the MP3 libraries of data carriers such as SD memorycards, MP3 players and USB sticks. All other audio sources such as CD players,laptops or tablet PCs can be connected via the AUX jack input.
The Bluetooth interface provides the Auna car radio with anadditional wireless connection to smart phones and tablet PCs to stream theirmusic libraries or to serve as a speakerphone.
The digital function ensemble of the Auna car stereo isrounded off with a FM radio tuner with RDS and PLL functions.
With 2 x 16W power, the Auna MD-140-BT tops many of its competitors.With corresponding line outputs the device allies with power amplifiers toachieve an even higher performance level.
The extremely simple, discreet design is just as suited to vintage and classic cars. The backlight can be customized to 7different colours.
User manual PDF
Product details
Top features:
Multifunctional car radio with AM / FM PLL Tuner andremovable control panel
Bluetooth interface for wireless music playback and use as aspeakerphone
MP3-capable USB and SD slot for music playback from USB stick,MP3 player and SD card
AUX input for connecting external audio sources such as MP3players, CD players and computers
Includes mounting frame and remote phone call acceptance control
Properties:
Connections: 1 x USB Slot, 1 x SD / MMC Memory Card Slot, 1x 3.5mm jack AUX input, 1 x stereo RCA line output, 1 x ISO Connector, 1 xAntenna jack
Supported file formats: MP3, WMA
Bluetooth protocols: A2DP
MOSFET amplifier with 2 x 16W
Automatic station memory
Shuffle
Repeat
Loudness function
RDS-Function: TA, AF, PTY, EON
PTY function
equalizer
Mute function
folder navigation
ID3 tag display
time display
adjustable backlight
LCD display
Power Remote Control: 1 x CR2025 battery (included)
Scope of delivery:
1 x device
1 x Remote Control
1 x Metal Strip
2 x Keys
English manual (other languages: German )
Dimensions:
Simple DIN ISO Standard
Weight: about 600g
Customer opinions
The radio is very light and is smaller in depth than a standard set.<br />It was easy to install into my car with the cage provided. ISO fix connectors make fitting a doddle. A aerial adaptor was needed, this was not included. There is a remote control and battery provided which accesses all of the main functions. Keys are also provided for removing the unit from the car and this task is also relatively simple. <br />I did not find the instruction manual to be comprehensive. There are a lot of abbreviations in the text and not enough explanation in simple terms of what these abbreviations mean.<br />After installation the radio automatically searches for the strongest stations and stores them for you. This saves you doing a manual search and store. Unfortunately the product does not have an AM tuner. However I bought this radio for its functionality. There is no CD either and this is not a problem for me. It has an Aux input which enables connecting my mp3 player or mobile via the 3.5mm headphone jack. I have used this feature and the sound is good. There is a mode button to switch between the various functions. There is also an USB input which I haven't used yet and Bluetooth functionality which will be handy for people who get a lot of calls to their mobiles. Nobody phones me so I have not tried this feature out yet.<br />The other great feature about this unit is its ability to play SD cards. There is no explanation in the instructions about the maximum size of card that can be used but I used a 16gb micro card which is inserted into a adapter. I transferred all of my music onto the card from my computer. The card slides into the unit into a slot underneath the removable front control unit. It can be left there and this has the advantage of me not have to carry around my mp3 player or connect my mobile to the aux port. When the unit is switched on music starts playing from the SD card. The disadvantage of this is that individual tracks cannot be sourced. If however you like all of the songs on your SD card you will be able to listen to a variety of music and songs that you haven't heard for a while. If you push the random button the songs are shuffled and this is even better. However this button needs to be pressed for random play each time the unit is switched on.<br />I am playing the unit through my cars stock speakers and even through these the sound is good. Much better than the factory radio that it replaced.<br />Adjustments to most of the features is available via the large round centre button. This controls on/off, volume, bass,treble, balance and fade between the front and rear speakers. You can also change the colour of the lights on the front of the stereo via this button as well as accessing a host of radio functions. I will try each of these as time goes by.<br />The front control part of the stereo is easily removed by pressing the button on its top left. It is easily put back into position by inserting its right side in first. Unfortunately there is no carrying case for this part once it has been removed which is not very convenient.<br />This is a good car stereo with a host of useful features and connectability.The sound from it is very good and the price for all that you are getting is great. It is not made by a well known big name brand but the sound quality and features make this unit a good buy which I recommend to anyone looking for a new stereo.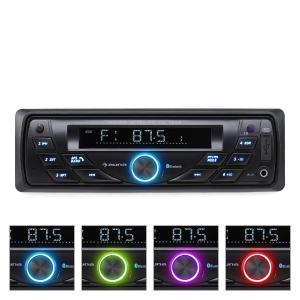 MD-140-BT Car Radio
AM / FM PLL tuner
Removable control panel
Bluetooth, USB, SD / MMC, AUX