CS-698 Car Speakers
You save 33%
Unfortunately, no articles are currently available
Top features
Max Power up to 900W PMPO
Huge: 91dB SPL
Stylish metal basket and prominent driver cover
Shipping costs: from £ 0.00
The item is ready to ship and will be shipped immediately after receipt of payment.
You may change your order at any time.
2 x Auna 6x9" In-Car Hifi Speakers 2x450W max. Pair - Black
Sophisticated car speakers with sleek and unobtrusive bass-stylish design.The latest generation of Auna Car speakers raises the max up to 900W PMPO and proves to be of great performance in any car hi-fi setup.
Quality merchandise at a fabulous price.
*Please note due to an error in the system there is a mix of stock in wattage for this item. Some customers may have speakers delivered in 450W max and some speakers may come in 900W Max each or mixed one each.
Product details
Top features:
Max Power up to 900W PMPO
Huge: 91dB SPL
Stylish metal basket and prominent driver cover
Properties:
3-way technology with 1.9 cm Tweeter / Tweeter
ASV voice coil
Impedance: 4 ohms
Frequency response: 30Hz to 22kHz
Scope of delivery:
Pair of speakers
Cables
Mounting material
Dimensions:
15x23cm (6x9") format
Mounting Depth: 8.3cm (3")
Weight: approx. 1.5 kg each
Customer opinions
has a very good rms wattage for 6x9s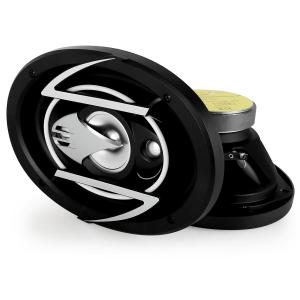 CS-698 Car Speakers
Max Power up to 900W PMPO
Huge: 91dB SPL
Stylish metal basket and prominent driver cover