Item number: 60001897
CS-Comp-12 Car HiFi Set
Delivery time: 3 - 5 workdays
Top features
Two 3-way crossover with gold-plated connections
6-channel power amplifier with adjustable high and low-pass filter
Volume and frequency controls on the front panel
Shipping costs: from £ 0.00
The item is ready to ship and will be shipped immediately after receipt of payment.
You may change your order at any time.
CS-Comp-12 Car HiFi Set Speaker Set | 6-Channel Power Amplifier 570W RMS
Text für Setartikel..
The CS-Comp-12 car HiFi set 6-channel power amplifier is an extensive and optimally coordinated complete set. The 8000 watt max. total output of the speaker set is distributed over two crossover points to two subwoofer speakers, two midrange speakers and two tweeters.
The amplifier has 6000 watt maximum power and infinitely variable high and lowpass filters, as well as a switchable Super Bass. In addition, the auna power amplifier can be used and bridged in the 6/5/4/3-channel mode.
As a result, the car Hifi system creates a much more differentiated sound panorama than a switchless set-up. Its power reserves hide the speaker system behind deep black facades.
The CS-Comp-12 car HiFi set 6-channel power amplifier is supplied with cable and mounting hardware, which ensures easy installation.
Set consists of
AMP-CH06 Hifi In Car Amplifier 6 Channel System 570W RMS 5000W max
Item number: 10003662
Included quantity: 1
Top features:
6-channel car amplifier with 5000W max. Power - equivalent to 570W RMS
High and low level inputs
Adjustable low-pass filter
Indirect blue LED light effect
Resonant black chassis with silver trim strip
Properties:
Connections: 3 x High-level input, 3 x RCA stereo line input, 6 x stereo speaker output (screw terminals)
Control range low-pass filter: 50Hz to 250Hz
Adjustable gain
X-Over (Full / LPF)
Opportunity for the cable remote control
2 fuses
Overheating protection
Power LED
Frequency response: 20 Hz to 20 kHz
Signal to noise ratio:> 95dB
Impedance: 4 to 16 ohms
Input Sensitivity Line Level: 1 ~ 2 V @ 100 Ohm
Input sensitivity low level: 0.1 ~ 1V @ 10k
Power supply: 14.4 V
Dimensions:
40 x 6 x 26cm
Weight: approximately 3.8 kg
CS Comp-12 Professional Car Stereo Speakers 8000W system
Item number: 10005700
Included quantity: 1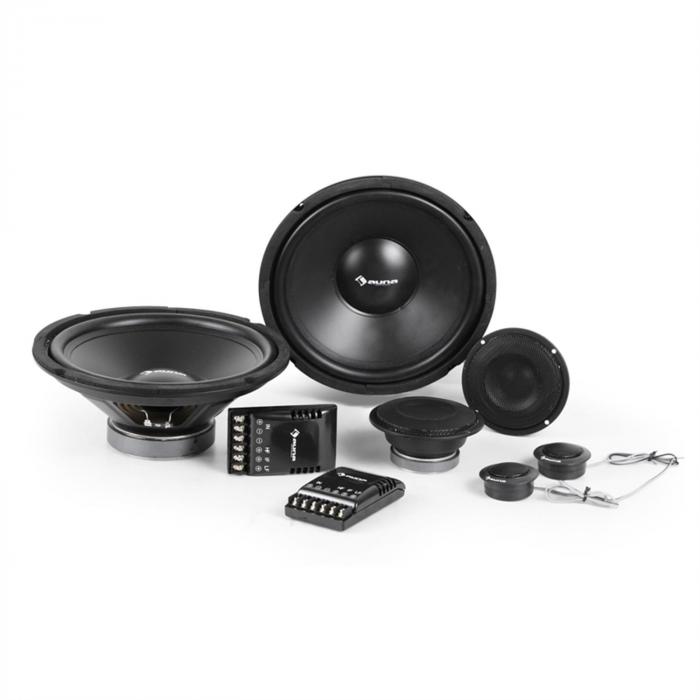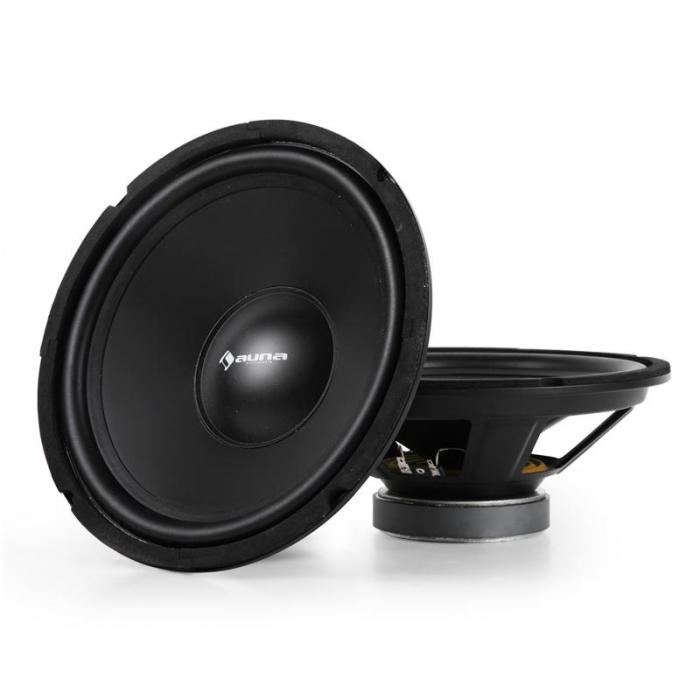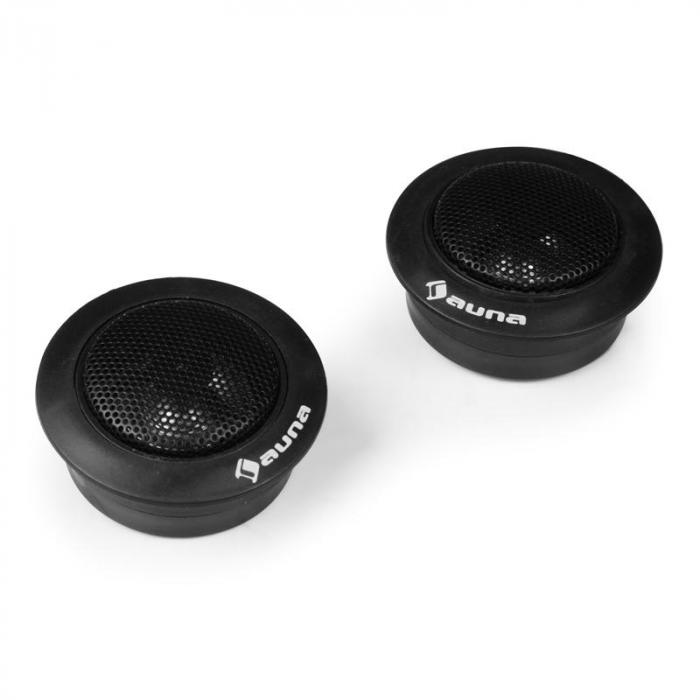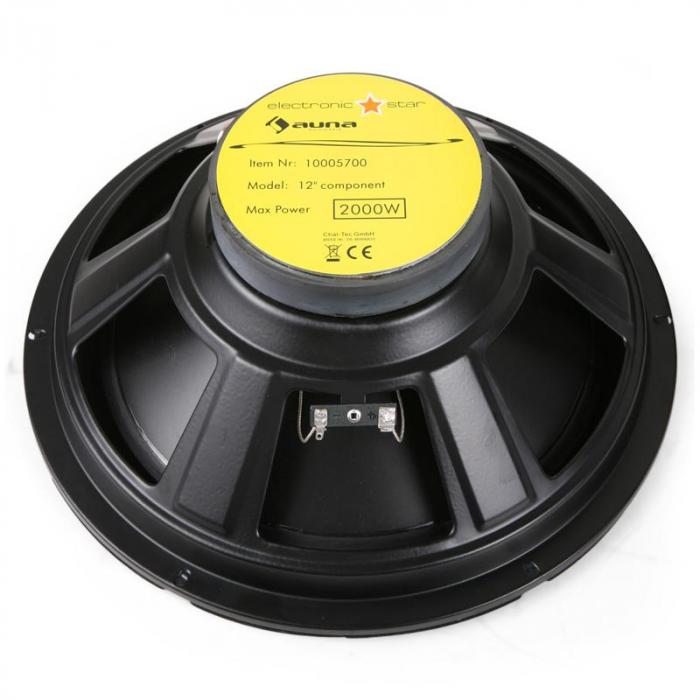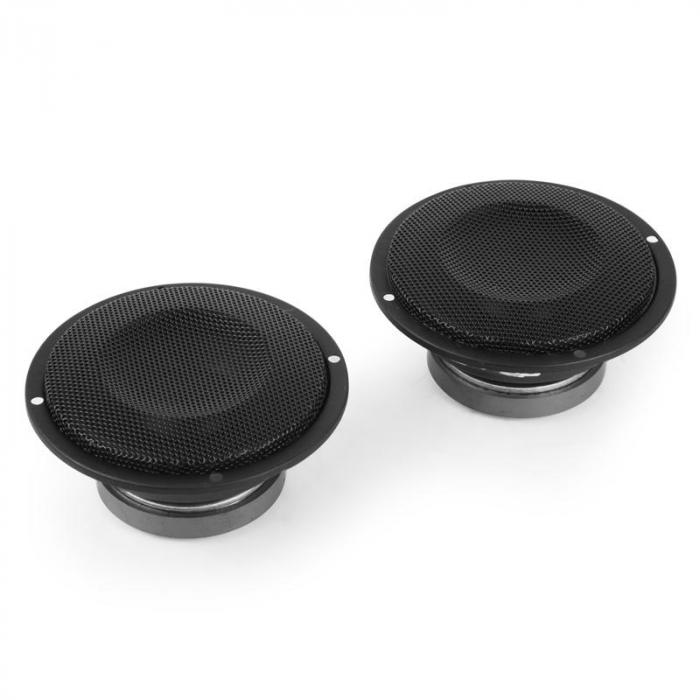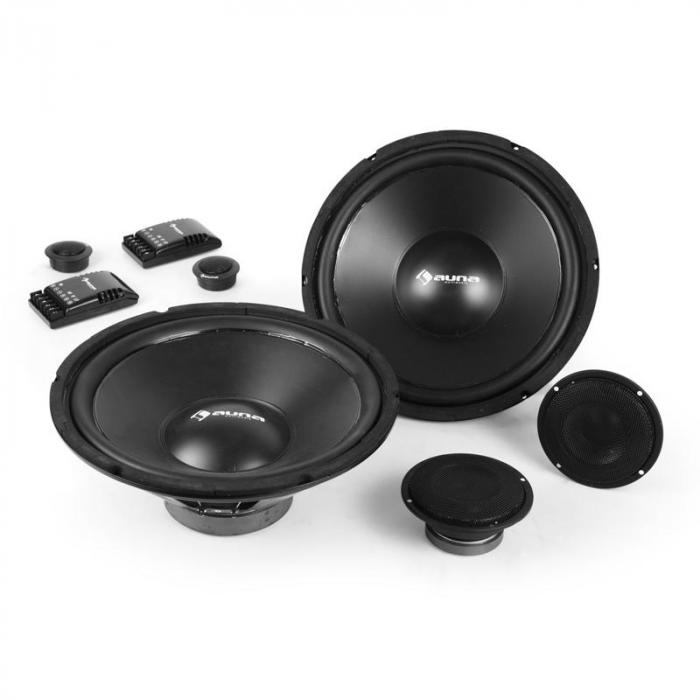 Top features:
Car Hi-Fi system with 2 x subwoofers, 2 xmidrange speakers and 2 x tweeters
Two 3-way crossovers with gold-platedconnections
Massive 8000W total power (2 x 2000Wsubwoofer, 2 x 2000W midrange)
Powerful driver and magnets
Comes complete with mounting hardware andcable
Properties:
Connections (crossover): amplifier inputand speaker outputs on gold-plated screw terminals
12" woofer speakers with 1.5"ASV voice coil and heavy (approx. 2lbs) magnet
4" midrange with 19mm ASV voice coil
1.57" dome tweeter with 13mm voicecoil
Tweeter and midrange speakers with metalcover
Dimensions:
Subwoofer depth: approx. 4.3 inches(11cm)
Subwoofer hole spacing: 12.6 inches(32cm)
Midrange depth: approx. 1.9 inches(4.8cm)
Midrange hole spacing: approx. 4.3 inches(10.8cm)
Tweeter depth: approx. 0.8 inches (2.1cm)
Subwoofer weight (each): approx. 4.6pounds (2.1kg)
Midrange weight (each): approx. 0.9pounds (0.4kg)
Tweeter weight (each): approx. 2.4 ounces(67g)
Crossover: 4.3 x 1.1 x 2.6 inches (W x Hx D) (10.8 x 2.7 x 6.5cm)
Crossover weight (each): approx. 4 ounces(114g)
CS-Comp-12 Car HiFi Set
Two 3-way crossover with gold-plated connections
6-channel power amplifier with adjustable high and low-pass filter
Volume and frequency controls on the front panel
All purchases made between the 01st of October and the 31st of December 2020 can be returned till the 31st of January 2021.