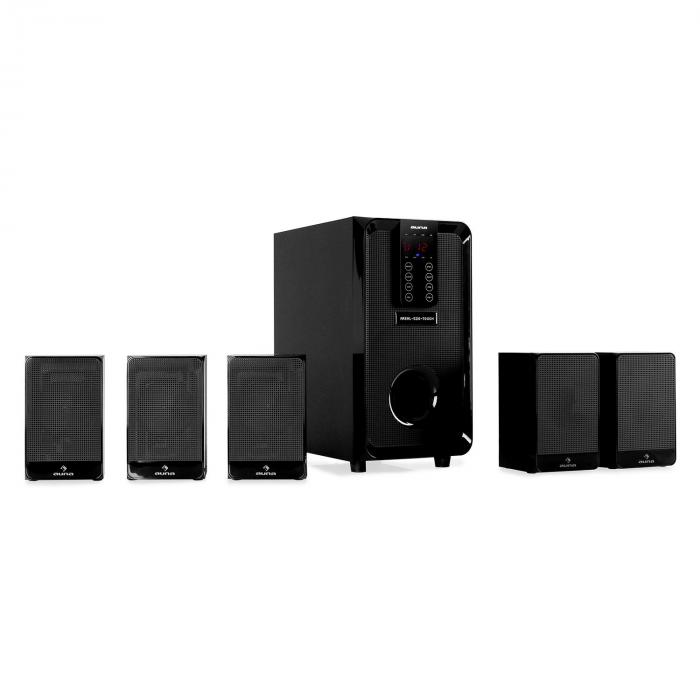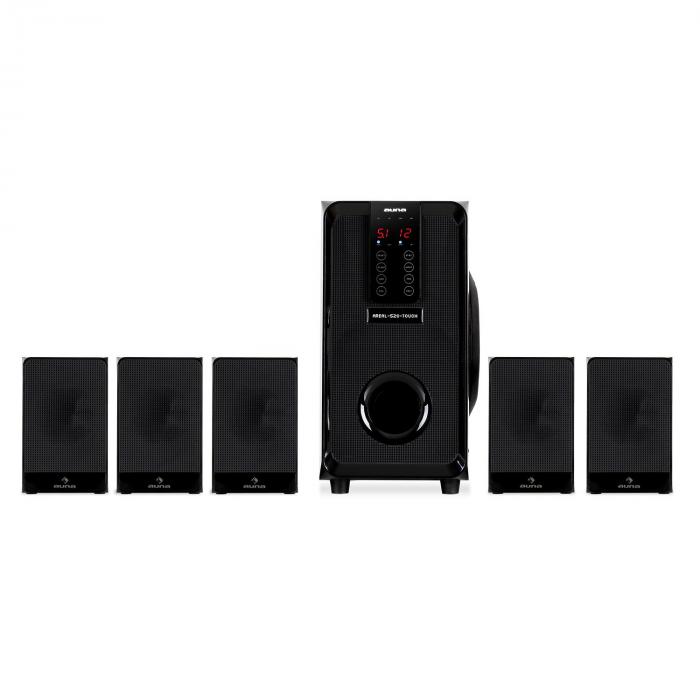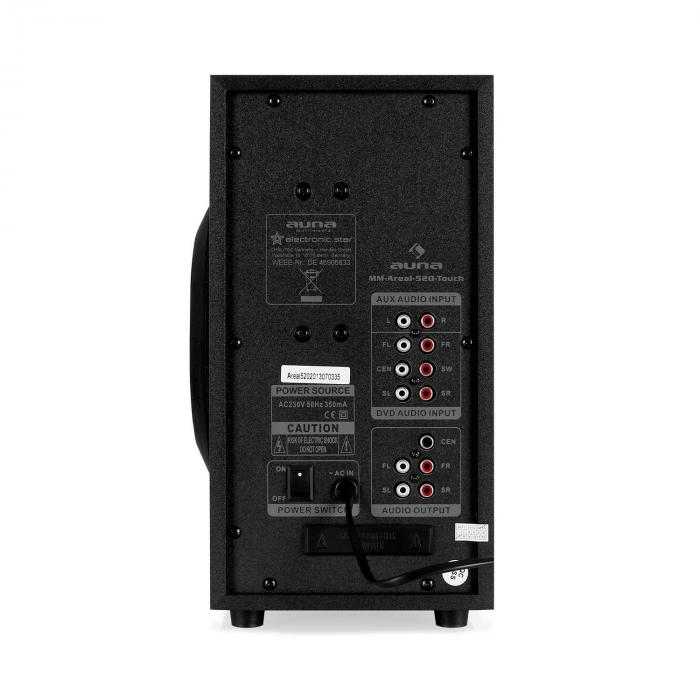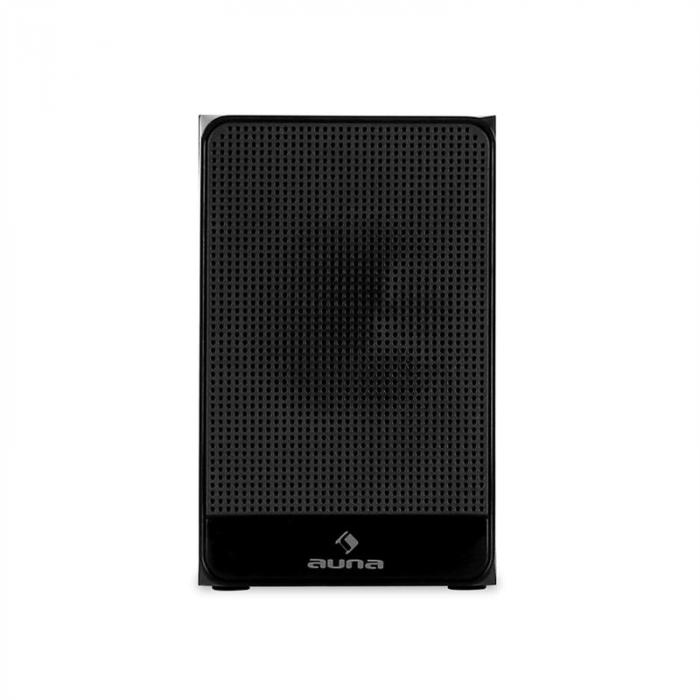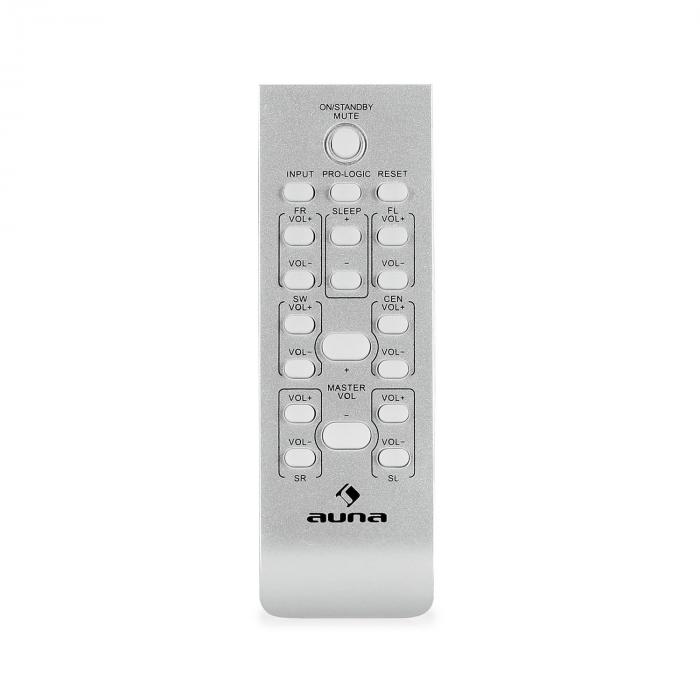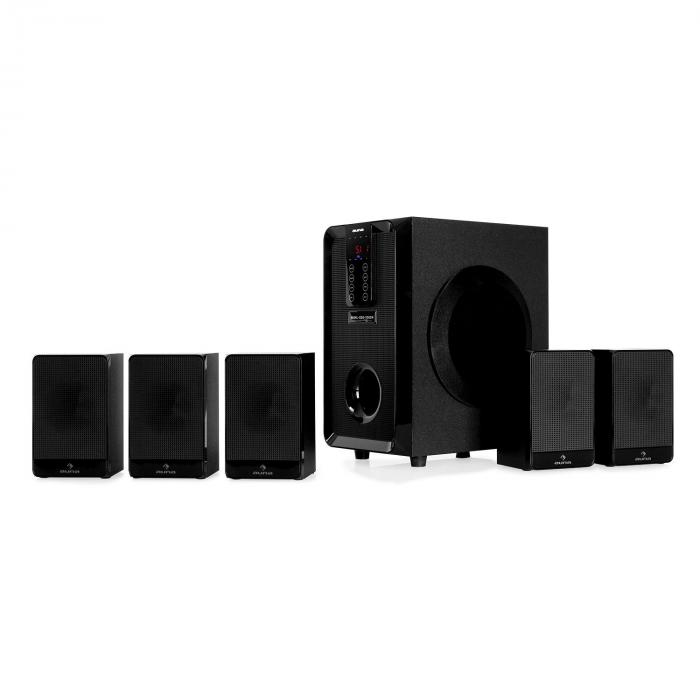 Item number: 10009140
Areal 520 5.1 Sound System
You save 30%
Delivery time: 3 - 5 workdays
Top features
5.25'' (13cm) subwoofer with bass reflex system
Pro Logic mode
Individual volume adjustment for every speaker channel
Shipping costs: from £ 0.00
The item is ready to ship and will be shipped immediately after receipt of payment.
You may change your order at any time.
Areal 520 5.1 Home Cinema Surround System 100W AUX
The Auna Areal 520 is a powerful bass 5.1 home cinema surroundsystem with 100W max. performance for playback of stereo and multi-channelsources.
At the center of the 5.1 speaker system is the active 5.25'' (13cm) subwoofer, on which all input and outputs are found. On the front panelof the device, the touch keys of the operating section allow for customizationof the chosen settings. Through its rear side, the 5 satellite speakers as wellas playback sources such as a TV, set-top box, DVD player, MP3 player or also asmartphone can be connected. The necessary cables are included in the packageof the surround system.
The 5.1 surround system contains a built-in Pro Logic modewith which DVD or Blu-ray audio signals can be distributed between all speakersand the subwoofer even without appropriate multi-channel sources. With thisfeatures the Auna system makes it possible to take advantage of the surroundsound even while watching TV or listening to music.
In order to offer the best possible surround sound in everyenvironment, the volume of all channels of the Areal 520 5.1 speaker set can beindividually adjusted via the supplied remote control. In this way, an optimalsound experience is achieved in the desired listening space. As a result, youcan react to the varied mix volumes of audio sources with the Auna active homecinema set.
The compactly designed satellite speakers of the 5.1 surround setare housed in a low-vibration MDF material and ensure clear sound quality.Small foam support feet on the underside of the device protect the satellitesfrom vibrations in the area harmful to the sound quality. The complete active5.1 set by Auna is held in a matte black with a high-gloss font panel.
Product details
Top features:
5.25'' (13cm) subwoofer with bass reflex system for powerfulbass playback
Pro logic mode for room-filling 5.1 sound from a stereosource
Individual volume adjustment of every speaker channel for anoptimal sound experience
Comfortable operation via remote control
Low-vibration MDF housing with black high-gloss front panel
Properties:
Connections: 1 x stereo RCA AUX input, 6 x RCA input, 5 xRCA output
Operation modes: Pro Logic, DVD, AUX
Max. performance: 100W
Frequency response: 40 – 20000 Hz
Signal-to-noise ratio: 75dB
Sleeptimer adjustable in 10min intervals
Standyfunction
5.25'' (13cm) subwoofer
3'' (7.5cm) tweeter
Frontside operating field with touch keys
LCDdisplay
Anti-vibration support feet
On/off switch
Power supply remote control: 2 x AAA battery
Power supply: 220-240V, 50/60Hz
Scope of delivery:
1 x Subwoofer
5 x Satellites (RCA connection cable pre-assembled)
1 x Remote control
3 x Stereo RCA cable
1 x 3.5mm jack stereo RCA cable
User manual (English, German)
Dimensions:
Subwoofer: 16 x 32.5 x 28cm (WxHxD)
Satellite: 9.5 x 15.5 x 9.5cm (WxHxD)
Cable length satellite: 2 x 370cm, 3 x 170cm
Weight satellite: approx. 450g
Weight subwoofer: approx. 5kg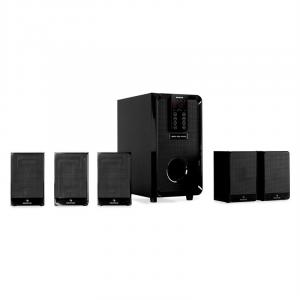 Areal 520 5.1 Sound System
5.25'' (13cm) subwoofer with bass reflex system
Pro Logic mode
Individual volume adjustment for every speaker channel