Item number: 60000551
Supreme Tower HiFi System
You save 21%
Unfortunately, no articles are currently available
Top features
Complete HiFi set with surround receiverand CD player 125W
USB input, MP3 compatible
Remote control 2 x Mic inputs
Shipping costs: from £ 0.00
The item is ready to ship and will be shipped immediately after receipt of payment.
'Supreme Tower' Surround Sound Amplifier Receiver & CD PlayerHiFi System
Text für Setartikel..
The 'Supreme Tower' HiFi set is a perfectcombination of the great systems available from Auna.
The Auna AV2-H338 is a surround receiverwith modern HDMI connections and a powerful sound quality.
With 3 HDMI inputs and an HDMI output theAuna AV2-H338 can be connected to games consoles, Blu-Ray players on one handand LCD televisions, HD projectors on the other. Typical HiFi equipment such asCD players and cassette decks can be connected via the 2 Line inputs.
With its 125W the amplifier has enoughpower for use even in larger, noisier events. For this the amplifier provides adynamic, distinct sound with well-balanced bass, mid and treble playback.
Thanks to the 2 front microphone inputs theamplifier can also be used for family events and Karaoke parties.
The second part of the set is an MP3compatible CD player with USB input for playback of MP3s from external harddrives and USB sticks.
The Auna AV2-CD509 plays both CD-R andCD-RW as well as MP3 CDs
With its coaxial and optical outputs aswell as a RCA Line output, the Auna AV2-CD509 is right at home in any HiFi setup. In addition, the system features an integrated radio receiver with 40station presets.
The system's connection options allow youto expand the set up with a range of different devices. Both devices can beeasily controlled via the remote controls supplied and their own on boardcontrols.
The set features an elegant look and feelwith subtle controls and brushed aluminium front paneling. Great quality andefficient product design are at the heart of Auna's HiFi series.
Each individual part of this HiFi set canbe bought separately in our shop and are easily integrated into an existingHiFi set up. We are also happy to put together a HiFi system tailored to yourown specific needs.
Set consists of
AV2-H388 HDMI Amplifier Surround Sound Receiver -1200W
Item number: 10004932
Included quantity: 1
Top features:
Home cinema and HiFi surround amplifier with 1200W peak output - 2 x 40W + 3 x 15W at 8 Ohm
3 HDMI inputs and 1 HDMI output for connecting to modern HD devices such as games consoles, Blu-Ray players and HD projectors
FM radio receiver with 40 station presets
2 microphone inputs for family events, Karaoke parties etc
Subwoofer output for connecting to active subwoofer
Solid, brushed aluminium front
Properties:
Connections: 2 x 6.3mm jack microphone inputs, 3 x HDMI inputs, 1 x HDMI output, 2 x RCA Line inputs, 1 x 5.1 RCA input set, 1 x RCA subwoofer output, 1 x FM antenna input
Automatic and manual tuning
Fully surround capable
Easy operation via remote or built-in controls
Separate microphone section with adjustable microphone level and mic equalizer
Rear on/off switch
2-equalizer - adjustable bass and treble
Operating modes: 2.1, 3.1, 5.1
Integrated DSP equalizer
Adjustable balance
Separately adjustable levels for speaker section
LCD display
Mute
Power supply: 230V, 50Hz
Dimensions:
42.5 x 15 x 36cm (W x H x D)
Weight: 3kg
AV2-CD509 CD Player Radio Receiver USB MP3 Black
Item number: 10005063
Included quantity: 1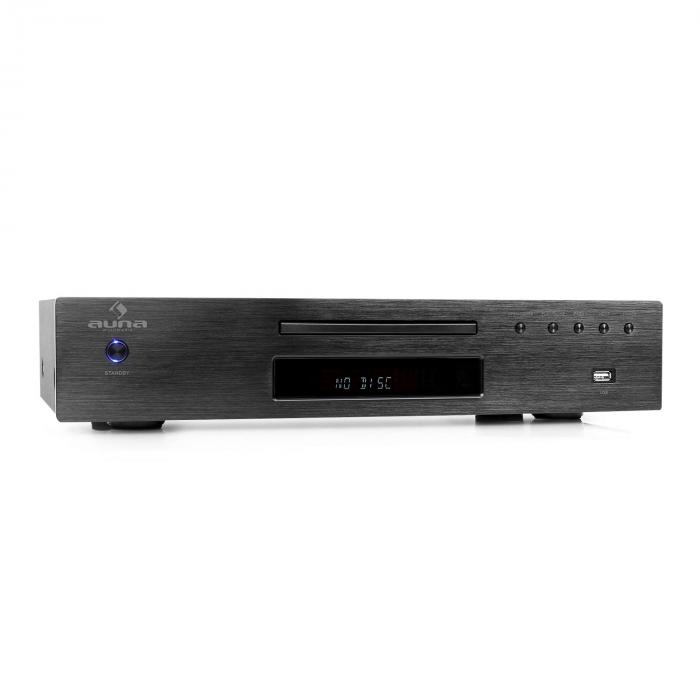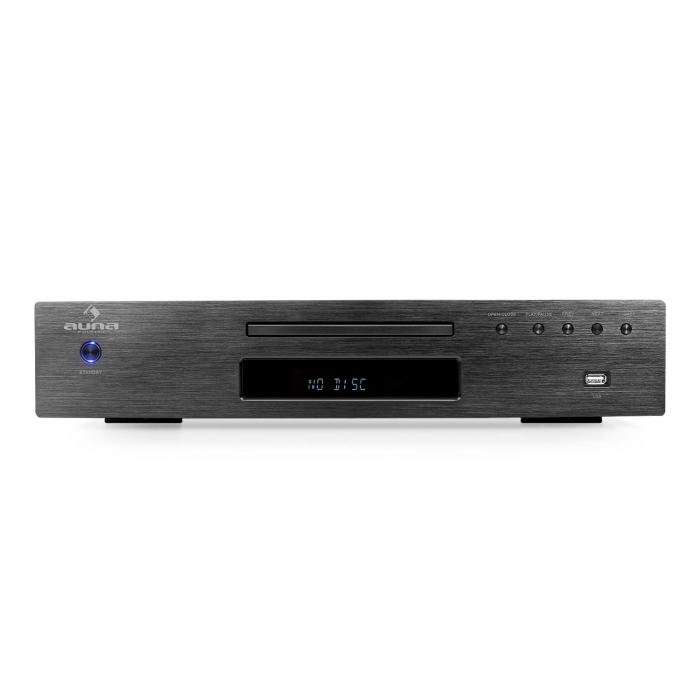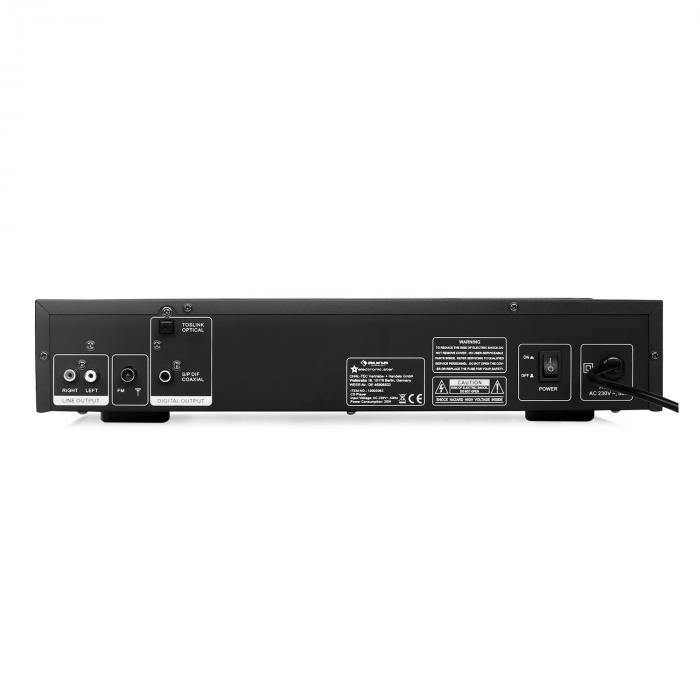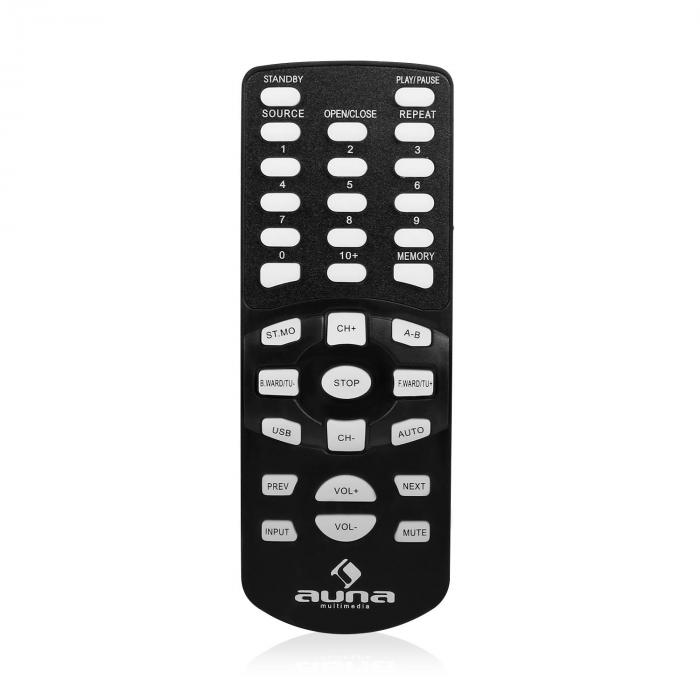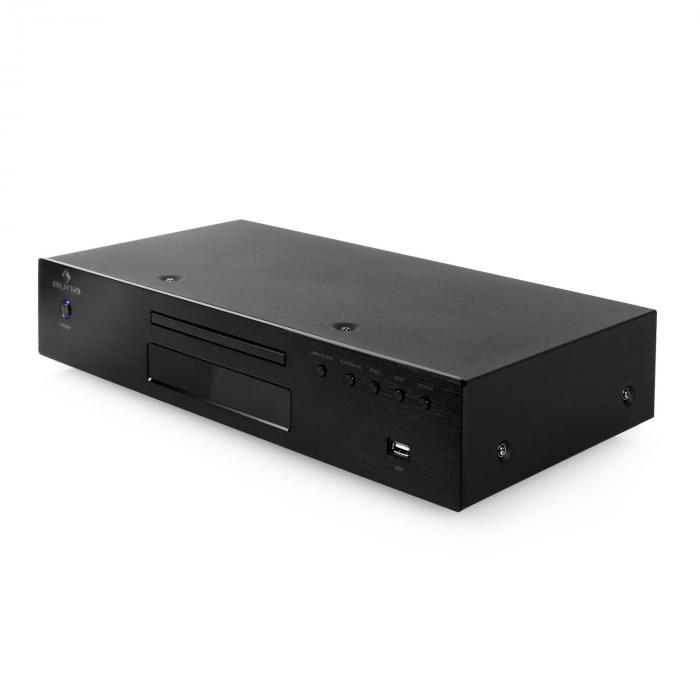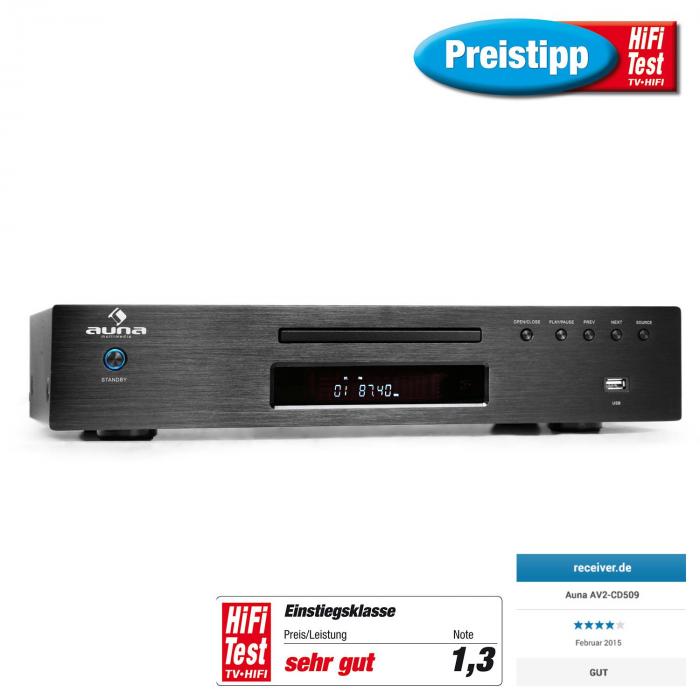 Selected reviews from the German press
Top features:
MP3 compatible HiFi CD player with integrated FM radio receiver
40 station presets
USB input for direct playback of MP3s from USB storage devices
Digital and analogue outputs (optical, coaxial, RCA line)
Easy operation via remote or built-in controls
Solid metal front in brushed stainless steel
Properties:
Connections: 1 x USB (front), 1 x Optical audio output, 1 x Coaxial audio output, 1 x FM antenna input, 1 x Stereo RCA audio output
Playable formats: CD, CD-R, CD-RW, MP3
Automatic and manual tuning
Rear on/off switch
Easy operation via remote or built-in controls
Repeat function
A-B repeat
Mute
LCD display
Power supply: 230V, 50Hz
Dimensions:
42.5 x 8.5 x 22.5cm (W x H x D)
Weight: 3kg
Supreme Tower HiFi System
Complete HiFi set with surround receiverand CD player 125W
USB input, MP3 compatible
Remote control 2 x Mic inputs
All purchases made between the 25th of October and the 31st of December 2019 can be returned till the 31st of January 2020.