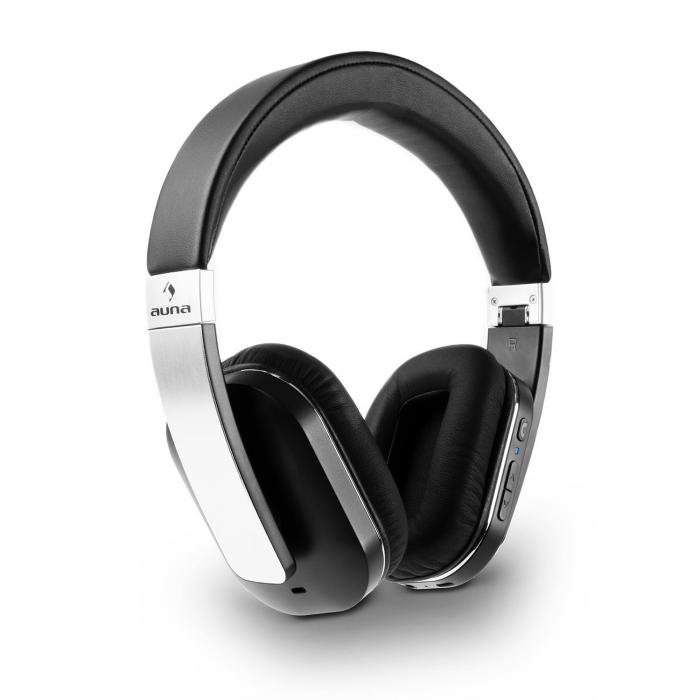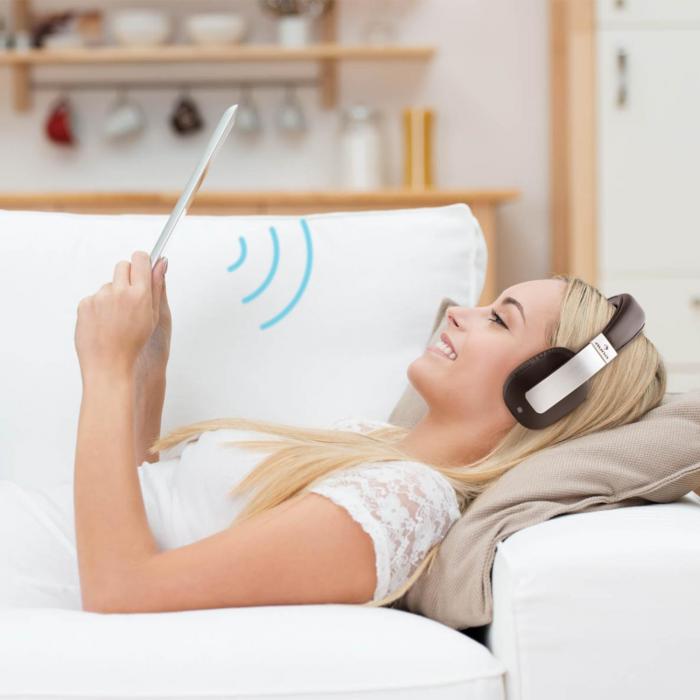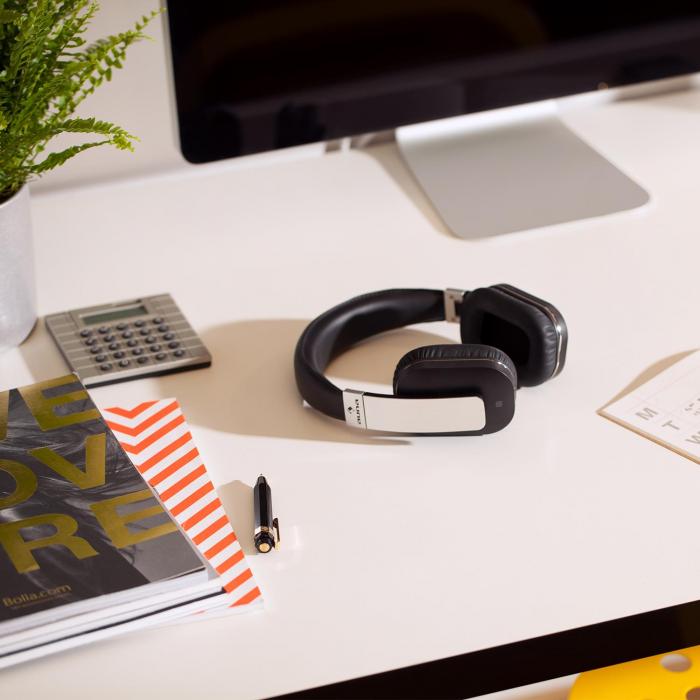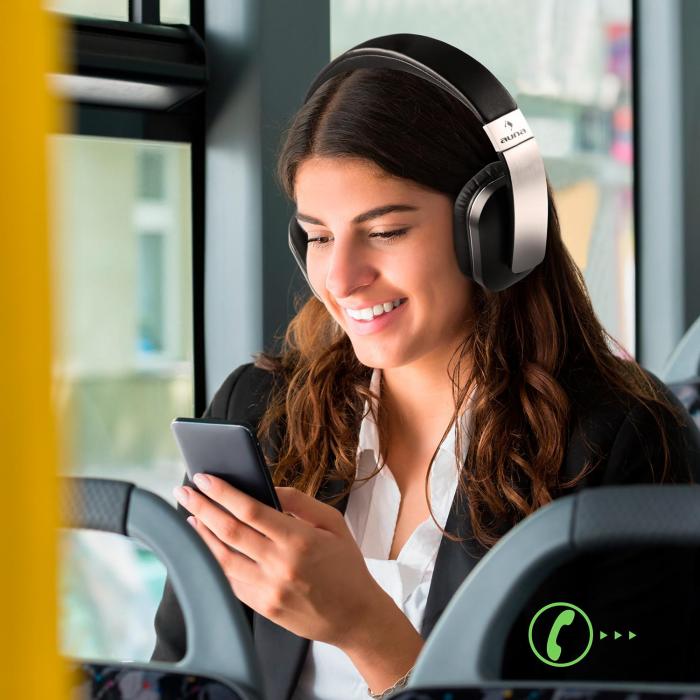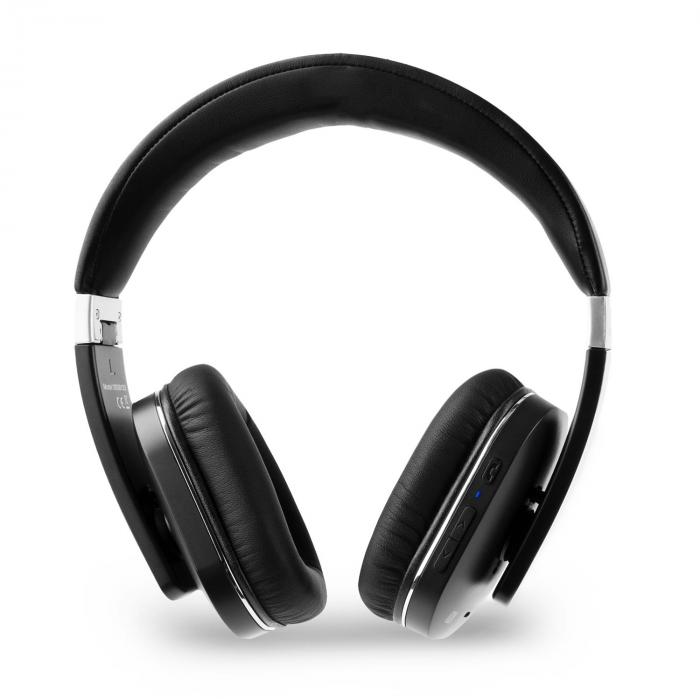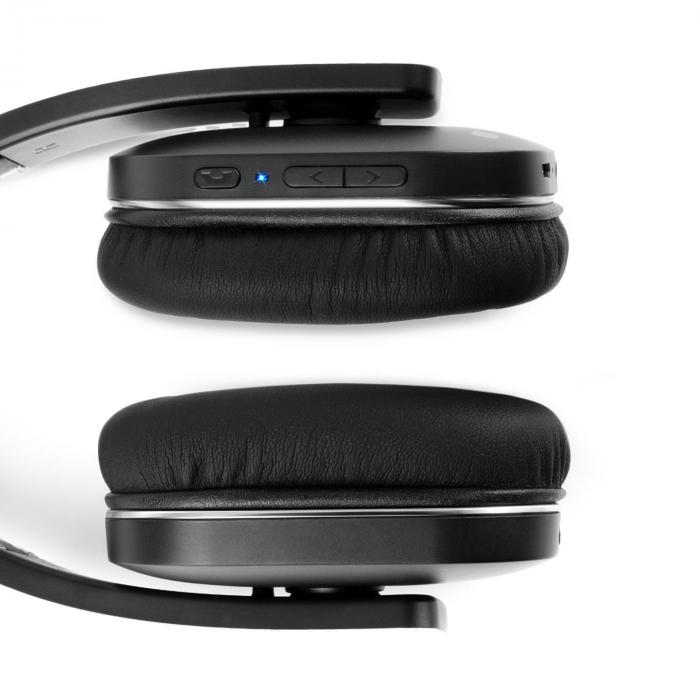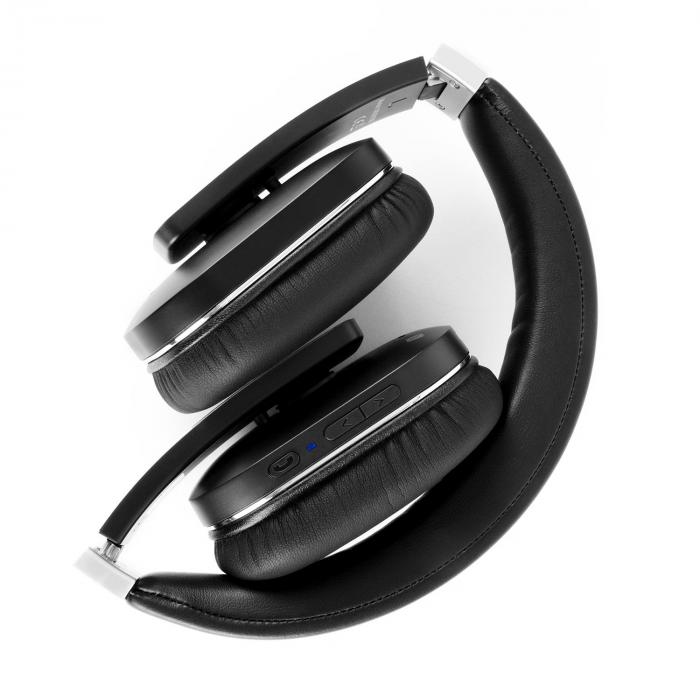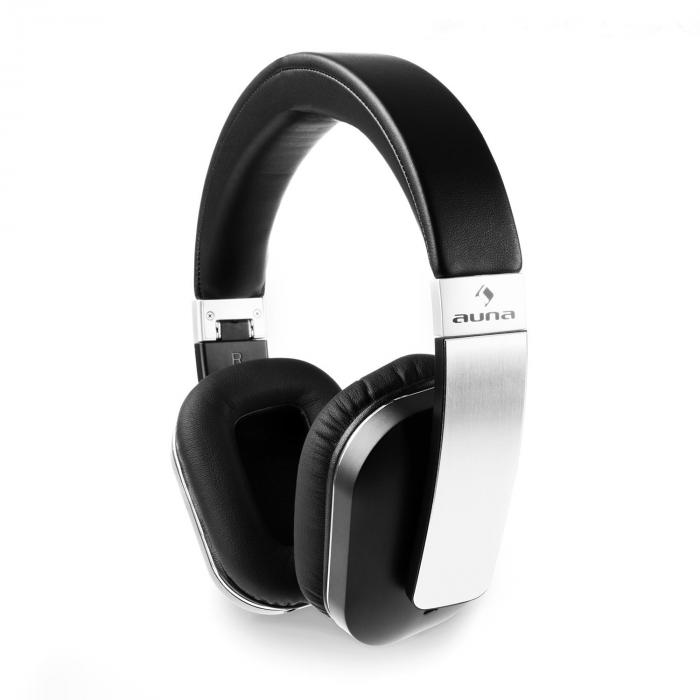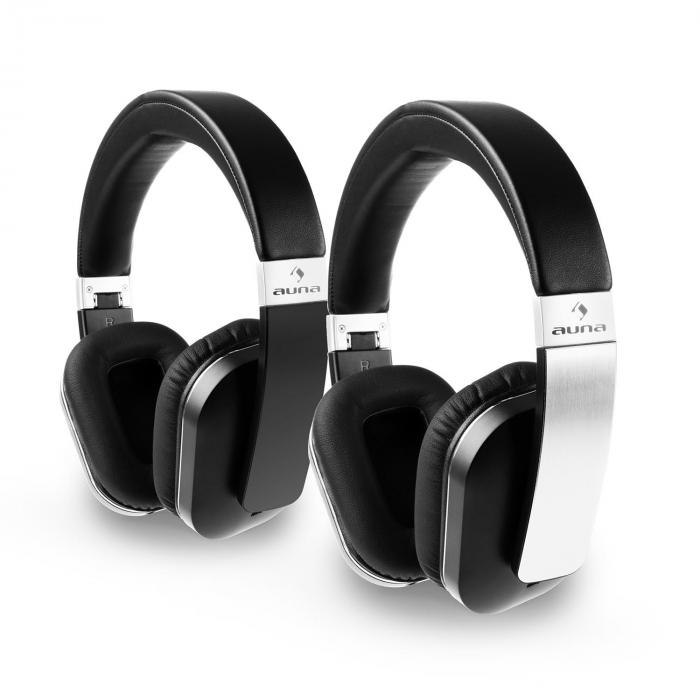 Item number: 10028473
Elegance Bluetooth Headphones
You save 52%
Delivery time: 3 - 5 workdays
Top features
Bluetooth 4.0
NFC connectivity
aptX support
Also available as B stock
Shipping costs: from £ 0.00
The item is ready to ship and will be shipped immediately after receipt of payment.
You may change your order at any time.
Elegance Bluetooth NFC Headset Headphones Aluminium
Elegance for your ears!
The auna Elegance are a pair of smart headphones with energy-efficient Bluetooth 4.0 technology and a stylish design.
After the Bluetooth headphones are connected to an audio sources such as an smartphone, tablet or laptop, they will stream individual songs or entire musical libraries. The controls (track skip, play, pause, etc.) are easily reached from external keys on the ear piece. An everyday advantage of the stereo headphones arises from the possibility of using them for call management (call answer, end call, last number redial, etc.). Call functions can be controlled over the same keys, and phone calls can be handled on the device itself thanks to the built-in microphone.
Besides being able to connect Bluetooth-enabled devices, the headphones offer NFC connectivity for intuitive coupling via swiping the NFC sensor. In addition, the auna Elegance headphones support multi-pairing for simultaneous wireless connection to two devices simultaneously.
Audiophiles will appreciate the aptX support. This is characterised by high quality with excellent sound.
The powerful lithium-ion battery provides up to 14 hours of music listening enjoyment, or up to 540 hours of standby operation. To recharge the device, simply connect to a USB port (for example, on a laptop). The headphones can also be operated in a conventional manner with the included jack cables. When used this way, the internal battery is not utilised (note: the hands-free function can not be used in this case).
The ergonomics of the auna Elegance are geared towards an uninterrupted long-term use: soft, closed ear cushions with leatherette upholstery, an adjustable padded headband with leatherette cover fits easily over any head. Another advantage results from the collapsible construction and low weight, which ensure high wearing comfort and allow for space-saving transport. As an optical accent, the exterior is made of brushed aluminium.
User manual PDF
Product details
Top features:
Bluetooth 4.0 for wireless music playback of popular smartphones, tablets and laptops
NFC connectivity for intuitive coupling device via the NFC swipe sensor
aptX support for audio streaming in high-quality sound
Built-in microphone for practical use as a speakerphone
Competent calling and music playback control via external function keys
Foldable construction with adjustable, padded faux leather headband and soft ear padding
Lithium-ion battery for up to 14 hours of music playback
Properties:
Connections: 1 x microUSB port, 1 x 3.5mm jack line output
Construction: around the ear
Bluetooth version: 4.0 + EDR
Bluetooth profile: A2DP (1.2), AVRCP (1.4), HSP 1.2, HFP (1.6), CVC (6.0)
Supported audio codecs: SBC, AAC
Range: 10 m
Multiples: up to 2 devices
Operating time music playback: 14 hours
Operating time handsfree 14 hours
Operating time standby: about 540 hours
Frequency response: 20 Hz - 20 kHz
Impedance: 32 Ohm
SPL: 103dB
SNR: 85dB
Switching on and off via the function keys
Features music controls: play / pause, skip track forward / backward, to increase / decrease volume
Functions phone control: call answer / end, reject a call, mute, call forward, redial
Flexible, movable ears
Possibility of cabled music playback via line-in
Battery level indicator with iOS devices
Status LED
L / R marking
Scope of delivery:
1 x device
1 x USB cable
1 x jack cable
1 x English user manual (other languages: German)
Customer opinions
" NFC, bluetooth, riduzione dei rumori esterni e padiglioni avvolgenti possono bastare per un paio di cuffie bluetooth? Se questa breve intro non basta a convincervi di quanta tecnologia sia presente su questo paio di cuffie bluetooth della Auna, allora scopritele con noi nei particolari e fateci sapere se anche voi, alla fine dell'articolo siete rimasti stupiti come noi. Certo, il prezzo di vendita di queste cuffie lascia presagire qualità e tecnologia visto che vengono vendute su Amazon ad un prezzo di circa 80 euro, ma vi assicuro che è un prezzo assolutamente adeguato in quanto stiamo parlando del modello Elegance della Auna, e come è facile intuire l'eleganza qui è solo un optional. Chi è Auna? Nel 2007 sono bastati un paio di developer per democratizzare il mondo del suono. Questo fu l'inizio della storia ricca di successi della auna. Un'azienda che pone particolare attenzione al design del suono, agli ultimi progressi tecnologici e al miglior rapporto qualitá-prezzo. L'ampia gamma di prodotti comprende un assortimento in rapida e dinamica crescita, si va dagli altoparlanti hi-fi, microfoni potenti fino a vari modelli di cuffie o Car & HiFi. Tutti i prodotti soddisfano i piú elevati standard e garantiscono un ottimale suono in movimento. L'obiettivo di auna é quello di integrare le piú recenti tendenze ed innovazioni tecnologiche, per poterle fondere in un suono moderno. Auna commercializza i suoi prodotti in oltre 15 paesi con prodotti studiati per ogni occasione: viaggi, vacanze o giorni normali. Il motto dell'azienda? Suonare forte. Abbiamo ricevuto questo paio di cuffie bluetooth in cambio di una recensione onesta ed imparaziale, proprio come tutte quelle che trovate tra le nostre pagine. L'eleganza si mette in mostra già dalla confezione d'acquisto, nera e piacevole al tatto cela al suo interno oltre che le cuffie anche un cavetto micro USB per la ricarica, un cavo AUX di qualità superiore e un manuale utente. Design e funzioni: Tirate fuori dalla confezione mi ha stupito il peso ridotto (255g), nonostante fossero abbastanza ingombranti e costituite da parti in metallo, i padiglioni sono regolabili e caratterizzati da una bordatura cromata ""elegance"" appunto e avvolgono completamente l'orecchio isolandolo da rumori esterni anche grazie alla tecnologia ANC per sopprimere il rumore ambientale durante l'ascolto. I due padiglioni sono rivestiti da una spugna rivestita in similpelle, morbida e confortevole, così come l'archetto superiore. Stiamo parlando di cuffie innovative con tecnologia Bluetooth 4.0 ad alta efficienza energetica ed integrano un microfono per l'utilizzo in vivavoce. Tutti i comandi e gli ingressi sono situati sul padiglione destro sul quale troviamo 1 porta micro USB, 1 jack da 3,5mm, tasti per regolare il volume, tasto on/off e tasto telefono che svolge anche funzione di pairing bluetooth. La connessione bluetooth è molto semplice e può avvenire con due dispositivi contemporaneamente ed ha una portata di circa 10m. La batteria integrata è ovviamente ricaricabile e garantisce fino a 14 ore di riproduzione continua. Le asticelle sono ovviamente regolabili ma soprattutto possono essere ripiegate senza paura, grazie all'anima in metallo, per facilitarne il trasporto. Considerazioni finali: Senza dubbio queste sono le migliori cuffie che io abbia mai avuto, caratterizzate dal design elegante e raffinato ed integrano tanta tecnologia. I padiglioni avvolgono davvero l'orecchio e soprattutto non fanno sudare più di tanto anche dopo ore di utilizzo. Sono comodissime ed anche per me che indosso occhiali da vista non ci sono stati problemi, sembra quasi di non averle! La qualità audio, inutile dirlo è altissima, gli alti sono buoni e i bassi sono profondi e corposi, il microfono integrato è anch'esso di ottima qualità e la connessione NFC dà un tocco di classe in più. L'isolamento acustico poi è uno dei maggiori punti di forza delle Elegance. Il prezzo di vendita, vi assicuro che è il giusto costo per u"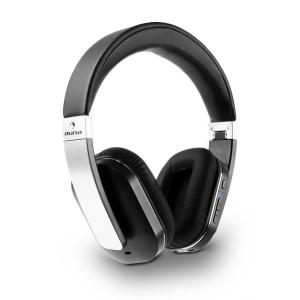 Elegance Bluetooth Headphones
Bluetooth 4.0
NFC connectivity
aptX support