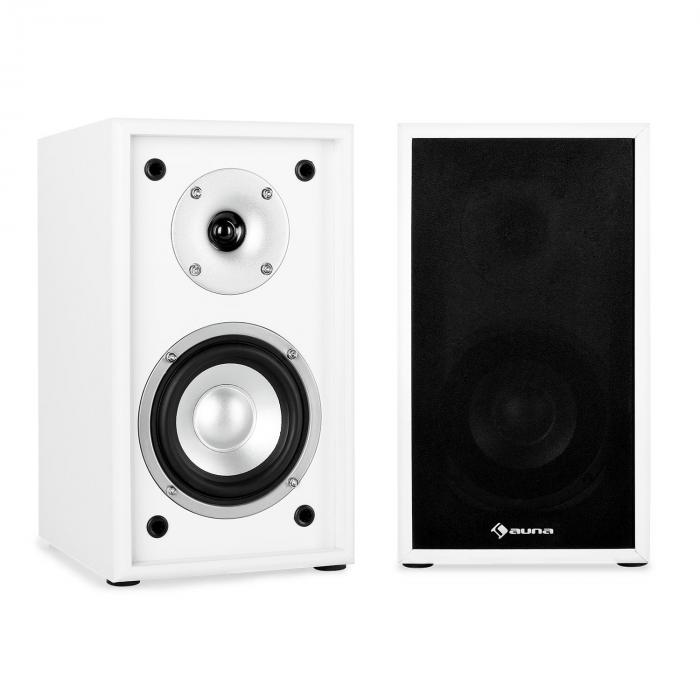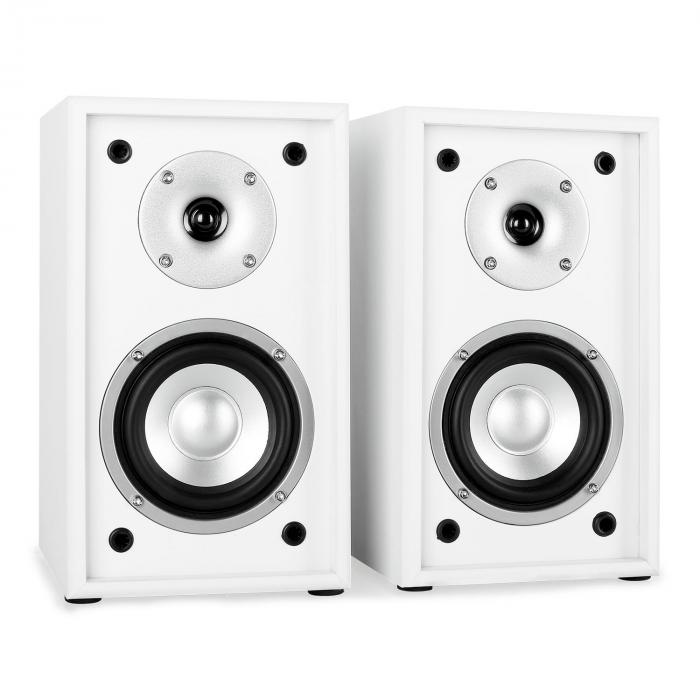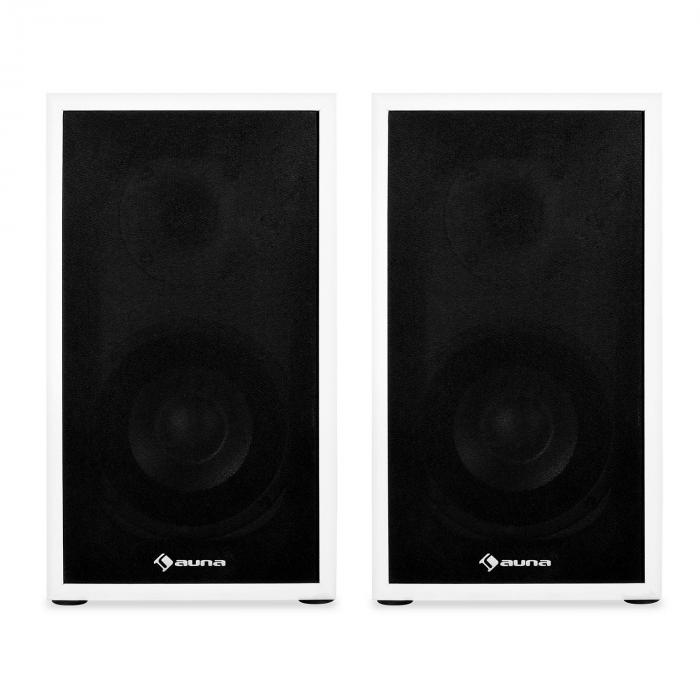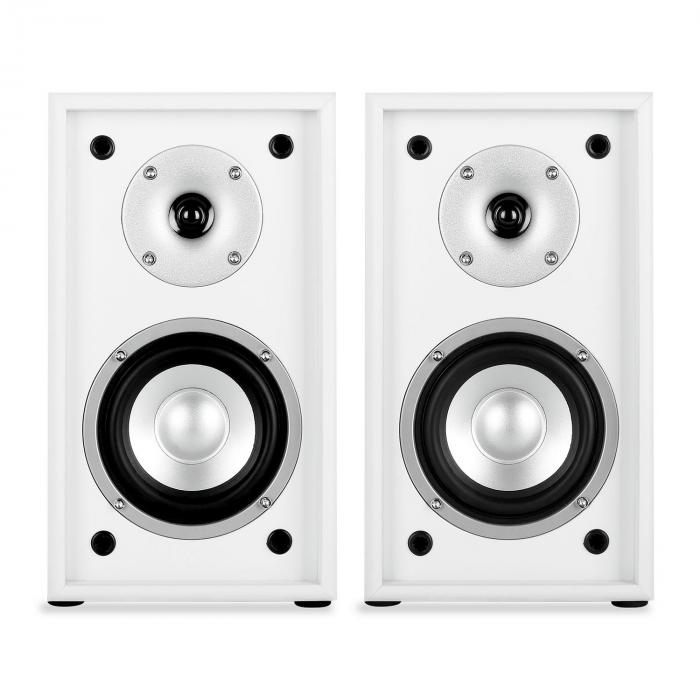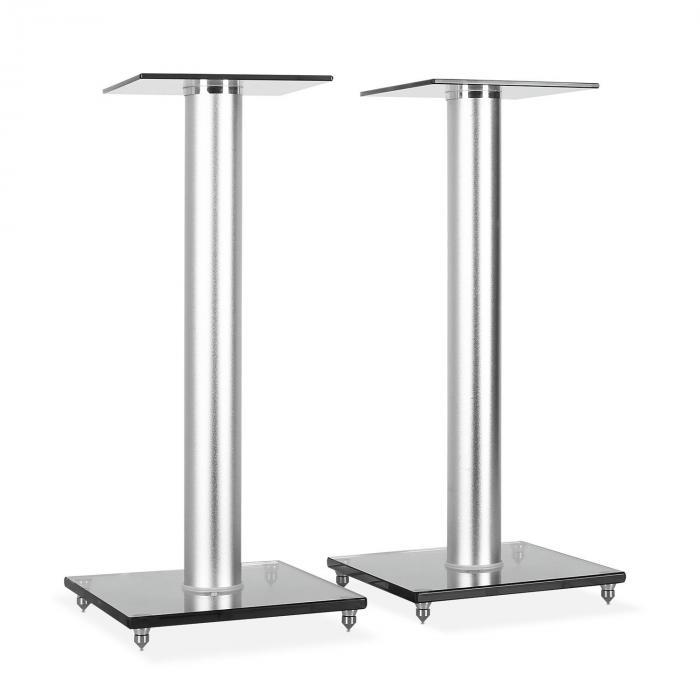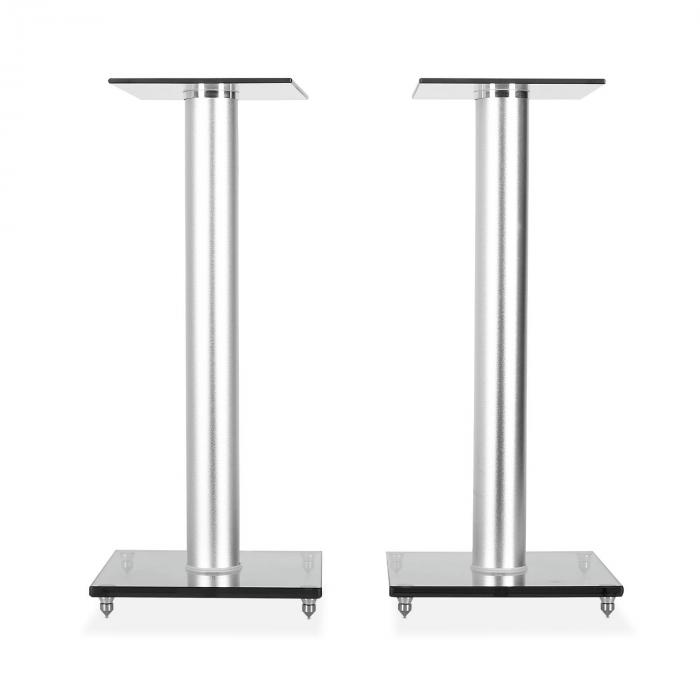 Manual
Item number: 60001927
Linie-300 Shelf Speaker
You save 51%
Delivery time: 4 - 6 workdays
You save 11,99£ (10,90%) compared to the single unit price.
Top features
4-piece HiFi set consisting of two passive shelf speakers
Passive 2-way shelf speaker pair with 13 cm (5") tweeter and 35 W RMS output
Two speakers stands made of aluminium with tinted glass plates
Shipping costs: from £ 0.00
The item is ready to ship and will be shipped immediately after receipt of payment.
You may change your order at any time.
4-piece Hifi Set | Shelf Speaker Pair + Stands
Text für Setartikel..
Enjoy music stylishly. With the 4-piece auna HiFi set you receive not only two powerful, 2-way shelf speakers but also the matching speaker stands for a professional set-up.
Two passive 2-way shelf speakers from the auna Linie-300 range each come with a 5" (13 cm) subwoofer in a powerful 2-way design. The low-resonance wooden housing provides an impressive, dynamic sound that performs even at peak sounds. Gold-plated connections guarantee reliable signal transmission, while anti-slip pads secure the speakers even when rocked.
Two 58 cm BS58 speaker stands provide a professional set-up in a stylish combination of safety glass and aluminium legs. By mounting the ground plates on metal spikes, vibrations and loss of sound is reduced to a minimum.
Audio-visually impressive: The white speakers and luxurious speaker stands of the auna HiFi set.
Set consists of
Line 300-SF-WH 2-Way Passive Bookshelf Speakers Pair 150W White
Item number: 10008961
Included quantity: 1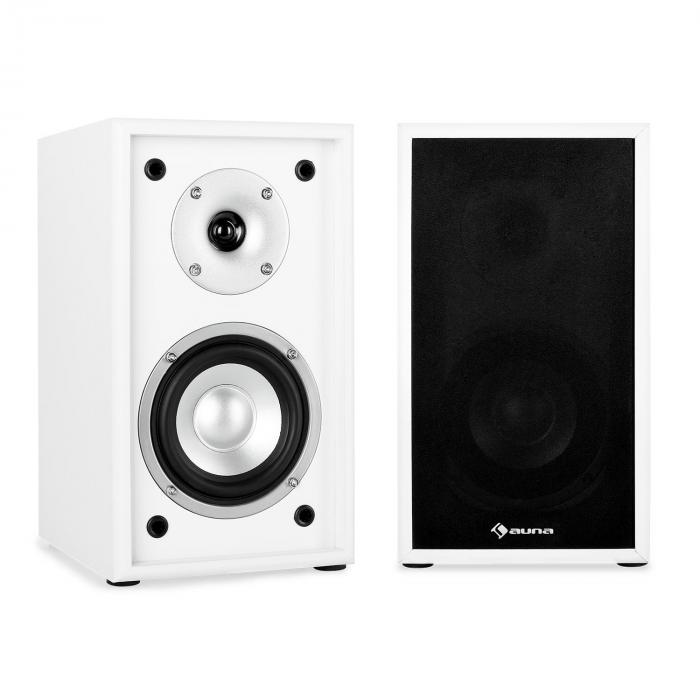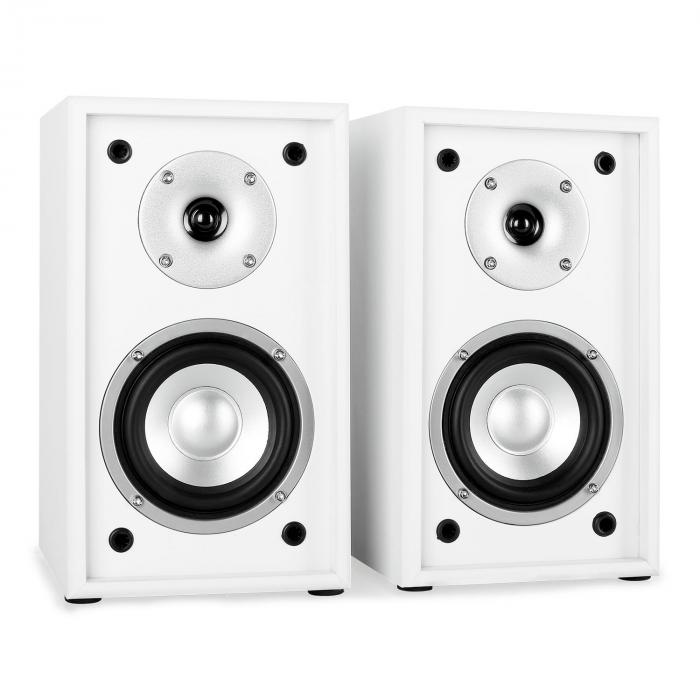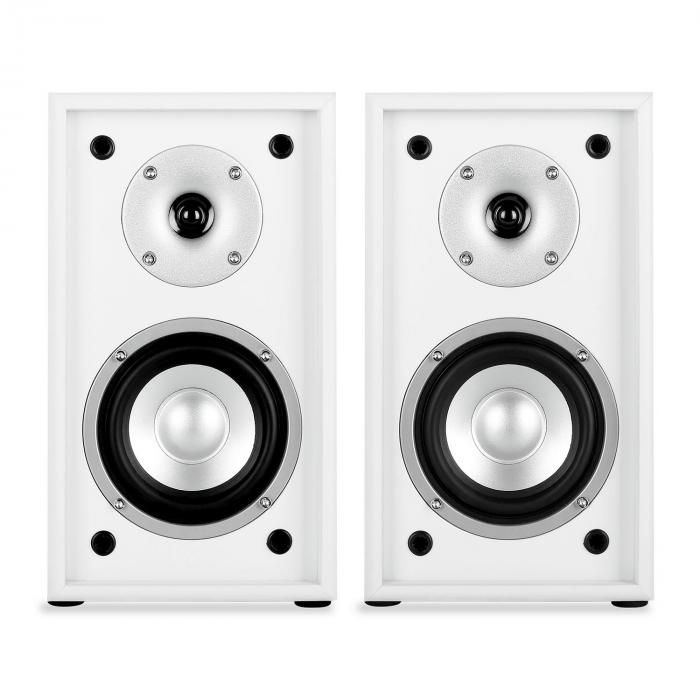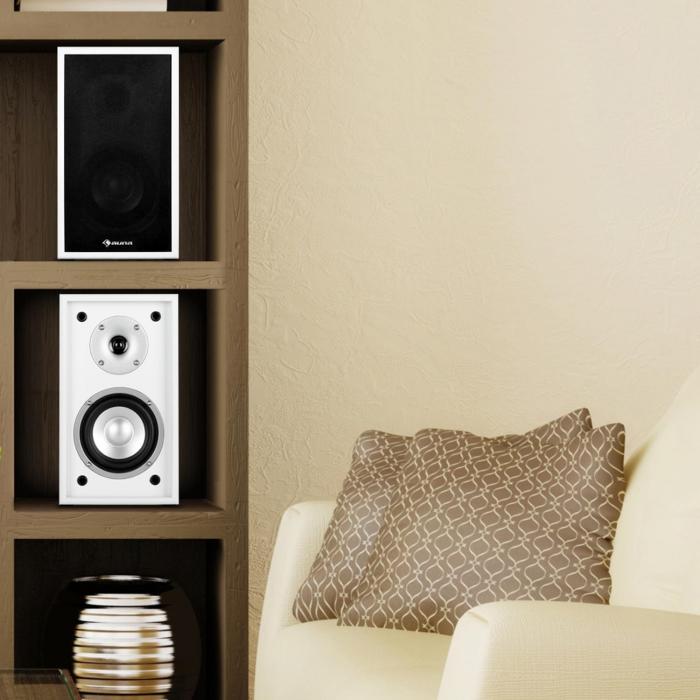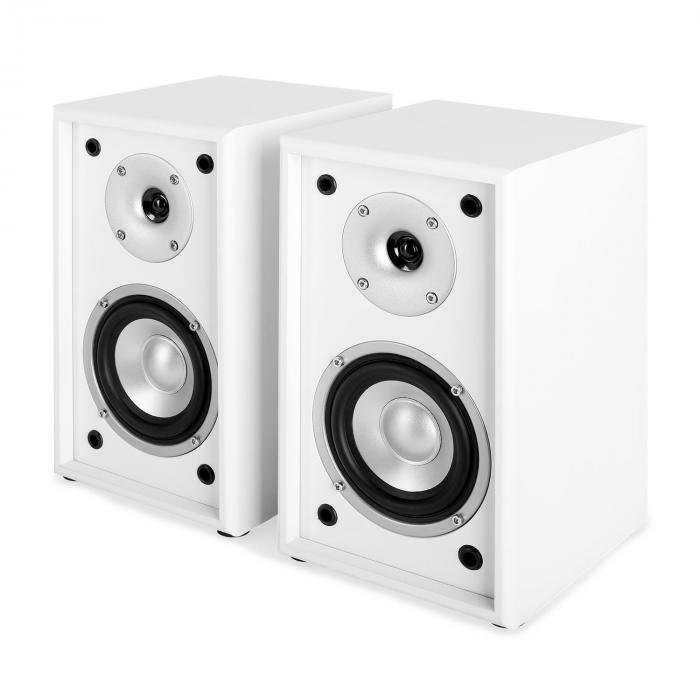 Top features:
Pair of passive 2-way bookshelf speakers with 5" (13 cm) woofer and 35 watts RMS power
Quality connection terminals with gold plated contacts
White wooden cabinet with removable speaker cover
Properties:
Connections: 1 x set of speaker terminals
Power: max. 76W each
Impedance: 8 ohms
frequency range: 92Hz - 20kHz
sensitivity: 87dB +-3dB
Non-slip rubber feet
Dimensions:
5.9" x 10.6" x 6.7" (15 x 27 x 17 cm)
Weight: about 1.7 kg
BS58 Design Speaker Pair Speaker Stands Glass Aluminium
Item number: 10001809
Included quantity: 1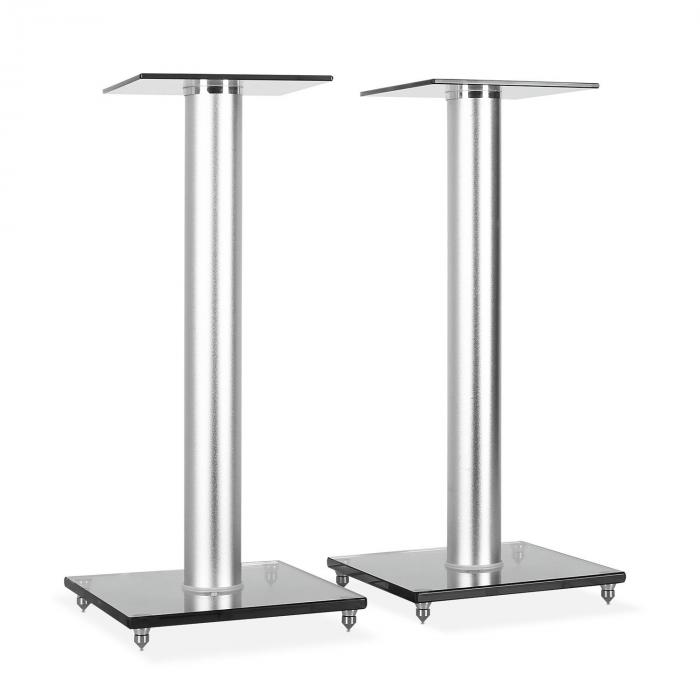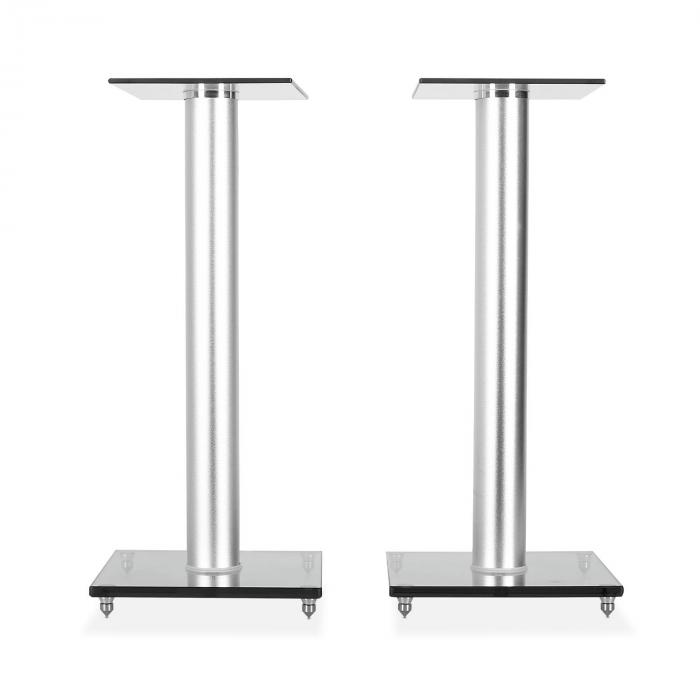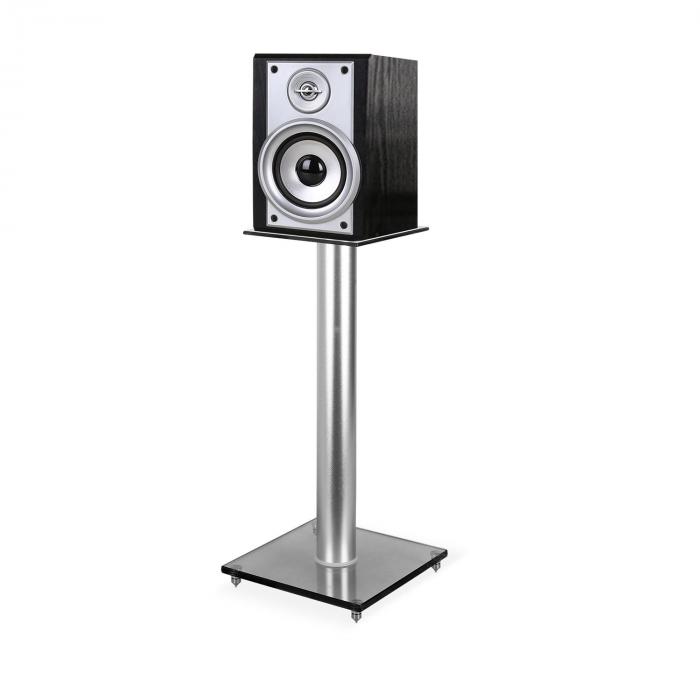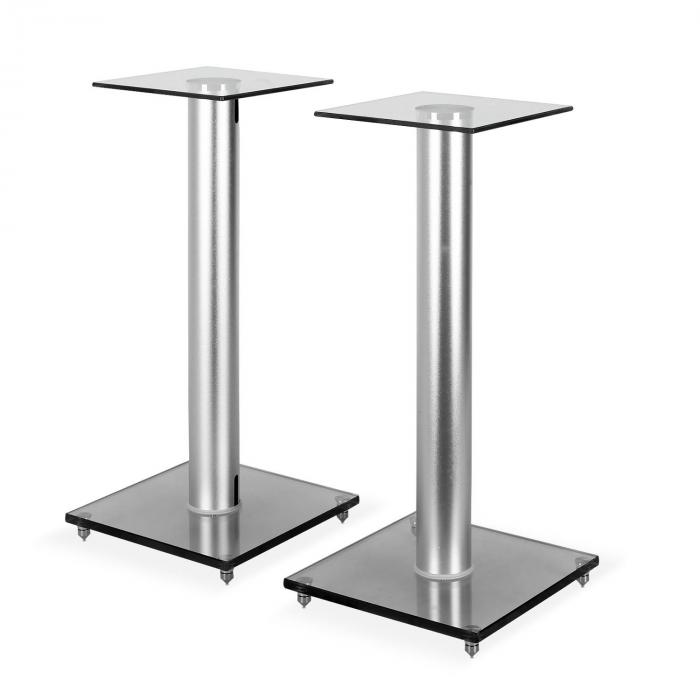 Top features:
Luxurious speaker stand pair in a simple, elegant Bauhaus style
Frame made of an aluminium alloy and tinted glass panels made of high-quality safety glass
Insulating effect thanks to spikes
Screws for assembly (easy to build up in about 5-10 minutes)
Properties:
Low vibration transmission to the floor due to spikes
Suitable for all boxes up to 20 x 20 cm
Safe tilt-resistant stance thanks to large base plate
Maximum load: 10 kg
Dimensions:
Height: 58 cm
Dimensions glass surface: 20 x 20 cm
Dimensions of glass stand: 25 x 25 cm
Glass thickness: 0.6cm
Glass thickness: 1.1 cm
Weight (one stand): about 3 kg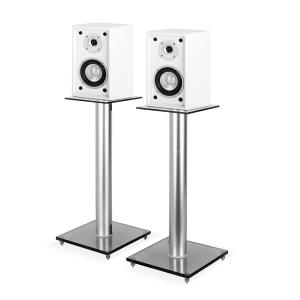 Linie-300 Shelf Speaker
4-piece HiFi set consisting of two passive shelf speakers
Passive 2-way shelf speaker pair with 13 cm (5") tweeter and 35 W RMS output
Two speakers stands made of aluminium with tinted glass plates