Item number: 60002148
Unison Retrospective 1978 MKII Edition + Cover
You save 32%
Delivery time: 3 - 5 workdays
Top features
Music that goes along with you: possibility for use in a multiroom network
Everything in view: high-resolution, 2.8" TFT colour display
High-quality workmanship: low-resonance, optimally stiffened MDF housing
Shipping costs: from £ 0.00
The item is ready to ship and will be shipped immediately after receipt of payment.
You may change your order at any time.
Unison Retrospective 1978 MKII Edition - Stereo Amplifier Boxes + Cover
Text für Setartikel..
SIMPLE ELEGANCE
Uncompromisingly retro
The Retrospective series are a timeless tribute to days past and make a statement for uncompromising, authentic Design Made in Berlin. Inspired by the aesthetics of the '70s, classic and innovative details meet and blend into a timeless whole.
NUMAN's Retrospective 1978 MKII fulfills its duty with a warm and dynamic sound and breathes a breath of fresh air into every genre of music. The character of the speaker lends the box a wealth of detail and transparency and, with a free set-up, rewards with a clean bass response as well as a punchy, precise and particularly lively sound.
The technical focus is on the high-quality 3-way crossover, which splits the audio signal and forwards with precision to the 20 cm (8") woofer, 10 cm (4") midrange driver as well as the tweeter with built-in NUMAN sound guide. The 10 cm (4") midrange driver, tweeter with silk dome and a complex turnout tuning ensure a balanced sound and ensure pure listening enjoyment.
With the Unison Retrospective Edition, NUMAN's retro speaker series takes the next step: in the usual high-quality mechanical design, the universal receiver unites the speaker system for a complete home installation. Thanks to optimised presets, it supports and refines the warm and dynamic sound. Of course, the Unison also provides for customer-oriented personalisation and is available in the three matching cabinet colours of the speakers: exactly how you like it.
NUMAN does not neglect to merge modern technology elegantly with the retro look: a 2.8" TFT colour display along with the multiple options for operation via topside control panel, via remote control or with a smartphone via the UNDOK app from Frontier Silicon open up the possibilities of the universal receiver in the blink of an eye.
CONVINCING INTERIOR
Dynamic, self-confident and strong in sound
The equally subtle and elegant retro look of the NUMAN Unison makes design-conscious hearts beat faster, while the technology inside the all-in-one receiver convinces audiophile music lovers. In addition to a built-in CD player, which plays back all standard CD formats such as audio, WMA and MP3 CDs as well as CD-R and CD-RW, there is also a USB port for the connection of media storage devices as well as the possibility for wireless connection via Bluetooth.
In addition, the NUMAN Unison is a veritable world receiver that receives not only internet radio stations, but also DAB + and FM stations with an internal or external antenna. By connecting to the home network, up to 40 million titles can be streamed directly via Spotify Connect. All network functions can be used via LAN or wirelessly via WLAN. Connection with additional HiFi devices for the home system is also available: two AUX inputs and a phono input to connect the turntable are available on the back.
The positioning of the NUMAN Unison all-in-one receiver is particularly unique thanks to the integration of a powerful amplifier that delivers an output power of 2 x 40 W RMS to the connected speakers. Finally, there is also the possibility of signal forwarding to a subwoofer, which may be connected to the back of the Unison.
The Unison Retrospective Edition together with the Retrospective 1978 MKII speakers provide a room-filling and impressive listening experience that will never let you down.
Set consists of
Unison Retrospektive Edition - All-In-One Receiver with an Amplifier Black
Item number: 10032244
Included quantity: 1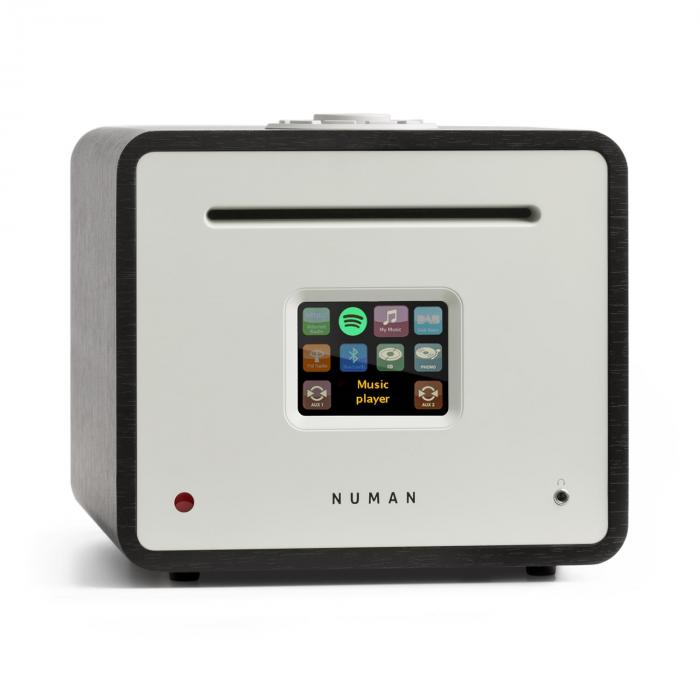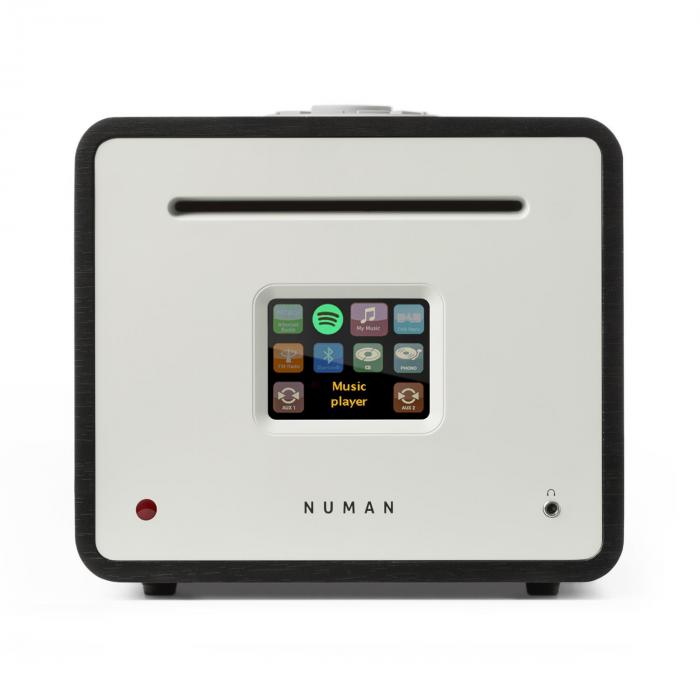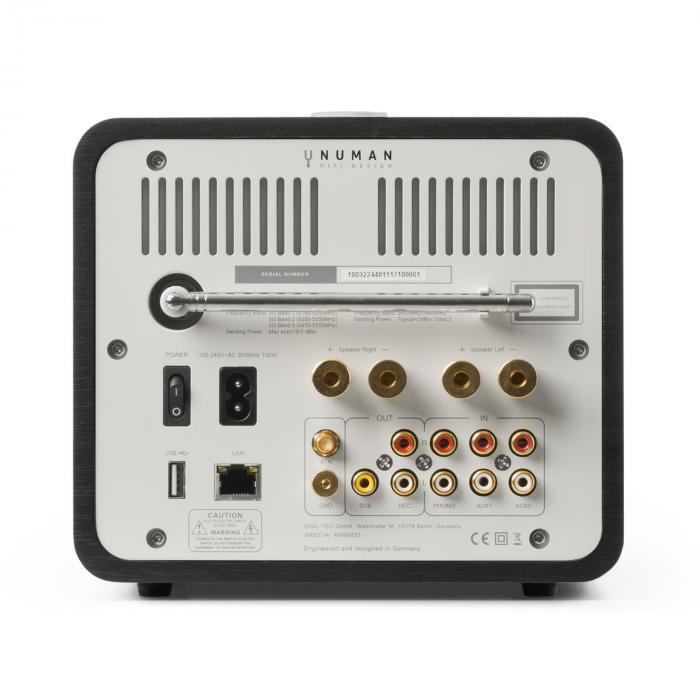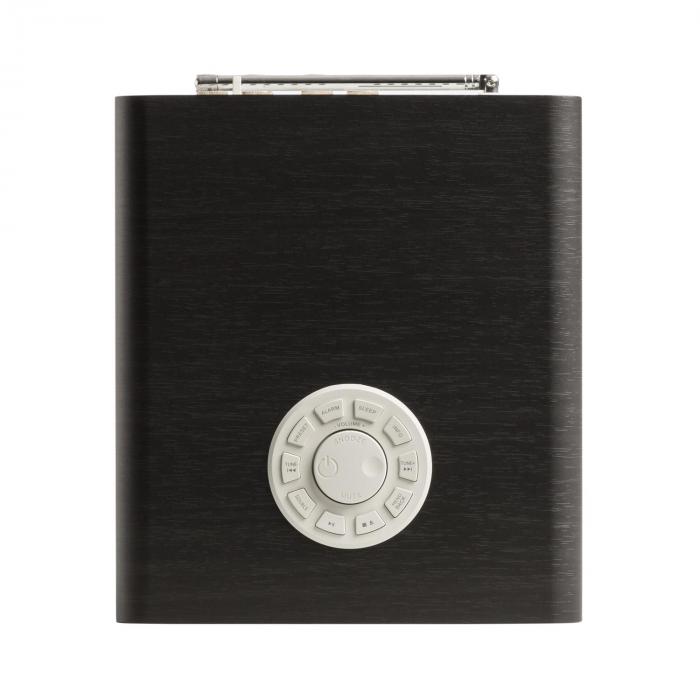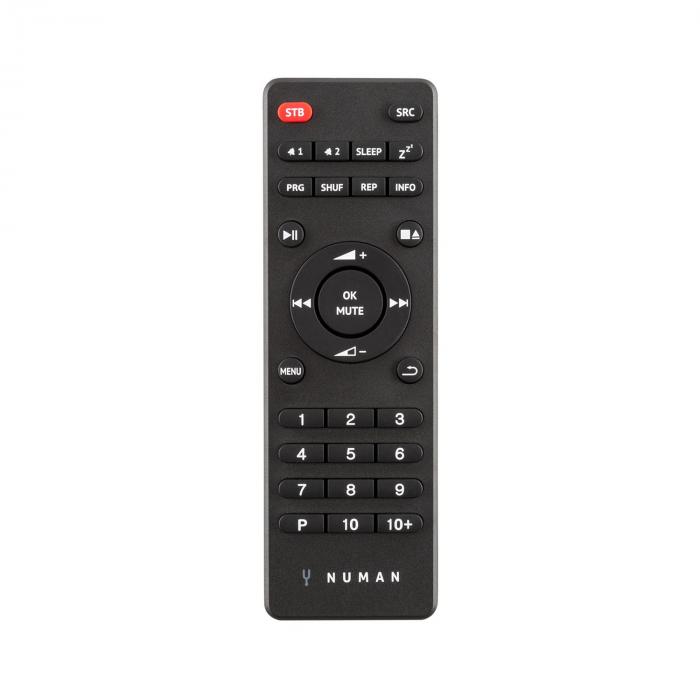 Selected reviews from the German press
Top features:
Versatile: stylish all-in-one receiver & amplifier in 7 selectable designs
Music that accompanies you: possibility for use within a multi-room network
Optimized sound: sound presets for use with the NUMAN Retrospective series
Everything in view: high-resolution, 2.8" TFT color display
Vinyl: integrated phono input for optimum sound quality for record playing
All in one: CD player, Bluetooth, USB port, Internet, DAB+ and FM radio and Spotify Connect
Easy to use: easy to control via a smartphone with the UNDOK app from Frontier Silicon
Properties:
Connections: 1 x headphone input, 1 x USB, 1 x LAN, 2 x speaker connection (left/right), 1 x external antenna connection, 1 x grounding, 1 x subwoofer-out, 1 x record-out, 1 x phono-in (left/right), 2 x AUX-in (left/right)
Output power: 2 x 40 W (RMS)
Telescopic antennae
connection to network via LAN (wired) or WLAN (wireless)
CD playback formats: Audio CD, MP3 CD, WMA CD, CD-R and CD-RW
Supported audio file types: MP3, AAC, WMA and FLAC
Speaker connections with corrosion protection caps
Removable textile cover in a retro-look (optional)
Includes a remote control
Two alarms
Sleep timer
Ability to display RDS signals
Chassis suitable for the NUMAN Retrospective series
Colour: black
Power supply: 100 - 240 V ~ | 50/60 Hz
Dimensions:
Dimensions: 19.6 x 16.6 x 22 cm (WxHxD)
Weight: 2.9 kg each
RETROSPECTIVE 1978 MKII - Three-Way Shelf Speaker Pair Black
Item number: 10030961
Included quantity: 1
Top features:
Stylish retro design
20 cm (8") woofer and 10 cm (4") midrange driver with low resonance paper diaphragm
Tweeter with silk dome and built-in NUMAN sound guide
Low resonance optimally stiffened MDF housing
Special high and midrange arrangement for a broad radiation response
NUMAN speaker terminal with gold-plated contacts
M8 screw thread for optional mounting of NUMAN spikes
Properties:
Connections: 1 x speaker terminal
Continuous power: 100 W each
Peak power: 160 W each
Speaker Sensitivity:86 dB
Impedance: 4 ohms (nominal)
Recommended amplifier power: 100-160W
Frequency response: 50 Hz to 20 kHz +/- 6dB
NUMAN bass reflexport with safety net, backside
Speaker connections with corrosion protection caps
Removable textile cover in retro look (optional)
Dimensions:
26 x 40 x 30 cm (WxHxD)
Weight: 9.2 kg each
Unison Retrospective 1978 MKII Edition + Cover
Music that goes along with you: possibility for use in a multiroom network
Everything in view: high-resolution, 2.8" TFT colour display
High-quality workmanship: low-resonance, optimally stiffened MDF housing
All purchases made between the 25th of October and the 31st of December 2019 can be returned till the 31st of January 2020.