Item number: 60002638
Drive 802 Stereo Set
You save 5%
Unfortunately, no articles are currently available
Top features
Classic vinyl: pre-amplified phono input for optimal sound experiences from the turntable
Powerful sound: output power of 2 x 170 or 4 x 85 watts RMS
Optimised sound: sound adjustment with bass, treble and balance controls
Shipping costs: from £ 0.00
The item is ready to ship and will be shipped immediately after receipt of payment.
Drive 802 Stereo Set Amplifier + Shelf Speaker + Subwoofer BT5.0 White
Text für Setartikel..
PURISM THROUGH AND THROUGH
Clear form
The NUMAN Drive 802 stereo set, consisting of the NUMAN Drive amplifier and two NUMAN 802 Reference shelf speakers and a NUMAN UniSub active subwoofer, sets a stylishly authentic statement for uncompromising Design Made in Berlin. Inspired by the aesthetics of the 1970s, classic and innovative details meet at the highest level in order to merge into a timeless whole.
With the NUMAN Drive, the included 802 shelf speakers and the UniSub subwoofer are provided with an amplifier in the usual high-quality and well-thought-out design, which features a variety of inputs to integrate the home HiFi landscape and thus ensures an impressive sound experience.
GET TO THE HEART OF HIFI
Powerful and connected
Through the NUMAN Drive amplifier, 2 x 170 watts RMS (4 x 85 watts RMS) power is available: enough potential to bring the 802 Reference speakers to their performance limit.
With the NUMAN Drive, tradition and modernity are brought into harmony. Analogue aesthetes and digital aficionados will both find their point of connection: whether connecting turntables via the pre-amplified phono input, digital players via the optical / coaxial input or via five conventional line inputs, the NUMAN Drive can do it all. Even completely wirelessly: the Bluetooth 5.0 standard guarantees distortion-free, stable playback and highest audio quality. As a result, it leaves nothing to be desired for true HiFi fans.
PURE SOUND CULTURE
Precision
The NUMAN Reference 802 two-way system is equipped with a 16.5 cm (6.5") bass-midrange speaker and a tweeter with integrated NUMAN sound transmission. Die-cast aluminium chassis, ferrite magnets and an optimally stiffened bass reflex wooden cabinet with damping acoustic bubble foam guarantee a captivating listening experience.
For sound tuners, factory-built M8 threaded connectors are embedded in the bottom plate of the housing. As a result, spikes can be used directly without cumbersome conversions. These are optionally available in our shop on request. For even more style, matching speaker covers with magnet holders are directly included.
The NUMAN UniSub subwoofer enriches the HiFi setup with more depth and sonority, which ensures thrilling goose-flesh moments. Its 25.4 cm (10") down-firing woofer impresses with its particularly rich and powerful bass reproduction, which ensures more dynamics in the overall sound spectrum without distortion. Home theatre and gaming applications as well as conventional music titles are efficiently enhanced with low frequencies. The aluminium base with silicone feet reduces unwanted resonances, vibrations and feedback to a minimum.
Set consists of
Drive Digital Stereo Amplifier 2x170W/4x85W RMS AUX/Phono/Coax white
Item number: 10034538
Included quantity: 1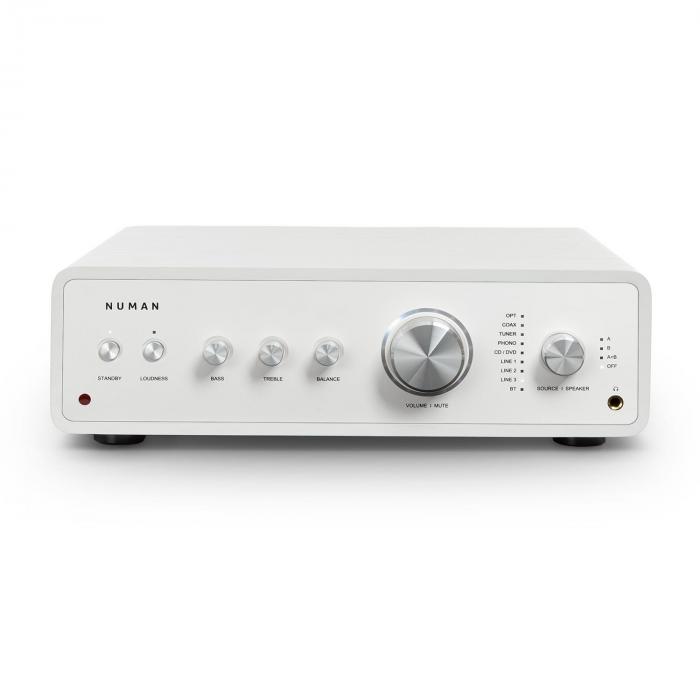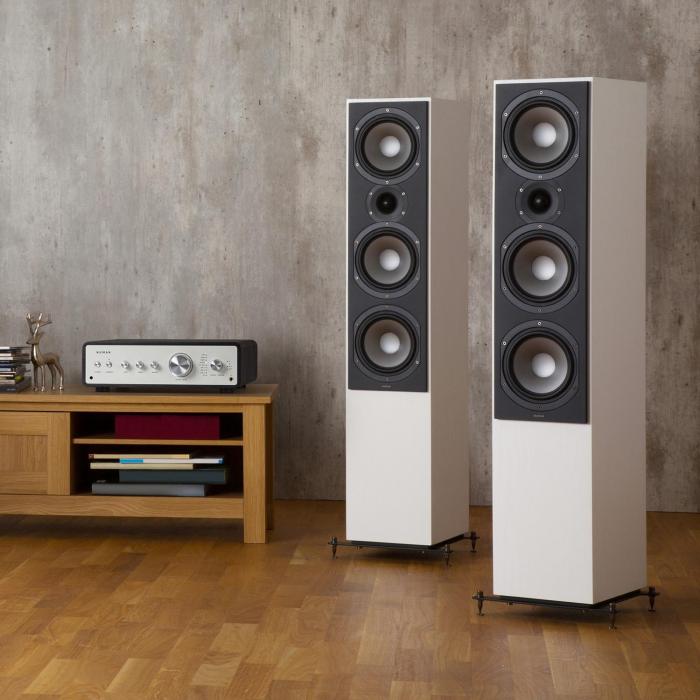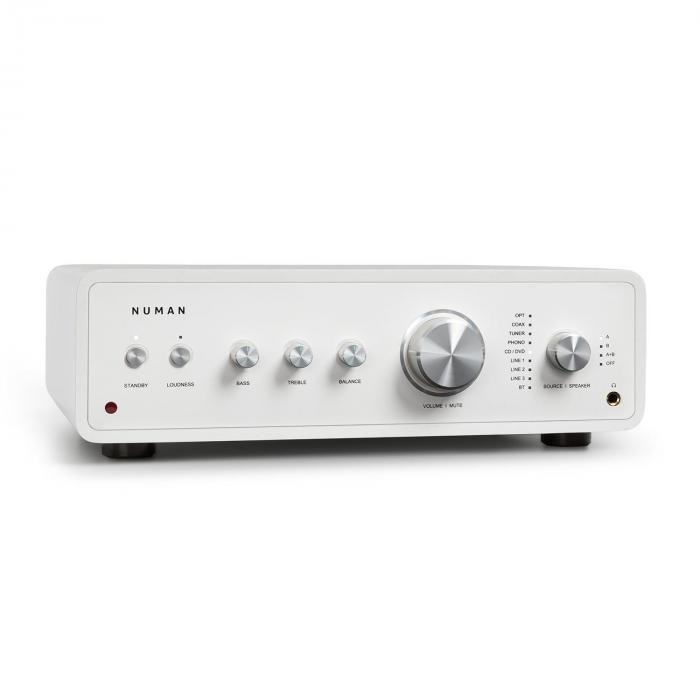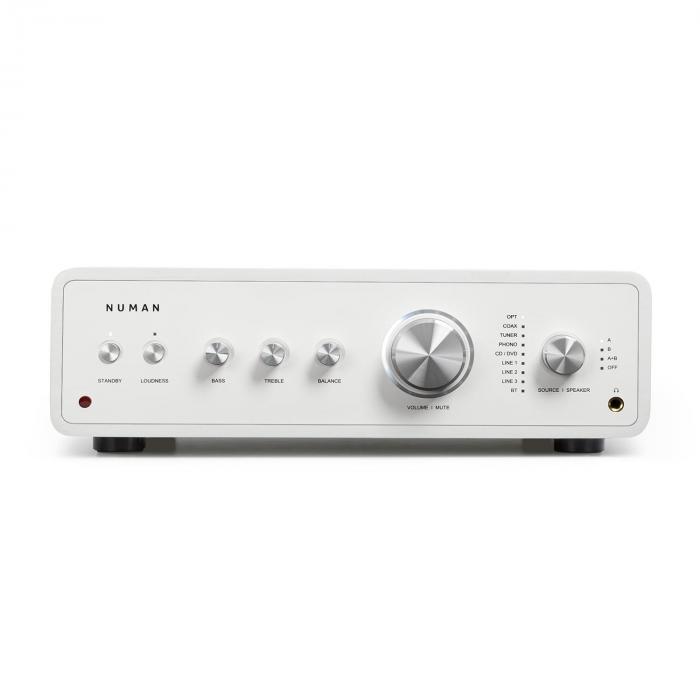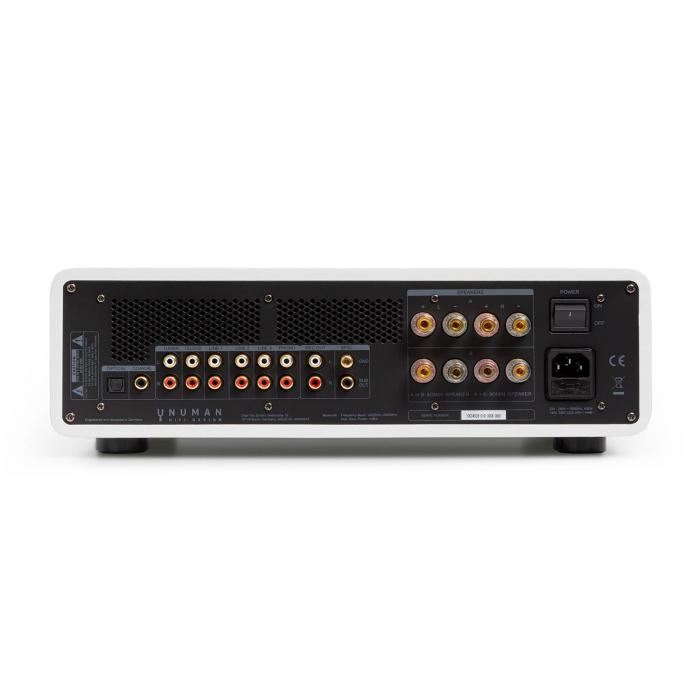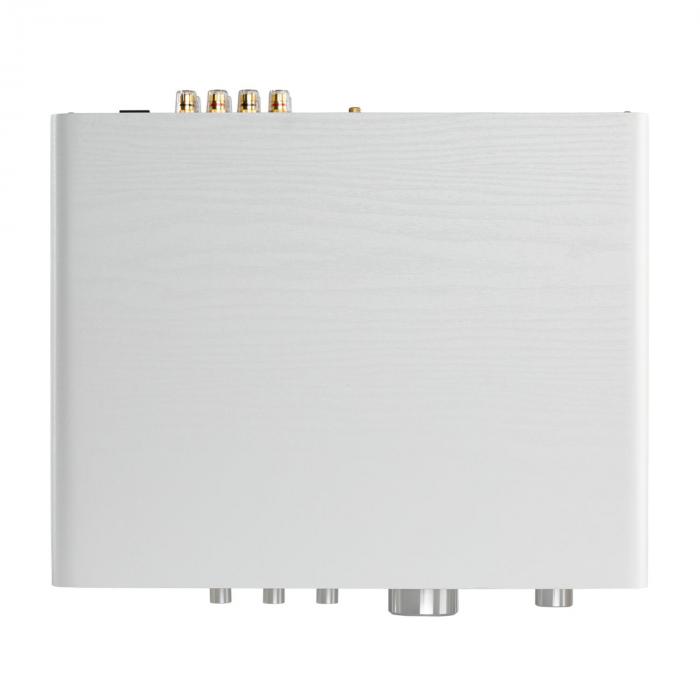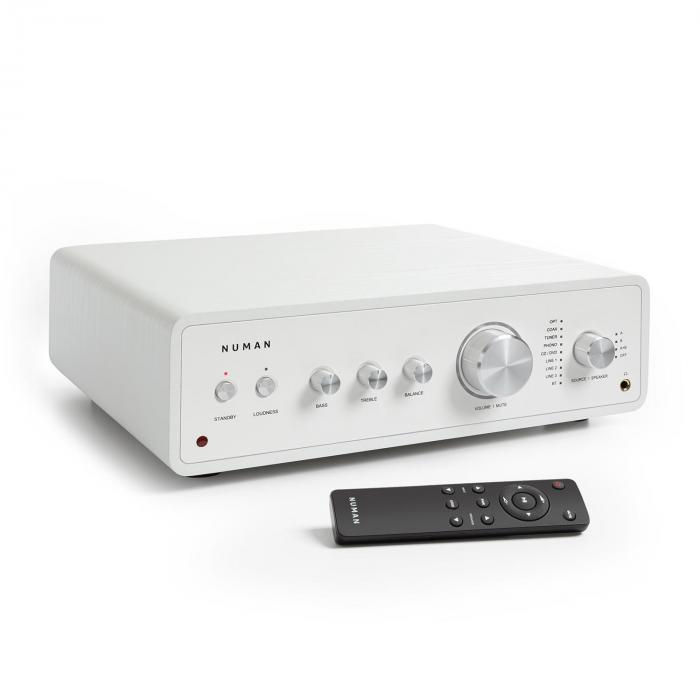 Top features:
Classic vinyl: pre-amplified phono input for optimum sound experience when playing vinyl records
Powerful sound: output power of 2 x 170 or 4 x 85 watts RMS
Optimized sound: adjustment with the bass, treble and balance controls
Wireless: Bluetooth 5.0 for streaming from tablets or smartphones
Connection variety: Coaxial and optical digital input as well as 5 line inputs
Easy to use: easy to control via the remote control or on the device
Properties:
Inputs: 1 x Coaxial, 1 x Optical, 1 x RCA Stereo Radio, 1 x RCA Stereo CD/DVD, 3 x RCA Stereo Line-In, 1 x RCA Stereo Phono
Outputs: 1 x 3.5mm headphones (front), 1 x RCA stereo recorder, 1 x RCA subwoofer, 2 x RCA stereo speakers (A or B: left/right), 4 x RCA Stereo speaker (A+B), 1 x ground
Output power: 2 x 170 W / 4 x 85 W (RMS)
Resistance: 4 ohms (Loudspeaker mode A or B) / 8 ohms (Loudspeaker mode A + B)
BT version: 5.0
Tuning settings of the Bass: ± 8 dB @ 80 Hz
Tuning settings of the Treble: ± 8 dB @ 10 Hz
Max. Input: ≥ 2 V @ RCA input / ≥ 20 mV @ phono input
Crossover frequency of the subwoofer output: 20 Hz - 1 kHz
Color: walnut
Includes a remote control
Rated power: ≤ 400 W @ 1/8 RMS power
Standby: ≤ 0.5W
Power supply: 220 - 240 V ~ | 50/60 Hz
Dimensions:
Dimensions: approx. 38 x 12.4 x 33 cm (WxHxD)
Weight: approx. 5.9 kg
UniSUB Active Subwoofer 25 cm (10") light-grey
Item number: 10031984
Included quantity: 1
Selected reviews from the German press
Top features:
25.4 cm (10 ") woofer in down-firing construction
Aluminium stand base with resonance-absorbing silicone feet
Line output for signal forwarding
Multi-stiffened and resonance-free MDF housing with front-end NUMAN bass reflex port
Properties:
Connections: 1 x stereo RCA line input, 1 x stereo RCA line output
Power consumption: max. 280 watts
Phase switch: 0 ° / 180 °
Front-NUMAN bass reflex port
Volume control
Transient frequency regulator (40 - 160 Hz)
On / off automatic switch
Automatic shutdown after 20 minutes
Clipping LED
Network control LED
On / off switch on the back
Power supply: AC 230 V, 50 Hz
Dimensions:
Dimensions: about 30 x 56 x 40 cm (WxHxD)
Weight: about 20.5 kg
Reference 802 Two-Way Shelf Speaker Pair White
Item number: 10030187
Included quantity: 1
Selected reviews from the German press
Top features:
16.5 cm (6.5") woofer with aluminium die-cast chassis and ferrite magnet
Tweeter with silk dome, built-in NUMAN sound guide and protective grille
NUMAN speaker terminal with gold-plated contacts
Anti-vibration silicone feet
M8 screw thread for optional mounting of NUMAN spikes
Properties:
Connections: 1 x speaker terminal
Continuous output: 80 watt each
Peak power: 120 watts each
Speaker Sensitivity:86 dB
Impedance: 4 ohms
HDF baffle
MDF housing
Damping material: acoustic convoluted foam
NUMAN bass reflexport with safety net
Frequency response: 60 Hz to 22 kHz +/- 3dB
Recommended amplifier power: 100-150W
Speaker cover with magnetic mounting system (optional)
Dimensions:
21 x 33.1 x 33 cm (WxHxD)
Weight: 7 kg each
Drive 802 Stereo Set
Classic vinyl: pre-amplified phono input for optimal sound experiences from the turntable
Powerful sound: output power of 2 x 170 or 4 x 85 watts RMS
Optimised sound: sound adjustment with bass, treble and balance controls