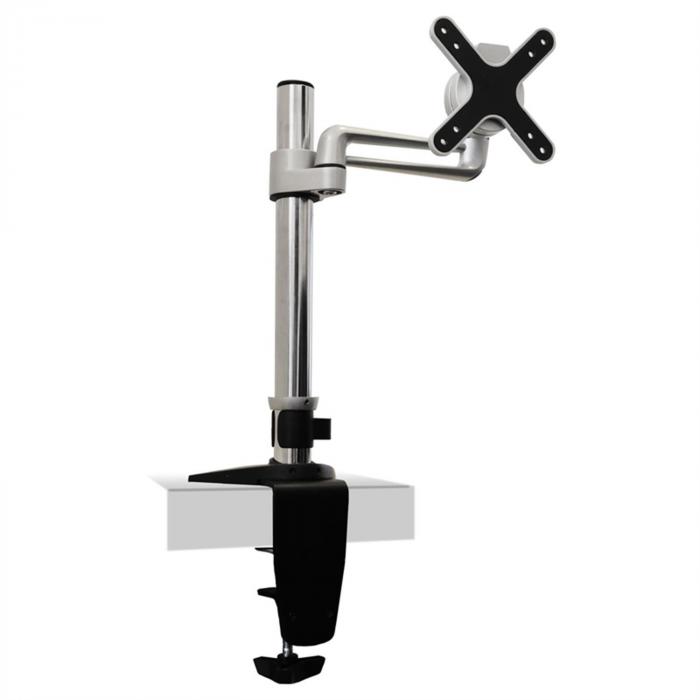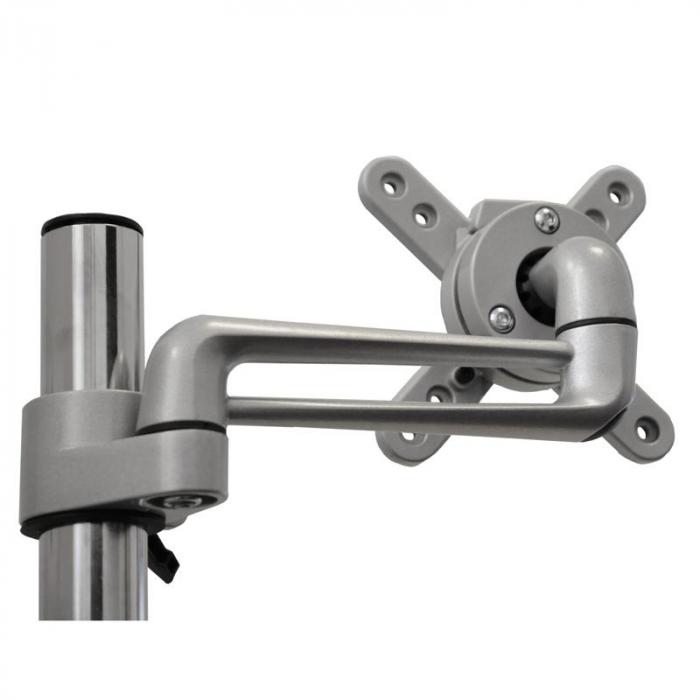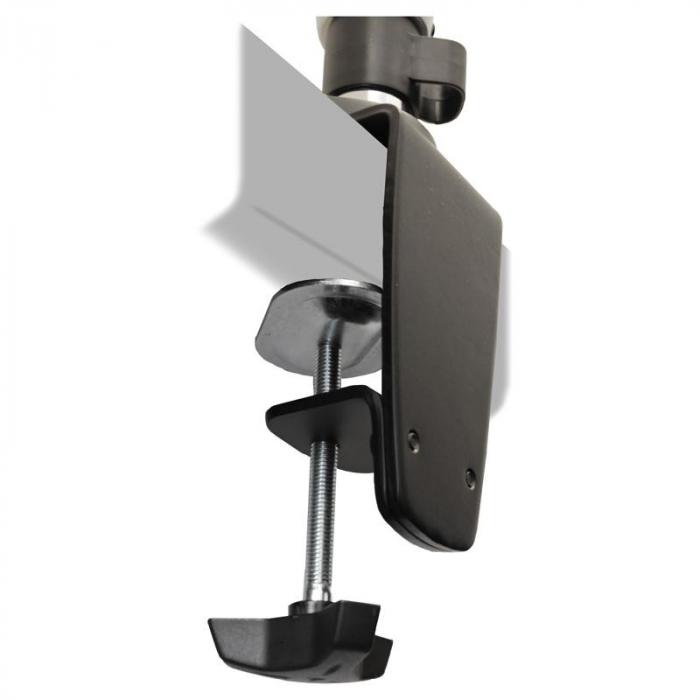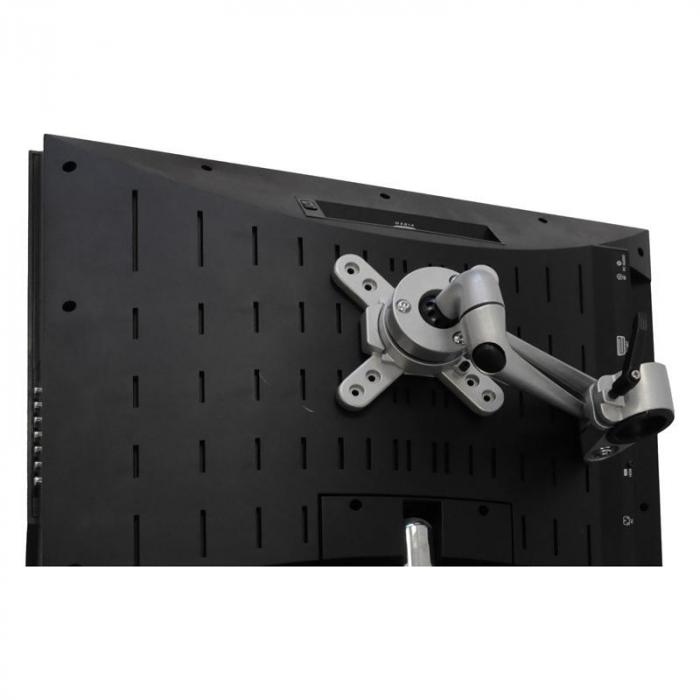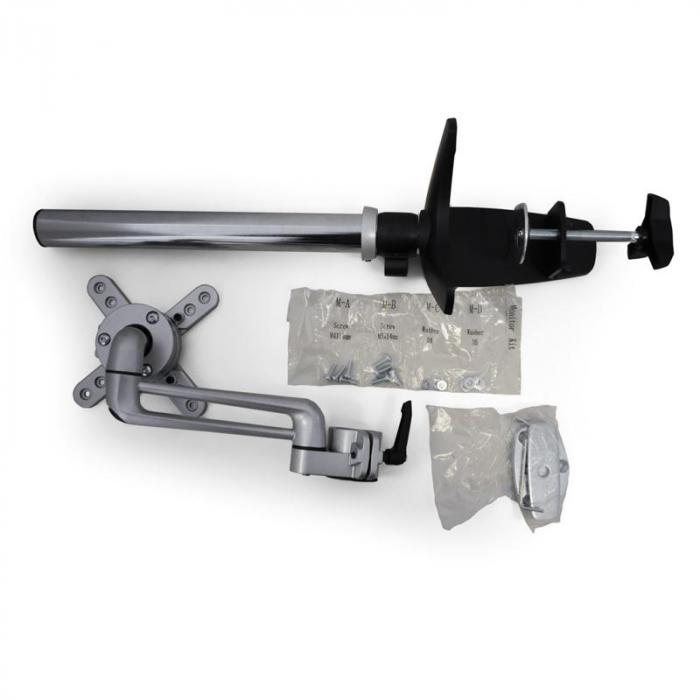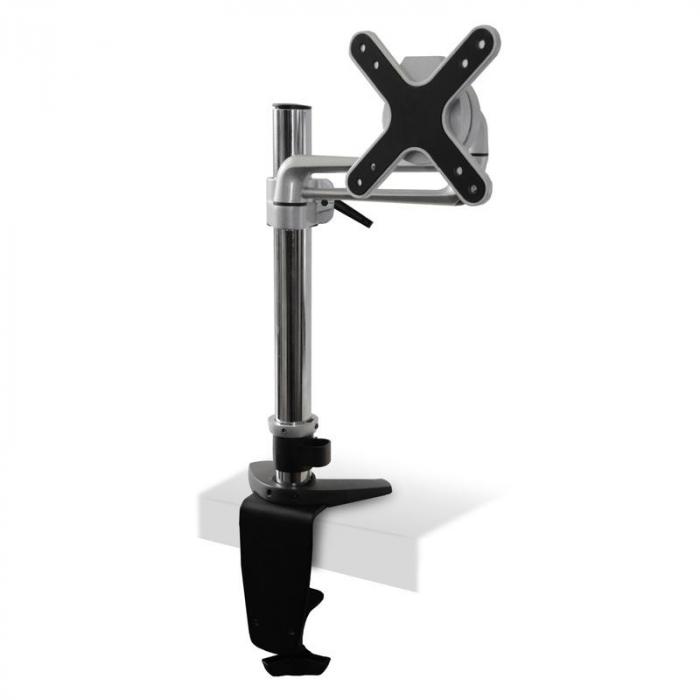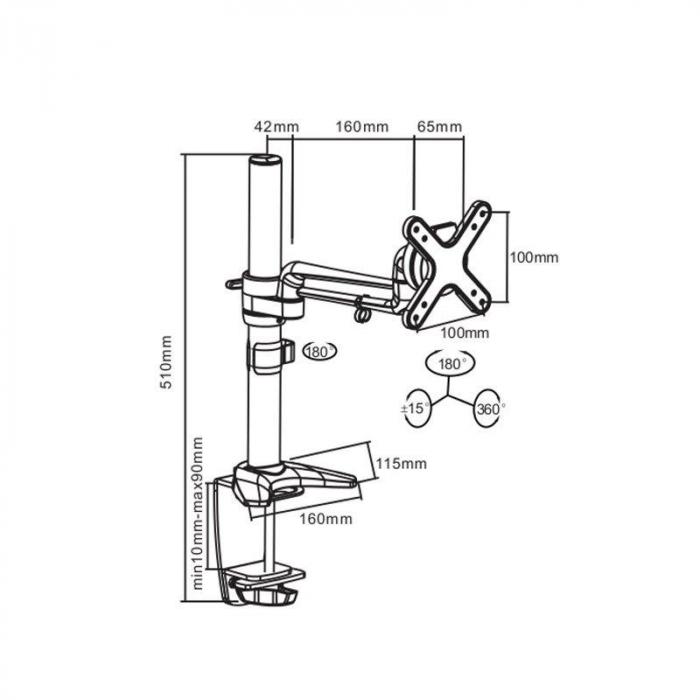 Product number: 10005417
ET01-C011 Swivel Arm Desk Mount
You save 43%
Delivery time: 3 - 5 workdays
Top features
VESA: 75x75mm, 100x100mm
Max. capacity: 8kg
Buying advice under the "Technical Data" tab
Shipping costs: from £ 0.00
The item is ready to ship and will be shipped immediately after receipt of payment.
You may change your order at any time.
ET01-C011 LCD LED TV Monitor Screen Desk Mounting Swivel Arm
The Auna ET01-C011 Swivel Arm is a flexible mounting arm for LCD and LED televisions or computer monitors, that connects to table tops or other planar surfaces such as window sills.
The bracket is attached by a screw to a table surface with a thickness of 1 to 9 centimetres (0.4 to 3.5 inches). Rubber supports protect the furniture surfaces from possible physical damage during the mounting of the bracket.
The particular strength of the Auna ET01-C011 is its extraordinary flexibility. Four swivel joints allow a 360° turn, and the height adjustment ability and tilt angle of 30° give the Auna ET01-C011 the flexibility to fit any working situation or lighting conditions. Busy workplaces benefit especially with the space-saving capabilities of the swivel arm mount.
The Auna ET01-C011 Swivel Arm is compatible with two of the most common VESA hole spacings (75x75, 100x100), so that monitors or televisions can be purchased without the additional cost of a wall bracket. The maximum weight capacity is 8 kilograms, which should not cause unnecessary restrictions in today's world of lighter technology.
The Auna ET01-C011 comes supplied with high-quality mounting hardware and illustrated installation instructions.
Does the mounting bracket fit my television?
The two most important criteria for selecting a wall bracket are:
a)the hole spacing
b)maximum load capacity
The size of the TV alone does not determine which wall bracket will fit best.As different manufacturers have different specifications in terms of matching certain hole spacing's to screen sizes, the television's screen size is actually best used simply as a guide when looking for a wall bracket.
Nonetheless, it is best to measure hole spacing and check the user manual before you buy.
Hole spacings are given by the following standards: horizontal distance x vertical distance – "200x100mm" means that that the holes are spaced 20cm horizontally and 10cm vertically from eachother.
Most televisions will feature the VESA hole spacings. VESA (Video Electronics Standards Association) is a manufacturing organisation that define recommended standards for the market. This applies also to the hole spacing for wall brackets with the following standards adhered to by almost all manufacturers:
VESA 75 x 75mm
VESA 100 x100mm
VESA 200 x 100mm
VESA 200 x 200mm
VESA 400 x 400mm
VESA 600 x 200mm
VESA 600 x 400mm
VESA 800 x 400mm
Whether a hole spacing is called "VESA hole spacing" or simply "hole spacing" is irrelevant. What is important is that the measurements for both TV and mount match.
These hole spacing's still apply regardless of the device (LCD TV, LED TV, plasma TV and computer monitors) or manufacturer.
Product details
Top features:
Pivoting, tilting and rotating mounting arm with 4 swivel joints, for computer monitors, LCD and LED televisions
Suitable for VESA hole spacing: 75x75mm, 100x100mm
Max. capacity: 8kg
Height adjustable within a range of 30cm
Adapts to width of table: 1 to 9cm
Integrated cable management system
Ideally suited to screen sizes of 13" to 23" (33 to 58cm)
Properties:
Suitable for VESA hole spacing: 75x75mm, 100x100mm
Rotation: 360°
Swivel range: 360°
Tilt range: +/- 15°
Quick release for swivelling element
Rubber pads on top of screw to protect table surface
Knob grip for the screw
Easy installation
Material: Solid steel (cold rolled)
Colour: Black/silver gray
Scope of delivery:
Delivery as an assembly kit including mounting material (concrete anchors/screws)
Dimensions:
Hole spacing: 75x75mm, 100x100mm
Weight: approx. 7 pounds (3.2kg)
ET01-C011 Swivel Arm Desk Mount
VESA: 75x75mm, 100x100mm
Max. capacity: 8kg
Buying advice under the "Technical Data" tab
Save with our sets: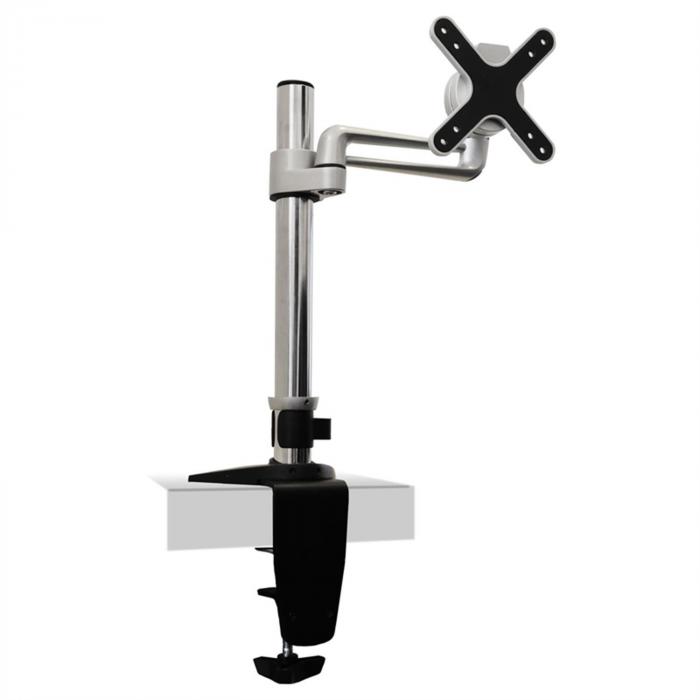 £ 56.98
£ 39.90

incl. VAT
You may change your order at any time.