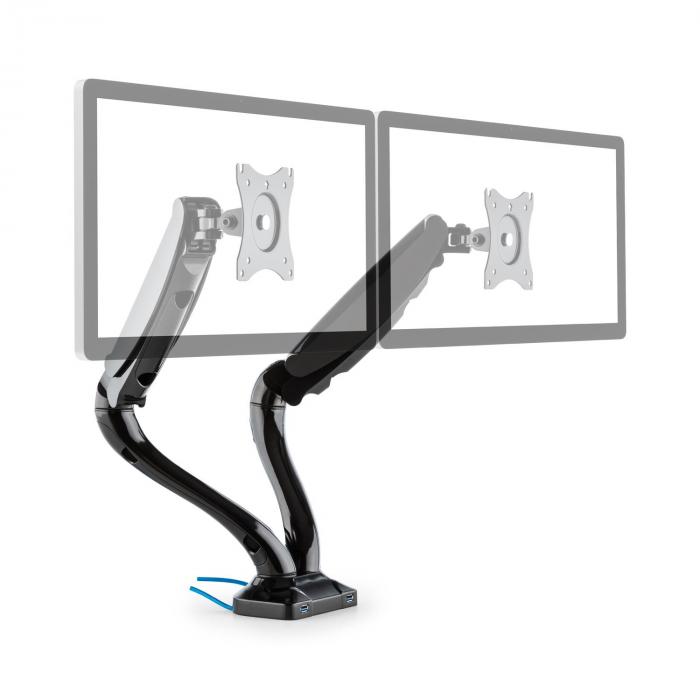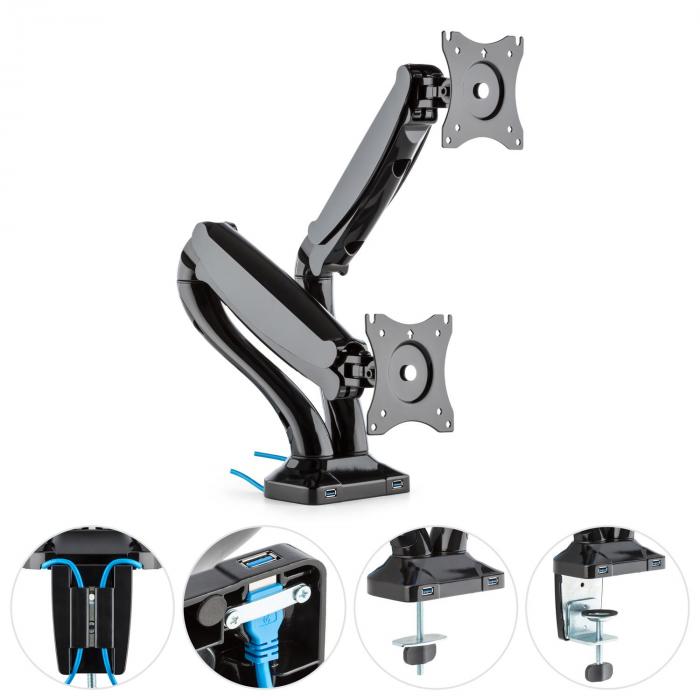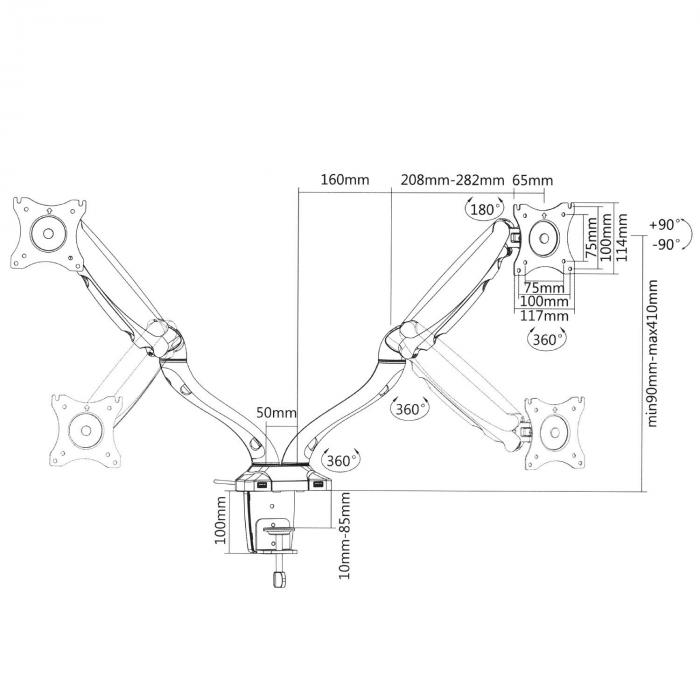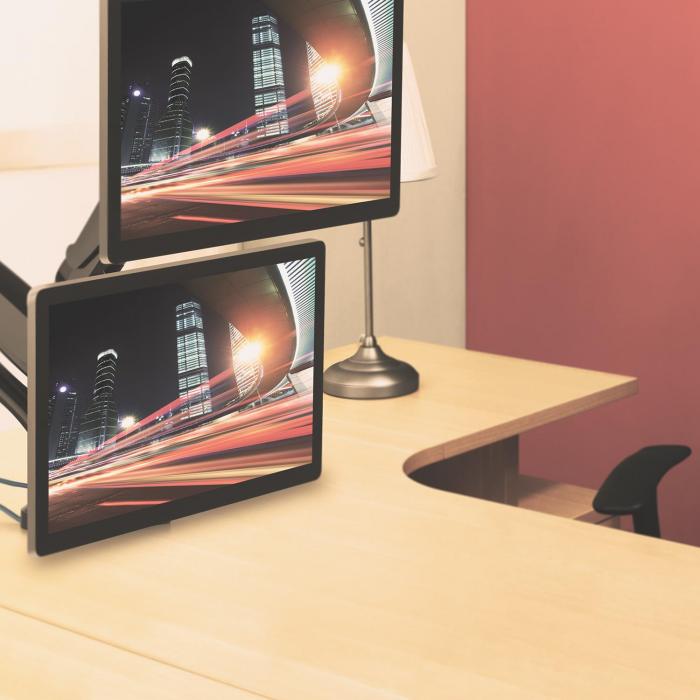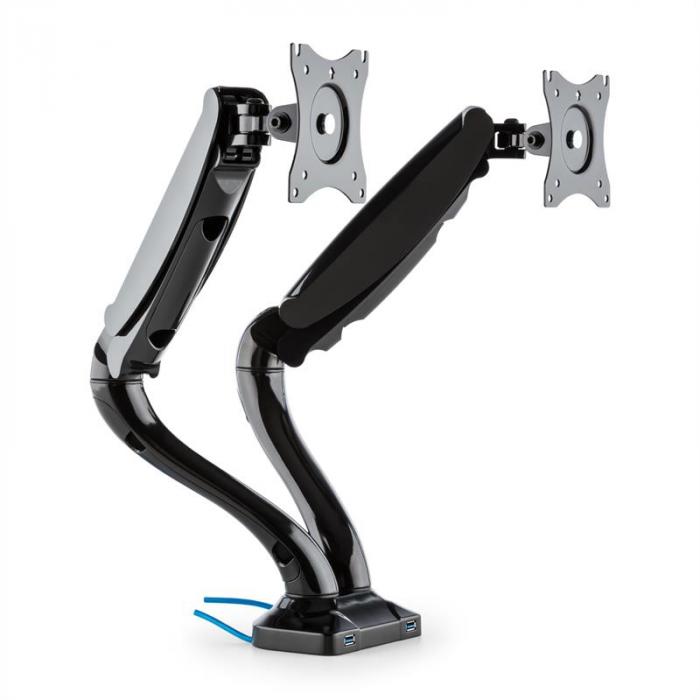 Item number: 10029661
LDT09-C024USB Monitor Desk Stand
You save 13%
Delivery time: 3 - 5 workdays
Top features
LCD/LED monitor and display mount with two flexible swivel arms and max. 6 kg load capacity per arm
For devices with a 33 to 68 cm (13" - 27") diagonal measurement of the screen - compatible with VESA standards 75 x 75 and 100 x 100
Revolvable, inclinable, turnable and rotatable design with smoothly operating pneumatic springs
Shipping costs: from £ 0.00
The item is ready to ship and will be shipped immediately after receipt of payment.
You may change your order at any time.
LDT09-C012USB Dual Monitor Desk Mount LED LCD 2xUSB incl. Mounting Kit
The auna LDT 09-C012USB dual swivel arm mount allows flexible positioning and attachment of two LCD and LED displays and computer monitors to desks or to other surfaces such as work benches, windowsills and lots more.
Its uniqueness lies in its extraordinary flexibility. The revolvable, inclinable, turnable and rotatable design allows for adjustments to the device's orientation for every working condition, light condition, and need. The swivel arms have pneumatic gas springs which makes it require minimum effort to move it back, forward or to the side. Especially for crowded working spaces, the display mount helps to efficiently save space as it offers two integrated USB 3.0 slots, which can be used to connect to keyboards, mouse, smartphones, or even removable media such as USB sticks or external hard drives.
The monitor mount is compatible with two VESA standards (75 x 75 and 100 x 100), so that various devices can be mounted problem-free. The maximum load capacity is 6 kg - for hanging equipment - so as not to impose unnecessary restrictions on the possible uses of the equipment.
Using the screw, the mount can be attached to boards with a thickness of 1 to 8.5 cm, which also includes massive office desks and even work benches. Foam padding protects the respective surfaces from any physical damage during attachment of the mount.
The auna LDT 09-C012USB mount is supplied with a mounting kit which includes two different mounting options and an illustrated mounting instruction manual.
User manual PDF
Product details
Top features:
Universal LCD/LED monitor and display mount with two flexible swivel arms and max. 6 kg load capacity per arm
For devices with a 33 to 68 cm (13" - 27") diagonal measurement of the screen - compatible with VESA standards 75 x 75 and 100 x 100
Revolvable, inclinable, turnable and rotatable design with smoothly operating pneumatic springs
Two built-in USB 3.0 slots for connecting keyboards, mice, smartphones, USB-sticks and external hard drives, for example
Includes mounting kit with two different mounting options
Properties:
Ports: 2 x USB 3.0 slots
Rotatable: 360°
Swivel range: 360°
Tilting range: from + 90° to - 90°
Inclinable: from + 90° to - 90°
Desk thickness: max. 1 - 8.5 cm
Supports curved Monitors and Displays
Screw with handy knobs
Feet with foam padding
Practical cable organization
Material: aluminum, steel, plastic
Color: black (powder coating)
Scope of delivery:
1 x device as assembly equipment
1 x illustrated mounting instructions
1 x mounting kit
Dimensions:
VESA standard: 75 x 75, 100 x 100
Mounting surface: 9.5 x 9.5 cm (WxD)
Load: max. 6 kg (per arm)
Weight: approx. 4.2 kg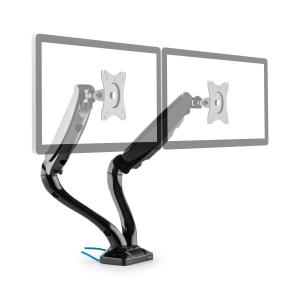 LDT09-C024USB Monitor Desk Stand
LCD/LED monitor and display mount with two flexible swivel arms and max. 6 kg load capacity per arm
For devices with a 33 to 68 cm (13" - 27") diagonal measurement of the screen - compatible with VESA standards 75 x 75 and 100 x 100
Revolvable, inclinable, turnable and rotatable design with smoothly operating pneumatic springs