LDT04-C024 Table Holder
You save 56%
Delivery time: 3 - 5 workdays
Top features
Max. load capacity: 9kg per swing arm
30cm adjustable height range
Fits desk thicknesses of 1 to 9cm
Shipping costs: from £ 0.00
The item is ready to ship and will be shipped immediately after receipt of payment.
You may change your order at any time.
LDT04-C024 Table Desktop Swing Arm Mount for 2 LCD Monitors
This Auna desktop mount allows flexible positioning of LCD andLED televisions, displays or computer monitors on a desktop or other flatsurfaces such as windowsills.
Via its screw terminal, the desktop mount can be attached tosurfaces with a thickness of up to 1 to 9cm, covering larger desks andworktops. The rubber surface protects furniture from any physical damage whenattaching the mounting bracket.
A particular strength of the Auna dual desktop mount lies inits extraordinary flexibility. Four pivot points per mounting bracket, theoption of full 360˚ rotation, the ability to adjust its height and a tilt rangeof 130˚ allow you to align the mount effectively according to work and lightconditions.
The dual swing arm desktop mount allows you to save spaceand use your work surface for various uses (such as: handicraft, observing workon a monitor), even on busier surfaces.
The swing arms are compatible with the two most common VESAhole spacings (75 x 75mm, 100 x 100mm) so that various devices can be attachedand the costs of an additional mounting bracket are avoided when buying a newmonitor or television. Its maximum load capacity of 9kg per swing arm is highenough – considering the ever-decreasing weight of devices – to avoid anyunnecessary limitations when setting up your technical equipment.
The dual TV desktop mount comes shipped with complete,high-quality mounting hardware and illustrated assembly manual.
Product details
Top features:
Dual desktop mount for computer monitors or LCD and LEDtelevisions: swings on 4 axes, tilts on 1 axis and rotates 360˚
Suitable for devices with the following VESA hole spacings:75 x 75mm, 100 x 100mm
Max. load capacity: 9kg per swing arm
30cm adjustable height range
Fits desk thicknesses of 1 to 9cm
Cable guiding system
Ideally suited for devices with screen sizes between13" to 23" (33 to 58cm)
Properties:
Supported VESA hole spacings: 75 x75mm, 100 x 100mm
Rotatable range: 360˚
Swivel range: 90˚
Tilt range: from +40˚ to +90˚
Quick release clamp for swivel element
Rubber surface on stand for protecting desk surfaces
Easy-to-grip knob for screw terminal
Easy mounting thanks to full mounting hardware and guideincluded in delivery
Material: Steel (cold rolled)
Colour: Black/silver-gray
Scope of delivery:
Shipped as assembly kit with hardware (screws)
Dimensions:
Hole spacings: 75 x 75mm, 100 x 100mm
Weight: 6kg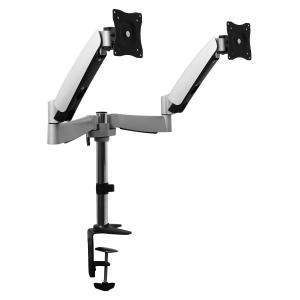 LDT04-C024 Table Holder
Max. load capacity: 9kg per swing arm
30cm adjustable height range
Fits desk thicknesses of 1 to 9cm