LDT04-C011 Table Holder
You save 56%
Delivery time: 4 - 6 workdays
Top features
Desktop mounting bracket - swivels on 3 axes, tilts on 1 axisand rotates 360˚
Max. load capacity: 9kg
Ideal for devices with 13" to 23" (33 to 58cm)screens
Shipping costs: from £ 0.00
The item is ready to ship and will be shipped immediately after receipt of payment.
You may change your order at any time.
LDT-04-C011 LCD Desktop Mounting Bracket LED Monitor <9kg <23"
This desktop bracket allows for flexible positioning of LCDand LED televisions, displays and computer monitors on a desktop or othersurface, such as windowsills.
Via its screw clamp, the desk bracket can be attached tosurfaces with a thickness from 1 to 7cm, covering both larger desks and workbanks. The rubber padding protects furniture surfaces against physical damagewhen attaching the bracket.
A real strength of the Auna desk bracket is its extraordinaryflexibility. Its three pivot points, ability to rotate 360˚, adjustable heightand 130˚ tilt range allow for optimal positioning in all working environments,situations and lighting conditions. Even on more active workspaces, theswivel-arm desktop bracket allows you to save space and get more usage out ofyour work surface (e.g. for manual work or viewing your work on a monitor).
The swivel-arm desk bracket covers two of the most commonVESA hole spacing standards (75 x 75mm, 100 x 100mm) so that you can fit anynew monitor or television without having to worry about buying another bracket.Its maximum load capacity of 9kg is easily high enough to allow you to buy anew device for your set up without any unnecessary limitations.
The TV desktop bracket comes shipped with full, high-qualityassembly hardware and illustrated instruction manual.
Product details
Top features:
Desktop mounting bracket for computer monitors or LCD/LEDtelevision - swivels on 3 axes, tilts on 1 axis and rotates 360˚
Suitable for devices with the following VESA hole spacingstandards: 75 x 75mm, 100 x 100mm
Max. load capacity: 9kg
30cm adjustable height range
Fits surface thicknesses of 1 to 7cm
Cable guiding system
Ideal for devices with 13" to 23" (33 to 58cm)screens
Properties:
Supports VESA hole spacing standards: 75 x 75mm, 100 x 100mm
Rotates 360˚
Swivel range: 360˚
Tilt range: from -40˚ to +90˚
Quick release clamp for pivot point
Rubber padding on feet for protecting desk surface
Rotary knob with maximum grip for screw clamp
Easy set up thanks to full assembly hardware and instructionmanual
Material: Solid steel (cold rolled)
Colour: Black/Silver grey
Scope of delivery:
Shipped as assembly kit with assembly materials (screws)
Dimensions:
Hole spacing: 75 x 75mm, 100 x 100mm
Weight: 3.2kg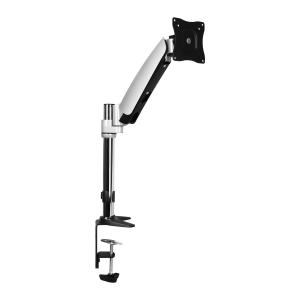 LDT04-C011 Table Holder
Desktop mounting bracket - swivels on 3 axes, tilts on 1 axisand rotates 360˚
Max. load capacity: 9kg
Ideal for devices with 13" to 23" (33 to 58cm)screens