LCD-503 Swivel Arm Wall Mount
You save 44%
Delivery time: 3 - 5 workdays
Top features
Tilt/swivel mounting bracket with 3 swiveling parts
Compatible with the following VESA hole spacings: 50x50mm,75x75mm and 100x100mm
Max. load capacity: 30kg
Shipping costs: from £ 0.00
The item is ready to ship and will be shipped immediately after receipt of payment.
You may change your order at any time.
LCD-503 Swivel TV Wall Mounting Bracket 30kg
The LCD swivel mounting bracket is the ideal mountingsolution for rooms with inconsistent lighting conditions and/or various seatingareas such as households with American style kitchens, bunk beds or furnishingswith several seats.
The TV bracket can be swiveled up to 180° and tiled up to 40°to accommodate any viewing angle.
The LCD swivel mount covers three of the most common VESAhole spacing standards (50x50mm, 75x75mm and 100x100mm) so that a range ofdevices can be fitted without having to buy another bracket. Its maximum loadcapacity of 30kg is easily high enough so that you won't have to compensatewhen looking at buying your new TV.
The mounting bracket features a minimum 10.5cm distance fromthe wall, maintaining a fair balance between flexibility and spacerequirements. An advantage of the swivel mount compared to conventionalbrackets is the easy access to your TV, making it ideal for users with a lot ofequipment who would usually have to connect and then reconnect variousdifferent devices.
The TV mounting bracket comes shipped with full,high-quality hardware (concrete dowel, screws etc – see picture) andillustrated assembly instructions.
Product details
Top features:
Tilt/swivel mounting bracket with 3 swiveling parts
Compatible with the following VESA hole spacings: 50x50mm,75x75mm and 100x100mm
Max. load capacity: 30kg
Ideal for televisions with 13 to 23" (33 to 58cm)screens
Distance from wall: 10.5 to 47cm (when mounted flat)
Cable guiding system
Properties:
Supported VESA hole spacings: 50x50mm, 75x75mm and 100x100mm
Tiltable range: +/- 20°
Swivel range: +/- 180°
Easy installation thanks to complete assembly materials andinstruction manual
Material: Solid steel (cold rolled) with dual powder coating
Colour: Black
Scope of delivery:
Shipped as assembly kit with assembly materials (concretedowel, screws)
Dimensions:
Hole spacing: 50x50mm, 75x75mm and 100x100mm
Weight: 1.3kg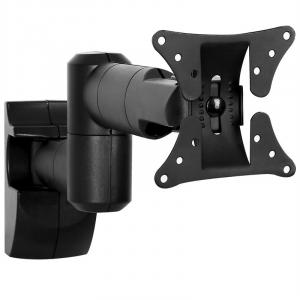 LCD-503 Swivel Arm Wall Mount
Tilt/swivel mounting bracket with 3 swiveling parts
Compatible with the following VESA hole spacings: 50x50mm,75x75mm and 100x100mm
Max. load capacity: 30kg