Sunshard Solar Light
You save 27%
Delivery time: 4 - 6 workdays
You save 40,06£ (50,10%) compared to the single unit price.
Top features
Eight glass garden lamps in a broken-glass look
Power by means of solar panel and battery
Suitable as a marker of paths, party areas and planters
Shipping costs: from £ 0.00
The item is ready to ship and will be shipped immediately after receipt of payment.
You may change your order at any time.
8 x oneConcept Sunshard Garden Solar Lamp Set RGB Colour Changing LED Battery
Text für Setartikel..
Give your garden colour with the Sunshard garden lamps from oneConcept. Eight torch-like lamps illuminate your front yard, terrace or window boxes and ignite fireworks of red, green and blue light when the LEDs steadily change colour. The Sunshard lamp set is ideal for atmospherically marking paths, party areas or terrace railings. The Sunshard lamps are also well suited for providing ambient lighting in green planter areas.
So that you don't have to worry about cables or electricity, the Sunshard lamps operate completely independently from mains. A small solar panel inside stores the necessary energy generated from daily sunlight and stores it in the internal 1.2V/300mAh battery for operation at night. This gives the oneConcept solar lamps a colourful luminosity while still being environmentally friendly and economical. A full charge of the battery provides energy for about 8 hours of lighting. The garden lights are uncomplicated in operation: an automatic on/off power function responds to increasing or decreasing twilight. Since not every day is sunny, the lamps are splash-proof according to IP44 standard and thus can stay in place even in the rain.
For easy placement, each oneConcept Sunshard has a 12cm-long ground spike that firmly anchors it into the ground. The attachable lamp stem and the housing of the solar panels and batteries are made of brushed stainless steel, giving the garden lamps a luxurious glamour. The glass body of the lamp impresses with its rustic appearance that breaks the light dozens of times to produce the effect of bright crystal.
Set consists of
Sunshard Garden Light Solar Lamp Set of 2 RGB Colour Changing LED Battery
Item number: 10027652
Included quantity: 4
Top features:
Two glass garden lamps in a broken-glass look
Power by means of solar panel and battery
Easy placement with ground spike
Suitable as a marker of paths, party areas and planters
Properties:
Splash-proof according to IP 44
Colour-changing LED light in red, green and blue
Brushed stainless steel housing
Burn time when fully charged: about 8h
On / off switch on bottom of battery part
Power supply: 1.2 V / 300 mAh battery and solar panel
Dimensions:
Total length: 38 cm
Diameter light sphere: 8 cm / 3"
Dimensions extension: 17.5 x 2.2 cm (HxØ)
Dimensions ground spike: 12.5 cm x 2.1 cm (HxØ)
Weight: 260 g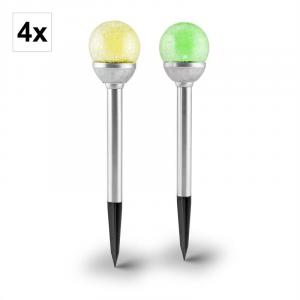 Sunshard Solar Light
Eight glass garden lamps in a broken-glass look
Power by means of solar panel and battery
Suitable as a marker of paths, party areas and planters