Monstertruck Smoker Grill
You save 54%
Delivery time: 8 - 10 workdays
Top features
3 grill units: main grill, side grill and smokehouse
Sturdy sheet steel in Western look
Large barbecue area of 5200 cm²
Shipping costs: from £ 0.00
The item is ready to ship and will be shipped immediately after receipt of payment.
You may change your order at any time.
Monstertruck BBQ Smoker Grill Steel Black
Rustic grill wagon made of steel in Western look for smoking, frying, boiling, simmering and keeping warm.
Two large grill areas with separate combustion chambers and a smoker tower with 4 levels for smoking or keeping warm.
Complete with working tray, thermometers, wooden shelf, additional cooking surface at the side grill, oil drain with drip tray and wheels for easy movement.
A different kind of grilling experience: the Klarstein Monstertruck smoker grill makes grilling a culinary feast. Whatever the occasion, the rustic grill cart is suitable for any event: catering parties and family gatherings, for a steak in between or for the tasty smoking of fish, meat and sausages. Even complete meals can be prepared on the large grill surfaces of the Monstertruck. The grill stands out not only with its versatile possibilities, but also with its unique appearance: completely made of black sheet steel, the three barrel-shaped device gives your work area a wonderful Western or steam train look.
For all occasions that require grilling or barbecuing, the Klarstein Monstertruck grill wagon offers three workspaces: with a grill area of 3200 cm² (80 x 40 cm), the central part is the main work area that provides enough space to meet the demands of a large and hungry group. A side grill with a surface of 2000 cm² (50 x 40 cm) is well-suited for smaller grill parties and also allows the separate preparation of other dishes, such as crispy grilled vegetables. Both grill parts have separate fire areas and covers, so that one can be used for grilling and the other for smoking or slow cooking of dishes such as pulled pork or fish. A thermometer on the main grill facilitates the control of the heat supply when it is being used as a smoker grill.
Genuine perfection is achieved by the Klarstein Monstertruck's lateral smokehouse. Here 4 levels are available, each with a 1250 cm² (Ø 40 cm) wide space for smoking fish, ham or homemade sausages. Runoff drips into a drip tray under the smoker to prevent the dripping and burning of fat. Via a ventilation flap on the fireplace, the air ventilation is regulated while an additional thermometer helps to control the precise temperature. In addition to the obvious purpose of smoking, the smoker can also be used to keep food warm.
For comfortable working, the Klarstein Monstertruck BBQ grill features a shelf of 1400 cm² (70 x 20 cm) with rounded corners on the main grill. The cover of the side grill provides an additional cooking surface on the upper side. For rapid replenishment of wood, there is a large shelf under the main grill, while 3cm-thick wooden handles ensure that nobody burns their fingers. Two steel wheels facilitate moving the Monstertruck.
Please note that the smoker grill is delivered as a mounting kit. For assembly, we recommend that you enlist the help of a second person and schedule about 2 hours.
User manual PDF
Product details
Top features:
Rustic grill wagon for grilling, frying, cooking, smoking and keeping warm
3 separately functioning grill units: main grill, side grill and smoker oven
Completely made of robust steel sheet in Western / steam train look
Large barbecue area of 5200 cm² (3200 cm² main grill, 2000 cm² side grill)
Ideal for low-temperature cooking below 100 ° C
Properties:
Smoker with 4 levels each 1250 cm²
Tightly sealed flaps for each grill area
Smoker oven door with hook closure
Two thermometers (main Grill & smoker) with display to 427 ° C / 800 ° F
Fire areas with coal grid and ash chamber
Air control through ventilation flaps on the side of the fireplace and barbecue
Thick handles with 3 cm and 19 cm long wooden handles to prevent burns
material thickness: approx. 3mm
Central storage / work area with 1,400 cm²
Additional cooking surface on the cover of the side grills
Gutters with drip tray for the disposal of frying fat
Steel wheels for easy movement
Large wooden tray for fuel storage under the main grill
Scope of delivery:
1 x grill (mounting set)
1 x English user manual (other languages: German, Spanish, Italian, French)
Dimensions:
Total dimensions: about 160 x 200 x 40 cm (WxHxD)
Dimensions main grill: about 40 x 80 cm (ØxL)
Dimensions side grill: about 40 x 50 cm (ØxL)
Dimensions smoker: about 40 x 125 cm (ØxH)
Working height main grill: about 80 cm
Working height side grill: about 65 cm
Working height smoker: about 110 cm
Total weight: about 130 kg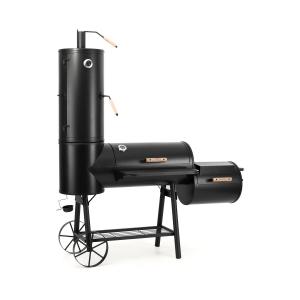 Monstertruck Smoker Grill
3 grill units: main grill, side grill and smokehouse
Sturdy sheet steel in Western look
Large barbecue area of 5200 cm²